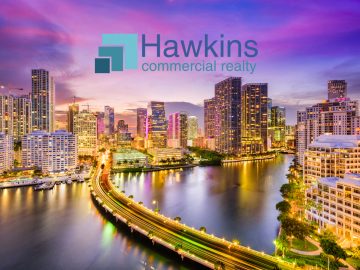 Former Miami Herald, el Nuevo Herald office building in Doral trades for $27M
The former Doral office building of the Miami Herald and its sister Spanish language newspaper, el Nuevo Herald, traded for $27.3 million. Institutional real estate investor Parmenter, also based in Doral, bought the property at 3511 Northwest 91st Avenue from Memphis-based SMPO, according to public records. Parmenter took out a $26.5 million loan…
CenterPoint scoops up Doral warehouse for $17M
CenterPoint Properties picked up a tenant-occupied warehouse in Doral for $16.65 million. The Oak Brook, Illinois-based industrial real estate company, led by CEO Bob Chapman, bought the 65,000-square-foot distribution facility at 8788 Northwest 27th Street. The seller is Keys Holdings and Investments, managed by Carlos Fragoso Senra in Key Biscayne.
Brazilian billionaire developer Jose Isaac Perez completes 57 Ocean in Miami Beach with sellout of over $330M
Brazilian billionaire Jose Isaac Peres' Multiplan Real Asset Management completed its luxury oceanfront condo project in mid-Miami Beach, The Real Deal has learned. The developer sold out and secured the temporary certificate of occupancy for 57 Ocean, an 18-story, 69-unit building at 5775 Collins Avenue, said Marcelo Kingston, managing partner at Multiplan.
Publicly traded firms now own $1.64T of US real estate
Commercial real estate is increasingly ending up in the hands of publicly traded firms, which now boast more than $1.6 trillion in real estate holdings. S&P Global Market Intelligence calculated the $1.6 trillion figure, the highest dollar volume of real estate ownership for that sector in at least a decade, and a 38 percent increase from ten years ago, according to…
Moishe Mana buys Allapattah site for $6.2M as he doubles down on Miami
Developer Moishe Mana is focusing on Miami, continuing to invest in commercial property. Mana paid $6.2 million for a development site at 634 Northwest 22nd Street in Allapattah, where he could build an e-commerce logistics center, The Real Deal has learned. Mana, downtown Miami's biggest private landowner and a major investor in nearby Wynwood…
Oak Street Capital buys another South Florida Walgreens, pays $5 million
Less than 10 days after acquiring a Walgreens in Broward County, a Chicago-based real estate firm picked up another store in southwest Miami-Dade. An entity controlled by Mark Zahr and James Hennessy, managing partners of private equity firm Oak Street Real Estate Capital, paid $5.3 million for… 15,651-square-foot Walgreens at 28801 South Dixie Highway…
22-story office/commercial tower in Health District wins OK
A plan to construct a state-of-the-art office tower in the city's Health District has been recommended for approval by a city review board. Owner-developer TCD 212 Civica FL Property plans the commercial and office building at 1050 and 1000 NW 14th Street, a high-profile site south of Northwest 14th Street, just north of the Dolphin Expressway (836) and…
Plaza Coral Gables lands major commercial deals
On target to be completed in August 2022, The Plaza Coral Gables is securing major commercial real estate leasing deals and, at the same time, positioning the city as a desirable business district. The Plaza Coral Gables will have a positive impact on the quality of life and safety of the community through the creation of new spaces for dining, recreation…
Coral Gables Country Club operator leaving but wants to stay
The City of Coral Gables has decided to cut ties with Coral Gables Country Club's current operator after serving only 10 years of its 30-year lease term. In March, tenant Coral Grand was notified that the city would not renew its tenth-year lease agreement to operate the country club at 997 N Greenway Drive due to failure to pay both base and percentage rent, according…
Why Miami Beach's Office Market is Booming
Miami Beach's business-friendly policies and year-round warm climate have contributed to its resilience through these uncertain times, as the city has experienced a wave of businesses and their capital relocating from colder, tax-burdened states throughout the country. "These companies are prioritizing quality of life—walkability, commute times, proximity to…
Planners to punch ticket for Kendall Bus Rapid Transit
A formal endorsement of Bus Rapid Transit instead of rail to bring fast transportation to the high-density Kendall Corridor is up for approval today (9/30) by Miami-Dade County's Transportation Planning Organization (TPO) board. The Florida Department of Transportation District Six, which oversees Miami-Dade, presented the Kendall Corridor proposal at a…
Center for Jewish Life on Coral Way wins city OK
A project to redevelop a synagogue, early childcare school and a K-5 religious school on Southwest Third Avenue in Miami has earned a positive recommendation from a city review board. Beth David Congregation plans to construct the Center for Jewish Life at 2625 SW Third Ave. The Urban Development Review Board recommended approval with some conditions.
High court: Federal judge sides with Miami landlords in marijuana dispensary fight
Landlords Romie Chaudhari at 90 NE 11th Street, and Marc Roberts at 60 NE 11 Street: Miami's de facto ban on medical marijuana dispensaries took a big hit. Last week, U.S. District Judge Michael K. Moore ruled federal court has no jurisdiction over where medical marijuana dispensaries are located in the city. As a result, Moore approved a request by a pair of prominent…
Miami Market Update: Pipeline Withstands National Trend
At the end of July, Miami had 2.8 million square feet of office space in the works, representing 4 percent of total stock, according to CommercialEdge data, substantially surpassing the national average of 2.4 percent. The gap between Miami's under construction pipeline and the national average has been widening steadily since the onset of the year, opposing dominant…
Waterfront Edgewater bulk condo sale advances
A bulk sale of an aging condo building in Miami's Edgewater neighborhood is moving ahead: A California firm that has been trying to acquire nearly all of the 254 units has secured about half. And a second bidder that had previously promised unit owners at Bay Park that it would be working with Fort Partners, the developer of the…
Moishe Mana $63M for sells California warehouse for $63M; to focus on Miami
CenterPoint Properties acquired a 173,000- square-foot warehouse in Pico Rivera from Moishe Mana, one of Miami's largest private property owners. The leaseback deal adds to CenterPoint's nearly 7 million-square-foot industrial portfolio across the Los Angeles region. The Chicago-based firm paid $63 million for the complex at 8500 Mercury Lane, said Daum…
Oxford lands $1.4B CMBS financing for $2.2B KKR industrial portfolio purchase
Oxford Properties Group has lightened its load on a massive industrial portfolio purchase, securing $1.43 billion in commercial mortgage-backed securities financing. The loan is designated for the Canadian-based company's $2.2 billion purchase of an industrial portfolio from KKR. It comes in the form of a five-year floating-rate loan that is being…
Hollywood Diagnostics Center buys Sweetwater industrial condos for $8M
Hollywood Diagnostics Center bought three industrial condo units in Sweetwater for $8 million. Records show an entity led by Angel Soto, owner and operations manager at the Hollywood Diagnostics Center, purchased units one, two and three at 2185 Northwest 115th Avenue from Double Ace Cargo logistics company. The units total 32,351 square feet. Constructed…
Slalom opens first South Florida office in Wynwood, 10 tenants sign at 800 Brickell
Global consulting firm Slalom will open its first South Florida office in an 8,000-square-foot space at 545Wyn in Wynwood. Slalom, a $2.4 billion company with 10,000 employees internationally, offers strategy, technology and business transformation services to various clients, including Fortune 500 companies, startups and nonprofits, according to a news release.
Video: Moody's Analytics Senior Economist Thomas LaSalvia Ph.D Gives Retail Market Update
Thomas LaSalvia Ph.D., Senior Economist with Moody's Analytics, joins Michael Bull on America's Commercial Real Estate Show to discuss the retail market, including rent performance and vacancies, COVID delta variant concerns, and sales volumes. He discusses how vacancy is up, but not really dramatically, and likewise how rents have held up during the pandemic.
Phase out of flood insurance subsidies could upend coastal real estate markets
It's no secret that Americans are willing to pay a premium for property on the beach. They could soon be paying hefty insurance premiums to live there as well. https://therealdeal.com/issues_articles/on-the-waterfront/ Starting Oct. 1, the federal government plans to start gradually reducing subsidies for its flood insurance programs, pushing up rates for…
KEI Properties buys Hialeah office-retail property for $8M
KEI Properties scooped up the Hialeah Medical Plaza for $7.7 million. The North Miami-based real estate investor and manager bought the office and retail property at 3750 West 16th Avenue from RG Property Group, according to a news release from the buyer's broker. Adam Tiktin and Greg Matus of Franklin Street represented the KEI Properties affiliate that…
David Edelstein, Related and partners plan resi project on former RedSky property in Wynwood
David Edelstein's TriStar Capital, Related Group, Alex Karakhanian's Lndmrk Development and Tricera Capital paid $26.5 million for a development site where they plan to build a residential project. Chinese firm Seven Valleys, led by real estate moguls Zhang Xin and Pan Shiyi, sold the nearly 1.3-acre property anchored at 2700 Northwest Second Avenue…
Dubai developer Damac Properties revealed as $120M bidder for Surfside collapse site
Damac Properties, a Dubai-based developer, is the stalking horse bidder for the collapse site of Champlain Towers South in Surfside, The Real Deal has learned. East Oceanside Development LLC, a Delaware corporation tied to publicly traded Damac, signed a contract to pay $120 million for the oceanfront property. The company's identity was disclosed in a motion…
Surfside Champlain tower's law firm lobbied against enhanced condo regulations for years: report
The prominent law firm Becker has lobbied against safety measures and regulations surrounding condos and associations in Florida for decades, according to an investigative report from the Sun Sentinel. And the same law firm represented Champlain Towers South, the oceanfront building in Surfside that collapsed in June, killing 98 people. Fort Lauderdale…
Surfside site's stalking horse bidder signed contract, auction slated for February as legal claims could reach $1B
The stalking horse bidder offering $120 million to purchase the site of the Surfside condo collapse signed a sales contract, setting in motion a timeline that will lead to an auction of the oceanfront property, as legal claims could reach $1 billion. Miami-Dade Circuit Court Judge Michael Hanzman said during a hearing on Thursday that he will review a motion to approve…
Fortune International Realty's former Douglas Road office sells for $8M
The former Miami office of Edgardo Defortuna's Fortune International Realty sold for $7.8 million. An entity managed by Walter Defortuna, a member of the Miami-based firm's board of directors, sold the building at 2401 Douglas Road, records show. The buyer is Javelin Investors, which will lease the building to a new tenant for now, but is eyeing redevelopment…
Startup wants to demystify real estate tax breaks
REDIST, a proptech startup seeking to demystify real estate tax breaks, completed a round of seed funding and soft-launched a platform to show developers and brokers how to make better use of tax incentives. Some $100 billion of incentives go unused each year because they're too complicated or too obscure, the company says. A full launch is planned…
Resorts World Miami to Submits Plans for Monorail and Bus Station
The jury might still be out on whether Resorts World Miami will feature Miami's first hotel casino, but it seems it will be getting a Monorail stop and bus station at its waterfront Downtown Miami and Arts & Entertainment District (A&E) location. According to platting documents filed this September with Miami-Dade County, Genting Group's Resorts World…
Little Havana developer buys stake in shuttered Mai Kai restaurant
A Miami-based developer of nightlife and restaurant projects in Little Havana is breaking out his tiki torches in Broward County. A joint venture among companies with ties to Bill Fuller and the family that owns Mai Kai restaurant paid $7.5 million for the shuttered tourist and locals hangout in Oakland Park, according to records. A Fuller entity, Tiki Real Estate…
Investor picks up Margate shopping center for $11M
A Hollywood-based real estate investor added a Margate shopping center to his commercial portfolio. A company managed by Todd Nepola, president of Current Capital Management, bought the Crossroads Plaza at 5000 Coconut Creek Parkway for $10.7 million, according to records. The buyer, Crossroads Center LLC, took out a $9 million loan from Southstate Bank.
Palm Beach office building purchased for $38M
A Palm Beach-based Douglas Elliman agent and a New Yorker heading a real estate investment firm bought a Bankers Row office building for $37.8 million. Spencer Schlager, the agent, and Charles Rosenberg, of New York City-based Rosemark Management, bought the property at 440 Royal Palm Way, according to records. Rosemark is the investment manager…
Billionaire Jeff Greene sells West Palm Beach industrial complex for $61M
Billionaire developer Jeff Greene sold his just-completed industrial complex in West Palm Beach for $60.6 million, marking another big-ticket warehouse deal amid a hot market. Dallas-based Dalfen Industrial bought the buildings at 1501 Meathe Drive, or roughly the southwest corner of Florida's Turnpike and Jog Road, records show. Dalfen took out a $54.7…