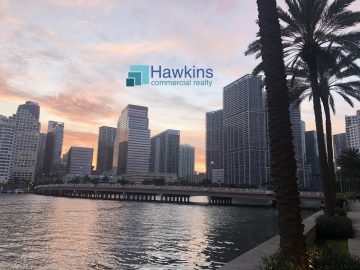 Air Force offers county new airport site at Homestead
Miami-Dade is working on multiple deals to build out its general aviation airports and is "closer than ever" to an agreement for a new one at Homestead Air Reserve Base, Aviation Director Lester Sola said. Commissioners Oct. 6 are to decide whether to direct Mayor Carlos Giménez to "expeditiously" pursue a contract with the Air Force so that the county…
Miami Heat minority owner pays $20 million for Sweetwater Best Buy
As the Miami Heat eye a potential NBA championship, one of the team's original partners has reason to celebrate early. Raanan Katz's real estate company RK Centers paid $20.4 million for a 4.2-acre property leased to Best Buy at 10760 Northwest 17th Street in Sweetwater, near Dolphin Mall and Miami International Mall. The 46,000-square-foot building is home to…
On Eve Of NBA Finals, Miami Heat Player Scores Development Win
This week, Miami Heat forward Udonis Haslem will be trying to rack up victories against the Los Angeles Lakers in the NBA Finals. Last week, he scored a different sort of win: His company is moving forward with a $36M housing development. Haslem Housing Venture LLC… at 2035 North Miami Avenue. The proposal listed partners Haslem Housing Ventures and…
CTO Realty Growth Acquires Shopping Center in Metro Miami for $21 Million
CTO Realty Growth has acquired Westland Gateway, a 108,000-square-foot shopping center in Hialeah, for $21 million. Aldi, dd's Discount, Ross Dress for Less and Bed Bath & Beyond occupy the property. Westland Gateway is located at 1460 W. 49th Street, 15 miles northwest of downtown Miami. Daytona Beach, Fla.-based CTO Realty purchased the asset through a 1031…
Miami developer Metronomic files for bankruptcy
Metronomic Holdings, a South Florida-based developer led by Ricky Trinidad, filed for Chapter 11 bankruptcy protection this month. The Coral Gables-based real estate firm listed more than $87 million in debts, according to documents filed in the Southern District of Florida. Metronomic has commercial, residential and student housing projects…
50% of Miami International Airport passengers likely to return in 2020
In April, amid coronavirus-driven shutdowns, passenger movements at Miami International Airport (MIA) plummeted. Four months later, as international travel strictures loosen, they've begun to rebound. But there' still a long way to go, said Aviation Director Lester Sola. "By the time the year is over, we'll probably have it 50% of the volume we had last year…"
Miami Marine Stadium renovation contract nears
The long-awaited restoration of Miami Marine Stadium on Virginia Key is one major step closer to reality, according to the city's Office of Capital Improvements. City staff delivered a status report on the multi-million-dollar project at a virtual meeting of the Virginia Key Advisory Board on Sept. 22. The project is near completion of the permitting process, and…
County set to corner South Dade transit
As construction for "Gold Standard" bus rapid transit on the South Dade Transitway gears up, Miami-Dade aims to clinch the use of 850 parking spaces on the line's penultimate stop. Commissioners are to consider a parking deal with Homestead Oct. 6, roughly a month after they OK'd a $368 million contract for construction of stations, roadway and intersection…
Landlords eye taking cut of retailers' online sales as rent
As shopping habits shift toward the digital, some property owners think demanding a portion of retail tenants' online sales is only fair. (iStock) Landlords are familiar with percentage rent — taking a portion of retail tenants' in-store sales — but now, some are thinking of bringing online sales into the mix. As shopping habits shift towards the digital, some property…
As Florida Reopens, Brokers Confident Retail Closures Will Be Filled
Despite the fact that COVID-19 is still spreading in Florida — a tracking group's dashboard reported 3,266 new cases and 106 deaths on Tuesday — and warnings from health officials that there could be a resurgence in cases this fall, Florida has mostly reopened under political and economic pressures. Gov. Ron DeSantis on Friday signed an executive order bringing…
Lawsuit seeking class action status accuses Grant Cardone of misleading investors
Grant Cardone Real estate crowdfunding guru Grant Cardone is facing allegations that he's misled thousands of investors across the country by falsely promising them annual returns of at least 15 percent and other incentives that never materialized. Fresh off their acquisition of a waterfront Fort Lauderdale apartment complex, Cardone and his…
Retail bankruptcies on pace to rival 2010: report
It's been a difficult year for retailers, and things may get worse before they get better: The number of bankruptcy filings by retailers this year could outpace those filed in the wake of the Great Recession. As of Sept. 29, nearly 30 retailers filed for bankruptcy, leading to almost 6,000 store closures, according to a biannual bankruptcy report from BDO International, a…
Medical co-working space operator ShareMD buys Miami medical campus
An owner and operator of medical co-working space bought a medical office campus in Miami from a company with ties to Florida's former lieutenant governor. Alpharetta, Georgia-based ShareMD bought the three-building, 10-acre property at 7400, 7500 and 7800 Southwest 87th Avenue, according to a press release. The company declined to provide the…
ShareMD Buys Miami Medical Office Campus
ShareMD has acquired a three-building, 177,358-square-foot medical office campus in Miami. Ideal Management and FIP Realty Services worked on behalf of the buyer. Starwood Mortgage Capital provided acquisition financing, which PSRS arranged. Pan American Group is the former owner of at least one of the three properties that traded, Yardi Matrix data shows…
Greenberg Traurig Assists ShareMD in $89 Million Financing of Medical Office Building Portfolio with Starwood Mortgage Capital
A team of Greenberg Traurig, P. A. attorneys led by Miami Real Estate Practice Shareholder Danielle Gonzalez, represented long-time client ShareMD in its financing of a medical office building portfolio with Starwood Mortgage Capital. The $89 million loan transaction closed on September 25. The portfolio consists of eight medical office properties…
ShareMD Acquires Three-Building Medical Office Campus in Miami to Add to Their Growing Healthcare Portfolio
ShareMD, a healthcare real estate and physician practice solution company with corporate office in Alpharetta, Georgia, has closed escrow on a three-building, 177,358 sq. ft. medical office campus atop ten acres in Miami, "We're excited to continue ShareMD's growth in the healthcare facility sector with this acquisition," said ShareMD's Chairman and CEO, John…"
Colony deal puts Highgate among biggest hotel owners
Highgate's deal to purchase a $2.8 billion portfolio of hotels from Colony Capital will catapult the company into the upper ranks of the nation's largest hotel owners. The privately held hospitality firm, launched in 1988 by brothers Mahmood and Mehdi Khimji, will have the fifth-largest portfolio in the country when it finalizes its deal with Colony, which is…
Top developers Gil Dezer, Jon Paul Perez on their reasons for doubling down in South Florida market
For some Miami developers, the last few months have provided an opportunity to "double down." "Our affordable division is extremely active," Jon Paul Pérez, executive vice president of Related Group, said during The Real Deal's latest episode of Coffee Talks. Pérez noted that Related has broken ground on three projects in the last 45 days. Another…
Will real estate take the stage at Trump-Biden debate?
The first presidential debate between President Donald Trump and former Vice President Joe Biden airs tonight, and will focus on the coronavirus pandemic, the economy, racial unrest and the candidates' records among other preselected topics. But given Trump and Biden's shared penchant for off-the-cuff remarks, will they stay entirely on topic or will eviction bans…
Biden vs. Trump: What's at stake for real estate?
Joe Biden and Donald Trump Biden's $775B 'caring economy' plan would kill 1031 exchanges Joe Biden went after one of the real estate industry's favorite tax benefits last month. The presumptive Democratic presidential nominee proposed his "caring economy" plan to fund a child- and elderly-care spending platform, in part by closing a loophole used by many…
Miami investor buys Hialeah apartments for $13 million
A Miami investor paid $13 million for a multifamily property in Hialeah. Antonio Hernandez, an electrical contractor who owns nearly a dozen properties in the Miami area, purchased the 66-unit Hilton Estates buildings at 6365 West 24th Avenue. The seller is Hilton Estates of Hialeah IV, led by Tomas Betancourt Jr. The deal breaks down to $197,000 per unit.
The Fed discusses different effects COVID is having on rates of hotels versus casino hotels
The FRED Blog recently discussed the large reductions in travel related to the COVID-19 pandemic. Today we expand that analysis to include a specific aspect of travel: hotel stays. The graph above shows producer price index (PPI) data from the Bureau of Labor Statistics (BLS) that measure price changes from the perspective of the seller. Percent changes in prices from…
Troubled commercial properties see values fall 27%: report
Commercial properties such as hotels and malls may have lost as much as a quarter of their value as the pandemic devastated the retail and hospitality businesses, along with other sectors. The value of the collateral for commercial mortgage-backed securities has been written down by 27 percent on average when properties get into trouble, the Financial Times…
Distressed US Commercial Real Estate Lost 27 Pct Of Value, Wells Fargo Figures Show
Many U.S. commercial properties have lost 25 percent or more of their value as the impact of the coronavirus has taken its toll on hotels, malls and other nonresidential buildings. The Financial Times (FT) reported the evidence of the losses can be seen in the commercial mortgage-backed securities (CMBS) market from appraisals. As a result, it raises questions…
Neiman Marcus exits bankruptcy $4 billion lighter
Neiman Marcus has emerged from bankruptcy just four and a half months after it entered the Chapter 11 restructuring process. The court-led process erased $4 billion in debt that the distressed retailer was holding, along with $200 million in annual interest payments, Reuters reported. The Dallas-based company now has $1.25 billion in debt, down from $5.1 billion.
Opportunity Zone rule change seeks to entice foreign investors
Potential changes to the rules for Opportunity Zones could soon allow some foreign investors to reap major tax benefits from the program. The Internal Revenue Service is considering new rules pertaining to foreign investors' ability to defer capital gains in the Opportunity Zones program. The new regulations could be released in December, according to the White House…
DeSantis says restaurants in Florida can operate at up to 100% capacity
Florida Gov. Ron DeSantis announced the state would be moving into the third phase of reopening, allowing for up to 100 percent capacity at restaurants. The announcement, made in St. Petersburg, left municipalities and restaurateurs in South Florida scrambling to determine how the order will impact them. DeSantis said the state will guarantee restaurants can…
Hunt Real Estate Capital Provides $27 Million Fannie Mae Loan to Refinance a Newly-Built Multifamily Community in Hialeah, FL
Hunt Real Estate Capital, a division of ORIX Real Estate Capital, announced that it has provided a $27 million Fannie Mae DUS® Conventional Multifamily loan to refinance construction debt for Las Vistas at Amelia, a 174-unit apartment community in Miami-Dade county. Built in 2020, Las Vistas at Amelia is a workforce housing community designed to attract…
CorePoint Lodging sells Deerfield Beach La Quinta for $6M
Hotel real estate investment trust CorePoint Lodging sold a La Quinta in Deerfield Beach for $5.7 million. CorePoint, a spin-off of the La Quinta hotel brand, sold the 79-room hotel via CPLG Wellesley Properties LLC. Property records show the buyer is Shree Sai Properties LLC, managed by Ketankumar "Ketan" K. Patel. The hotel, at 100 Southwest 12th Avenue…
Fortune International Group buys waterfront Pompano Beach site for $28M
Fortune International Group is the latest developer to bet on the Pompano Beach market. The Miami-based development firm, led by Edgardo Defortuna, paid $27.5 million for the 4.6-acre site at 1380 South Ocean Boulevard, the company announced Wednesday. Fortune is planning to build two high-end condo towers on the oceanfront and Intracoastal-front…
Dev Motwani buys Fort Lauderdale dev site for $14M
Developer Dev Motwani bought a development site in Fort Lauderdale's Flagler Village for $14 million. A Merrimac Ventures affiliate closed on the properties at 317 North Federal Highway and 515 Northeast Third Street, property records show. J & C Fox Family LLC and Joel Fox Inc., tied to Joel and Camille Fox, sold the buildings. They've owned the land since at least…
Investment firm tied to Baltimore Ravens owner buys South Florida car dealerships for $61M
The family office of two Maryland billionaires paid a total of $60.5 million for car dealerships in Margate and Tamarac owned by Arrigo Automotive Group. A company tied to Hanover, Maryland-based Redwood Capital Investments paid $34.5 million for the Tamarac Dodge, Chrysler, Jeep and Ram dealership at 5901 Madison Avenue in Tamarac.
DiVosta family sells Palm Beach Gardens office towers for $80M
The Palm Beach Gardens office towers Investors Nader Shalom and Babak Ebrahimzadeh paid $80 million for the DiVosta Towers in Palm Beach Gardens, marking one of the biggest office sales to close in recent months. The DiVosta family sold the two 11-story Class A Towers at 3825 to 3835 PGA Boulevard to Gatsby Enterprises and Master Mind, according to a press…