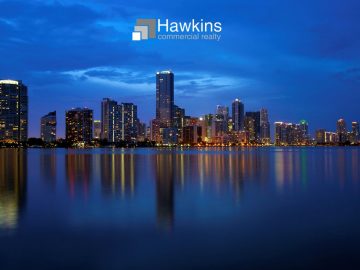 GID Acquires West Miami Multifamily Property for $91M
Altis Ludlam Trail in West Miami has been rebranded as "Windsor Ludlam Trail". Image courtesy of GID GID has sealed its $91.4 million purchase of Altis Ludlam Trail, a newly-built, 312-unit luxury multifamily community in West Miami, Fla., from The Altman Cos. The buyer assumed a $55.4 million loan associated with the community that was originated on June 10, 2020…
Kushner picks up distressed Surfside site from Boymelgreen, lender
Kushner Companies paid $40 million for a distressed development site in Surfside, sources told The Real Deal. New York-based Kushner worked with the seller, Shaya Boymelgreen, and the lender, Fuse Group, to assume the debt and buy the property at 9300 Collins Avenue. The deal closed on Tuesday afternoon, the sources said. Kushner, led by Charles Kushner, his daughter Nicole Kushner…
Miami River boat and auto yard trades for $19M
Cargo shipping company King Ocean Services picked up a boat and auto yard near the Miami River for $18.8 million. An affiliate of Sweetwater-based King Ocean acquired the 3.3-acre industrial site at 2147 Northwest 32nd Avenue and 3140 Northwest South River Drive, according to records and Vizzda. The properties have four industrial buildings totaling 13,588 sf…
Mount Sinai drops $32M for "small hospital" dev site in Westchester
Mount Sinai Medical Center bought a development site in Westchester for $32 million. The Miami Beach-based health care provider purchased 5.6 acres at 8250 and 8200 Southwest Eighth Street in unincorporated west Miami-Dade County from an entity led by Jorge Cruz, according to records and real estate database Vizzda. The purchase comes two months after an attorney…
The Altman Companies Files Pre-Application For 11-Story Residential Complex At 11240 Biscayne Boulevard In North Miami
The Altman Companies, under the Altman Development Company, LLC, has submitted a pre-application for an 11-story residential development situated at 11240 Biscayne Boulevard in North Miami. Designed by Cohen Freedman Encinosa & Associates, the proposed project encompasses 373 residential units, a parking facility yielding 608 spaces, and 20 bicycle spaces.
Altman proposes 373-unit apartment complex near North Miami
Altman Companies wants to build a 373-unit multifamily complex near North Miami. The Fort Lauderdale-based firm has the 3.4-acre development site at 11240 Biscayne Boulevard in unincorporated Miami-Dade County under contract for an undisclosed price, according to an application Altman submitted to the county last week. The complex would rise 11 stories along Biscayne…
Ram scores $81M construction loan for 353-unit apartment complex near Zoo Miami
Ram Realty Advisors scored an $80.6 million construction loan for a 353-unit multifamily complex near Zoo Miami. The Palm Beach Gardens-based development firm is building the apartments on a 12.4-acre site it owns immediately south of Walmart Supercenter at 15601 Southwest 127th Avenue in unincorporated south Miami-Dade County, according to records. U.S. Bank…
With less space leased in Miami-Dade, office rents rise 10%
The volume of space leased in Miami-Dade's office buildings is declining but landlords are asking average increases topping 10% in new leases compared to last year, new data from Avison Young's Miami office shows. Even while more than 15% of office space in the county is now vacant and more than 1 million square feet of what is leased is being offered for sublease, more than…
Largest UHealth ambulatory care site is rising in North Miami
Construction at the UHealth at SoLé Mia continues to move forward with projected plans to officially open in mid-2025. The seven-story, 363,000-square-foot medical center at 211 SoLé Mia Way in North Miami plans to offer care in specialties across UHealth. The medical center will offer the communities of North Miami, Aventura, and the surrounding areas access to academic…
Miami Beach blocks Nikki Beach Club owners from bidding on new contract
Miami Beach claims a deadline snafu is blocking Nikki Beach Club's owners from competing for a new contract to continue operating their restaurant and entertainment venue on city-owned land. City staff rejected a bid by Jack and Lucia Penrod aimed at retaining control of the property at 1 Ocean Drive when their current lease expires in 2026, the Miami Herald reported.
Commissioner Sabina Covo: Targets environment, affordable housing, parks and traffic
At 17, Sabina Covo moved to Miami after spending many summers with her family who have lived in the city since the '70s. While establishing a career as a journalist and starting a communications firm with her sister, Sabina knew she wanted to be a public servant at some point. In 2020, she covered the federal election and was subsequently offered a position as spokesperson…
Administrative Site Plan Review Filed For 39-Story Tower Set To Replace The Former Starlite Motel In Brickell
Chicago-based developer Focus has applied for Administrative Site Plan Review for Miami Starlite, a 39-story tower proposed for a 1.203-acre site at 128 Southwest 7th Street in Brickell, unveiling new renderings that showcase refinements from the initial pre-application submittal on August 4. The tower, destined for the former Starlite Motel property in Brickell, is set to rise…
Developers Of Sprawling SoLé Mia Project To Build 90K SF Charter School
A charter school is coming to SoLé Mia, the latest new use for the master-planned community in North Miami after its developers began construction on a medical center there last year.The 184-acre SoLé Mia will add a 90K SF Mater Academy elementary school that is slated to open in 2025, Bisnow can first report. The school will be built across two phases and will serve up to 1,500…
Auto magnate Luis Somoano buys land underneath his Kendall Ford dealership for $20M
Luis Somoano paid $20 million for the land underneath his Ford dealership in Kendall. An entity managed by Somoano acquired the 7.3-acre site at 15555 South Dixie Highway, according to records and Vizzda. The sellers are two entities managed by Lilliam Machado, widow of the late Gus Machado, another Miami-Dade automobile dealership owner who died last year. In 2009…
Sign of the times: MV drops asking price for Miami Springs retail complex to $20M
Less than two years after buying and renovating a Miami Springs retail complex, Manny Varas' MV Group USA is looking to cash out. In February, Miami Springs Plaza at 1 South Poinciana Boulevard and 69 Hook Square hit the market with an asking price of $23.3 million. But a recently updated offering shows the Miami-based real estate development and investment firm…
Robert Rivani's Black Lion puts Gekkõ, Amara restaurant sites on the market
Robert Rivani's Black Lion Investment Group is unloading more commercial condo restaurant spaces, listing two prime sites in Miami's Brickell and Edgewater neighborhoods. Miami-based Black Lion is looking to sell its commercial unit at SLS Lux Brickell at 805 South Miami Avenue that is currently leased to Japanese steakhouse Gekkõ, as well as the Amara at Paraiso…
Workforce Housing Morris Residences Proposed for 1701 Jefferson Avenue in Miami Beach
Miami Beach is known for its exclusive resorts and high-end shopping centers. Yet, a workforce housing developer has plans for a four-story apartment complex for the Magic City. The proposed Morris Residences, named for architect Morris Lapidus, would comprise just over 28,000 square feet of new construction, offering 40 one-bedroom and two-bedroom apartments.
Iconic New York Pizzeria Roberta's Set To Elevate Miami Beach Dining Experience At 72 Park
Lefferts, a distinguished real estate development firm renowned for its exceptional residential and commercial properties in Miami and New York City, is excited to unveil a remarkable addition to the vibrant Miami Beach dining scene. Roberta's, the acclaimed Michelin Bib Gourmand restaurant co-founded by Brandon Hoy and two Michelin-starred chef Carlo Mirarchi…
39-Story Brickell Tower Submitted For Zoning & Plan Approval; New Renderings Released
Chicago-based developer Focus has filed for plan and zoning approval for a 39-story tower in Brickell, with new renderings released. The residential tower is planned for the former Starlite Motel property in Brickell. The motel was demolished earlier this year. The zoning and general plan applications were submitted to Miami-Dade County on August 30 (the developer says it intends…
Miami Worldcenter Retail 84% Leased, Four New Restaurants Announced
Miami Worldcenter is getting four new restaurant brands, all opening in 2024. The $6 billion development includes a total of 300,000 square feet of retail, restaurant, and entertainment space. With the latest announcements, Miami Worldcenter's retail space is now approximately 84% leased. The newly announced restaurants include: Serafina  – based in New York…
Photo: Construction Site Of 44-Story, 506-Unit Brickell Apartment Tower
An August 30 photo shows the One Brickell site where a 44-story, 506-unit apartment tower is being built. A total of three towers are planned at the site, with one currently under construction. Two tower cranes for the first tower were installed in early July. Two additional tower, rising 75 stories and 82 stories are planned at the property. Archaeological excavation has been ongoing…
14th Street Tower Gets FAA Approval At 322 Feet
The Federal Aviation Administration has issued approval for the proposed 14th Street Tower. The tower is now approved at a height of 322 feet above ground, or 334 feet above sea level. Approval was issued on August 24. The application was first filed with the FAA on June 30, 2022, or around 14 months ago. A demolition permit for the site was issued in August of 2022 and has already…
128,450 SF Office Lease Renewal Arranged at Wells Fargo Center in Downtown Miami
Cushman & Wakefield has arranged a 128,450-square-foot office lease renewal at Wells Fargo Center in downtown Miami on behalf of the landlord, an affiliate of MetLife Inc. The tenant is global law firm Greenberg Traurig, which occupies five floors at the 47-story tower. The lease renewal is the largest office lease in Miami over the past five years, according to Cushman & Wakefield.
"Garbage is garbage": Damac's condo plan for trash pickup next to memorial angers victims' families
Damac Properties scored preliminary approval for its luxury condo project in Surfside, despite an outcry from victims' families against plans for a garbage pickup area next to the collapse memorial. The Town of Surfside Planning and Zoning Board voted 4-1 in favor of the Zaha Hadid Architects-designed development on Thursday night, with board member Lindsay…
Pinnacle 441 Second Phase Starts Construction at 6028 Johnson Street in Hollywood
The second phase of Pinnacle 441 has started construction in Hollywood, Florida. Florida YIMBY reported on this venture back in January 2022, when construction hadn't even started on the first phase. Pinnacle 441's second phase will rest on a 1.67-acre site that an affiliate of Pinnacle purchased for $3.5 million last year. Construction on the 100 additional units should take about 16 months…
Pinnacle Secures $48M for Hollywood Affordable Housing Project
Pinnacle 441 Phase 2 will rise on a former dilapidated trailer park. Image courtesy of Pinnacle Pinnacle has secured $47.8 million in construction financing for Pinnacle 441 Phase 2, a 100-unit affordable housing development in Hollywood, Fla. The developer plans to break ground this month, while completion is expected within the next 16 months. The second phase…
Pinnacle scores $48M financing for Hollywood affordable housing project
Pinnacle scored a $47.8 million construction financing package for an affordable housing project in Hollywood, as developers continue to bet on below-market-rate apartments in South Florida. The Miami-Dade County-based firm will start building an eight-story, 100-unit multifamily building on 1.7 acres at 6028 Johnson Street this month, according to a Pinnacle news release.
Related, BH win approval for 350-unit condo tower and 500-room hotel in Hollywood
Developers Related Group and BH Group won site plan approval for a 37-story, 350-unit condo tower on the Intracoastal Waterway across the street from the Diplomat Beach Resort in Hollywood. The developers also won approval of an amended master plan that includes the condo tower and a 500-room hotel that Coconut Grove-based Related would develop with Aventura-based…
Apollo Affiliate Pays $56M For Pembroke Pines Retail Center
Apollo Realty Income Solutions acquired a 135K SF shopping center in Pembroke Pines in another example of Wall Street firms bulking up retail real estate holdings as the sector emerges as one of the most resilient asset classes in South Florida and nationally.The 135K SF shopping center was built at a former distribution center for the U.S. Postal Service. The affiliate of private…
Pompano Beach's Tallest Building Approved By The FAA To Rise 353 Feet
The Federal Aviation Administration has issued permits for a new condominium tower that is set to become the next tallest building in Pompano Beach. The upcoming building is the already announced 32-story oceanfront Beach Tower, planned for 1380 South Ocean Boulevard, as part of the Ritz Carlton Residences Pompano Beach. This development is a joint venture…
101 Dania Beach Gets Approval for Second Phase at 46 SW 1st Avenue in Dania Beach
In September 2022, the City of Dania Beach approved 101 Dania Beach, a multi-family housing development in Broward County. Florida YIMBY reported on the first phase in October 2022. The venture just secured approval for a second phase. The first phase will break ground later this year, measuring 13 stories above grade and 278 units. It will also be home to Dania Beach 101's…
ANF Group Tops Out The First Phase Of Parks At Delray At 2100 South Congress Avenue In Delray Beach
ANF Group, Inc., a full-service construction firm providing construction management, general contracting, development, and design-build services to the South Florida market, celebrated the topping out of the first phase of Parks at Delray, a mixed-use development located on 43 acres, featuring residential, retail and office space along Delray Beach's Congress Avenue.
95-Unit Complex Could Replace Dixie Manor at 1350 N. Dixie Highway in Boca Raton
The Boca Raton Housing Authority has partnered with Atlantic Pacific to build a new 95-unit complex in Palm Beach County. The venture involves demolishing Dixie Manor, a multi-family housing development––also featuring 95 units. Erected during World War II, the application notes the complex is "in dire need of replacement." The two-story building is in a prime location…
Developers Propose Workforce Housing for 8111 South Dixie Highway in West Palm Beach
Two developers hope to get approval for a multi-family housing development in West Palm Beach. The proposed venture would offer 358 apartments––148 more than the initial plan. The Palm Beach Post notes that the building would measure eight stories and offer 90 workforce housing units. The Real Deal notes that 23 units would be for those making 60 percent of the AMI…
Woodfield, Flagler Realty plan 358-unit apartment project in West Palm
Woodfield Development and Flagler Realty & Development want to build a 358-unit multifamily project in West Palm Beach. The joint venture proposes the project on 5 vacant acres at 8111 South Dixie Highway in West Palm Beach, according to a city commission agenda. The land borders the C-51 canal to the south. Woodfield and Flagler Realty, through an affiliate…
Lease roundup: Roberta's coming to North Beach, Serafina to Miami Worldcenter
New York-based restaurant Roberta's will open at the 72 Park condo project in Miami Beach. The pizzeria leased 3,000 square feet on the ground floor at the condo tower that's under construction at 580 72nd Street in the North Beach neighborhood, according to a Roberta's and Lefferts' news release. It will mark the restaurant's first permanent Florida outpost. The restaurant is…
The Fed: Examining the Beveridge Curve with a Dual Vacancy Model
Given the Federal Reserve's most recent decision to increase its policy rate to slow inflation, one question that arises is whether the Fed will be able to slow the economy without causing a recession and a higher unemployment rate. That idea is called "soft landing." Some economists argue that a soft landing is possible, especially when job vacancy rates are historically high.
The Fed: Is a Soft Landing Possible? What the Beveridge Curve Reveals
In today's post, we'll use that model to determine how the separate matching functions affect the Beveridge curve, which plots the relationship between the job vacancy rate and the unemployment rate. This, in turn, will give us insight into whether a soft landing is possible. Adjusting the Beveridge Curve for the Dual Vacancy Model. The next two figures show two separate…
Negotiating the Right to Make Alterations or Improvements to Your Leased Space
When it comes to leasing commercial space for your business, the ability to make alterations or improvements to the premises can be a game-changer. It enables you to customize the space to meet your unique operational needs, branding requirements, and employee comfort. However, negotiating the right to make these alterations or improvements within your lease agreement…
Video: Greenleaf Capital Partners CEO Dave Codrea on Evaluating Sector Allocations & Risks Today
Dave Codrea, Greenleaf Capital Partners' Chief Executive Officer, joins America's Commercial Real Estate Show to discuss strategies and risks in various commercial property asset classes at this point in the cycle. He discusses a preference for single tenant retail investment properties, noting that they are simpler to underwrite. They discuss market turmoil, but as potential opportunities.
Multifamily Permitting Down by Almost One-Third Nationally
Higher interest rates, a stacked pipeline, and difficulty in securing funding has seen multifamily development slow to more sustainable levels. According to the latest release from the Census Bureau, the seasonally adjusted annual rate (SAAR) for multifamily permitting in July 2023 fell 32.2% from one year ago as the current 464,000 unit permitting rate was 220,000 units fewer…
WeWork's Troubles Cast New Shadows Across the Real Estate Industry Nationally
WeWork's recent declaration that "substantial doubt exists" about its ability to continue as a going concern threatens to further pummel a U.S. office market already struggling with high vacancy and falling valuations. Its collapse would have wide ripple effects. The coworking giant is a major office tenant in markets such as its home base of New York City and its lease payments…