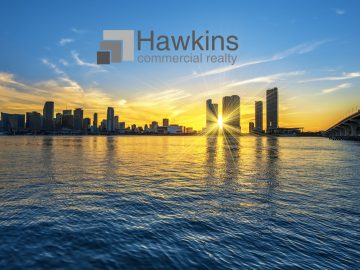 Microsoft to lease 50K sf office at under-construction Brickell tower
Microsoft is making its expansion in Miami official. The tech giant inked a roughly 50,000-square-foot lease at a new office tower under construction in the Brickell Financial District, as out-of-state tech firms continue to head to South Florida. Redmond, Washington-based Microsoft will use the space at 830 Brickell as its new regional headquarters, according to a statement…
Microsoft to Open 50 KSF Office in Miami
Microsoft has announced it will open a new, 50,000-square-foot office in downtown Miami. The tech giant has inked a lease at 830 Brickell, a forthcoming Class A office building in the city's financial district. A partnership of OKO Group and Cain International is developing the 640,000-square-foot 830 Brickell, which was approved by the city in 2019.
Microsoft Leases 50K SF As Miami Aims To Balance Tech Influx, Hesitant Return To Office
Microsoft will lease 50K SF at 830 Brickell, a trophy office tower under construction in Miami. The 55-story, 640K SF tower from developers OKO Group and Cain International is Miami's first stand-alone, Class-A office building built in over a decade, according to the developers. Cain International Vice President Justin Oates, a panelist at Bisnow's…
Chetrit Group sells Miami Beach hotel for $42M
The Chetrit Group sold a Miami Beach apartment hotel to its operator for $42 million, The Real Deal has learned. Royal Stays Miami, led by Yedid Buchweld, acquired the 104-key property at 1000, 1020 and 1030 Collins Avenue, according to a source. Royal Stays has been operating the property under a leasehold agreement since 2018. The deal breaks down to nearly…
Chart: Miami-Dade Commercial Real Estate Sales August 2021
This chart displays the number of closed commercial property sales in Miami-Dade county including both improved commercial properties and vacant commercial land, that were recorded in the Miami Commercial MLS for the two years ending August, 2021. August 2021 volume, as was the case with July, seems to be at a normal, non-pandemic, level. "Don't wait to…"
Chart: Miami Commercial Real Estate Sales to List Price Ratio August 2021
This chart displays the sales price to listing price ratio as reported in the Miami Commercial MLS for improved commercial real estate (MLS classification: commercial/industrial) that lies within Miami-Dade, including cities within, that were priced from $1 million to $10 million and that closed from January 2011 to August 2021. This ratio edged up a touch…
Student housing survives pandemic and investment returns
The pandemic can't keep student housing down. In fact, it may even be graduating to a new era as college students return to in-person classes across the country. Property investors are spending billions of dollars on student housing while developing off-campus options for new and returning students. Developers are also adding perks to entice students…
Developers rush in: Vivian Dimond-led group offers $150M for older bayfront Miami condo building
The bidding to buy out an older bayfront condo complex in Miami's Edgewater is up to $150 million, according to offers obtained by The Real Deal. Condo owners at the roughly 254-unit Bay Park, 3301 Northeast Fifth Avenue, have received three written offers since May. The latest is $150 million from Aman Group, led by Miami-based broker, investor and…
Bill Gates' Cascade taking over Four Seasons Hotels & Resorts
Bill Gates' Cascade Investment is taking a swing in the hotel industry, paying more than $2 billion to take control of Four Seasons Hotels & Resorts. Cascade is planning to buy 23.8 percent of a stake belonging to Saudi Arabian Prince Alwaleed bin Talal, spending $2.2 billion, according to Reuters. The purchase will give Cascade a 71.3 percent stake and…
Lease roundup: New York pizzeria opening at Wynwood 25, logistics provider heading to Davie & more
Joe's Pizza I Wynwood 25 New York classic Joe's Pizza is opening its first Miami location at the mixed-use project Wynwood 25. The family owned and operated pizzeria inked a 1,758-square-foot, long-term lease at the multifamily-retail building, according to a news release. It is planning to open in spring 2022. Joe Pozzuoli, of Naples, Italy, founded the pizzeria…
"People discovered Doral." It is with this phrase that Mayor Juan Carlos Bermudez defined the population's growth in our city. Today, we can count a total of 75,874 residents according to the results of the last census of 2020. The census showed that Doral is a culturally diverse city, a city represented by people of…
Biscayne Bay advisory board ready to get feet wet
A 21-member Biscayne Watershed Management Task Force is assembling its members for what is to be a permanent organization in charge of addressing the recovery of water quality in Biscayne Bay and future management of the watershed. The county so far has received nine nominations and the Chief Bay Officer, Irela Bague, is expecting that…
Developments Face More Scrutiny After Catastrophic Miami Condo Collapse
The full consequence of the tragic Surfside, Florida, condominium collapse won't be fully realized for years to come. For now, the deadly disaster at the Champlain Towers South stripped some luxury condominium buyers of the comfortable assumption that they're buying a safely constructed property. After the 12-story oceanside residence crumbled to the ground…
Key Biscayne looks for better way to handle Rickenbacker Causeway
A county-sponsored public meeting will be held to discuss and possibly suggest amendments to the Rickenbacker Causeway request for proposals that Miami-Dade County approved for action in July after Key Biscayne residents and council members last week expressed disapproval and called it "a veiled, obscure process that did not consider the realities of the…
TREO Group Completes $36M Student Housing Development Near University of Miami
Miami, Fla.-based The TREO Group has completed Vox Miami, a 326-bed student housing community located at 7202 S.W. 72nd St. in south Miami. The development cost for the 193,250-square-foot project was $36 million. Vox Miami offers a mix of one-, two-, three- and four-bedroom units with a TV in every living room, floor-to-ceiling windows, stainless…
Teahouse to be planted in center of Biscayne Boulevard downtown
A brand new Green Initiative promises to transform stark urban pavement into an oasis in Downtown Miami. With dual goals of increasing walkability and welcoming green space in dense areas, developer PMG and the Miami Parking Authority (MPA) have announced they are joining forces to create a community driven project called the Green Initiative along Biscayne…
JV plans high-end offices at old Bancroft Hotel in South Beach
A joint venture plans to convert the closed Bancroft Hotel and a building next door in South Beach into high-end offices, marking another bet on the tourist area morphing into a workplace hub. Pebb Capital, based in Boca Raton and New York City, and Miami-based Maxwelle Real Estate Group… Pebb and Maxwelle bought the property at 1501 Collins Avenue…
Babba Joshua Yesharim plans residential project along Miami River
A residential project with up to 36 units is in the works for the north side of the Miami River. Babba Joshua Yesharim, a longtime investor in real estate along the river, envisions either condominiums or a membership-based club with short-term rentals for a site he just purchased, according to the broker who handled the deal. The project would include a 260-foot long…
GPI Real Estate wins $6M settlement over failed Sunny Isles Beach project
When plans for a hotel and residential project in Sunny Isles Beach hotel fizzled after five years in the works, the site's developer and seller hurled accusations at each other in court. Now, GPI Real Estate Group, which was in line to buy the 1.6 acre lot, has won $6 million from seller Robert Cornfeld. The settlement payment comprises the refund of a $5 million…
Latest draft of Surfside rezoning shows only 80 units could be built on collapse site
Amid heightened scrutiny over downzoning of the collapsed Champlain Towers South site, the town of Surfside is still looking at further limiting the number of units that can be built on the oceanfront property. If approved, the latest version of the proposed rezoning could impact the marketing and sales process of the site. Under this proposal, roughly 80 units could be…
Fill 'er up: Hialeah Gardens and Fort Lauderdale Wawas sell for a combined $22M
Retail real estate investors keep filling up on Wawa gas station convenience stores in South Florida. Two different buyers closed on a Wawa in Fort Lauderdale and another in Hialeah Gardens, paying a combined $22 million. In the Fort Lauderdale deal, Tampa-based Brightwork Real Estate sold the recently completed Wawa at 6191 North Powerline Road for…
Where department stores go when they die
Department stores are dying in droves. The buildings that house them? Not so much. According to Bloomberg, 40 percent of department stores in the United States have closed in the past five years. While some are ultimately razed, others are being converted into different types of spaces to reduce costs and environmental impacts, the publication reported. Old…
Shoma Group HQ faces foreclosure over allegedly unauthorized construction: lawsuit
Shoma Group built a new glass-encased rooftop lounge at the company's Coral Gables headquarters without permits and without authorization from the company's co-founder Maria Lamas, according to a recently filed foreclosure lawsuit. Lamas is exercising a clause in the $6 million mortgage that she holds, which allows her to declare default against a Shoma…
The Surfside Condominium Collapse and Its Ripple Effect in Miami
By now, you've probably heard of the Surfside Condominium Collapse, but if not, here's a brief overview. On the morning of June 24th, 2021, while most of the inhabitants slept, half of the building came crashing to the ground. Ninety-eight people lost their lives that morning. Why did this happen? Was it some natural disaster that comes once in a blue moon?
Retail Center, Town and Country Plaza Refinanced for $27M
MMG Equity Partners has secured $26.6 million and refinances retail center, Town and Country Plaza, located at 13712 SW 152nd Street in Miami, FL. Guardian Life Insurance Company of America provided the loan for the shopping center. JLL Capital Markets team, which included Chris Drew, Brian Gaswirth, and Reid… Read more » The post News first…
Joe's Pizza Will Bring the Classic NYC Slice to Wynwood
It's official: Yet another famous New York City restaurant is making the trip south to Miami. Joe's Pizza, the family owned-and-operated Greenwich Village institution that set the standard for the quintessential New York slice will open its first Florida location at Wynwood 25. The restaurant is scheduled to open in spring 2022. Last week, Joe's Pizza owner/president…
Easton Group, LBA Logistics buy Doral warehouse for $20M
The Easton Group, in joint venture with industrial investor LBA Logistics, bought a Doral warehouse for $19.5 million. Badia Spices, a homegrown spice and herbs maker and distributor, sold the 105,365-square-foot building at 9880 Northwest 25th Street, according to an Easton news release. The deal breaks down to $185 per square foot. Dalton Easton…
Cabot Properties buys Miramar distribution center for $72M
Cabot Properties paid $71.6 million for the Bridge Point Miramar distribution center. The Boston-based logistics real estate investor bought the industrial building at 15501 Southwest 29th Street from Chicago-based Bridge Industrial, according to the seller's broker's news release. Mike Davis and Rick Brug…
Trammell Crow Residential wins approval for 250-unit multifamily project in Miramar
More apartments are planned for Broward County, as Trammell Crow Residential won approval to build Alexan Miramar, a 250-unit multifamily development just east of I-75 in Miramar. Dallas-based Trammell Crow won city approval to build the project during a commission meeting Wednesday night. It will include two six-story apartment buildings with 125 units…
Weston medical office building trades for $17M
A two-story medical office building in Weston sold for $17.2 million. Two affiliates of Montecito Medical Real Estate sold the 32,559-square-foot building at 2229 North Commerce Parkway to another affiliate of Montecito named MMAC Pix Weston FL SPE LLC, records show. The deal was financed with a $22.3 million loan from BMO Harris Bank. Montecito, based in…
Abacus Capital Partners pays $125M for Plantation apartments
A New York-based real estate investment firm specializing in multifamily properties picked up an apartment community in Plantation for $125.4 million. An affiliate of Abacus Capital Group bought the 376-unit St. Tropez Apartments at 8000-8290 Cleary Boulevard, records show. The seller is an entity tied to Dallas, Texas-based real estate investment firm Lincoln…
NHL Team, Elon Musk Tunnel Demonstrate Fort Lauderdale's Growth Potential
Fort Lauderdale is on the rise, and it is luring the big names to prove it. The Florida Panthers hockey team is exploring a permanent move to Fort Lauderdale from its current county-owned facility in Sunrise, Florida, Mayor Dean Trantalis told Bisnow. "The team is talking with various stakeholders, various landowners in the area to identify sufficiently…
Blackstone buys Boynton Beach apartment complex for $171M
An entity tied to New York-based investment behemoth Blackstone bought the One Boynton apartment complex for $171 million. The buyer, which lists several Blackstone executives, purchased the 494-unit apartment complex at 1331 and 1351 South Federal Highway in Boynton Beach from an affiliate of Atlanta…
Related Cos. completes $65M purchase of West Palm affordable senior housing
Stephen Ross' The Related Companies completed its acquisition of two affordable senior housing apartment buildings in West Palm Beach. Affiliates of Related's affordable housing division paid a combined $65 million for Saint Andrews Residence, a 182-unit building at 208 Fern Street, and Saint James Residence, a 148-unit building at 400 South Olive Avenue…