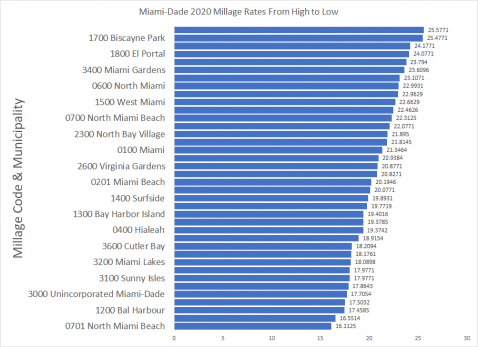 Millage Rates in Miami-Dade County by Municipality
Below here millage rates, which are used to calculate property tax, are listed in alphabetical order by municipality for the various municipalities within Miami-Dade County. These are also show in graph form above, sorted from high to low, with Biscayne Park having the highest millage rate. This highest rate, like golf, is the worst, that is unless you like paying more tax (there's always one). The lowest is North Miami Beach.
For commercial real estate investors, a higher millage rate translates to higher expenses and thus lower net operating income. The difference between the highest and lowest rates, if one assumes assessed value as 2/3 of market value, is $6,462 per year of extra expenses per million of market value. The variance is not insubstantial.
Miami-Dade Millage Rates Listed Alphabetically
Aventura Millage Code 2800 2020 Millage Rate: 17.5032
Bal Harbour Millage Code 1200 2020 Millage Rate: 17.4585
Bay Harbor Island Millage Code 1300 2020 Millage Rate: 19.4016
Biscayne Park Millage Code 1700 2020 Millage Rate: 25.4771
Coral Gables Millage Code 0300 2020 Millage Rate: 18.9154
Cutler Bay Millage Code 3600 2020 Millage Rate: 18.2094
Doral Millage Code 3500 2020 Millage Rate: 17.8643
El Portal Millage Code 1800 2020 Millage Rate: 24.0771
Florida City Millage Code 1600 2020 Millage Rate: 22.9629
Golden Beach Millage Code 1900 2020 Millage Rate: 24.1771
Hialeah Gardens Millage Code 2700 2020 Millage Rate: 20.9384
Hialeah Millage Code 0400 2020 Millage Rate: 19.3742
Homestead Millage Code 1000 2020 Millage Rate: 22.4626
Indian Creek Millage Code 2100 2020 Millage Rate: 22.0771
Key Biscayne Millage Code 2400 2020 Millage Rate: 16.5514
Medley Millage Code 2200 2020 Millage Rate: 20.8271
Miami (DDA) Millage Code 0101 2020 Millage Rate: 21.8145
Miami Beach Millage Code 0200 2020 Millage Rate: 19.3785
Miami Beach Millage Code 0201 2020 Millage Rate: 20.1946
Miami Gardens Millage Code 3400 2020 Millage Rate: 23.6096
Miami Lakes Millage Code 3200 2020 Millage Rate: 18.0898
Miami Millage Code 0100 2020 Millage Rate: 21.3464
Miami Shores Millage Code 1100 2020 Millage Rate: 23.794
Miami Springs Millage Code 0500 2020 Millage Rate: 23.1071
North Bay Village Millage Code 2300 2020 Millage Rate: 21.895
North Miami Beach Millage Code 0700 2020 Millage Rate: 22.3125
North Miami Beach Millage Code 0701 2020 Millage Rate: 16.1125
North Miami Millage Code 0600 2020 Millage Rate: 22.9931
Opa-Locka Millage Code 0800 2020 Millage Rate: 25.5771
Palmetto Bay Millage Code 3300 2020 Millage Rate: 17.9771
Pinecrest Millage Code 2000 2020 Millage Rate: 18.1761
South Miami Millage Code 0900 2020 Millage Rate: 20.0771
Sunny Isles Millage Code 3100 2020 Millage Rate: 17.9771
Surfside Millage Code 1400 2020 Millage Rate: 19.8931
Sweetwater Millage Code 2500 2020 Millage Rate: 19.7719
Unincorporated Miami-Dade Millage Code 3000 2020 Millage Rate: 17.7054
Virginia Gardens Millage Code 2600 2020 Millage Rate: 20.8771
West Miami Millage Code 1500 2020 Millage Rate: 22.6629