Both Miami, now with the third most dense skyline in North America (video: watch it grow 1990-2016; interactive growth chart), and Sunny Isles Beach make the list of 18 cities in the USA that have at least five skyscrapers. The tallest building in Miami is the Panorama Tower, rising 868 feet, while the Muse at the 649-foot mark is the tallest in Sunny Isles. By 2021, Miami will boast an 817-foot tall tower in the form of the Aston Martin Residences. The year before that, 2020, Sunny Isles Beach will get another building at its 649-foot maximum height limit, the Estates at Aqualina South Tower. Other notable projects in the city include the Armani/Casa tower, the Turnberry Ocean Club residences and the Ritz-Carlton Residences.
Tallest Skyscrapers Under Construction in USA
Miami and Sunny Isles each have one of the 10 tallest skyscapers under construction.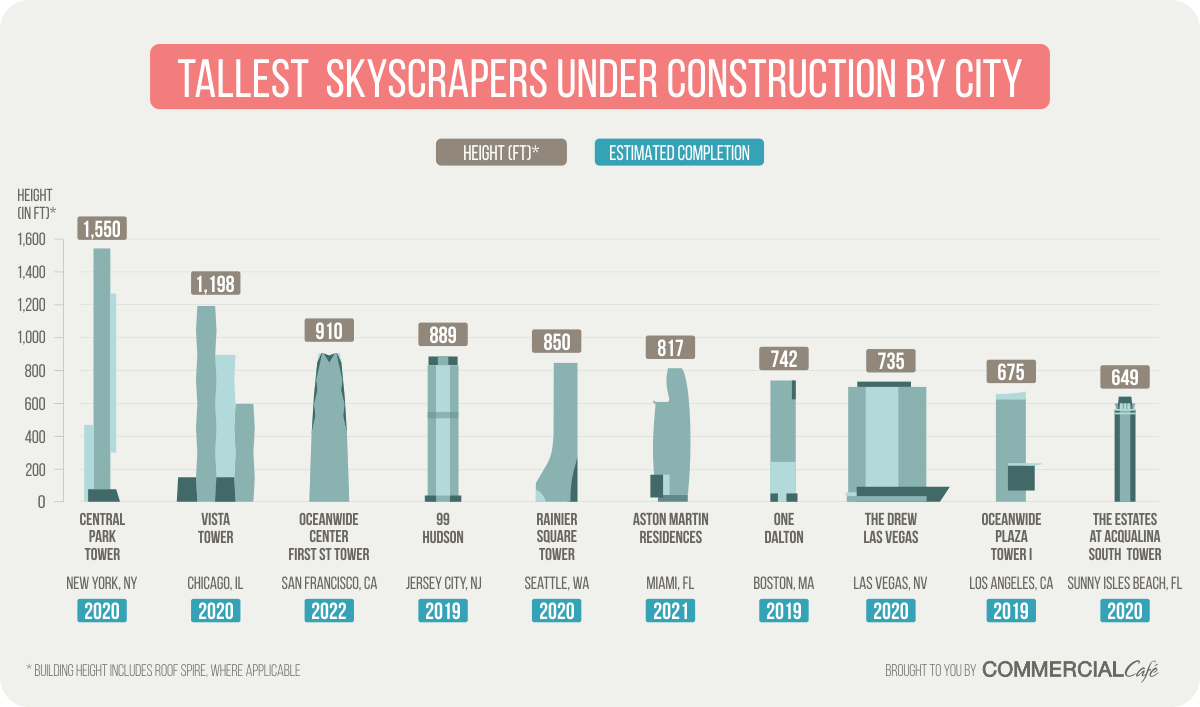 Tallest Buildings Today are Typically Residential
Skyscrapers are an important part of a city's identity, symbols of economic prosperity and cultural prestige. The biggest skyscraper construction boom in the country started out in the 1960s. The 1980s was the peak decade of new office towers. After the year 2000 most of the new skyscrapers were residential. So far this year (2018), ten skyscrapers have been  completed, three of which are more than 1,000 tall.
More on skyscrapers in the USA.