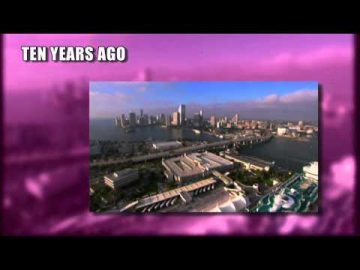 Just when people started to think they have a focus on downtown Miami it changes. The one thing constant in downtown is change you blink it changes. One just need look at the last 10 years at Miami's urban core to see that this it is one of the fastest evolving areas anywhere in the world.
Miami has become a global center with over five billion dollars of international investment in the last few years alone. Investors who see downtown Miami as an epicenter for trade and commerce as the Wall Street of the South. It is a place where property values have been on the rise, and it's a great place to live.
Practically no one was living in downtown Miami at the turn of the millennium. Now, there are more than 80 residential developments built between 2003 and 2008. In fact more than 24,000 new condos have come online. Now, they are fully occupied with young professionals ,families and city-dwellers, entertaining themselves downtown at nigh. Downtown has experienced more than eighty percent growth over the last 10 years. Its residents are being joined by newcomers moving into developments like Brickell City Centre and others. There are now more than 300 restaurants downtown, open and doing well. There are about a dozen new luxury hotels with over 6,000 top quality hotel rooms.