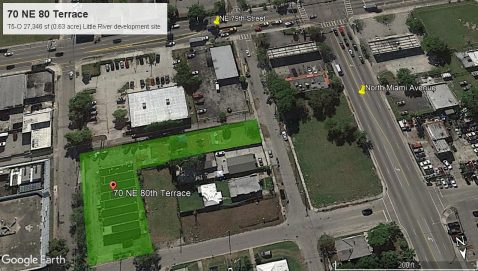 Related Resources
Miami 21 T5-O Allowable Uses, Density
Allowed by Right: SINGLE FAMILY RESIDENCE; COMMUNITY RESIDENCE; TWO FAMILY RESIDENCE; MULTI FAMILY HOUSING; DORMITORY; HOME OFFICE; LIVE – WORK; BED & BREAKFAST; INN; HOTEL; OFFICE; ENTERTAINMENT ESTABLISHMENT; FOOD SERVICE ESTABLISHMENT; GENERAL COMMERCIAL; PLACE OF ASSEMBLY; RECREATIONAL ESTABLISHMENT; RECREATIONAL FACILITY; RELIGIOUS FACILITY; LEARNING CENTER; PRE-SCHOOL; RESEARCH FACILITY.
Allowed By Warrant: Administrative Process – CRC (Coordinated Review Committee): AUTO-RELATED COMMERCIAL ESTAB.; MARINE RELATED COMMERCIAL ESTAB.; OPEN AIR RETAIL; COMMUNITY FACILITY; COMMUNITY SUPPORT FACILITY; INFRASTRUCTURE AND UTILITIES; MARINA; PUBLIC PARKING; TRANSIT FACILITIES; CHILDCARE; COLLEGE / UNIVERSITY; ELEMENTARY SCHOOL; MIDDLE / HIGH SCHOOL; SPECIAL TRAINING / VOCATIONAL.
Density: Per Miami 21, the density per acre for T5-O land is 65. This would indicate 41 units for this 0.63 acres. A buyer would need to verify this and all details during due diligence if not easier. We can make an intro to an architect familiar with the site, Michael Noll, to discuss development potential for multifamily or any use.
Little River District
Location Maps & Satellite View
Google Map of 70 NE 80 Terrace, Miami, FL 33138:

Google Satellite View of 70 NE 80 Terrace, Miami, FL 33138:

Google Streetview of 70 NE 80 Terrace, Miami, FL 33138: