To use this effectively, you'll want to filter by zoning. To do that, you'll need to access this on Google Maps directly using the link later in this post.
First, however, read the following:
This map was made by using publicly available sales from 2018 to 2020, filtering out sales types such as multi-parcel sales that tend to result in errant (or more complicated to infer per parcel amounts) data. Consequently, though the underlying data was systematically assembled, it is far from complete, and thus is not perfect. Also note that this is intended be only vacant land sales. However, to increase the data set size, sales where the county values the building on a property at less than 20% of the total value of the property were also included. That should work fairly well to filter for properties that traded like vacant land given the commercial zoning of these properties, but again, it isn't perfect. Also, restricted, limited and open (R, L, O) sub-classifications within each zoning type are lumped together. For example, T5 L, T5 R, T5 O are all in T5. This isn't perfect (sensing a trend?), but I think it is better than a bunch of thinly sliced classifications with small data sets each.
To use this map effectively, each zoning classification map needs to be viewed independently as the gradient ranges are set for each layer. To do this, assuming you've carefully read the proceeding, click through to the map on Google Maps here. Once there, you should be able to select and deselect different Miami 21 zoning layers. There is an image at the bottom of this post showing, as an example, what this map will look like if you deselect all Miami 21 zoning classifications except for T5.
For buyers or sellers seeking more comprehensive information, we have tools that can provide more comprehensive and frequently more relevant comparables. For that, contact me.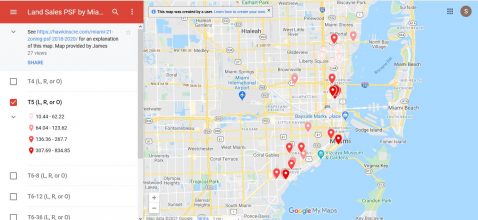 More Miami 21 Related Resources:
OK, the disclaimers…
Any and all facts, statistics, financial information, specifications, and analysis provided are on a best efforts basis only, and should not be relied upon for making real estate or investment related decisions. Nothing in this post should not be relied on for, tax, legal or accounting advice.