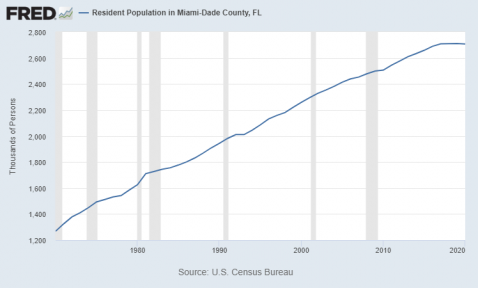 Put me down as surprised, even skeptical.
Per the St. Louis Fed, for the first time since 1993 the population shrunk year over year, from 2,711,612 in 2019 to 2,707,303 in 2020. Who knew? This also follows negligible growth in the prior two years.
You wouldn't know it in downtown Miami or in any of the county's urban centers. Miami's central business district has developed relatively rapidly to be the third most dense skyline in the United States. This growth shows no signs of abating, with additions to the skyline underway or planned. Given the mismatch with the county's population trends, one is left to conclude that obvious growth in the urban areas is offset by declines beyond.
I have to say, however, I'm get around all over this county. I'm not aware of a place where the population is clearly declining. It is not as if every time a new shiny tower goes up downtown, a suburb goes dark. Suburbs are growing also. Thus, I'm left to wonder about this data.