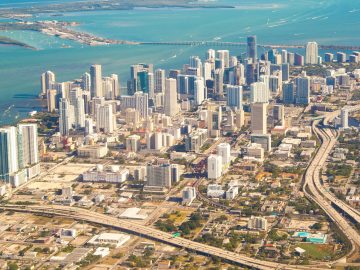 ZOM Living, Moinian Group Purchase Land to Develop 43-Story Apartment Tower in Miami Worldcenter
ZOM Living and The Moinian Group have partnered to purchase the land necessary to develop Luma, a 43-story, 434-unit apartment community within downtown Miami's Miami Worldcenter project. The joint venture plans to break ground in the coming weeks. Luma will offer floor plans ranging from 566 to 1,808 square feet and amenities such as a wellness center, speakeasy, sundry shop, dog salon…
Miami Developer Robert Zangrillo among parents facing new charges in college admissions scandal
Miami developer Robert Zangrillo is among the 16 parents now facing additional charges in the Justice Department's largest-ever college admissions investigation. Zangrillo was among the 33 parents indicted in March for paying to get their children into schools that included the University of Southern California, Stanford, Georgetown and Yale. In addition to being charged with conspiracy to commit mail fraud…
Miami Developer Robert Zangrillo Hit With More Charges in College Bribery Scandal
Robert Zangrillo, one of the main investors behind a controversial luxury development in Little Haiti, was hit today with new charges in the college admissions cheating scandal. In addition to being charged with conspiracy to commit mail fraud and honest-services mail fraud, he has now been indicted for conspiracy to commit fraud and money laundering. The CEO of Dragon Global is among 16 parents…
New York Based Just Salad Is Bringing Its Avocado Toast in a Box to Miami
Just Salad, a New York-based fast-casual restaurant all about eating healthy on the go, is coming to Florida. The chain is more than just salads, however. The menu also offers customizable, made-to-order wraps, bowls, and smoothies as well as salads. One of its most popular menu items is the "toast box": avocado toast served in — you guessed it — a box. …Miami at 1050 NW 14th Street…
Why Publix is stocking up on real estate
As Amazon's acquisition of Whole Foods threatens to upend the entire grocery sector, those currently sitting atop the retail food chain are working hard to solidify their standing. Publix Super Markets, the dominant chain throughout Florida with 227 locations in the tri-county South Florida region alone, is doing just that. The company is making moves to ensure that it can weather any market challenge…
Former Parmenter exec launches Miami investment firm
Areya Keshvari, a former vice president at Parmenter, launched his own investment firm in Miami. Keshvari created Biscayne Capital Advisors to provide real estate investment for private capital, he said. The firm is backed by a prominent real estate family from the Southeast, whom he declined to identify. Biscayne Capital will focus on buying value-add office buildings and multifamily properties in…
Miami ready to move ahead on Miami Beach transit connector
Miami city commissioners are ready to move ahead on a long-awaited beach corridor transit plan connecting with Miami Beach. A proposal to establish a partnership among the city, Miami-Dade County and the City of Miami Beach to improve regional mobility between the city's urban core and Miami Beach via the MacArthur Causeway is on today's (4/11) commission agenda. On July 20, 2016…
Parbel has signed a lease renewal at 6100 Waterford, located at 6100 Blue Lagoon Drive and one of the three buildings comprising Waterford Atrium, a Class A office campus in Miami that is part of the Waterford at Blue Lagoon business park. The 43,624-square-foot space serves as the headquarters for the cosmetics, perfumes and beauty products distributor formerly known as Helena Rubinstein…
Health District apartment project allowed to shrink
The developer who intends to bring new apartments to the edge of the Health District in Miami adjacent to the Dolphin Expressway has revised plans for a shorter building. In February, Spring Garden Apartments LLC received the Urban Development Review Board's conditional approval for an 11-story mixed-use building at 1005 Spring Garden Road. Attorney Iris Escarra, representing the developer…
Brickell Avenue Bridge hours change may be permanent
The Florida Department of Transportation (FDOT) is conducting a traffic study that includes a temporary change in the schedule of openings of the Brickell Avenue Bridge. Depending on what the data reveal, the change could become permanent. Stakeholders downtown and in Brickell have complained for years that excessive bridge openings paralyze the two areas. The project was approved…
Chairman vows to bar Ferré Park, FEC Slip commerce
Miami City Commission Chair Ken Russell is ready to move on his vow to protect the city's Maurice A. Ferré Park and adjoining FEC Slip from commercial development. A proposed resolution from Mr. Russell to limit uses there to only park and other green space is on today's (4/11) commission agenda. The topic of city park land being impacted by commercial uses arose two weeks ago when…
Learn from New York: congestion pricing can build transit
As New York takes the nation's first step to charge drivers to enter congested areas, other cities will examine doing the same. Congestion-weary Miami should take the lead. Manhattan aims to reduce traffic in densest areas and peak times, lessening gridlock, speeding travel and funneling fees to subways. When the charges begin in 2021, air pollution will dip. Those aims fit Miami's needs too. Manhattan has…
Related breaks ground on second phase of CityPlace project
Related Companies is making progress on its redevelopment of CityPlace in West Palm Beach. The New York developer announced it is officially changing the property's name to "Rosemary Square" and is breaking ground on phase two of its plans for the mixed-use property. The project calls for a redesigned plaza, public spaces, green areas, outdoor dining venues, new stores and interactive art…
Downtown Miami condo board sues unit owner for violating short-term rental ban
Front desk personnel at the Marquis Miami luxury tower near American Airlines Arena began logging the number of guests entering a unit on the 18th floor on March 13. Over the next 10 days, more than two dozen visitors were granted access to the two-bedroom condo owned by DDW Property Holdings, LLC, a recently dissolved Florida corporation managed by Larry Zuckerman in Cleveland, Ohio.
Pricing revealed at Sapir's Arte by Antonio Citterio in Surfside
Developer Alex Sapir has unveiled prices at his boutique luxury condo project in Surfside. Units start at $10.2 million and go up to $40 million at Arte by Antonio Citterio, a 12-story, 16-unit building at 8955 Collins Avenue. Sapir's Sapir Corp. said it is officially launching sales of Arte now, about four months after launching during Art Basel Miami Beach, according to a spokesperson. Corcoran Sunshine…
CC Homes seeks NY registration to sell Canarias at Downtown Doral
Capitalizing on the surge of Northeasterners fleeing high-tax states, CC Homes is seeking registration to sell Canarias at Downtown Doral in New York and New Jersey, The Real Deal has learned. Jim Carr, who is developing the luxury home and townhome community with partner Armando Codina, said the developers have already seen an influx of buyers from those states, as well as from the Washington…
The Thames, The Seine, And … The Miami River?
Lissette Calderon was thinking of London and Paris after she graduated from Wharton, finished an investment banking stint in New York and came back to her hometown of Miami in the late 1990s. "All big cities were started around a river," Calderon said. "Having traveled the world — New York, Chicago — they all have this amazing artery in the urban core. All good metropolises have this riverfront."
Another Coconut Grove Playhouse meeting; and protest, planned
The City Commission is meeting Thursday, April 25 and on the agenda is the Playhouse issue, yes, again. They will decide whether to go ahead with the County's plans, which seem to not be liked by anyone except the county. At the last HEP Board meeting, the board voted against the County's current plans, by a vote of 6 to 4, that the Certificate of Appropriateness and demolition permit were denied, yet…
This developer is joining Russell Galbut's South Beach tower project
Developer David Martin joined Russell Galbut's Crescent Heights project in South Beach as a partner. Martin, president and co-founder of Terra, announced his involvement in the Park on Fifth, Galbut's mixed-use tower and park project at 500 to 700 Alton Road, during a recent community meeting, according to RE Miami Beach. Crescent Heights will perform an implosion of the 10-story South Shore…
LA firm Hawkins Way Capital lists two South Beach hotels for sale with expansion plans
A Los Angeles real estate investment firm is looking to sell two boutique hotels in South Beach that could trade for more than $300,000 a key, according to a commercial broker. Hawkins Way Capital is listing the 35-room Clifton Hotel at 1343 Collins Avenue and the 22-room Loft Hotel at 952 Collins Avenue for sale with CBRE's Natalie Castillo and Joshua Beene. At that price per room, the properties could sell…
Anti-development activists warn locals against selling to prospectors in Little River
The Miami City Commission is expected to vote on the proposed 8.2 million-square-foot Magic City Innovation District project at the end of March. It isn't every day that a food hall with 15 restaurants opens just a few blocks away from the bedroom municipalities of Miami Shores, El Portal and Biscayne Park. So when Nick Hamann celebrated the grand opening of the Citadel at 8300 Northeast Second…
State agency approves bond issue to finance Virgin Trains expansion to Orlando
Virgin Trains USA won state approval for a bond issue to finance an extension of its South Florida passenger train service to Orlando. The rail service, formerly known as Brightline, will be able to issue as much as $950 million private activity bonds approved Friday by the Florida Development Finance Corp. Virgin Trains expects to launch service to Orlando in 2023. Approval of the bond issue will allow…
Coral Rock Development principals sell Wawa site in Cutler Bay
Two principals of Coral Rock Development Group and a partner sold a property in Cutler Bay where a Wawa is under construction for $5.7 million. David Brown and Victor Brown of Coral Gables-based Coral Rock Development and Joe Weiselberg of Miami sold the 90,526-square-foot lot at 11101 Southwest 184th Street in Cutler Bay for $62 per square foot, records show. Joel Horowitz of Boca Raton…
Key International sells Little Havana apartments
Key International sold a group of apartments in Little Havana for $10.1 million. The Miami-based company, led by co-presidents Inigo and Diego Ardid, sold Havana Palms II, a 79-unit multifamily complex at 931 Southwest Third Street in Miami, to an undisclosed foreign buyer, according to Marcus & Millichap. The 2-acre property includes 10 buildings built in 1947. The property was 97 percent occupied at…
Institutional investors are factoring climate change into real estate deals in coastal cities: panel
The impacts of climate change are spurring institutional investors to consult imaging maps, computer models and big data to help make decisions about whether or not to buy real estate in Miami, New York and other major coastal cities around the world, according to real estate experts. At a a sea level rise conference Thursday hosted by the law firm Hinshaw and Culbertson…
Investors underpricing impact of climate-related risks, says BlackRock
Asset manager behemoth BlackRock warns that investors are underpricing the impact of climate-related risks and need to rethink their assessment of asset vulnerabilities. The group, in a major piece of on-going analysis, asserts that while the physical manifestations of climate change are clear, including rising sea levels, and more intense hurricanes, wildfires and droughts, how investors incorporate…
Climate change will crush real estate values for investors who don't prepare, new report says
For any investor, measuring opportunity against risk is critical. And for real estate investors in particular, risk is rising exponentially in the age of climate change. To that end, big real estate firms are pouring significant resources into calculating climate risk and its likely effect on property portfolios — everything from increasingly extreme weather to a rise in sea levels. "This process will be painful for investors…"
YotelPad Miami scores construction loan from Bank OZK
The development group building YotelPad Miami closed on a construction loan from Bank OZK for the downtown Miami project. Aria Development Group and AQARAT received a $76.25 million loan from the bank, previously known as Bank of the Ozarks, property records show. The project, at 227 Northeast Second Street, will be a 31-story tower with 231 condos and 222 Yotel "cabins," or small hotel rooms.
Double play: A-Rod's real estate firm closes multifamily fund and opens $50M fund
Retired Yankees slugger Alex Rodriguez's real estate company just closed its first multifamily fund and is trying to score again with the opening of its fourth fund. Miami-based Monument Capital Management said it closed its first multifamily fund with $21 million in equity. It's now launching a $50 million fund focused on workforce Class B and C housing. The new investment fund will look at buying up…
Miami Beach to legalize renting out guest apartments
Does your Miami Beach home have a guest apartment with its own bathroom and kitchen? If so, you may soon be able to legally rent it out. In an attempt to create more affordable housing and provide homeowners with extra income, the Miami Beach Land Use and Development Committee unanimously backed a proposed ordinance that seeks to legalize the leasing of accessory dwelling units in…
Baskir Capital buys a TD Bank branch in North Miami Beach
Baskir Capital Management bought a TD Bank branch in North Miami Beach for $6.6 million amid increasing investor interest in the area. The New York-based real estate firm bought the 4,676-square-foot property at 1190 Northeast 163rd Street for $1,411 per square foot, records show. A company tied to Aventura-based Elion Partners sold the property. The bank sits on a nearly 1-acre lot…
Richard Branson, Brightline unveil Virgin Trains at MiamiCentral
Sir Richard Branson promised to "sprinkle some Virgin magic" on Brightline at the official unveiling of the renamed Virgin MiamiCentral on Thursday. The Virgin Group founder was joined by Virgin Trains USA President Patrick Goddard, Miami Mayor Francis Suarez and other city and county officials at the mixed-use train station previously called MiamiCentral. The rebranding was revealed as the high-speed…
Video: Hines Leasing Direct Nick Garzia Presents Retail Forecast & Review
Nick Garzia, Director of Leasing at Houston based developer – and owner of Doral Corporate Center at 3750 NW 87th Avenue – Hines – appears on this commercial real estate related show to discuss the final quarter of 2018, which retailers excelled and which rather flopped and what these scores and fails mean for the future (of retail) to come. He discusses Amazon versus Walmart, who will win, and mixed…
Factors used to determine tortious interference with contracts
One of the basic principles of the economy in Florida is that there is competition. Therefore, there are many businesses who offer the same or similar services and products. This gives consumers choices to pick the product that best fits their needs and budgets. It also creates competition between companies to produce better products or services at competitive prices. However, this competition can…
What Real Interest Rates Tell about the Recession to Follow
Can economists say anything about the severity of a recession before it starts? This blog post argues that long-term real interest rate levels before recessions exhibit a correlation with the severity of the recession, measured in terms of its duration or its impact on macroeconomic variables such as the unemployment rate. This topic is especially pertinent as one yield curve briefly inverted and…
Todd Glaser kills plan for 15-acre mixed-use development in South Beach
Developer Todd Michael Glaser killed his plans to build a 15-acre mixed-use district in western South Beach, saying he won't pursue it unless there's an outcry from area residents and property owners demanding it. Glaser said he withdrew his West of West overlay district proposal a day before Wednesday's Miami Beach Land Use and Development Committee meeting after city planners criticized aspects…
Video: Bainbridge EVP & COO Discusses Multifamily Development Opportunities
Kevin Keane, Executive Vice President and COO with the multifamily developer Bainbridge Companies, joins Michael on America's Commercial Real Estate Show via Skype to discuss opportunities in multifamily development, construction costs, and lender sentiment.  Bainbridge develops "basically along I-95," from Miami to New Jersey. He discusses how construction costs, particularly materials and…
Miami Beach may encourage taller hotel development on Lincoln Road
Real estate investor Sam Herzberg's desire to turn the 91-year-old Sterling Building into a 130-room hotel has sparked interest in Miami Beach to encourage more hotels and smaller rooms on Lincoln Road. Miami Beach commissioners Ricky Arriola, Joy Malakoff, and John Elizabeth Aleman on Wednesday largely backed a proposed law that would waive parking requirements for hotel additions attached…
Miami is the most rent-burdened city in the country: report
More than a third of Americans are considered rent-burdened, meaning they spend at least 30 percent or more of their monthly income to pay for rent. A new report from Freddie Mac shows the most expensive cities aren't always at the top of the list. Miami ranked as the most rent-burdened of the top 50 metro areas in Freddie Mac's report. It was followed by San Diego, Los Angeles, New York and…