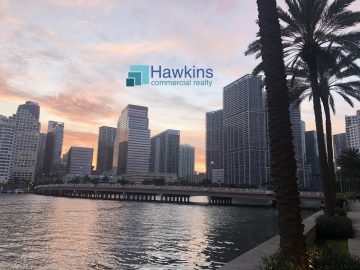 Chart: Miami Commercial Real Estate Sales to List Price Ratio March 2021
The sales to list price ratio as reported by the Miami MLS for improved commercial real estate (MLS classification: commercial/industrial) within Miami-Dade county in Florida priced from $1 million to $10 million in March came up a bit to 93% from 89.5% the month prior. Though off of highs in the past 10 years, this percentage is nonetheless in the upper…
Estate Companies sells Soleste Twenty2 apartments in West Miami for $97M
The Estate Companies sold its fourth West Miami multifamily community, this time for $97 million. The South Miami-based developer said it sold the 338-unit Soleste Twenty2 at 2201 Ludlam Road to Dallas-based Westdale Real Estate Investment Management. The sale equates to $286,982 per unit. The eight-story property on half an acre totals…
Estate Cos. Sells Newly Built, Luxury Apartment Community in West Miami for $97 Million
The Estate Cos. (EIG), a private developer of multifamily properties, has sold Soleste Twenty2 in west Miami for $97 million. The locally based developer completed the eight-story luxury apartment community in February 2020. An entity doing business as Westdale Twenty2 LLC purchased the 338-unit community. The buyer is an affiliate of Westdale Real Estate…
Panel: 'Astronomical' Multifamily Investment Demand Drives Up Pricing
The U.S. multifamily sector remains an attractive option for real estate investors looking for a safe haven. Beyond the pool of traditional buyers who are actively acquiring apartment properties, the sector has become a landing spot for companies that aren't legacy multifamily owners. Steven DeFrancis, CEO of Cortland, cited REITs like Blackstone Real Estate…
Miami Senior Housing Project Lands $42M Loan
Royal Senior Care has received $41.9 million in construction financing for its upcoming, 217,123-square-foot luxury senior community, dubbed The Oasis at Coral Reef, in Miami's Richmond Heights neighborhood. BHI's Healthcare Group arranged the debt, which included a $31.9 million loan provided by BHI, along with a $10 million note from Coastal States Bank.
Chart: Miami-Dade Commercial Real Estate Sales March 2021
The chart herein displays the number of closed sales of Miami-Dade commercial properties, including improved commercial property and vacant commercial land, that were recorded in the Miami MLS for the two years ending February 2021. March, as can been seen, was a record for the past two years. Looking back farther than the data in this chart, March…
North Miami Beach approves mixed-use, multifamily Skygarden tower
North Miami Beach gave final approval for a Turkish developer to build a 19-story, mixed-use multifamily tower. Skygarden at 16900 Northeast 19th Avenue will be 224-feet tall and include 341 apartments, 12,635 square feet of retail space, 405 parking spaces, a recreational deck with a pool and garden on the sixth floor, a rooftop terrace, and public art. Developer…
Land Enterprise Service LLC Picks Up Miami Airport/Doral Industrial Land Site For $3.7 Million
State Street Realty recently completed an industrial land sale transaction valued at nearly $3.7 million within Beacon Lakes Business Park. The Class "A" +/-3 acre industrial land site is a prime property situated on NW 17 Street & 127th Avenue adjacent to the Florida Turnpike & Dolphin Expressway (SR 836) within the Miami Airport/Doral submarket.
Tech workers plan to head back to offices by Q3
By September, a slew of workers may be finally returning to their offices. That's according to a new report by Savills, which surveyed more than 120 tech companies in March about their future office plans. More than 50 percent said they expect to be back in the office by the third quarter of this year. Twenty-four percent said they would be back by the fourth quarter…
Tricera, Alex Karakhanian buy Redsky's Cube Wynwd for $28M
A joint venture between Tricera Capital and Alex Karakhanian's Lndmrk Development paid $28 million for Redsky Capital's new Class A Miami office building, The Real Deal has learned. Redsky and its joint venture partner, JZ Capital Partners, completed the eight-story, roughly 100,000-square-foot Cube Wynwd, at 222 Northwest 24th Street, in 2019. It's about 30 percent…
Nightlife Mogul David Grutman Rumored to Be Eyeing Miami's Wynwood Garage
Days after his lavish bash for his newest venture, the king of Miami's nightlife, David Grutman, is said to be expanding his real estate portfolio into Wynwood, Commercial Observer has learned. Groot Hospitality, Grutman's company, is in talks to lease a retail location at the Wynwood Garage located at 2660 NW 3rd Avenue, according to two sources…
'Slammed' With Showings And Deals: Miami Only Market In U.S. Expected To See Office Rents Grow
According to JLL's most recent Office Insight Report for Miami, Q1 marked the fourth consecutive quarter of negative absorption, but "recent leasing activity suggests that occupancy gains will resume before the close of the year." According to CBRE, Miami is the only market in the country that will see office rents grow in the next two years. "I would venture to say that…"
Gold Rush for Miami Restaurant Space as New Yorkers Make Their Move
It's booked solid for a month in advance — inside at full capacity with no social distancing. Cote, a New York-based, Michelin-starred Korean steakhouse, opened its Miami branch in the swanky Design District on 3900 NE 2nd Avenue, in February. "We struck gold," said Simon Kim, Cote's owner.Miami's restaurant market is thriving, in stark contrast to…
Sentinel buys Miami Beach, Bay Harbor Islands apartment portfolio for $97M
Sentinel Real Estate is betting big on the Miami Beach and Bay Harbor Islands multifamily market, buying a 452-unit portfolio for $96.6 million. The New York-based commercial real estate investment manager bought 25 buildings in Miami Beach and five in Bay Harbor Islands from various affiliates of Boardwalk Properties, according to deeds and a spokesperson…
Sentinel Real Estate Corporation Acquires Miami Beach Multifamily Portfolio for $96.57 Million
Sentinel Real Estate Corporation ("Sentinel") announced today the $96.57 million acquisition of a 452-unit multifamily portfolio in Miami, Florida. The portfolio comprises a total of 30 individual properties – 25 of which are located in the heart of South Beach, with the other five located in the coveted submarket of Bay Harbor in North Miami Beach.
Retail landlords still suing over skipped rent
While businesses have been suing their insurers, commercial landlords have also been filing claims against tenants that have skipped rent, citing similar coronavirus losses. While no database tracks these cases, several recent rulings have gone against tenants. Movie theaters — one of the sectors the pandemic has pushed to the brink — have found little solace…
Lawsuits, interrupted: Judges nix business pandemic insurance claims
GreenStreet Cafe's lunchtime rush had just ended on a recent afternoon, but the clamor of dishes in the kitchen hadn't ceased. Business has finally picked up at the popular eatery in Miami's Coconut Grove, known for its red velvet outdoor couches, a place where athletes and artists have dined over the past 30 years. Still, owner Sylvano Bignon is heated. A judge in…
Sunbeam Television completes $57M waterfront assemblage in North Bay Village
Sunbeam Television Corp., owned by the billionaire Ansin family, completed a waterfront assemblage of more than 6 acres in North Bay Village. Sunbeam, led by president and CEO Andy Ansin, most recently paid $13.5 million for the former Trio on the Bay restaurant site at 1601 79th Street, according to the brokers involved in the deal, Samuel Heskiel…
Notable Retail Leases Signed in South Florida Q1 2021
South Florida Retail Leases 2021 – 2020 We've compiled a comprehensive list of the top retail leases signed by square footage in South Florida during Q1 2021. This quarter was busy overall, especially considering the current pandemic, and saw several big box leases signed and sealed. Despite the sentiment that the traditional retail market is…
E11even condo tower planned for downtown Miami reaches 90% of units under contract in two months
It's last call for potential buyers of the E11even Hotel & Residences Miami. Developers Property Markets Group and E11even Partners officially launched sales in February for the 375-unit hotel and condo tower planned for downtown Miami's Park West neighborhood, and now have 90 percent of the units under contract, The Real Deal has learned. Buyers put down…
Billionaire Vlad Doronin, partner score $128M construction loan for Brickell condo tower
OKO Group, the real estate development firm led by billionaire Vlad Doronin, and Jonathan Goldstein's Cain International secured a $128.3 million construction loan for a waterfront Brickell condo project. Bank OZK provided the financing for Una Residences, a 47-story, 135-unit tower currently under construction, according to a press release…
Centennial Bank Provides $12.5M Construction Loan for Workforce Housing Project in Miami
Centennial Bank has provided a $12.5 million construction loan to Prestige Cos. and Florida Value Partners for Trails, a workforce housing project located on the Ludlam Trail at 1040 SW 70th Avenue in Miami. The project's first phase will consist of two- to three-story garden-style buildings with 84 residential units ranging from one- to two-bedroom units listed from…
Single-tenant office buildings face higher risk of default
At one point, leasing an office building to a single tenant rather than collecting from multiple smaller businesses seemed to be a sure thing. But now some office landlords who've relied on one tenant are at risk of losing their properties as more companies shed space, the Wall Street Journal reported. Just outside of Houston, oil company Schlumberger occupied…
Prestige Companies nabs $12M construction loan for multifamily project on Ludlam Trail
Prestige Companies scored a $12.4 million construction loan for a workforce housing project to be built on the site of a former mobile home park in central Miami-Dade County. Miami Lakes-based Prestige and Miami-based Florida Value Partners are building the $17 million The Trail garden-style community at 1040 Southwest 70th Avenue, along the…
Miami Marine Stadium champion looks to concerts revenue bonanza
The key to a financially successful restored Miami Marine Stadium will be concerts, says Don Worth, who has devoted much time for more than a dozen years to getting the stadium rebuilt and reopened. Mr. Worth was one of several speakers during a virtual community meeting April 15 about the future of the famous concrete stadium on Virginia Key. Sponsors…
Historic Walgreens site redevelopment clears alcohol hurdle
The success of a plan for major redevelopment of an historic building in Miami hinged in part on the ability to sell alcohol. Developers cleared that hurdle, and another involving parking, at the April meeting of the city's Historic and Environmental Preservation Board. The developers, 200 E Flagler Development LLC, had requested a zoning exception to permit…
Groot Hospitality, Partners Open Goodtime Hotel on South Beach
The Goodtime Hotel, the first collaborative lifestyle hotel brand from David Grutman of Groot Hospitality and Pharrell Williams, has opened on South Beach's Washington Avenue and 6th Street in Miami Beach. Grutman and Williams worked alongside the real estate developers Michael Fascitelli and Eric Birnbaum of Imperial Cos. to build the hotel. Morris Adjmi was…
Miami's mayor a magnet for Big Tech money
Miami Mayor Francis Suarez's call to make Miami the new Silicon Valley has Big Tech and real estate pouring cash into his coffers. Newly minted venture capital billionaire Chamath Palihapitiya, crypto investors Tyler and Cameron Winklevoss, Shutterstock founder Jon Oringer and others are backing the mayor's reelection campaign this year to the tune of more…
$414B PE Firm Apollo Considering Opening Miami Office; Employees Prefer
Apollo Global Management, a private equity firm with $414 billion under management, is considering opening a Miami office. The new office in Miami is being considered after the company surveyed employees on where they would like to work from, a spokesperson told Bloomberg. An office in West Palm Beach is also under consideration following the survey.
Techcrunch Founder Says Miami Is Now The World's Best Place For Entrepreneurs: 'So Perfect Right Now'
The founder of Techcrunch says there is no better place to be than Miami right now. Michael Arrington, who was once named by Time Magazine as one of the most influential people in the world, wrote in a Twitter thread that Miami is "so perfect right now," and explained why. Part of the reason is the weather, but Arrington explained that it is much more than that.
TA Realty buys Hialeah Gardens warehouse for $26M
TA Realty bought a Hialeah Gardens warehouse for $25.8 million, amid pent-up market demand in light of e-commerce growth. Records show Boston-based TA Realty, through an affiliate, bought the property at 14001 Northwest 112th Avenue from EWA Hialeah Gardens Owner, which is tied to Denver-based EverWest Real Estate Investors. CBRE's Jose Lobon…
Ivy Realty buys Miami-Dade warehouse with cold storage for $26M
Ivy Realty snagged a Miami-Dade County warehouse with cold storage for $26 million, as it continues to expand its South Florida industrial portfolio, The Real Deal has learned. The commercial real estate investor bought the property at 6950 Northwest 77th Court from an affiliate of The Apollo Group in a sale-leaseback. The Apollo Group, a logistics provider to cruise…
Lissette Calderon delivers first multifamily project in Allapattah
Developer Lissette Calderon has completed the first of her three apartment projects in Miami's Allapattah neighborhood. Nearly two and a half years after buying the land, Calderon's Neology Life Development Group received a temporary certificate of occupancy for the 192-unit No. 17 Residences, a 13-story building at 1569 Northwest 17th Avenue. Calderon said it's…
Sapir Organization's Alex Sapir On Miami's Condo Market
Early last year, Alex Sapir, president and CEO of The Sapir Organization, had received a certificate of occupancy for Arte, the 16-unit luxury condo his team developed in Surfside, just north of Miami Beach. He was working through a punch list when the coronavirus pandemic hit. "February of 2020, we were negotiating with two contracts which were, we thought…"
Publix Aims to Dominate Florida's Supermarket Food Chain
To understand just how aggressively Publix Super Markets is blanketing South Florida with stores, look no farther than the corner of Commercial Boulevard and Dixie Highway in Oakland Park. At the northwest quadrant is a Publix that has operated for years. And just across Commercial Boulevard is another Publix. The newer location at the corner opened…
The Industrial Park of Doral Continues To Grow
Since March of 2020, more than 700 new companies have started operations in the Industrial Park of Doral, and many of these companies were already operating in our city. Now they are in search of larger spaces in order to expand and improve their operations. Manuel Pila, Economic Developer for the City of Doral, informed us about this, and he has also expressed that…
The Yield Curve as a Predictor of Future Growth and What Its Recent Steepening May Portend for the Economy
In recent weeks, the steepening yield curve has become a topic of conversation among market participants. For starters, the slope of the yield curve can be measured as the difference in nominal interest rates between long- and short-term U.S. Treasury securities. Using the spread or difference between the 10-year and two-year constant maturity Treasury rates…
Cities Look To Coworking To Accelerate Return To Work, Downtown Recovery
For more than a year, city governments encouraged people to stay home to slow the spread of the coronavirus. But that message has shifted, and cities are now pushing to bring people back to offices to help revive their downtown areas, and they see coworking spaces as a way to accelerate that effort. Over the last three months, Miami, New York and D.C. have…
Miami-Dade County wins lawsuit over Coconut Grove Playhouse partial demolition
A plan to partly demolish and renovate the historic Coconut Grove Playhouse is back in play, after a court struck Miami Mayor Francis Suarez's veto of the project. Miami-Dade County wants to build a 300-seat theater that would incorporate elements of the original 1927 auditorium and restore the facade. The playhouse has a city historic designation and…
Cryptofinance firm buys waterfront commercial condo to move HQ to Miami
Cryptofinance firm XBTO Group is moving its headquarters to Miami. The New York-based firm paid $5.4 million for a waterfront commercial condo at Biscayne Beach in Miami's Edgewater neighborhood. Two Roads Development, which built the 51-story tower, sold the 5,400-square-foot space, said Arden Karson of Karson & Co., who brokered the deal.
Ironstate pays $16M for Wynwood site, marking first property in Miami
Ironstate Development Group purchased a property in Wynwood for $15.6 million, marking its first South Florida site, The Real Deal has learned. The Hoboken, New Jersey-based development firm, led by brothers David and Michael Barry, acquired the Art by God assemblage at 60 Northeast 27th Street. The buyer is 26-60 NE 27th Street LLC, according to brokers…
American Landmark buys Plantation apartments for $58M
American Landmark CEO Joe Lubeck and The Marin. (American Landmark, Arium) American Landmark Apartments bought The Marin by Arium for $58 million, with plans for renovations that include rebranding the complex as The Pearl. Tampa-based American Landmark, through an affiliate, purchased the 223-unit community at 3880-3960 West Broward Boulevard from CPI/Carroll Grove East Owner, which is an affiliate of Atlanta-based Carroll, according to a deed. The sale equates to $260,090 per unit. The garden-…
Alliance Consolidated sells Hallandale Beach medical office building for $6M
Alliance Consolidated Group of Companies sold a Hallandale Beach medical office building fully leased to a dialysis center for $5.9 million. Records show the Bannockburn, Illinois-based commercial real estate investor, through an affiliate, sold the building at 22 Southwest 11th Street to 30 Sherman Ave. Realty. It was a 1031 exchange, according to a press…
Urso Family Realty sells Fort Lauderdale warehouse for $11M
An entity tied to a West Coast shipping company bought a Fort Lauderdale warehouse for $10.6 million. Records show the buyer, led by Andrew Naumov, an executive of Richmond, California-based West Coast Shipping, bought the property at 6001 North Powerline Road from Urso Family Realty. The buying entity, 6001 Powerline LLC, secured a $5 million mortgage…