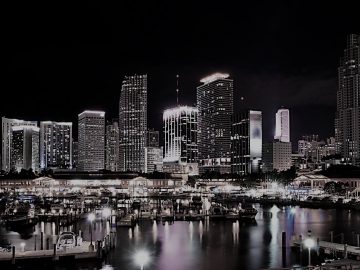 Retailers exposed: Who's paying rent and who's not
As commercial landlords receive requests for rent relief, discerning whether the call for help is driven by hardship or strategy has been weighing on many. A new report titled "Who's paying rent and who's not" provides some insight. It documents which national retail and restaurant chains paid rent and costs related to triple-net leases to landlords so far…
KAR Properties CEO Shahab Karmely: Don't Be Too Cautious
As we navigate through the coronavirus crisis, KAR Properties CEO Shahab Karmely cautions people about one thing: being too cautious. "Some of the great real estate fortunes of today were built right after the global financial crisis," he said on a Bisnow webinar Thursday. "I was like a deer in headlights in 2008, 2009, asking my mommy where my safety blanket was."
REIT launches $2M rental assistance program
Long Island-based Arbor Realty Trust has launched a $2 million interest-free loan program for its borrowers' tenants. The real estate investment trust, which is headquartered in Uniondale and is a multifamily and commercial lender, will contribute $1 million to the fund, representatives for the company said. Landlords — who must be Arbor borrowers to…
Co-working firms are still open. For some tenants, it's a deal breaker.
Mark Macias took space at a WeWork office on Fifth Avenue "before anyone knew what WeWork was" — growing his eponymous public-relations firm from two employees to four, then six. But with the co-working giant keeping its U.S. locations open during the pandemic, Macias wants out. He's one of many customers angry that WeWork is charging fees even though most…
Downtown-Florida International University transit pick due
A nearly three-year project to determine what rapid transit upgrade bests fits the route between downtown Miami and Florida International University is rolling toward the finish line –most likely on rubber tires. Today (4/23), the Miami-Dade Transportation Planning Organization Governing Board is to choose the county's preferred transit mode for…
Wreckage of Airport City may yield Miami International Airport hotel
A Brazilian construction giant whose mixed-use development at Miami International Airport (MIA) failed after years of planning may soon see one component find daylight. The project: Airport City, a 33.5-acre business park with hotel, office, retail and restaurants proposed by conglomerate Odebrecht. In 2016, negotiations with Miami-Dade soured amid issues…
How COVID-19 might change the insurance market
COVID-19 will change our world in many ways, some good and some bad. The same holds true for the insurance marketplace. While in the midst of the crisis, it is hard to predict, but the following considerations should be noted. Anita Byer is president of Setnor Byer Insurance & Risk Property policy and the corresponding business interruption coverage terms will…
Prologis granted rent relief to just 7% of tenants that asked
Prologis, one of the largest owners of industrial real estate, granted rent deferrals to just 7 percent of its tenants who asked for help because of the coronavirus. "This relief is targeted at our smaller customers with legitimate needs stemming from Covid and not for opportunistic requests," said Chief Investment Officer Gene Reilly, speaking at Tuesday's first…
Fontainebleau Miami Beach's $1B loan enters special servicing
The $975 million commercial mortgage-backed securities loan for Jeffrey Soffer's Fontainebleau Miami Beach has entered special servicing, presenting new challenges for Miami-Dade County's largest resort. The CMBS loan is backed by 846 hotel rooms at 4441 Collins Avenue. It went into special servicing on March 30, according to data provider Trepp. Brett…
"We had to turn investors away:" Distressed RE funds raising cash at breakneck pace
The coronavirus pandemic has put billions of dollars worth of commercial real estate loans on shaky ground. Distressed debt funds are having no trouble raising money to scoop them up. Some even have to turn investors away. Florida-based firm Kayne Anderson just raised $1.3 billion for a distressed debt fund in just two weeks. It normally takes…
The Saudis have made a major bet on Related
Related's Stephen Ross and Saudi Arabia's Mohammad Bin Salman Al-Saud Stephen Ross' Related Companies has landed a major investment from the Public Investment Fund, the sovereign wealth fund controlled by Saudi Arabia's crown prince Mohammad Bin Salman Al Saud, according to a new report. Related closed on the deal with PIF in the first week of February…
Video: Integra CEO Anthony Graziano Discusses Their Viewpoint 2020 Reports: Office; Retail; Industrial; Multifamily; Hospitality
Office, Retail, and Industrial: Multifamily and Hospitality: The CEO and Chairman of Integra Realty Resources, Anthony Graziano, appears on a commercial real estate show to discuss his firm's (Integra's) annual Viewpoint report. Topics include economist's perspective on the economy, local and national market growth, and expected performance for the…
The decline in industrial production: One for the ages
On Tuesday, April 15, the Federal Reserve released the industrial production (IP) index for March. You have to go to the very far right data point in the FRED graph to see it, but industrial activity plunged in March because of the economic effects stemming from social-distancing orders in response to the COVID-19 pandemic. Millions of businesses have closed or been disrupted…
Industrial sector is rare commercial real estate bright spot
The industrial sector appears to be the only asset class in commercial real estate poised to weather a devastating downturn caused by the coronavirus, said Rebel Cole, Ph.D., a finance professor in Florida Atlantic University's College of Business. Rebel Cole, Ph.D., a finance professor in Florida Atlantic University's College of Business Demand for distribution…
He's back: Adam Neumann to sue SoftBank for bolting WeWork bailout
Adam Neumann isn't going gently. The former WeWork CEO plans to sue the company's chief financial backer, SoftBank, for pulling out of its $3 billion bailout deal, according to Bloomberg. Had that deal gone through, Neumann stood to receive hundreds of millions of dollars from the sale of his shares. SoftBank attorney Erik Olsen informed the board of We…
Struggling SoFla retail market faces $6B in CMBS payments
As South Florida's shuttered retail market struggles due to the coronavirus pandemic, the industry faces billions of dollars in commercial mortgage-backed securities debt coming due. South Florida's retail market has an outstanding CMBS loan balance of $6.3 billion, according to data provided by Trepp. It is the third highest CMBS exposure of any metro…
Russian Bay Harbor developers ran California cannabis business into the ground, lawsuit alleges
After he was sued for allegedly not repaying a $3 million loan, Sunny Isles Beach cannabis entrepreneur Paul King is accusing the Russian developers who lent him the money of ruining his California marijuana venture. Last week, King filed a lawsuit in California's Monterey County against Roman Temkin and Dimitry Romantsoff, five other individuals and six…
"Capitalism without bankruptcy is like Catholicism without Hell": These distressed-debt players are ready for a feast
"The firewood had been stacked," Oaktree Capital Management said in a recent presentation to investors. And the coronavirus pandemic was the igniter. Companies had been levering up and it is time to take advantage of the situation, Oaktree said in its presentation, which was viewed by Bloomberg. Oaktree, which is majority-owned by Brookfield Asset…
Some retail landlords have collected just 15% of April rents: Report
Retail landlords and mall owners have collected just 15 percent of what they were owed (Credit: background by Erin Lefevre/NurPhoto via Getty Images) The fight over commercial rent payments looks like it may be ugly. So far in April, some retail landlords and mall owners have collected just 15 percent of what they were owed, according to Bloomberg, citing a Marcus…
5 things to know about supertall condo developer Michael Stern
JDS Development Group's Michael Stern Michael Stern is one of the boldest luxury developers in the United States. Projects under his JDS Development Group include the skinny supertall at 111 West 57th Street and Walker Tower at 212 West 18th Street in New York City, and Monad Terrace and Echo Brickell in Miami. A new in-depth profile of Stern in the Financial…
Commercial Real Estate Tenant Bankruptcies: Issues and Strategies
This Article discusses the issues a landlord confronts when its commercial tenant files for bankruptcy protection. It also considers pre- and post-bankruptcy options available to a landlord to mitigate the impact of a tenant's bankruptcy filing. Section 365 of the Bankruptcy Code allows commercial tenants, as debtors, to take actions on their leases that…
9 Reasons to Invest in South Florida Commercial Real Estate
On a national and global level, Florida has historically been one of the strongest commercial real estate markets, with continually solid returns and safety for the capital of global & domestic investors. In fact, US News & World Report currently ranks Florida #2 in terms of fiscal stability and #9 with its economy nationwide. Within…
7 Key Metrics About the Miami Commercial Real Estate Market
Miami's commercial real estate market offers a wide range of projects and property types due to its pivotal access as an Atlantic coastal town. Miami has distinct cultural influence as a transportation node between North America, Central America, South America, and Europe. It also possesses economic diversity with many opportunities illustrated by a variety of…
McDonald's real estate strategy could help it weather storm
Fear not, America: The Golden Arches are positioned to endure the coronavirus pandemic. The real estate and franchising structure used by McDonald's may provide more protection from the economic downturn than those of its rivals, according to National Real Estate Investor. The fast-food behemoth owns a good chunk of the real estate beneath its eateries…
Morgan Stanley on firm's future: "Much less real estate"
In a terrible economy, Morgan Stanley CEO James Gorman appears to have found a silver lining. "We've proven we can operate with effectively no footprint," Gorman told Bloomberg Television in an interview Thursday. The $60 billion investment bank has moved about 90 percent of its 80,000 employees to a work-from-home model, a process Gorman said had…
David Martin proposing mixed-use tower at Miami Beach Marina
Terra's David Martin hopes to develop a 23-story tower at the Miami Beach Marina in the city's South of Fifth neighborhood. Martin spoke before the city's Finance and Economic Resiliency Committee on Friday, which met via video conference, kicking off a process that would require residents to eventually vote on ballot questions tied to extending and amending…
Bill seeks rent and mortgage forgiveness across U.S.
A Minnesota member of Congress is calling for a suspension of rent and mortgage obligations across the country through the end of the coronavirus pandemic. Democratic Rep. Ilhan Omar on Friday proposed a bill that would cancel rent and mortgage payments starting April 1 until 30 days after the end of the federal state of emergency. The measure would create…
Fortune sues Chetrit over stalled Miami River project
The new development sales arm of Fortune International Group is suing the Chetrit Group for alleged breach of contract tied to the stalled Miami River development. Edgardo Defortuna's Fortune Development Group filed the lawsuit against CG Miami River LLC this week, alleging that it's owed a $200,000 termination fee, plus other costs incurred. The Chetrit Group…
Hotel industry wants $10B stimulus carveout to avert "snowball effect" of foreclosures
Embattled hotel owners are looking for a $10 billion cut of the federal bailout package, after the government's paycheck lifeline program dried up within a matter of days. Industry groups representing more than 55,000 hotels across the country asked Treasury Secretary Steven Mnuchin and Federal Reserve Chairman Jerome Powell to carve…
Private real estate investment deals tumble worldwide
The number of private real estate investment deals plunged worldwide last month, the latest example of the coronavirus' all-consuming effect on the global economy. And so far, April has been even worse. Commercial real estate deals were down nearly 43 percent in March year over year, according to data from research firm Preqin. North America was…
Coronavirus portends a less dense world, Sam Chandan says
The coronavirus pandemic is causing the future of real estate to arrive ahead of schedule, according to Sam Chandan, dean of NYU's Schack Institute of Real Estate. Greater space between office workers. More working from home. Less business travel and fewer hotel rooms. And, most worrisome for places like New York City, perhaps a shift away from…
These are the real estate execs Trump tapped to help restart the economy
In a bid to restart the economy, President Trump this week tapped prominent business leaders from across industries to help advise him, including some of the highest-profile real estate executives in the country. The roster of names chosen to help steer the economy in a post-coronavirus world include longtime supporters of Trump's presidential…
MV Group plans $26M Town Center Killian Park retail project
MV Group USA filed plans for a town center retail project in south Miami-Dade County. The Miami-based development firm and builder, led by Manny Varas, is proposing to build Town Center Killian Park, a 42,000-square-foot project on a 5-acre plot of land near the intersection of U.S. 1 and Killian Parkway, Varas said. His company is under contract to…
Banks get extraordiary 120-day deferrals on appraisals
In an extraordinary move meant to keep real estate lending flowing, regulators are permitting banks to move ahead with closing loans without having an appraisal completed in advance. Federal banking agencies released an interim ruling Tuesday that will allow financial institutions to temporarily close on certain commercial and residential loans without…
What to expect in the Main Street Lending Program
Through the Main Street Business Lending Program, the U.S. Treasury will make a $75 billion equity investment to enable up to $600 billion in new financing for medium-sized businesses. The program is designed for businesses with up to 10,000 employees or $2.5 billion in 2019 revenues. The program encompasses two types of loans, both with interest rates…
COVID-19's impact on tenants, landlords and brokers
The commercial real estate industry was relatively unprepared to manage the COVID-19 crisis. Landlords, tenants, property managers and brokers have honed their skills and protocol with regard to natural disasters and terror attacks, but a worldwide health pandemic was in very few catastrophe plans and playbooks. Fortunately, we are a resilient…
Major South Florida airports get $378 million in funds, $207 Million for MIA
Federal grants to support airports will provide $207 million for Miami International Airport, $135 million for Fort Lauderdale-Hollywood International Airport and $36 million for Palm Beach International Airport, the Federal Aviation Administration announced. "We are extremely pleased with the $207 million in relief funding for MIA," said Miami-Dade County…
$2.3M Sale Arranged of Industrial Building in Opa-Locka
Lee & Associates has arranged the $2.3 million sale of a 32,897-square-foot industrial and office building in Opa-Locka. The property is situated at 4600 NW 128th Street, two miles from the 850,000-square-foot Amazon Mega Distribution Center and nine miles north of Miami International Airport. The building comprises 22,620 square feet of warehouse space and 10,277…
Private Lending Trends in South Florida
Commercial and multifamily mortgage originations ended 2019 with the strongest quarter on record since the second quarter of 2007, according to the Mortgage Bankers Association. With a tax-friendly business environment and highly educated tenant pool, South Florida is a preferred destination for both investors and developers. Although it launched only…
Freddie Mac extends loan forbearance period on multifamily landlords
Freddie Mac is extending the forbearance period for multifamily borrowers and beefing up the eviction ban requirement for landlords who receive the relief. The program, which offers landlords forbearance on multifamily loans if they can show coronavirus-related hardship, will be extended to the end of the year or the end of the federal emergency period, whichever…