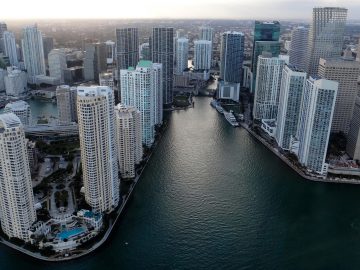 Grand Station moves forward with 30-story apartment tower in downtown Miami
Grand Station Partners is moving forward with its plans for a public-private partnership with the Miami Parking Authority to develop a high-rise rental tower on a site in downtown Miami. The developer, led by Rovr Development principals Oscar Rodriguez and Ricardo Vadia, submitted a building permit request for a 30-story, 300-unit tower at 40 Northwest Third Street, public records show. The total…
YotelPad Miami will begin construction in October
The residence from a brand known for micro-hotels just announced its sales director YotelPad, the new residence from a brand known for its design-focused and millennial-friendly micro hotels, is gearing up for its Miami debut — the first YotelPad to arrive on the East Coast.
Aria Development Group just named Luis Chacon as the sales director for YotelPad Miami, located at 227 NE 2nd Street. He comes to…
Royal Castle plans to turn brownfield site in Opa-locka into mixed-use project
A company tied to real estate investment firm Royal Castle Companies just purchased a contaminated brownfield site in Opa-locka, with plans to develop a mixed-use project. The 7.6-acre property once served as the dumping grounds for demolition contractor Cuyahoga Company. The sale of the parcel at 1700 Service Road, along State Road 9, required clearing multiple code enforcement liens on the…
Video: MarketGraphics Founder & CEO Edsel Charles on Predicting Economic Cycles
While at the Realtors Land Institute Conference & Expo, America's Commercial Real Estate Show host Michael Bull talks with Edsel Charles, the Founder and CEO of MarketGraphics Research Group, which provides market research information for builders, developers, banks, city governments and others. Among the topics discussed are the economic and political outlook for 2018, cycle and downturn predictions…
Bombardier may move its Learjet servicing to Opa-Locka
Canada-based aerospace manufacturer Bombardier may soon unveil a move of its Learjet service center from Fort Lauderdale-Hollywood International Airport to Miami-Opa Locka Executive Airport, bringing with it 150 full-time jobs and $15 million in public infrastructure upgrades. Bombardier manufactures business jets. Nine service centers around the world serve Bombardier aircraft owners.
Miami owners of historic properties might sell extra density
City of Miami officials are working to clarify proposed legislation designed to incentivize the preservation of historic properties by allowing those properties to sell unused residential density to sites near public transit. The aim is to benefit several parties: the owners of historic designated properties gaining money for preservation work and upkeep; the developers who could purchase added density for…
Construction jobs boom might have short life
Despite continued growth in construction jobs since the economic collapse in 2007, industry experts predict that construction job growth will start to slow down in the next year or two due to low unemployment rates and tighter hiring markets. According to a US Bureau of Labor Statistics report, Miami-Dade County saw a peak of 55,300 construction jobs in 2007, followed by a low of 30,100 jobs in 2012…
Skanska sues Frost Science Museum, alleging millions in unpaid work
The Phillip and Patricia Frost Museum of Science's general contractor just filed suit, alleging millions of dollars in unpaid work owed to the firm and its subcontractors. The lawsuit, filed by Skanska USA Building last week in Miami-Dade Circuit Court, claims the museum is in breach of contract for failing to pay for past construction work and to pay for it to finish 7,000 punch list items to fully…
New Florida law gives property owners – including hotels, condos – some control over beaches
A new state law will give property owners the ability to kick the public off of their beaches. Florida's beaches have long belonged to the public thanks to the state's "customary use" policy. Beginning July 1, house bill 631 will allow property owners, including hotel, condo and home owners, the option to ask people to leave, according to First Coast News. The "Possession of Real Property" bill only applies to dry…
SH Communities proposes rental project in Kendall, but first it must fill a lake
SH Communities wants to fill part of a lake in the West Kendall area and build an apartment community on top. The Miami-based developer submitted a pre-application to Miami-Dade County officials to build Boardwalk at Lakeside, a 192-unit complex consisting of four four-story buildings, according to the South Florida Business Journal. The property sits north of Southwest 132nd Street and west…
Surprise: Coconut Grove Activist Not Happy with Proposed Zoning Mods
Miami City Planning department has a plan to increase the supply of housing in Coconut Grove by changing government regulations (up-zoning) to allow more units in the same space and District 2 Commissioner, Ken Russell has said he will sponsor the amendment. The Planning Department tried to sell us on their proposal in a workshop ostensibly to gather resident input. Neighbors had little…
Who Knew The Salmon Industry Was Important To Miami Real Estate?
Who knew salmon — that cold water fish better associated with Seattle — would be having such an impact on commercial real estate in Miami? A major supplier of salmon to the U.S. just inked a big industrial deal in Medley, and Homestead will soon be the site of a major state-of-the art fish farm. Marine Harvest ASA, a Norwegian company that is traded on the Oslo stock exchange, says it is the world's…
Redeveloped Continental on Collins hits the market
The owners of the nearly completed Hampton Inn at the Continental on Collins are looking to sell the property. Sukkah Miami Beach Acquisitions LLC, a holding company owned by Boca Raton-based investment firms Pebb Capital and Duncan Hillsley Capital, hired CBRE's Paul Weimer, Christian Charre and Natalie Castillo to list the 100-room hotel at 4000 Collins Avenue. Weimer said the property is…
Feds hike threshold for appraisals tied to commercial real estate loans
California Investment Immigration Fund, LLC operated out this space at a Hilton-brand hotel in San Gabriel, California (Credit: Pixabay)
New federal regulations mean fewer commercial real estate-related loans will require an independent, certified appraiser to weigh in on a property's value before a bank can lend against it. An inter-agency group of regulators decided on Monday to raise the threshold for…
Miami Teachers On Plan For Workforce Housing At Schools: 'What A Joke'
With starting salaries around $40K, Miami teachers can barely afford to pay rent — which averages $1,421 for a one-bedroom apartment. This week, Miami-Dade County officials announced an exploratory plan to build affordable workforce housing on campuses, or right next door. The plan entails a joint venture between the county's school board and housing authority that would first construct a middle…
Paper company inks deal at Miami Gardens industrial park, more leasing highlights
Acorn East Paper Products Company is turning a new page with its recent lease at the 330-acre Sunshine State Industrial Park in Miami Gardens. Acorn East, a paper and packaging company with operations throughout the western U.S., is taking a 42,000-square-foot warehouse at 16301 Northwest 15th Avenue, according to Rise Realty's Keith Darby. Darby represented the tenant. Records show the…
Condo Developers Use Techy New Weapons In The Amenity Arms Race
As developers at the top end of the residential market know all too well, amenities can often make the difference in courting the small demographic that can afford the most extravagant residences. The result is an arms race among building owners to provide truly unique services and offerings — in this day and age that translates to the liberal use of technology. Property Markets Group, for example, is…
South Florida construction starts on the rise in February
Residential and commercial construction starts in South Florida are picking up momentum. In February, construction spending was up 81 percent to nearly $1.5 billion compared to the previous year, according to a new report from Dodge Data & Analytics. Starts of commercial projects totaled $775 million, up 99 percent year-over-year. Residential construction increased by 64 percent to $698 million.
Knotel takes on CoStar with blockchain-based leasing data platform
As if facing off against WeWork in the flexible office market isn't enough, Knotel is now going after property data behemoth CoStar.
The New York-based startup plans to launch an online office listing data platform dubbed KnotelKoin, according to an email the company's founder Amol Sarva sent to acquaintances and business partners Thursday. The platform will be based on blockchain…
Engineering techniques used in collapsed FIU bridge are common: experts
Experts say the engineering behind the collapsed FIU bridge in Miami was nothing special. As scrutiny turns to what led to the bridge's collapse, the structure's so-called unconventional engineering and construction has been put in the spotlight, but the techniques used to build the bridge, known in the business under the umbrella term of "ABC" or Accelerated Bridge Construction, are typical and…
Florida commercial real estate industry ranks third in U.S.
Florida's commercial real estate industry contributed $189.4 billion to the state's economy in 2017, the third most of any state, according to an annual economic impact study. Only California and Texas contributed more, according to a NAIOP Commercial Real Estate Development Association survey conducted by George Mason University. Download the white paper, "Economic Impacts of Commercial…"
Miami will expedite reviews of permit applications by property owners
The municipal government of Miami plans to expedite the process of obtaining city permits for such property improvements as building a backyard shed or installing a new door. Starting April 9, city employees will take applications for certain types of permits from one municipal department to another for their review, rather than requiring property owners…
A medical marijuana clinic is opening in Wynwood in May
It's from an NFL linebacker-turned-radiologist Grassroots Medicine & Wellness Center is slated to open in Wynwood on May 1 at 2328 N. Miami Avenue, and it's touted as the neighborhood's first medicinal marijuana clinic. The wellness center is set to focus on cannabis evaluations, nutrition counseling, and alternative medicines. It's from an entrepreneur who was once a Buffalo Bills linebacker and went…
A new virtual reality lab for builders and developers opens in Miami
See Suffolk Construction's Smart Lab Real estate's obsession with virtual reality is taking hold in Miami. The Miami Herald takes a look at Suffolk Construction's virtual reality Smart Lab, which opened in the national contractor's downtown office earlier this month. The lab includes a CAVE or Computer Aided Virtual Environment room where clients and builders can actually walk through renderings wearing…
Codina to bring senior and assisted living to Downtown Doral
From pre-kindergarten to old age, Downtown Doral is now planning to offer options for people of all ages. Codina Partners is bringing assisted and senior living to the mixed-use, master-planned community in two deals, the first with apartment developer Greystar. The Charleston, South Carolina-based firm recently paid $14 million for the 2-acre site, a piece of the White Course, from Lennar Corp…
Apartment rents in Miami are finally falling: report
Miami is inching closer to falling off the list of the country's most expensive cities to rent. The Magic City has long held the No. 8 and 9 spots on Zumper's monthly ranking. In last month's report, Miami fell to No. 10 but median rents rose to $1,790 a month. Now, Miami remains No. 10 but rents are down 3.4 percent on a monthly basis and 3.9 percent compared to the previous year to a median of $1,730…
Gratigny Warehouse in Miami Leased
A Miami commercial group announces the completion of a long-term lease for the +/-47,500 Sq. Ft. building known as the Gratigny Warehouse at 3360 NW 110th Street in Miami, Florida in Seaboard Industrial Park. Only six months after being sold and having gone through renovations, the building will now be occupied by HardTen Clothing Inc., a clothing company relocating its headquarters from…
Developers reimagine South Florida's money-losing golf courses
The Carolina Club, an 18-hole championship golf course in Margate, has served as a qualifying site for the PGA Honda Classic and is known for its fast, well-manicured greens and contoured fairways. But the semi-private club, built in 1971, isn't making the cut. Miami-based developer 13th Floor Homes plans to acquire the 140-acre facility and completely transform it into a 350-unit residential…
Luxury condo sales on the rise in Miami-Dade, but inventory still growing
Luxury condos aren't flying off the shelves, but the pace of sales is up in Miami-Dade County, according to a new analysis of MLS data.
Sales of condos priced $1 million and above increased 47 percent year-over-year from December to the end of February, a report by EWM Realty International shows. That does not include the pipeline of new development. Luxury condos that sold between December and…
Retail Hotspot Envisioned for Wynwood Site
David Weitz and Erik Rutter of Carpe Real Estate Partners have plans to transform a longstanding marine repair facility in Miami's Wynwood neighborhood into a trendy retail destination. And they say they can do it without wholesale renovations or new construction. "The bones of the buildings are really great," Weitz told CoStar News. "We don't feel like we have to pour a tremendous…"
75 Percent Of South Florida Entrepreneurs' Group Plan To Add New Jobs
usinesses in South Florida are adding new full-time jobs, according to a survey by the Fort Lauderdale-based Entrepreneurs' Organization. In the survey, 75 percent of participating members said they planned to add new jobs over the next six months — a higher projection than the 63 percent who said they planned to hire additional workers about a year ago.
City of Miami and WeWork announce partnership
It's a referral program with discounted rates Co-working's ubiquity in Miami just reached a whole new level. Today, Mayor Francis Suarez announced a long-term partnership between the City of Miami and co-working company WeWork. New or relocating entrepreneurs and companies will be able to use a referral program with discounted rates for access to WeWork's network of workspace, amenities and…
North Beach's Tatum Waterway buildings edge closer to historic status, forbidding demolition
A plan to grant historic protection to more than 100 buildings — many of them aging Miami Modern structures — in Miami Beach's North Beach neighborhood is one step away from reality. The Miami Beach Planning Board on Tuesday voted to recommend approval of extending the North Beach Historic District so that it includes Tatum Waterway from 73rd Street to 87th Street. The proposal must now…
Facebook hit with lawsuit over alleged housing ad discrimination
Facebook vowed to end discrimination in housing ads on its network, but a new lawsuit alleges the company didn't live up to its promise.
The National Fair Housing Alliance and other groups allege in their suit, filed in Manhattan federal court Tuesday, that the company "continues to enable landlords and real estate brokers to bar families with children, women and others from receiving rental and sales…
Downtown Miami Site on the Block for $125M
Flagler City Center, a 2.52-acre site in downtown Miami, has hit the market for $125 million. The property at 251 East Flagler Street operates as a 163,000-square-foot, mixed-use project anchored by Marshall's. But a buyer can redevelop the site with up to 4 million square feet of commercial space and 2,500 multifamily units, according to listing firm DWNTWN Realty Advisors. Devlin Marinoff…
Real Estate Tax Help Arrives for Vertical Subdivisions
For many years we have sought to address the problems faced by mixed-use developments where different uses in a single structure are carved up into separate fee simple parcels. The main problem has been the inability to obtain separate tax folio numbers for the separate parcels. This has resulted in a situation where it is either difficult or impossible to finance the separate parcels since they all share one tax…