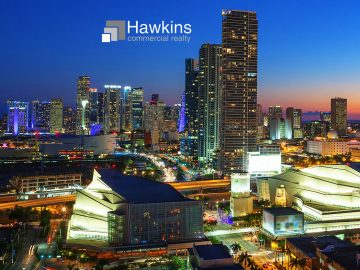 Legacy Miami Worldcenter Gets Approval To Build Taller Than Originally Planned
Legacy Miami Worldcenter is getting a height increase. The tower is now expected to rise 20 feet taller than originally planned, according to a new approval letter issued by the Federal Aviation Administration yesterday. Legacy was originally planned to rise 661 feet above ground, or 671 feet above sea level – making it the second tallest tower at Miami…
Miami Among Top 5 Markets for Self Storage Transactions
Thanks to the self storage sector's strong performance over the past year, investor interest in the asset class continues to rise. Nationwide, nearly 30 million square feet of storage space traded year-to-date through June for a combined $2.5 billion, according to Yardi Matrix data. This marks an 88 percent increase compared to the same period in 2020 when the total…
Uber Inks Lease for Miami Base
Uber has signed a 13,000-square-foot lease with EQ Office in downtown Miami. The tech company will relocate to 3 MiamiCentral at the beginning of next year, vacating its current 9,333-square-feet base at Brickell City Tower after a seven-year tenancy. Blackstone acquired 2 and 3 MiamiCentral via its EQ Office arm in March 2021. The seller, Shorenstein…
Uber Commits To Miami, Inks Lease At EQ Office's 3 MiamiCentral
Uber announced today that it has signed a new lease for office space at 3 MiamiCentral in downtown Miami. The move, slated for January 2022, represents Uber's commitment to the fast-growing market, its outlook for local business development and talent recruitment in the city and throughout Florida. EQ Office, the U.S. office portfolio company wholly…
East End Capital execs illegally keeping $860K from Australian partner in Miami tower, lawsuit says
The Australian partner in a downtown Miami tower claims in a lawsuit that East End Capital, the co-owner of the property, is trying to cheat it out of $860,000 it deposited in a failed bid to purchase the entire building. Investors Errol Dorfan and Kim Davis, through their 100 & 130 Biscayne, say in a lawsuit that in March they made a push to buy East End Capital's…
Aventura votes to require HOAs to submit critical reports within 48 hours
The city of Aventura is tightening up its requirements for homeowners' associations in the wake of the deadly Surfside condo collapse. The Aventura commission unanimously approved an ordinance on Tuesday requiring residential associations to submit any engineering, architectural and life safety reports they conduct to the city within 48 hours of their…
Billions in allotted rent aid hasn't gone out
The federal government has appropriated billions of dollars to help besieged renters and landlords across the U.S. weather the economic storm, but states and municipalities have yet to distribute most of the money. As of June, just $3 billion of the $46.6 billion Congress allotted in rent relief has reached those who need it, according to the Wall Street Journal. The Biden…
New York developers buy Edgewater assemblage for boutique high-rise
A pair of New York City development firms are teaming up to redevelop three bayfront properties in Edgewater… Edgewater Owner LLC, an entity managed by principals of SB Development Group and Hazelton Capital Group, recently paid $12.2 million… at 480 Northeast 29th Street and two vacant lots at 456 Northeast 29th Street and 496 Northeast 29th Street…
Real estate stung by "sobering" climate report
A new United Nations report paints a bleak picture: The world is on a path toward climate destruction, sea levels will continue to rise, ice caps will melt, and temperatures will reach insufferable levels. The impact on real estate could be enormous. The report, published Monday by the U.N.'s Intergovernmental Panel on Climate Change, says there are ways to…
5 Takeaways for Real Estate From the IPCC Climate Change Report
The world we live in is significantly hotter than it was, and we're already living the consequences. The warmer climate is triggering floods, fires and famine with higher frequency than before, and its effects will last for centuries, whether humans survive long enough to witness it or not, according to the Intergovernmental Panel on Climate Change's (IPCC)…
How real estate is factoring in extreme weather events
As droughts, floods, wildfires and heatwaves become more frequent and extreme, real estate investors are increasingly taking climate risk into account. Extreme weather cost economies more than US$3 trillion between 2010 and 2020, according to insurance broker Aon. In the U.S., climate events that cause at least $1 billion in damage have quadrupled over…
Five New Retailers to Join Tenant Lineup at CocoWalk Shopping Center in Miami
Federal Realty Investment Trust, The Comras Co. and Grass River Property have signed five new retailers to join the tenant lineup at CocoWalk, a mixed-use shopping center in the Coconut Grove neighborhood of Miami. CocoWalk's newest retailers include GlossLab, a membership-based nail studio based in New York that is set to open in summer 2022…
Site Of Collapsed Surfside Condo Heading To Sale, Expected To Fetch $100M-Plus
A Miami judge has ordered that the site in Surfside, Florida, where the Champlain Towers South condominium once stood must be sold in order to compensate victims and their families. The condominium collapsed June 24, killing 98 people. Numerous South Florida developers have said they aren't interested in the property, but a broker in charge of marketing it told…
Stalking horse bidder emerges for Surfside condo site offering $110M
A potential bidder has emerged with a $110 million offer for the site of the Surfside condo collapse that killed almost 100 people, leaving survivors and their heirs to try and recover what value they can from the tragedy. The offer from the undisclosed stalking horse, which would set the minimum purchase price, could rise to $120 million. It comes as the site is about to…
What's in the $1T infrastructure bill for real estate
The Senate on Tuesday passed a $1 trillion infrastructure package, then turned to a $3.5 trillion measure that could include more extensive investments in housing and changes to zoning policies. The infrastructure bill includes $550 billion for bridges, roads, high-speed internet and other projects. The White House has billed the spending package as the…
Developer completes $500M mixed-use Life Time Coral Gables project
A $500 million Life Time-branded mixed-use project along U.S. 1 in Coral Gables was completed, with tenant Trader Joe's expected to open in October. Life Time and developer Nolan Reynolds International delivered the 1.2-million-square-foot, 14-story project at 237 South Dixie Highway. It marks one of a number of mixed-use developments with apartments that…
New York landlords see no saving grace in return of evictions
Judgment day is coming for New York tenants: Landlords, owed more than $3 billion in back rent, may once again be able to file evictions. Brooklyn landlord Sharon Redhead says she's due about $65,000 — but she won't be calling on housing court to resolve that debt. Come Sept. 1, eviction proceedings for nonpayment of rent — stayed by a statewide moratorium…
Miami Market Update: Investment Volume Goes Through Roof
In June, more than 2.2 million square feet of office space across five properties traded in Miami, according to CommercialEdge data. The metro was one of the top performing markets in terms of transaction activity, the total volume of deals closed in the first half of 2021 marking a whopping 223 percent increase compared to the same period last year.
Coffee company buys Miami-Dade industrial property for $10M
A coffee grower, exporter and seller that sources its beans from a farm in Nicaragua bought a Miami-Dade County industrial property for $9.6 million. H&H Coffee Group Export, through an affiliate, bought the property at 7355 Northwest 41st Street from AFE-Airport West Coffee, managed by Cynthia Seidl and Paul H. Freeman, according to records. The 81,765…
FECI obtains $200M in financing tied to sites near Brightline stations
Florida East Coast Industries recently secured $200 million in new financing tied to seven redevelopment properties near Brightline stations in downtown Miami and downtown Fort Lauderdale. Miami-based FECI extended an existing loan with Morgan Stanley with an additional $122 million, records show. The original amount for the loan, taken out in 2019…
These are the states with the highest (and lowest) rent debts per household
Rent debt is endemic throughout the United States. Not all states are suffering equally, though. Approximately 15 percent of rental households in the U.S. are currently behind on their payments, according to a new study from the nonprofit Surgo Ventures, with arrears totaling an average of $3,700 per household. While every state's average rent debt is above…
Judge who struck down CDC eviction ban questions new ban's legal standing
A federal judge who previously struck down the CDC's eviction ban suggested the White House lacked the legal authority to issue its new targeted eviction moratorium in a hearing Monday. U.S. District Judge Dabney Friedrich held the hearing after a group of realtors and property managers challenged the new eviction moratorium, which was adopted…
As more employers mandate vaccination, landlords let tenants decide
As Covid surges again across the nation, businesses and governments are increasingly mandating staff members get vaccinated. Big tech, financial and real estate firms have required employees to be inoculated as they prepare to return to the office after Labor Day. Landlords, however, despite being responsible for ensuring safety in their buildings, have yet to…
Rising construction costs threaten building boom
It should be the golden age for homebuilders. The pandemic propelled a mass migration of city dwellers to the suburbs, hungry to buy homes. And that surge in demand has driven new home prices up by 12 percent since March 2020. Great, right? Except construction costs have jumped as much as 30 percent in the same period. Homebuilding, which depends on…
Construction Salaries Rise Amid Competition For Workers
As the cost of materials comes back down to earth, construction labor prices — not to mention the industry's continued labor shortage — are providing a new challenge to developers. Contractors are projecting 2021 construction staff wages to increase an average of 3.23%, according to the Contractor Compensation Quarterly report. But PAS Inc. President Jeff Robinson…
The battle over when new courthouse can open, and cost
As workers from the 93-year-old decayed and closed Dade County Courthouse do their jobs at home, the county and the developer of a new courthouse rising next door negotiate when in 2024 the new structure will open and how much more taxpayers will pay for delays. The county is pushing developers to find time savings and get the new courthouse…
Miami board OKs Merrick Towers
A developer plans to construct two companion 20-story buildings and a parking garage to contain residential units, office space and commercial-retail uses near Coral Gables and invokes the name of Gables founder George Merrick. The property is at 3898 Shipping Avenue, in the City of Miami's southern region near Coral Gables and close to the Douglas Road…
Downtown Miami M Tower may cement public-private deal after eight years
Years in the planning, a major public-private partnership will lead to a new downtown skyscraper being built next to and connected with a long-standing municipal parking garage. Colliers' Urban Core Division has closed on a land sale at 56 SW First St. and 65 SW Second St. The development site, which sold for $10 million, will be home to The M Tower, an approved 53…
Chart: Percent of Miami 21 Urban/Commercial Zoned Land that Remains Residential, by Zone
In the chart herein, readers can see that at the less dense end of Miami 21 commercial urban zones large amounts of land are currently being used as single family, thus clearly not (yet) as commercial. More than 85% of T3-R land is not commercial, while the more liberally zoned T3-O ("O" for open, allows more uses) has about 55% that is not commercial. Moving up…
Chart: Zoning Distribution of Miami 21 Urban Commercial Land
In this chart one can see that the T3 group of Miami 21 urban commercial zones, which includes T3-L, T3-R, and T3-O, is the most common zoning, followed by T6-8, then T5, and T4, whichT6-60 is the least common, followed by the most dense T6-80. If one looks at the same set of parcels, but excludes that which is currently being used for a single family residence and thus…
Miami-Dade report on cashless zones shortchanged
County commissioners are still awaiting a report from the mayor's office to determine the feasibility of prohibiting cashless zones in Miami-Dade County. The resolution, prime-sponsored by Sen. Rene Garcia, was unanimously adopted by county commissioners May 4. The document urges Congress to enact legislation to prohibit US retail businesses…
Troy Wright: Leads Washington Avenue Business Improvement District
After years in and around the music industry, first as a child prodigy and later as the vice president of Experience Hendrix, the estate of legendary rock guitarist Jimi Hendrix, Troy Wright took his talents to South Beach and used them to build up the young Washington Avenue Business Improvement District. As a child in Washington state, Mr. Wright…
Miami-Dade Cryptocurrency Task Force awaits six members
The Miami-Dade Cryptocurrency Task Force has not convened since its creation in April and the appointment of seven of its 13 members in July by a resolution unanimously adopted by county commissioners. The total group is to be selected by commissioners, each nominating one person. The task force's responsibility is to explore the feasibility of receiving…
100 years after the Florida land boom began, what's coming next?
Exactly 100 years ago this month the great Florida real estate boom took off, ushering in our unofficial state bird, the construction crane, which still thrives in flocks in Miami. Real estate had already been Miami's economic engine before the 1920s land boom was the shot heard around the world. Despite Miami's current global links in trade and finance, world fame…
Blackstone buying WPT Industrial in $3B deal
The Blackstone Group keeps feeding its seemingly insatiable appetite for industrial real estate. In its latest move, the firm's private real estate investment trust is acquiring WPT Industrial Real Estate Investment Trust in an all-cash deal valued at $3.1 billion, according to Bloomberg. Debt is included in that valuation, according to the report. The deal was done…
Lennar sells former trailer park site in Homestead at a loss and buys Broward land
Less than a year after buying the site of a former mobile home park in Homestead for $29 million, Lennar Homes sold the property for $6 million less. It also picked up a site in western Broward County. An affiliate of Scottsdale, Arizona-based AGWIP Asset Management paid $23.2 million for the 43-acre assemblage at 28600 Southwest 132nd Avenue in Homestead.
Hines raises $625M for new CRE investment fund
Houston-based real estate investment firm Hines has raised $625 million for a new CRE investment fund, with no signs of slowing. Hines U.S. Property Partners fund is projected to hit $1 billion by the end of September, Bloomberg News reported, with a goal of adding a further $1 billion annually. Including a $100 million initial investment from Hines…
Superyachts and Picassos: How real estate's wealthiest spend their millions
Going into the final stretch of the 2020 Kentucky Derby, millions of dollars rested on the performance of a 3-year-old horse named Authentic. The stallion, owned by billionaire self-storage and rental-home magnate B. Wayne Hughes, led Vegas favorite Tiz the Law by half a head. In eerie silence, the drunken revelers at home due to the pandemic, Authentic…
WeWork, Cushman negotiating $150M partnership
At its greatest heights, WeWork once considered acquiring Cushman & Wakefield. Now, the co-working firm is considering a cash infusion from the commercial real estate giant ahead of a planned SPAC deal later this year. WeWork and Cushman are in talks about forming a $150 million partnership aimed at helping office tenants adapt to remote work…
Editor's note: Landlords left in the lurch with eviction ban
Stuart Elliott They might not have the most beloved public image, and are often caricatured as greedy and heartless. But landlords feel pain, too. And they have bills to pay. As our cover story this month explores, mom-and-pop property owners — who far outnumber their bigger and deeper-pocketed counterparts — have been incredibly squeezed alongside their tenants…
Here's What New Sections Of Miami's Riverwalk & Baywalk Will Look Like, After Vote Last Week
Miami Commissioners approved a plan last week that will see radical new design guidelines for upcoming stretches of the city's riverwalk and baywalk. Commissioners voted last week to require Miami developers to build baywalks or riverwalks adhering to the strict new 'Waterfront Walkway Design Guidelines.' The newly approved legislation was a…
State Revs Up Action To Close Freight Truck Parking Gap
Miami-Dade County and South Florida have faced a shortage of freight truck parking spaces for at least a decade. Port of Miami is one of the largest container ports in Florida and Miami International Airport was handling 81% of air cargo tonnage in the state by 2014. Playing such a role in the freight cargo…
Questions & Answers About Distressed Properties
Distressed commercial properties are under-performing assets that pose significant challenges to owners from a physical and financial point of view. Whether they're run down, obsolete properties or they're producing a negative cashflow every month, distressed properties can be great investment opportunities. But investing in distressed properties…
Owner of Aloft Miami Brickell hotel files for bankruptcy
Looking to ward off an "aggressive foreclosure action" by its Park Avenue lender, the owner of the Aloft Miami Brickell hotel at 1001 Southwest Second Avenue has filed for Chapter 11 bankruptcy. In a declaration that is part of the bankruptcy petition, hotel developer Pedro Villar said New York City's Torchlight Investors improperly tried to seize Aloft Miami Brickell's…
Restaurants, bars, hotels stage summer comeback
Despite the spread of the Delta variant, the economy grew a robust 943,000 jobs in July with restaurants, bars and hotels making up 54 percent of private sector employment growth. It's a hot, hot summer for the nation's labor market. Restaurants, bars and hotels powered private-sector job gains for a second straight month, calling back 327,000 workers in July — more…
Multifamily buyers set record with $53B spending spree
Apartments are where the heart is for investors, who set a second quarter record with a three-month spending spree. Investors purchased $53 billion of multifamily real estate from April through June, according to Real Capital Analytics data. The buying binge marks a big turnaround from last year, when investors spent less than $20 billion during the same quarter in…
Bidders vie to redevelop Homestead's old city hall site
Five developers are making a play for a prime redevelopment site in the city of Homestead. Teams led by Centennial Management, Housing Trust Group, the Meyers Group, Related Urban and 13th Floor Investments submitted proposals to transform 16 acres near North Campbell Drive and U.S.1 into a mixed-use project. The development would be anchored…
Wells Fargo, BlackRock, Amazon join others in delaying office returns
The hits keep on coming for office landlords, with three more major companies pushing back a return to in-person working. Wells Fargo, BlackRock and Amazon are the latest to postpone in-person work, Bloomberg News reported. Wells Fargo was planning on bringing back its remote workforce beginning Sept. 7, but the surging Delta variant has…
Washington "putting kerosene on an open fire" with spending bills: Starwood CEO Barry Sternlicht
The rental and single-family home markets are the best they've been in years, and people are "seriously wealthy," spending money on everything, says billionaire Barry Sternlicht. But federal spending bills are a cause for concern, Sternlicht, Starwood Property Trust's chairman and CEO, said on the real estate investment trust's second quarter earnings call Thursday.
Biden's new eviction moratorium immediately challenged in court
President Joe Biden's new eviction moratorium was hit with a legal challenge just one day after he announced it. A group of property managers and real estate agents submitted an emergency motion in a federal court on Wednesday night, with the backing of the National Association of Realtors. The motion asks a judge to apply a ruling against the previous eviction…
Hospitality fund that counts A-Rod among investors buys renovated Ocean Drive hotel
Ricardo Tabet, Raoul Thomas, and Alex Rodriguez with the Celino A hospitality fund that counts Alex Rodriguez as one of its investors purchased an Ocean Drive hotel in Miami Beach. Optimum Development USA, led by Ricardo Tabet, sold the Celino South Beach hotel complex at 640 Ocean Drive to CGI Hospitality Opportunity Fund I. Rodriguez's A-Rod…
Foundry and HighBrook buy Doral warehouse for $18M
Foundry Commercial teamed up with real estate private equity firm HighBrook Investors to buy an industrial park in Doral. The partnership paid $18 million for the Americas International Center at 9300-9380 Northwest 13th Street. The property has a 147,000-square-foot industrial facility that is 95 percent leased, according to a Foundry press release.
Foreign Investment Roaring Back To Miami
Foreign investment in the U.S. may have slowed down during the coronavirus pandemic, but it didn't disappear, and it's been growing since international travel picked up, Miami real estate experts say. Related Group Condominium Division Managing Director Patrick Campbell said that as the coronavirus shook the world in 2020, investor demographics changed.
Offering memorandum coming for Surfside collapse site
An offering memorandum for the Surfside condominium collapse site could be ready within a month, as Avison Young smooths out zoning and other details for the former Champlain Towers South property. In the meantime, an appraiser is determining the fair market value of each of the units, as a way to hammer out disbursements to survivors and victims' families…
Foundry Commercial, HighBrook Investors Close On Americas International Center
Foundry Commercial, in partnership with HighBrook Investors, recently announced closing on the Americas International Center ("AIC") industrial park, located along NW 12th Street in Miami-Dade County. The 147,000-square-foot shallow bay facility, which is 95% leased, is positioned within one of the most active industrial submarkets in the country.
Alabama REIT pays $171M for Broward hospital and medical office buildings
An Alabama-based real estate investment trust is gaining a large footprint in Lauderdale Lakes after making one of the largest commercial buys in Broward County this year. An affiliate tied to Birmingham-based Medical Properties Trust paid $171 million for a 459-bed hospital property, three office buildings and a medical office mall near the Florida…
RREEF buys Pembroke Pines apartments for $121M
RREEF Management bought the Marela Apartments in Pembroke Pines for $121.3 million. Records show RREEF, through an affiliate, bought the property at 250 Northwest 130th Avenue from an entity in the care of Brookfield Property Group. The deal for the 368-unit property equates to $329,484 per unit. Marela, built in the late 1990s, includes multiple…
Related Group scores $84M construction loan for Fort Lauderdale apartment tower
Jorge Pérez's Related Group scored an $84 million construction loan for a new high-end apartment tower in Fort Lauderdale. The Coconut Grove-based developer plans to build the over 40-story tower with more than 300 units at 201 and 227 South Federal Highway, records show. Bank of America is the lender. Related bought the property in 2018 for $12 million…
Cortland pays $230M for Boca Raton apartments, marking priciest multifamily sale of year
The Residences at Uptown Boca with Cortland CEO Steven DeFrancis and the sellers Alexander Rosemurgy and Rick Giles A new apartment community in Boca Raton sold for $230 million, marking the most expensive multifamily sale in South Florida this year. Giles Capital Group, Rosemurgy Properties, Schmier Property Group and Wheelock Street…
Cortland Paying $504K Per Unit In Florida's Largest Multifamily Transaction Of 2021
A multifamily property in Boca Raton traded for $230M Thursday, marking Florida's largest multifamily deal in 2021 and the highest price per SF for a garden-style product in Florida ever, according to an announcement. The Residences at Uptown Boca was developed by Giles Capital Group, Rosemurgy Properties and Schmier Property Group in partnership…
Uptown 22 apartment complex in West Palm sells for $41M
Grand Peaks Properties sold the recently renovated Uptown 22 apartment complex in West Palm Beach for $41.4 million. Records show the Denver-based multifamily investor sold the 252-unit property at 2210 North Australian Avenue. Buyers Uptown 22, Uptown 22 II and Uptown 22 III are managed by Jacques Schmidt and Abraham Weber, who are with…
RREEF pays $158M for multifamily complexes in West Palm Beach, Wellington
RREEF Management paid $157.5 million for multifamily complexes in West Palm Beach and Wellington. Companies tied to Brookfield Asset Management sold the Vista Lago at 3130 North Jog Road and Waterstone at Wellington at 2141 Vinings Circle to RREEF, according to records. This is at least the third South Florida apartment community deal between the…