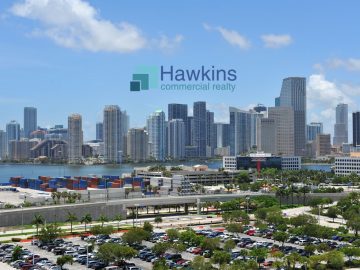 Carson, Rubio To Celebrate Groundbreaking Of Biggest OZ Project In Miami-Dade
Housing and Urban Development Secretary Ben Carson, Sen. Marco Rubio and others are expected to be on-site in Allapattah Thursday to celebrate a groundbreaking at Three Round Towers, a low-income housing complex that is undergoing a renovation. The $106M redevelopment project is the largest qualified opportunity zone affordable housing project in the…
The Estate Cos. Acquires Former Ramada Inn in Hialeah for $15.3 Million
The Estate Cos. has acquired a former Ramada Inn in Hialeah for $15.3 million. The non-operational hotel was originally built in 1970 with expansions completed in 1973, 1979 and 1988. The property offers 258 rooms and sits on five acres at 1950 W. 49th Street, 15 miles northwest of downtown Miami. Camilo Niño, Ricardo Uribe and Alen Hernandez of…
Former 258 Key Ramada Hotel Trades for $15 Million in Hialeah
The Estate Cos., a developer of luxury multi-family communities in South Florida, has acquired a site occupied by a 258-key, former Ramada Hotel in Hialeah, Fla., for $15.3 million. The company financed the purchase with an $11.5 million acquisition loan arranged by LV Lending. The seller is a joint venture between Urban Commons and several other investors, according…
Estate Companies buys shuttered Hialeah Ramada for $15M
Jeff Ardizon and Robert Suris with 950 West 49th Street, Hialeah High-end apartment developer The Estate Companies bought a former Ramada Inn in Hialeah. The developer paid $15.25 million for the 5-acre property at 1950 West 49th Street. Estate Companies principal Jeffrey Ardizon declined to comment on what the firm is planning to build, but said it will be…
Aviation Company Triples Industrial Space With Move To Medley Facility
In a further sign that industrial real estate is as strong as ever, even amid a pandemic, an aerospace company has tripled its footprint at a Medley site. Aerotech Ops, an aircraft maintenance and repair company, has signed an 81K SF lease at Pan American North Business Park, located at 10733 NW 123rd Street in Medley, owned by Link Logistics Real Estate, Newmark…
Chart: Miami-Dade Commercial Property Sales Within Normal Range ~ July 2020 MLS
In this month's chart of three year trailing sales of Miami-Dade commercial properties tracking, for the period from August 2018 to July 2020, sales of both improved and vacant land, it is evident that the level is holding within a normal range. This "holding pattern" follows a brief dip in April and May as the coronavirus pandemic had just begun. The Miami Multiple Listing…
Top 10 Office Projects Under Construction in Miami
Despite the pandemic's severe impact on Florida, real estate development in Miami forged ahead. As of July, the metro's office pipeline included 18 projects totaling more than 3.7 million square feet, Yardi Matrix data shows. Most of the upcoming projects are mixed-use and transit-oriented, while two of them—included in the list below—are headquarters developments.
Mixed-Use Development Amid Coronavirus: A Case Study in Aventura
The project—a 10-story complex consisting of 25,000 square feet of office condominiums, a 30,000-square-foot gourmet marketplace and food hall, and 160 independent- and assisted-living units—already had construction financing in place and 40 percent of its office condominiums presold. "At that point, we couldn't stop," Rieber said. "I had paid $20 million for the…
Construction Tops Off at Miami Luxury Tower
Developers of a 360-unit luxury rental tower in Miami have topped off construction at the 18-story project, marking the first large-scale real estate development to rise in an opportunity zone in the city. The Estate Cos. and PTM Partners are co-developing Soleste Grand Central, a residential community situated in the heart of downtown Miami on NW 8th Street.
Cooper City gives nod to Monterra development makeover
Plans for the remaining vacant land at Monterra, a 500-acre gated community in Cooper City, are pivoting from a grocery-anchored shopping center to a smaller retail hub, age-restricted apartments, and a corporate headquarters. The city commission Tuesday gave initial approval to rezoning and variances that would allow developer Diversified…
Demand For Hotels Is Flattening As Hotel Owners Burn Through Millions In Cash Reserves
Major U.S. hotel companies lost hundreds of millions of dollars in the spring as they gradually reopened hotels this summer to low demand, and their leaders expect there could be a long road back to profitability. The hotel industry, by job losses and debt defaults, has been the hardest hit by the pandemic. The biggest owners and operators of hotels have revealed a…
Airbnb's Q2 revenue falls by almost 70%
Airbnb's revenue fell by a reported 67 percent in the second quarter, as the startup weathered the fallout from a halt in global travel. The company's quarterly revenue plunged to $335 million — down from more than $1 billion in the same period last year, according to Bloomberg, which cited sources familiar with the matter. By contrast, Airbnb generated $842…
Miami Named a Top 5 Florida Market for Self Storage Development
Miami's self storage market has been benefiting from the market's diversifying economy and rapidly expanding housing stock. Although the metro started to feel the effects of the coronavirus outbreak, self storage development has not yet been visibly affected. Year-to-date, five storage facilities encompassing a total of 582,562 square feet came online in…
Scoundrels of the skyline: Charles Bagli on the most colorful characters in the real estate biz
When Charles Bagli first started poking into the businesses and lives of New York's real estate elite more than three decades ago, he made his ground rules clear. "As a former Catholic boy, I make a distinction between sins of omission and sins of commission," he would tell the likes of Harry Helmsley, Donald Trump and…
Discount retailer Stein Mart files for bankruptcy, plans to close most stores
Off-price retailer Stein Mart is the latest brick-and-mortar chain to file for Chapter 11 bankruptcy protection. The Jacksonville, Florida-based chain plans to close "a significant portion, if not all" of the 281 stores it operates across 30 states, according to a press release. The publicly traded company, founded in the early 1900s, will continue to operate its business in the…
Developer Rishi Kapoor lands approval for mixed-use co-living project in South Beach
Rendering of the project and Rishi Kapoor Developer Rishi Kapoor is a step closer to bringing his Urbin Retreat concept to South Beach. Kapoor and his partners won the unanimous endorsement of the Miami Beach Historic Preservation Board Tuesday afternoon for a mixed-use co-living and hotel development on Washington Avenue. Unless the decision is appealed…
Miami Beach board again delays vote on Michael Shvo's proposed tower near Raleigh Hotel
New York real estate developer Michael Shvo's proposal to build a 200-foot-tall tower beside three Art Deco hotels was continued yet again by Miami Beach's Historic Preservation Board. Tuesday's unanimous vote to continue the item to Sept. 8 came after four hours of discussion, during which three board members expressed concern about the tower's massing, height…
$11.7 Million Sale of Naranja Lakes Retail Property Trades
TSCG has negotiated the $11.7 million sale of Naranja Lakes Shopping Center, a 90,450-square-foot, grocery-anchored retail property in Naranja. The property was 95 percent leased at the time of sale to tenants including Winn-Dixie, Family Dollar and La Colonia Medical Center. The asset is situated at the intersection of U.S. Highway 1 and Naranja Lakes Blvd…
Simon, Authentic Brands to buy Brooks Brothers
Brooks Brothers has found its white knight in mall giant Simon Property Group and apparel licensing firm, Authentic Brands Group. A venture between the two companies, known as Sparc Group, has agreed to buy the retailer for $325 million, the Wall Street Journal reports. Brooks Brothers will close 75 of its 200 stores as part of the deal.
Winn-Dixie-anchored shopping center sells for $14 million
A Miami Gardens shopping center anchored by a Winn-Dixie supermarket sold for $14.5 million. A company affiliated with Smithtown, N.Y.-based Island Associates purchased the 94,000-square-foot retail center at 17237 Northwest 27th Avenue, according to records. The seller, a company associated with Peleg Group, had paid $8.2 million for the center in 2013.
Fear and loathing in a pandemic: Insurers battle business interruption claims
As a Las Vegas casino owner, Phil Ruffin is used to taking risks. But this time the odds seem stacked against the billionaire mogul. For months, slot machines sat empty across the Vegas strip, while hotel conference rooms laid bare. And Ruffin's Circus Circus Hotel & Casino — perhaps best known as the scene of a drug induced bender in Hunter S. Thompson's "Fear and…"
Legal Magic: Turning Real Property Foreclosures Into Uniform Commercial Code Sales
Remedies for defaults under loans secured by real property varies on a state-by­-state basis. In the eastern part of the country, enforcement is mostly by mortgage foreclosure. In the western states, there are enforcement proceedings by way of a deed of trust. There is a spectrum of debtor protections afforded to borrowers depending on the state involved.
Business bankruptcy rise of 54% may be artificially low
Business bankruptcy filings are on the rise in South Florida as Covid-19 takes its toll on the economy, but government aid programs may be holding these numbers back from what they might otherwise be.  Multiple high-profile businesses have already filed this year including Neiman Marcus, Lord and Taylor and 24 Hour Fitness, and these cases may well be…
Despite pandemic, financial jobs rock solid
For many in Miami-Dade, money is tight and employment tentative amid a lingering global pandemic now in its fifth month. But while some industries have seen steep declines in workforce rolls, one sector has thus far remained largely immune from the crisis' effects. Miami-Dade's unemployment rate was 11.5% as of June, the last month for which there…
9,000 applicants force United Way to hit pause on pandemic fund
A flood of 9,000 applications in two days quickly caused the United Way of Miami-Dade to stop accepting more as it distributes $20 million in federal funds for those hammered by the pandemic. Applications are to reopen in several weeks once the initial flood is dealt with in first-come, first-served funding. The county days before had chosen the United Way for the…
Maritime jobs vacant as companies hunt skilled workers
While unemployment is rife in many industries due to the upheavals of Covid-19, maritime jobs continue to go unfilled for lack of skilled employees. In fact, said Horacio Stuart Aguirre, chair of the Miami River Commission, the pandemic may even be contributing to demand. "In the past six weeks I have visited four boatyards," he said, "and yacht…"
Macerich posts $27M loss; CEO says physical retail here to stay
Macerich CEO Thomas O'Hern and Santa Monica Place mall Mall landlord Macerich posted a $26.7 million net income loss in the second quarter as the Santa Monica-based firm continues its struggle to collect rent across its portfolio. The dismal quarter compared to Macerich's profit of $13.9 million over the same period in 2019. At its earnings call on Tuesday, the retail…
Here's the real estate record for Kamala Harris
While serving as California attorney general, Kamala Harris could have gone after Steve Mnuchin for alleged mortgage fraud at his company, OneWest, but didn't. OneWest foreclosed on more than 36,000 California homeowners in the years following the Great Recession. Harris' office conducted a preliminary investigation, and deputy attorneys general…
Blackstone pays $46M for Broward industrial properties
An affiliate of Blackstone bought several industrial properties in Broward County from Elion Partners for $46 million. The warehouses are spread between Weston, Coral Springs and Pompano Beach, records show. Elion had paid about $35 million in total for the properties in 2018 and 2019. The sale includes three warehouses at 1800-1880 North Commerce Parkway…
Marriott claims Covid-induced crisis for hotels has bottomed out
Marriott International believes the hotel industry believes the worst is over, so it's halting its relief measures for hotel owners' bills and forging ahead with new development. While announcing the hotel company's second quarter earnings on Monday, CEO and president Arne Sorenson acknowledged the cataclysmic effect the coronavirus pandemic has had…
Vornado will install facial recognition tech in all its buildings
After testing facial recognition technology on users for years, Facebook will soon have to decide whether to opt in or out of facial recognition for its own employees in New York. Vornado Realty Trust, which has operated face-reading systems at a handful of properties for the past five years, now plans to expand the technology across its entire portfolio, Business Insider…
J. Crew said it was bankrupt. Then its landlords forked over $130M
Bankrupt retailer J. Crew is saving $130 million in rent. The retailer, which has 492 stores including Madewell and outlet locations, has negotiated about $70 million in concessions this year and about $60 million next year from its landlords, according to Retail Dive. That includes waivers and rent deferrals, as long as sales are in line with…
Consumption of goods and services during the COVID-19 recession : Some shirts, some shoes, but a lot less service
First, some background on the line graphs shown above and below: The zero "date" is the start of a recession. The x-axis "periods" are the number of months after the start date. And the data are from the BEA's Personal Income and Outlay survey. Now, what do they show? The main revelation is that real personal consumption expenditures on services have decreased…
The last mile: Amazon in talks with Simon to convert bankrupt megastores into fulfillment centers
Amazon may soon take over the spaces of bankrupt retailers it has left in the dust. The e-commerce giant is in talks with mall owner Simon Property Group to turn anchor stores into distribution hubs, the Wall Street Journal reported. Read more Amazon doubles down on fulfillment centers How Amazon became the leasing king of e-commerce The main target…
TRD Insights: Gentrification happening fastest in least affordable cities
Want to identify the chief culprit behind gentrification in your neighborhood? Look no further than your city's housing supply — or lack thereof. Metro areas with less affordable housing disproportionately drive high-income home buyers to lower-income neighborhoods, according to recent analysis from the Urban Institute, Washington-based nonpartisan…
Chart: Miami Commercial Real Estate Sales to List Price Ratio Dips in July ~ MLS
The sales to list price ratio as reported by the Miami MLS, after having held up well as coronavirus hit, reached its lowest level in a number of years for properties classified as commercial/industrial with prices from $1 million to $10 million. That this ratio held up so well as-if-no…
Brightline ends partnership with Virgin Trains in South Florida
Brightline and Virgin Trains are headed on different tracks and have ended their partnership agreement in South Florida. The commuter train service will go back to using the name Brightline, it said in its monthly revenue and ridership report. Brightline had been operating as Virgin Trains USA, and was expected to complete the rebranding by this summer. The rail service…
Billionaire Charles Cohen proposes 338-foot tall office tower in West Palm
Billionaire developer Charles Cohen submitted new plans for a Pelli Clarke Pelli Architects-designed office tower in West Palm Beach. The plans reveal a proposal for West Palm Point, a 338-foot-tall tower with 23 floors of office space and a 10-floor parking garage, topped with a reflecting pool and landscaped deck. The late César Pelli's architecture firm, which designed…
National retail chains paid 80% of July rent, a Covid high
An increasing number of retailers are finding their rent is no longer too damn high. Major retail chains paid 80 percent of their July rent, by far the highest amount in months, according to a new report from Datex Property Solutions. But despite that positive indicator, many retailers are still skipping rent payments, a distressing sign for landlords. The latest rent…
Industrial development, rents and leasing stable in South Florida, but uncertainty remains: panel
Jason Tenenbaum of Prologis, Stephanie Rodriguez of Duke Realty and Ross Giglio of Terrano Realty The industrial sector, a bright spot in South Florida's real estate market, is seeing shifting strategies, experts say. Some developers, like Duke Realty, are launching new projects, while slowing down in other parts of the country. In mid-March, as the pandemic was…
Bank OZK seeks to foreclose on David Edelstein's Lincoln Road buildings
Bank OZK is seeking to foreclose on a Lincoln Road property owned by developer David Edelstein. The Little Rock, Arkansas-based bank, one of the most aggressive commercial real estate lenders in the country, is looking to collect on the $12.8 million that's allegedly remaining on the loan, plus fees and interest, for the buildings at 918 and 920 Lincoln Road in Miami Beach.
Hospitality, retail led job gains in July
The hospitality, leisure and retail sectors led job gains in July, with unemployment levels improving slightly overall. Payroll employment rose by 1.8 million in July and the unemployment rate declined to 10.2 percent, following a high of 14.7 percent in April, according to Department of Labor figures released Friday. Still, 16.3 million Americans remain jobless…
U.S. trade during COVID-19 : Imports and exports have plummeted differently
The recession caused by the COVID-19 pandemic has included a precipitous decline in U.S. trade: The FRED graph above shows that both imports and exports have declined more than 20% relative to a year ago. This decline may not be too surprising, given that international trade flows are usually more volatile than domestic economic activity. Large changes in economic…
"We're not crying in our milk": Hilton eyes new hotels despite $432M loss in Q2
Hilton Worldwide Holdings pressed on with developing new hotels despite heavy losses last quarter. The hotel giant opened 60 hotels with 6,800 new rooms last quarter despite reporting a net loss of $432 million in the second quarter. That's down almost 66 percent from its net income of $261 million during the same period 2019. Still, the company grew its pipeline by 11…
Brookfield Property's retail tenants paid 34% of rent in Q2
Brookfield Property Partners' Brian Kingston Brookfield Property Partners collected just 34 percent of rent across its retail portfolio in the second quarter, helping drive another sharp decline in earnings this year. Its office holdings also took a hit. The real estate arm of Brookfield Asset Management reported a net loss of $1.5 billion from April through June…
TRD Insights: What #WFH could mean for office and resi costs in tech hubs
With many tech companies open to long-term remote work for their employees, questions are being asked about how that will impact the office and residential markets in hubs of tech talent. (iStock) The technology industry accounted for over a fifth of major leasing activity nationwide in 2019, making it the biggest driver of the office market in the U.S. In hubs…
Simon strikes back at the Gap with $107M lawsuit
Call it a retail rumble, with Simon Property Group in one corner and its largest national tenant in the other. The largest shopping mall landlord has filed another lawsuit against the Gap. This one accuses the retailer of "taking opportunistic advantage" of the pandemic to avoid paying $107 million in overdue rent, even though some of its stores have reopened…
Blue Jay Trucking Inks 40,000-SF Lease Deal In Relo To Medley
Agora Real Estate Group President and Commercial Advisor Elias G. Patsalos, CCIM, recently represented the tenant in a long-term, 40,000-square-foot lease at Lakeview Industrial Center, located at 8005 NW 80th Street in Medley. Patsalos represented Blue Jay Trucking in the direct deal with the landlord, Gamma Delta Corp. "This deal was particularly…
Potential CRE Property Improvements To Adapt To COVID-19
In addition to everything else we can blame on COVID-19, the pandemic has altered what's important in commercial real estate. Not long ago, landscaping, security, and lighting were among the key elements to increase property values, and often ranked high on the list of tenant wishes. But with the pandemic and re-openings, the most significant concern is the…