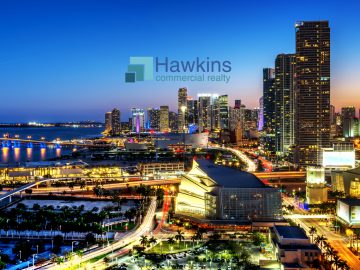 Hidrock Properties, Robert Finvarb pay $13M for Wynwood site
New York-based Hidrock Properties and its partner, the Robert Finvarb Companies, purchased a property in Wynwood for $13 million that they eventually plan to redevelop, The Real Deal has learned. The two firms acquired the building at 2534 North Miami Avenue and the adjacent lot at 26 Northwest 26th Street, as Hidrock expands in South Florida, Hidrock…
California investor buys new Medley industrial park for $35M
A California-based real estate investor bought a new Medley industrial park for $34.8 million, marking its first venture in Florida. VlietCo Enterprises, based in Santa Monica, California, bought the South River Industrial property at 8200 Northwest 93rd Street. It scored a $13 million acquisition loan, according to the financing broker's release. Melissa Rose and Cody…
Witkoff buys South Beach restaurant building off Lincoln Road for $15M
New York-based developer and investor Witkoff bought a South Beach retail property off of Lincoln Road for $15.4 million. Witkoff, led by Chair and CEO Steven Witkoff, bought the free-standing building at 1681 Lenox Avenue from an affiliate of New York-based real estate development, investment and management firm Marx Realty, according to records.
That's a hard no: Coral Gables board rejects Allen Morris development near The Plaza megaproject amid public outcry
A Coral Gables board flat-out rejected all seven items related to the approval of a mixed-use apartment tower near The Plaza megaproject. That means the developer, The Allen Morris Company, will have to go back to the drawing board. The city's planning and zoning board rejected the proposed ordinances and resolutions at its meeting late last week, following…
After helping kill off department stores, Amazon plans to open its own
After amassing an e-commerce empire by disrupting brick and mortar retail for the better part of three decades, Amazon is now taking the competition into the real world. The e-commerce behemoth is planning to open "several" large brick-and-mortar retail locations, similar to department stores, the Wall Street Journal reported Thursday.
'Pandemic-Ready' Tower Breaks Ground at Miami Worldcenter
A partnership of Royal Palm Cos., Adventist Health, Blue Zones and Accor Hotels has broken ground on what is being called the world's first COVID-conscious, pandemic-ready, all-in-one residential, hotel and medical center skyscraper. Located in Miami, Fla., the $500 million, 55-story Legacy Tower at Miami Worldcenter marks the first major construction start at Miami…
Joint Venture Breaks Ground on 255-Room Legacy Hotel & Residences Hotel at Miami Worldcenter
The joint venture, Blue Legacy Ventures, has broken ground on Legacy Hotel & Residences Hotel, a mixed-use tower in Miami with 255 hotel rooms, 310 residences and a $100 million medical center. Legacy Hotel & Residence is part of Miami Worldcenter, a $4 billion, 27-acre mixed-use development in downtown Miami. The tower sits on 1.3 acres. All 310…
Futuristic $100M Wellness Center Takes 10 Floors At Miami Worldcenter
In what is being described as one of the largest commercial leases to be executed in Downtown Miami's history, Adventist Health and Legacy Hotel & Residences have teamed up to bring a center for well-being to a skyscraper in Miami Worldcenter, a multibillion-dollar mixed-use project. The Blue Zones will occupy 10 stories and cost $100M, according…
Miami Office Market Update: Vacancy on the Right Track
As of July, Miami's office vacancy rate was 14.2 percent, dropping 40 basis points month-over-month, according to CommercialEdge data, and below the national average of 15.5 percent. The metro's rate expanded by 160 basis points when compared to the same period in 2020. Miami and Los Angeles were the only gateway markets to lower their vacancy rates…
Restaurants plead for more relief as Delta variant keeps diners away
The restaurant industry is coming back for seconds. The National Restaurant Association on Tuesday urged lawmakers to replenish the Restaurant Revitalization Fund, warning that increased costs and changes to consumer behavior amid rising caseloads has put restaurant owners under "crushing long-term debt loads." "The small gains that our industry…
Australia's Harbour Outdoor buys Miami Design District building for nearly $7M
Furniture design company Harbour Outdoor picked up a Miami Design District redevelopment site for $6.5 million. The Sydney, Australia-based firm plans to open a flagship showroom inside the 3,224-square-foot retail building at 170 Northeast 38th Street, according to brokers involved in the deal. The site is zoned for a new development of up to 20 stories.
South Florida apartment crunch: Locals squeezed out, as demand from newcomers leads to record rents
Laura Flores is close to calling it quits on her apartment hunt. The 40-year-old Miami resident has done everything to position herself as the perfect candidate: She has a full-time job that allows for $2,400 in monthly rent, and she started searching four months before her current lease ends. Yet, she has only seen one apartment in Doral since June…
Related and Two Roads to pay about $130M for the oceanfront Carlton Terrace condo building in Bal Harbour
A number of developers tried to do it before, but the Related Group and Two Roads Development are now close to completing a bulk purchase of units at the Carlton Terrace condominium at 10245 Collins Avenue in Bal Harbour, The Real Deal has learned. The developers' joint venture is spending roughly $130 million for…
Action on vast Wynwood project deferred for changes
The developer of one of the largest mixed-use residential and office projects to rise in Wynwood has deferred a city review and promises to work with City of Miami staff to help improve the overall project. The developer aims to tweak the plan based on a series of comments and concerns voiced by members of the city's Urban Development Review Board (UDRB) at a…
Cryptocurrency Trading Platform OKcoin Expands to Miami
The Sunshine State is beginning to seem more like the Crypto State. A new cryptocurrency trading platform called OKcoin announced it would open an office in Miami, marking the San Francisco-based company's seventh global office. The platform, which lets users buy and sell cryptocurrencies, says it will bring about 100 jobs with its move. "Looking forward to…"
Chart: Miami-Dade Commercial Real Estate Sales July 2021
This chart displays the number of closed commercial property sales in Miami-Dade county and the cities, including both improved commercial properties and vacant commercial land, that were recorded in the Miami Commercial MLS for the two years ending July, 2021. The number for last month, July 2021, seems to have reverted to more of a normal, non…
Twin 52-Story Miami Towers Are Complete, Fully Pre-Leased
Melo Group announced Friday that it has completed the second tower at Downtown 5th, consisting of two identical 52-story apartment towers. The project is already 100% pre-leased. It is the largest multifamily project in Downtown Miami's Central Business District, with 1,042 rental apartments in total and 12,500 SF of ground-floor retail. Units of 650 SF to 1,200 SF…
Alex Hurst: Firm he founded now holds $1.6 billion in real estate assets
Perhaps, in a parallel universe, Alex Hurst is a successful author of business strategy books rather than the founder and managing principal of real estate investment firm Palatine Capital Partners. He nearly went down that path while on hiatus from college. He was working abroad in England, where he'd gotten in on the ground floor of a successful internet…
The Fed: Rents still rising with regional riffs : Rent CPI has outpaced headline CPI for 20 years
If you've been paying rent just about anywhere in the United States, you likely already know that rent has been going up. And the FRED graph above shows exactly that. Average rent in U.S. cities has risen by 85% in just the past 20 years. That's 30 percentage points above the 55% inflation that's occurred between then and now (July 2021, at the time of this writing).
Chart: Miami Commercial Real Estate Sales to List Price Ratio July 2021
This chart displays the selling price to list price ratio as reported in the Miami Commercial MLS for improved commercial real estate (MLS classification: commercial/industrial) within Miami-Dade county, including cities within, in the sunny state of Florida that were priced from $1 million to $10 million and that closed from January 2011 to July 2021. This…
B Group Capital Management buys Shoppes of Coral Way in Miami for $24M
B Group Capital Management bought the Shoppes of Coral Way in Miami for $23.7 million. The Miami-based firm scooped up the retail center at 2690 Southwest 22nd Street from private investor Rajen Properties, according to a news release. Kirk Olson and Drew Kristol of Marcus & Millichap handled the deal, after listing the property in September 2020. The sale price is…
Industrious hires new COO to lead IPO prep, international expansion
Industrious has a new chief operating officer. The flex-office provider has tapped Liz Simon, chief operating officer at tech-focused continuing education school General Assembly, as its new COO, The Real Deal has learned. Tasked with overseeing Industrious' legal department, cross-functional operations and "people function," according to the company…
Eviction ban heads back to Supreme Court
Joe Biden's new eviction moratorium is set to face its biggest challenge yet: the Supreme Court. Real estate groups and property owners petitioned to the nation's highest court on Friday to strike down the ban on evictions, which applies to most of the country. Chief Justice John Roberts has asked the government to respond to the petition by Monday at noon, according…
Restaurant Migration Creates Dire Shortage Of Eatery-Ready South Florida Space
Wife-and-husband restaurateurs Christie Tenaud, a chef, and Roberto Colombi, a sommelier and general manager, operated The Blue at the Boca Raton Resort & Club but wanted to open their own space somewhere in South Florida. They started looking in December of 2018. "We looked from Wellington to Hollywood," Tenaud said. In February of 2020, they homed…
Lease roundup: New York hedge fund takes Miami space for HQ2, More…
Schonfeld Strategic Advisors I The Dorsey in Wynwood Hedge fund Schonfeld Strategic Advisors signed a long-term, 18,441-square-foot lease at The Dorsey project in Miami. New York-based Schonfeld is opening its second headquarters at the new Wynwood development. A partnership among Related Group, Tricera Capital and Lndmrk Development is…
Medical Properties Trust completes $900M portfolio buy with Hialeah Hospital
A Birmingham, Alabama-based real estate investment trust that binges on medical sites picked up Hialeah Hospital for $133.7 million. An affiliate of Dallas-based Tenet Healthcare is the seller of the 378-bed medical facility at 651 East 25th Street in Hialeah, records show. The purchase completes Medical Properties Trust's play for a South Florida medical portfolio…
Developers of Society Wynwood mixed-use project scores $142M construction loan
PMG and Greybrook Realty Partners scored a $142.3 million construction loan for their planned mixed-use rental project in Wynwood. Pacific Western Bank and Square Mile Capital provided the loan for Society Wynwood, which broke ground earlier this year at 2431 Northwest Second Avenue, according to a release. The 10-story building will have 318…
Life sciences sector poised to shatter records again in 2021
Unprecedented demand for life sciences real estate has prices soaring in markets across the country. Pricing for life science and R&D properties averaged $585 per square foot in the first half of this year, up 50 percent over last year's average, according to a new report from Newmark. That increase was partially driven by a handful of major deals. In March…
North Beach multifamily portfolio trades for $31M
A dozen apartment buildings in Miami Beach traded for $31 million, as demand for multifamily assets in the city's North Beach neighborhood heats up. Records show the entity Kerem North Beach Apartments bought the 12 properties between Byron and Carlyle avenues from 75th Street to 84th Street. Kerem is an affiliate of another similarly named entity managed…
Public Storage and American Homes 4 Rent Founder Wayne Hughes Dies
B. Wayne Hughes Sr., who built Public Storage into an industry behemoth and repeated the feat four decades later in single-family rentals with American Homes 4 Rent, died Wednesday. He was 87. The billionaire died at Spendthrift Farm in Kentucky, a legendary Thoroughbred breeding ranch that he bought in 2004, according to the Los Angeles Times. Born in…
Toys 'R' Us to be resurrected inside 400 Macy's locations
Call it a miracle on 34th Street. Three years after shuttering its remaining U.S. locations, Toys 'R' Us is planning a large-scale comeback with the help of fellow iconic retailer Macy's. The two retail brands are teaming up, with Toys 'R' Us set to bring more than 400 shops-within-ships to Macy's department stores across the country starting next year, according to…
Developers of Little Havana mixed-use project score $27M construction loan
A planned Little Havana mixed-use development at 805 W Flagler Street anchored by Ross Dress for Less and Aldi scored a $26.5 million construction loan from Parkview Financial, a mortgage real estate investment trust based in Los Angeles. The development team, made up of New York-based Posner Group and Miami Beach builders Todd Michael…
Opportunity Zone site in Miami's Arts & Entertainment District hits market — again — for $21M
A development site in a Miami Opportunity Zone is on the market again with an asking price of $21 million. The lot, which is slightly less than an acre, could be developed with a 48-story tower, with either 427 residential units or 854 hotel keys, with bonuses, according to a release from listing brokerage Colliers South Florida. It is at 1550 Northeast Miami Place.
South Florida construction starts more than triple in June
South Florida construction starts surged in June, more than tripling the amount recorded in the same month of last year, according to a new report. Miami-Dade, Broward and Palm Beach counties' total construction starts climbed 240 percent in June, year over year, reaching $1.9 billion, according to Dodge Data & Analytics, a Hamilton, New Jersey-based…
Melo Group Completes 52-Story Downtown 5th Apartment Towers in Miami
Melo Group has completed Downtown 5th, a pair of 52-story towers in downtown Miami with 1,042 rental apartments and approximately 12,500 square feet of ground-floor retail space. Construction began in late 2019 and move-ins are currently underway. Downtown 5th apartments include one-, two- and three-bedroom units measuring between 650 and 1,200 square…
The Miami Underline – Miami Public Transportation & Infrastructure Updates
Miami is undergoing a rapid expansion. Major tech companies, established investment and banking firms, start-ups, restaurant concepts, and more businesses are moving to Miami and the Tri-County area every day. The city's focus on improving its public transportation systems and infrastructure has never been greater. With so many changes taking…
Alta Developers pays $23M for mixed-use dev site in Hollywood
Raimundo Onetto's Alta Developers paid $23 million for a mixed-use site just north of Young Circle in Hollywood. The Miami-based developer plans a pair of 18-story towers with 452 apartments on 2.4 acres, according to a news release. The property is at 401 North Federal Highway. Records show seller Hollywood on the Golf is affiliated with Aventura-based…
Related Group sells downtown Fort Lauderdale apartments for $85M
Jorge Pérez's Related Group sold the New River Yacht Club apartments in downtown Fort Lauderdale for $85 million. BJ Verde Properties, based in Harbor City, California, bought the multifamily tower at 400 Southwest First Avenue, records show. The buyer is managed by Baiyan Li. The deal for the 249-unit building breaks down to $341,365 per apartment. Coconut Grove…
Covenant Capital Group buys Tamarac apartments for $69M
Covenant Capital Group bought the Lakeview Flats apartments in Tamarac for $69 million. The Nashville, Tennessee-based investor bought the complex at 8800 Northwest 78th Court and 8900 Northwest 77th Court from affiliates of Ortsac Capital Group, based in Fort Lauderdale, records show. The buyer…
Bascom Group buys Lauderhill apartments for $79M
Bascom Group bought the Sunny Lake Apartments in Lauderhill for $79.3 million. The Irvine, California-based investor, through a partnership with Duff Bedrosian of Miami-based East Hill Capital Partners, bought the complex at 2360 Northwest 56th Avenue, according to a news release. An affiliate of Miami-based Bar Invest Group, an investor in multifamily…
RAM buys Boca Raton apartment complex for $20M
Rental Asset Management bought The Village at Boca East apartment complex for $20 million. Records show RAM, through an affiliate, bought the 84-unit community at 1551-1601 Northwest 13th Street. The deal breaks down to $238,095 per unit. Seller 3T (Country Club Village), a limited partnership whose president is Oded Meltzer, sold the property.
Deco Green multifamily, mixed-use project in Lake Worth Beach moves forward
A 127-unit multifamily project with retail, offices and green space is moving forward in Lake Worth Beach. Deco Green will have four residential buildings on 2.3 acres, along with 8,000 square feet of retail and offices, according to a news release. Miami-based Office America Group is developing Deco Green with an eye toward creating an outdoor…