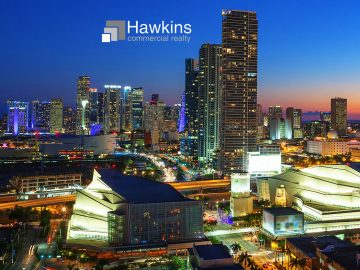 Indigo, Linkvest plan mixed-use project in Hialeah Gardens
Indigo Properties and Linkvest Capital are planning to redevelop a truck yard into a mixed-use project in Hialeah Gardens. The joint venture is proposing a three-story self-storage facility sandwiched between seven single-tenant retail buildings on an 8-acre site at Northwest 138th Street and Northwest 107th Avenue, according to a press release. The self-storage facility…
Miami Among The Top Cities For New Apartment Construction In 2023
Miami is projected to be one of the top U.S. cities for new apartment completions in 2023, according to a new analysis by RentCafe. Overall, the Miami metro area is expected to complete construction of 20,906 new apartments this year, the fourth most of any metro in the U.S. The City of Miami alone is expected to add 9,362 apartments – the most of any city in the metro area…
Construction Gets Underway At 750-Foot St. Regis Sunny Isles Beach
Construction is now underway on the first tower at The St. Regis Residences, Sunny Isles Beach, according to the SFBJ. The developers broke ground after selling $900 million worth of units in the first tower, or around 75% of 175 units. A $55m penthouse was among the sales. Sales for the second tower could launch in the winter. Both will be 62-story towers, with each rising 750 feet…
Solu and 3T Equity buy Bay Harbor Islands apartments
Solu Real Estate and 3T Equity's BH1 Property Holding LP bought 34 units from Miami-based Category Five Ventures, with junior partner Mike Peisach signing, records show. The $12.5 million deal includes a 17-unit complex at 9800 East Bay Harbor Drive, and 17 units across the street at 9770 and 9790 East Bay Harbor Drive and 1050 98 Street, according to a press release.
Construction Is Officially Underway At Inter Miami's Stadium
Miami Freedom Park is now officially under construction. Inter Miami CF said that work began earlier this month, with completion of the first phase planned for 2025. Crews and heavy equipment are now on site, performing earthwork and sitework, the team said. They will move will move across the 131 acres "concurrent with vertical construction." The first phase planned for 2025…
Inter Miami FC Begins Construction on 131-Acre Entertainment District, New Stadium
Inter Miami FC has begun construction on Miami Freedom Park, the Major League Soccer (MLS) club's new 131-acre entertainment district, the centerpiece of which will be a 25,000-seat stadium. The project is a redevelopment of the former site of the Melreese Country Club in the city's Grapeland Heights neighborhood. In addition to the stadium, Miami Freedom Park will feature…
631-unit tower plans 125 micro-units, 1,000 bike spaces in Omni CRA District
Developers plan a 42-story mixed-use residential tower, with some micro-dwelling units, for a vacant site in the City of Miami's Omni Community Redevelopment Agency (Omni CRA) district. The application lists 16th Street Partners LLC as owner-developer of Hakimian South Tower at 45 NE 16th St. The new building is to be home to 631 residential units, approximately 3,140 sf…
Babba Joshua Yesharim lists Miami River District dev site for $26M
A 1.2-acre development site on the Miami River owned by Babba Joshua Yesharim is on the market for $26 million. The adjacent lots at 678, 700, 710 and 720 Northwest North River Drive in Miami allow for a project rising up to four stories and with 44 units maximum, according to listing broker Virgilio Fernandez. A townhouse or condominium development could be suitable…
Michael Shvo adds condos to proposed Alton Road office project in Miami Beach
Developer Michael Shvo wants to include condos at his proposed office project on Alton Road in Miami Beach. Shvo wants to develop a six-story building at 1656, 1664, 1676 and 1680 Alton Road, and 1677 West Avenue with five condos on the third floor, and 170,000 square feet of offices on levels four to six, according to a Shvo spokesperson and an application filed to the city.
Inter Miami stadium site work begins
A decade after it was first proposed for a corner of PortMiami, a new park with a Major League Soccer stadium is under construction in Miami. Inter Miami CF announced this week that work has begun on Miami Freedom Park, next to Miami International Airport, and that the Inter Miami CF Stadium is set to open in 2025. Miami Freedom Park is a 131-acre multi-use development…
Construction Begins On Miami Freedom Park; Inter Miami CF Stadium Set To Open In 2025
Inter Miami CF announced construction began on Miami Freedom Park earlier this month. The Inter Miami CF stadium, 58-acre public park, and entertainment district at Miami Freedom Park are scheduled to open in 2025, and the official groundbreaking ceremony will take place later this year. Miami Freedom Park is a 131-acre development anchored by a new 25,000-seat fútbol…
Prep work begins for Mas, Beckham's Miami Freedom Park project
Crews have begun sitework in preparation for the groundbreaking of Miami Freedom Park, the $1 billion soccer stadium-anchored mixed-use project proposed by Miami billionaire Jorge Mas, retired fútbol star David Beckham and their partners. This month, Miami Freedom Park LLC obtained a notice of commencement to erect a temporary construction fence and start soil improvements…
Vestcor proposes 590-unit affordable housing project in Leisure City
A Jacksonville-based development firm proposes a 590-unit affordable housing project in south Miami-Dade County's Leisure City. Vestcor wants to build the MF…  on 7.8 acres on the NW corner of S Dixie Highway and SW 280th Street, according to an application…filed to Miami-Dade  last week. The development site is at 27742, 27860 and 27862 South Dixie…
Redrawn boundaries may add affordable housing in Allapattah
A proposed affordable housing project planned for an 18-acre city-owned lot in Allapattah could benefit from tax increment financing since its inclusion in the recently expanded Omni redevelopment agency boundaries. In July, the City of Miami authorized the continued existence of the Omni Community Redevelopment Agency (Omni CRA) throughout 2047 with increased…
Doral OKs new Tesla Motors center
Doral will soon be home to a new Tesla Motors electric vehicle service and sales center. Telsa will occupy and modify a 5.3-acre lot at 9950 NW 25th St. that has a 78,000-square-foot building already in place. The land use is categorized as industrial commercial and the project is consistent with the city's Comprehensive Plan and the land Development Code, said Julian Perez, Doral's…
Will Miami Wilds water park be blindsided by a bat?
The longest-running drama in Miami-Dade is not the battle to revive the closed Coconut Grove Playhouse, now dark for its 17th year, but the bid to create a water park beside Zoo Miami, now in its 26th futile year. Neither shows signs of a happy ending for everyone. While playhouse action now is backstage, however, the Miami Wilds water park plan is to return to the spotlight…
Co-living units approved for four Civic-Health District, Urban Central Business District, Neighborhood Revitalization Districts 1, 2 in Wynwood
As Miami residents are considered the most rent-burdened in the country, the city has approved co-living units to rise in four districts near the bustling urban core to help ease the stress. A modern form of communal living, co-living offers a cost-effective option for those who have been priced out of large cities as the national housing crisis persists. In June, the City of Miami updated…
Developers Get FAA Approval For 761-Foot-Tall 'Brickell Gateway' Skyscraper At 90 SW 8th Street In Brickell
The Federal Aviation Administration has given the green light to developers Gazit Horizons and Atlantic Pacific Communities for Brickell Gateway, a 61-story mixed-use skyscraper set to rise at 90 Southwest 8th Street in Miami's bustling Brickell neighborhood. Designed by Corwil Architects, the development will encompass a total area of 933,209 square feet. This inclusive space…
Slowdown: Miami development site sales plummet
With vacant land primed for development scarce in Miami's Brickell neighborhood, owners of a 14-unit townhome complex are betting they can land a bulk buyer willing to pay $20 million or more for their community. The site has city of Miami approval to be redeveloped into a five-story boutique condominium, according to an offering. But since Brickell Woods hit the market…
Limestone Acquires Two Miami Walgreens Buildings for $15.6M
Miami-based Limestone Asset Management and Orion Real Estate Group purchased and closed on two Walgreens buildings located at 2700 W. Flagler Street, Miami, FL and 780 E. 9th Street, Hialeah, FL for $15.615 million on Aug. 23, 2023. Led by Ibrahim Al-Rashid, Limestone Asset Management invests in and acquires real estate properties over all asset classes throughout…
Conquer South Florida Real Estate: The Stephen Ross Blueprint
In challenging economic periods where most retreat, Stephen Ross' Related Companies is expanding its affordable housing portfolio in South Florida. The billionaire's Related Companies is renowned for buying in downturns and selling in booms. Post the 9/11 attacks, while others hesitated, Related persisted in constructing New York's Time Warner Center, now renamed…
MMG Equity proposes 247-unit multifamily in west Miami-Dade
The Navarro family's MMG Equity Partners proposed a 247-unit apartment complex near Coral Way in west Miami-Dade County. The Pinecrest-based firm wants to build at least four multifamily buildings and nearly 30,000 square feet of retail on 6.6 acres of land on the northwest corner of Coral Way and Southwest 144th Avenue, according to MMG's Marcos Puente and an…
Northeast Corridor Commuter Rail Expected To Begin Construction In 2025
Construction is expected to begin in 2025 on the Northeast Corridor commuter rail project, according to a fact sheet posted on Miami-Dade's website. The line is planned to have seven Miami-Dade stations: MiamiCentral (existing station/Brightline) Wynwood – NE 29 Street Design District – NE 41 Street Little Haiti – NE 61 Street North Miami – NE 123 Street FIU North Campus…
Renters In Sentral Wynwood Apartment Building Can Sublet Their Unit On Airbnb
Airbnb says it has partnered with Sentral Wynwood to allow apartment tenants to sublet their rental units. Sentral's policy is to allow Airbnb sublets for up to 75 days, Airbnb's website says. Apartment tenants who choose to list their units on Airbnb will be responsible for setting pricing, locking up their belongings, providing an access key or code to guests, and cleaning…
Retail REIT Merger: Kimco Realty to Acquire RPT Realty for $2B in All-Stock Transaction
Kimco Realty (NYSE: KIM) has entered into a definitive merger agreement with RPT Realty (NYSE: RPT) under which Kimco will acquire RPT Realty in an all-stock transaction. Both REITs are based in New York — Kimco in Jericho and RPT in Manhattan — and own and operate open-air and grocery-anchored shopping centers, as well as mixed-use assets. Kimco valued the transaction…
The Wharf Miami Gears Up For Transformation: Preparing for the Development Of $185 Million Riverside Wharf
Downtown Miami's iconic waterfront destination, The Wharf Miami, is preparing to bid farewell to its current chapter, making way for the transformative $185 million Riverside Wharf development. The forthcoming Riverside Wharf is envisioned as a more permanent incarnation of The Wharf's vibrant essence. While The Wharf's closing party is scheduled from September 15 to 16…
Craig Robins, partners score $250M refi for Design District retail
Craig Robins and his partners closed on a $250 million refinancing for Paradise Plaza in the Miami Design District. Paradise Plaza Associates, an affiliate of Miami Design District Associates, secured the financing from Deutsche Bank, according to the attorneys involved in the deal. The property at 151 Northeast 41st Street has 120,000 square feet of retail and restaurant space…
Plans Update for Mohawk at Wynwood at 50 NE 29th Street in Miami
The developers of Mohawk at Wynwood have applied for a demolition permit, hoping to soon start sitework on the mixed-use venture. In July 2021, Florida YIMBY reported on the community, which at that time was to offer 225 units and 24,639 square feet of retail. Plans have since changed, now offering 35 additional units. Per the Next Miami, the 12-story Mohawk at Wynwood…
Turmoil hits Location Ventures' Coral Gables condo project
A year after completing Villa Valencia in Coral Gables, Location Ventures failed to secure a final certificate of occupancy for the 13-story boutique condominium. And since last month, 10 contractors, including project manager Winmar Construction, have filed 23 construction liens totaling nearly $7 million against the building's development entity, records show.
Developers Propose Three-Story L'Isola at 2777 NE 185th Street in Aventura
Cabi Developers has filed site plans for L'Isola, a commercial venture in Miami-Dade County. Sources report that the three-story commercial venture will comprise at least 14,000 square feet of new construction, offering retail ventures, along with indoor and outdoor dining options. The food hall would offer "a diverse selection of international cuisine." Plans call for a rooftop…
Affordable Housing Complex Catherine Flon Estates Planned for North Miami
Magellan Housing, Royal American Development, and Miami Heat legend Udonis Haslem have joined forces to purchase a 6.3-acre build site in Miami-Dade County. The Real Deal reports that the trio purchased the parcel from the City of Miami for $1.5 million. It will be home to Catherine Flon Estates, a venture that's been in the works since 2019. Upon completion, the 200-unit project…
25-Story Smart Brickell Reaches Completion, Second Tower Underway
A 25-story Brickell tower has reached completion, while a second is underway, according to an Instagram post by its developer. "We are so excited to announce that we have TCO for Smart One and here comes Smart Two," developer Habitat Group wrote yesterday, along with a video showing foundation work. Yet another tower is also in the works. In May, plans were…
Construction Underway At 363-Unit Soleste On The Bay In North Miami Beach
In North Miami Beach, Soleste On The Bay has just received $100m in construction financing, according to the SFBJ. Construction has been underway since earlier this year. The construction site is at 16375 Biscayne Blvd. The Brightline and Northeast Corridor tracks pass nearby the project site, but the nearest proposed station is at 151st Street (FIU). Soleste On The Bay…
South Florida Cities Search For Solutions To Prevent 'Senior Exodus' Caused By New Law
Changes to Florida state law requiring condo inspections and repairs are bearing down on unit owners, hitting them with unexpected bills that some can't afford and raising fears that they will be forced to sell their homes. Local officials across South Florida are sounding the alarm about the potential for an exodus of seniors unless states and municipalities create programs…
Harvest investors buy Coral Springs shopping center for $27M
Real estate investors Guofeng Ma, Wenrui Ma and Wei Cheng bought a Coral Springs shopping plaza for $26.5 million, amid an uptick in South Florida retail deals. Williams Magnolia Properties sold Magnolia Shoppes at 9645 Westview Drive, according to the brokers. Moshe Biton of Capital Group Realty and Lena Zubkova of Apogee Realty represented both sides…
Generation at Wilton Manors Set for 2430 NE 13th Avenue in Wilton Manors
Kaplan Residential is moving forward with plans for a six-story mixed-use venture in Wilton Manors. Generation at Wilton Manors will offer 190 residences. They include 15 studio units, 80 one-bedroom units, 77 two-bedroom units, and 18 three-bedroom homes. They will measure 635 square feet to 1,199 square feet each. Communal amenities include a fitness center, club room…
Ex-New York appliance moguls Elie, Albert Fouerti buy Tamarac shopping center
Former New York retail appliance moguls Albert and Elie Fouerti paid $14.8 million for a grocery store-anchored shopping center in Tamarac. An entity managed by the Fouerti siblings acquired University Commons, a 81,649-square-foot strip mall completed in 1977, records show. Drew Kristol and Kirk Olson with Marcus & Millichap brokered the deal.
$14.8M Sale of University Commons Shopping Center in Tamarac is Brokered
Marcus & Millichap has brokered the $14.8 million sale of University Commons, an 80,224-square-foot shopping center located at 6702 N. University Drive in Tamarac, a city in South Florida's Broward County. The buyer, a private investor based in New York, purchased the center from a private investment firm based in Miami. Both parties requested anonymity.
The Ellie at Logan Ranch Planned for 11275 Acme Dairy Road in Boynton Beach
The Ellie at Logan Ranch is slated to start construction in the second quarter of 2024. The residential community will occupy 39 acres of a larger 22,000-acre agricultural preserve in Palm Beach County, FL. It will offer 314 residences, ranging from one-bedroom to four-bedroom layout plans. The South Florida Business Journal reports that 25 percent of the residences…
Apollo, Liberty Base secure second phase of 101 Dania Beach project
Apollo Companies and Liberty Base Investments can forge ahead with the second phase of their mixed-use project, 101 Dania Beach, despite opposition from a top city official. The Dania Beach City Commission on Tuesday, by a 3-2 vote, approved the joint venture's site plan for a building with 102 apartments. The property is slated to include ground-floor live-work units…
Developers Seek Approval for Delray Swan at 118 SE Second Street in Delray Beach
Developers hope to get approval for a mixed-use project in Delray Beach, FL. The 2.36-acre site could soon be home to Delray Swan, a five-story complex that would comprise more than 304,000 square feet of new construction. Upon completion, it would offer 165 apartments total––27 studios, 49 one-bedroom units, 75 two-bedroom units, and 14 three-bedroom apartments.
David Martin's Terra sells Publix-anchored Pembroke Pines retail complex for $56M
Terra sold the fully leased, Publix-anchored 16000 Pines Market shopping plaza in Pembroke Pines for $56 million, marking a continued uptick of South Florida retail investment sales. Apollo Realty Income Solutions, a real estate investment arm of Marc Rowan's Apollo Global Management, bought the 135,000-square-foot center at 16000-16040 Pines Boulevard, according…
Pompano Beach multifamily complex trades to Woodward Properties at a loss
Investors Arvind Reddy and Krishna Persaud sold a multifamily complex in Pompano Beach for $24.1 million, marking an 8 percent loss from what they paid a year ago. The deal comes as the South Florida multifamily market has taken a turn from the boom times of 2021 and early last year. Property values dropped this year following a rise in financing costs, caused by the Federal…
FAA Approves Related Companies' '515 Fern': West Palm Beach's Largest Office Tower At 386 Feet
West Palm Beach's skyline is primed for continued transformation as the Federal Aviation Administration (FAA) gives the green light to construct 515 Fern, an impressive 25-story tower set to redefine the city's commercial landscape. This FAA approval marks a significant milestone for New York-based developer Related Companies, known for their iconic Hudson Yards development…
Mini-Golf Course Slated for 2025 Debut at Palm Beach International Airport
Soon, travelers at Palm Beach International Airport will be able to enjoy PopStroke, a mini-golf course co-owned by Tiger Woods. Resting on a 3.4-acre build site, the multi-million-dollar venture (costing at least $8 million to build), will offer two courses, each with 18 holes and a "challenge hole." The Palm Beach Post notes that the mini golf course will be made of synthetic turf with…
Developer nabs approval for 314-unit rental complex in Ag Reserve in PBC
A developer plans a 314-unit multifamily complex in the Agricultural Reserve in Palm Beach County. Brett Gelsomino, through his Gelsomino Holding, wants to build the Ellie at Logan Ranch complex with six four-story buildings and seven two-story buildings on 39 acres at 11275 Acme Dairy Road, he told The Real Deal. His Davie-based firm has the property under contract…
Grant Cardone hit with new class action lawsuit by investor's daughter
The daughter of a deceased investor is taking over a monumental legal battle against Grant Cardone, the controversial social media influencer who's built a vast multifamily empire based in Aventura. Christine Pino recently filed a class action lawsuit in Los Angeles federal court against Cardone and his firm, Cardone Capital, on the heels of her father's death, The New Republic…
Economic Uncertainty, Rising Interest Rates Challenge Banks
The U.S. banking system is sound and resilient, with strong capital and liquidity, according to the latest report on bank supervision and regulation (PDF) released in May by the Federal Reserve Board of Governors.1 Nevertheless, bank supervisors are actively monitoring risks associated with credit, liquidity and interest rates. These risks have risen in 2023 because of prevailing economic…
Young And Rich Are Flocking To Florida, IRS Data Shows
A new study shows that Florida is attracting younger people with high incomes more than any other state, according to CNBC. The study by SmartAsset looked at IRS data from the 2021 tax year. It narrowed down the population to include only the "young" and "rich." That was defined as being between 26 and 35, and earning over $200,000 (only 2% of those in that age range met…
Explaining the Fed's recent conventional and unconventional monetary policy
This FRED graph chronicles the advent of "unconventional" monetary policy in the US since the 2007-08 financial crisis and the recent efforts by the Federal Reserve to normalize monetary policy. The graph shows the unemployment rate (in blue), the stock of mortgage-backed securities held by the Federal Reserve (in green), and the effective federal funds rate (in red).
South Florida Retail Real Estate Summary: Leases, Sales & Construction Projects
Market Snapshot for South Florida Retail Real Estate Here's our quarterly summary South Florida commercial real estate focusing on Miami retail real estate. The report includes statistical highlights (cap rates, vacancy rates, absorption, etc), the latest retail transactions, signed leases, retail trends, and current market activity. The retail real estate report is updated by our…
Video: Peachtree Hotel Group CEO Greg Friedman Discusses Hotel Performance, Forecast
Greg Friedman, Managing Principal and Chief Executive Officer at Peachtree Hotel Group, joins America's Commercial Real Estate Show to discuss the hotel and hospitality sector. Included in the discussion are post-pandemic hotel performance, lender sentiment with regard to lodging properties, and future opportunities in the sector. Hotels are noted as generally more profitable today…
Remote Work Will Persist, Goldman Forecasts, Bringing More Pain For Office Landlords Through 2030
Impacts of the remote work revolution on landlords are expected to grow as leases expire and tenants renew for smaller spaces, according to a new report by Goldman Sachs. By next year, the company forecasts work-from-home and hybrid schedules will bump overall U.S. office vacancies up 0.8% and an additional 2.3% by the end of this decade. After 2030, vacancies…
As Hurricane Idalia Deluges Florida, Property Insurance Exposure Exceeds $238B
More than 800,000 residences were in the direct path of Hurricane Idalia as the Category 3 storm bore down on Florida's Gulf Coast Wednesday, and state officials say they are keeping a watchful eye on insurance carriers even before claims begin to roll in. Idalia's arrival in the early hours of Wednesday morning threatened storm surge damage to 808,321 single-family… claims.
Commercial Real Estate is in Trouble Nationally. Climate Change Is Part of the Problem
It's hard to escape the sense that the old-fashioned office is in trouble these days as employees continue to work from home and some companies try to shave square footage to cut costs. Unsurprisingly, commercial real estate firms now face declining valuations and financial pressure to turn the situation around. On top of this, it turns out climate change may be playing…
After $9.6B Sale, What's Next for Subway's Footprint?
The CEO of Subway, which has agreed to sell the privately owned global sandwich chain to private equity firm Roark Capital for a reported $9.6 billion, said Thursday the transaction reflects Subway's long-term potential, but one retail expert said most new growth would probably come from outside the U.S. "Much of the expansion will likely happen internationally.