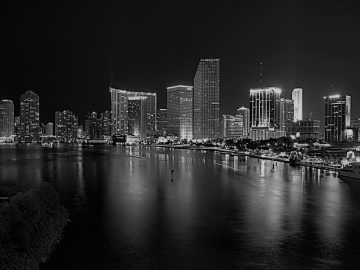 Cirque du Soleil founder buys trio of warehouses in Little Haiti
Cirque du Soleil founder Guy Laliberte is betting big on Miami. The Canadian theater impresario paid $6.9 million cash for a trio of new warehouses at 300, 310 and 320 Northeast 60th Street in Little Haiti, The Real Deal has learned. Laliberte, who founded Cirque du Soleil in 1984 and still owns a stake in the entertainment company, is partnering with Magic City developers Bob Zangrillo, Plaza Equity Partners…
State-to-city-to-Genting deal for Miami bayfront property
The developer that owns a choice piece of bayfront property in Miami that was formerly the home of the Miami Herald is in negotiations with city officials for submerged land in order to build a marina. But first, the Florida Department of Transportation needs to deed the strip of bottomlands back to the City of Miami, so the city can lease it to Resorts World Miami LLC, a subsidiary of Malaysian casino giant…
Narrowing of Biscayne Boulevard in parking department hands
The city's Off-Street Parking Board has approved an agreement between the Miami Parking Authority and the Downtown Development Authority to proceed with the Biscayne Green Project – the plan to transform Biscayne Boulevard into something other than a busy downtown street hugging vast surface parking lots. At the board's Dec. 6 meeting, authority CEO Art Noriega asked the board…
Commission probes case of the disappearing public park
Some members of the Miami River Commission were disappointed recently to learn that a proposed major mixed-use residential project would not be providing a public park after all. Mast Capital plans nearly 700 residential units in two buildings on a large vacant lot at a bend in the river, to be called Miami River Walk. The 6.3-acre site at 1001 NW Seventh Street is on the south bank of the river, just east…
South Florida among fastest in US in job gains
South Florida tied for the second-fastest rate of job growth among the nation's 12 largest metropolitan areas in October, with 62,000 added jobs increasing the area's total by 2.4%, the US Bureau of Labor Statistics revealed last week. That gain far surpassed the national growth of 1.4% and trailed only the 2.7% job growth in the Dallas area. The Atlanta area also added jobs at a 2.4% rate. The gain…
Paramount Miami Worldcenter reaches the halfway point
30 stories remain Paramount Miami Worldcenter recently hit the halfway mark of its 60-story climb in downtown Miami. Miami's future amenity king is currently 70 percent sold with over 48 nationalities represented among the buyer pool, per a spokesperson. Among its array of amenities are pool cabanas starting at $295,000 and an amenity deck (90 feet up) including the country's first outdoor soccer…
Developers see incubation as key to North Beach retail success: panel
To reimagine retail in North Beach's Ocean Terrace, developers are looking to projects doubling as business incubators that they hope will seed the commercial landscape in Miami's most popular neighborhoods. "We have started talking about what we want it to feel like," said Sandor Scher, co-founder of Claro Development, which is redeveloping 2.2 acres in historic Ocean Terrace, at a Tuesday conference…
Retail landlords are using the courts to stop stores from closing — and they're winning
Retailers might want to think twice before closing a struggling store, as they could end up with a lawsuit on their hands. As shopping centers continue to struggle, landlords have started pushing back against stores that shut down by filing and winning court cases to prevent them from doing so, especially in instances where their closing would cause the landlord to take a huge financial hit, according…
The accounting reform that could be a game changer for co-working firms
A change in federal accounting rules taking effect by 2019 could give co-working companies a major boost. Under the new rules, public companies will have to list office leases as liabilities on their balance sheets, which could make them look worse on paper. But there's a loophole: if public companies sign a lease with a co-working space provider, and if the provider has a right to move the tenant, that…
Airbnb grapples with slow listing growth in major cities
As Airbnb inches closer to going public, the company faces lackluster listing growth and questions over its expansion into more traditional hospitality ventures. Growth of listings in New York, Paris, Rome, London, Barcelona, Amsterdam and other cities, for example, slowed in 2017, the Information reported. The number of nights that homes in these cities were listed as available increased at a faster pace than…
Coral Gables moving forward with Little Gables annexation
The city of Coral Gables is moving forward with annexing the unincorporated neighborhood of Little Gables, according to the Miami New Times. The roughly 205-acre…, which lies just south of Southwest Eighth Street and east of Granada Boulevard, has about 90 trailer park homes in the Gables Trailer Park community. City officials recently discussed replacing the trailer park at Southwest 44th Avenue…
Multifamily Assets Give South Florida Investors a 'Solid, Secure Feeling'
Multifamily sales volume in South Florida for 2017 likely won't reach the dizzying heights of a year ago, but brokers and analysts expect investor demand for rental properties to remain strong in 2018 and beyond. As of early December, 709 sales in Palm Beach, Broward and Miami-Dade Counties totaled $4.25 billion, compared with 755 sales and $6.3 billion in 2016, according to CoStar data. The dollar…
Video: Visualization of Growth of Miami's Skyline from 1990 to 2016
This short video fades from the skyline of 1990 to that of 2016, essentially today. During this period, Miami has gone from just exiting its sleepy southern town origins to a truly bustling international city with, by one measure, the third most dense skyline in the United States, trailing behind New York and Chicago.
Video: John Paul Ruiz of Entrust Discusses Real Estate Investing in a Self Directed IRA
John Paul Ruiz, QKA. CISP, Director of Professional Development with The Entrust Group, joins show host Michael Bull on America's Commercial Real Estate Show to discuss self-directed IRA's and relative topics like retirement, investing, real estate investment types, IRA and investment type differences, tax deferment strategies, IRA 8606 articles and forms, deductible and nondeductible contributions…
Video: Deloitte's Jim Berry on Re-imagining Talent and Culture ~ 2018 CRE Outlook
Jim Berry, Real Estate Audit and Enterprise Risk Services Leader at Deloitte, joins host Michael Bull on America's Commercial Real Estate Show to discuss his Deloitte's 2018 Commercial Real Estate Outlook report and to discuss today's talent, culture and generational management. The guest, Jim Berry, currently serves as the Audit and Enterprise Risk Services national leader for Deloitte's Real Estate…
Barlington Group principals sell Little Havana property for $6.75 million
Barlington Group principals Bill Fuller and Martin Pinilla just sold a property in east Little Havana three months after putting it on the market. Property records show 1393 LLC sold the office building and development site at 1393 Southwest First Street and 120 Southwest 14th Avenue for its asking price of $6.75 million to 1393 Building LLC, a company controlled by Miami attorney Jorge E. Blanco.
Video: Reis Chief Economist & VP of Research Victor Calanog Updates on Q3 2017 Retail Property Sector Trends
Reis Chief Economist & Vice President of Research, Dr. Victor Calanog, provides an assessment of third quarter 2017 Retail Sector trends. In this video, he discusses retail property occupancy rates, retail real estate deliveries (new construction), rental rate trends for retail properties, and more, all considered on a national level but with information applicable to Miami retail properties and to the Miami…
Coconut Grove's long-awaited garage set to begin
Construction on the long-awaited Grove Bay Parking Garage in Coconut Grove is expected to begin next month, and if current plans fall into place the municipal parking garage and its liner of retail shops will be completed by January 2019. That's the latest word from Art Noriega, chief executive officer of the Miami Parking Authority. The city's Off-Street Parking Board on Dec. 6 authorized Mr. Noriega…
Resorts World in talks with the city of Miami to lease marina land
Resorts World Miami is in talks to lease land where it plans to build a marina, part of a multimillion-dollar redevelopment plan in Miami's Arts and Entertainment District. The Genting Group subsidiary wants to lease submerged land that's owned by the city of Miami and the Florida Department of Transportation, according to the Next Miami. FDOT acquired a portion of the land from the city to build the…
In a strange sense, Fort Lauderdale is the Jan Brady of South Florida cities. To the north is West Palm Beach, bastion of high society, and to the south, it's all Miami, Miami, Miami. Even mapmakers are hard-pressed to get Fort Lauderdale's name to fit on the southern tip of the Florida peninsula. Often, it's just easier to deal with the neighbors. That's all about to change, though, as a series of major construction…
In 1963, Walt Disney approached two of his staff songwriters, the Sherman Brothers, to come up with a catchy tune for the UNICEF exhibition in the upcoming New York World's Fair. The result was "It's A Small World (After All)." Little did Mr. Disney know that his song could easily be the soundtrack for today's boom in tiny living. Americans these days are obsessed with simplifying their lives.
Fort Lauderdale developer proposes resort hotel in Miami Gardens, near Hard Rock Stadium
A South Florida developer just proposed a resort hotel near Stephen Ross' Hard Rock Stadium. Fort Lauderdale-based developer Abraham Baker's Mazex Holding LLC just filed plans with the city of Miami Gardens to develop a 600,000-square-foot resort hotel on nearly 40 acres of land near the stadium, according the South Florida Business Journal. The city, which owns the land at the northeast corner…
How E-Commerce is Impacting CRE
A lot has changed since 2011. That's when a blog post on this site stated: "Many consumers still want to see or touch goods before they purchase, so they still go into a physical store to get this experience." That statement still holds somewhat true, but e-commerce has continued to grow by leaps and bounds in the past six years – and fewer consumers have to go into a physical store to touch the goods…
International supplier sells Doral warehouse to Boston firm
Overseas supplier Topp Investments Inc. just sold its warehouse in Doral for $5.8 million, property records show. Boston-based real estate private equity firm, Longpoint Realty Partners, bought the 39,050-square-foot building at 3055 Northwest 84th Avenue for about $150 per square foot. The deal also includes an adjacent 14,400-square-foot lot. Rubin's company supplies…
Artists Creating – And Owning – Their Own Spaces in Miami
Art does a lot for people. It appeals to our creative nature; it's personal; its expression touches something in all of us. In the words of Pablo Picasso, "The purpose of art is washing the dust of daily life off our souls." The same sentiment can be said about art in communities. By embracing creativity, neighborhoods are learning that art can wash off their dust. We've seen that with Miami's…
Condo developers in Miami, other major cities encourage buyers to kick their cars to the curb
Developers are increasingly telling buyers to ditch their cars in cities like Miami, San Francisco and New York. In exchange for discounts, credits, car-rental and car-sharing services, the move saves residential developers building costs since they can reduce or eliminate garages. Some builders are also planning for a garage-less future, designing parking structures that can be easily converted or removed,
CRE In Miami is Getting Greener
When it comes to climate change, perhaps no other region in the nation has as much to lose as South Florida – Miami and Miami Beach in particular. With each year, King Tide flooding becomes increasingly extreme and creeps into more and more neighborhoods, and herculean efforts are underway to adapt city design and pump water back into the ocean. It should come as little surprise that cities…
Underline scores $15M in funding from Coral Gables
The Underline just got another boost in funding, this time from the city of Coral Gables. The Coral Gables City Commission voted Tuesday to direct $15 million from impact fees, which come from developers constructing projects in the area, to the linear park. Collecting the funds will take about five years and will likely come from projects like the controversial Paseo de la Riviera, the Miami Herald reported.
Florida in The Top 5 For Commercial Development
When the NAIOP, the commercial real estate development association, conducted its analysis to determine the top states for commercial development, it looked at GDP, salaries, wages, and the amount of jobs created and supported from the development and operation of commercial real estate. People in South Florida, though, merely had to look at the number of cranes and construction projects filling…
Multifamily deals in SoFla totaled $3.6 billion through October, down from 2016
The total sales volume of multifamily deals in South Florida may not set a new record this year, but per-unit and per-square-foot prices are already higher than the previous year, according to a new Cushman & Wakefield report. From January to October, nearly 200 multifamily sales totaling $3.6 billion have closed in South Florida. For all of 2016, multifamily sales totaled $5.6 billion. Cushman…
Crossing the line: corporate disputes and tortious interference
Competition — friendly or otherwise — is a normal part of doing business. It drives value, innovation, and market growth. Sometimes, however, competition can go too far and give rise to a legitimate business dispute. Tortious interference is one place where competition crosses the line of legality. Tortious interference occurs when a third party prevents someone from receiving the benefits of a contract…
Brazilian billionaire scores approval for Miami Beach condo project
Brazilian billionaire José Isaac Peres received city approval Tuesday to redevelop the former Marlborough House property at 5775 Collins Avenue in Miami Beach. Peres, founder of Multiplan Real Estate Asset Management, secured approval from the Miami Beach Design Review Board for the once-contentious project after modifying designs for the building at 5775 Collins Avenue to include public beach…
Miami Downtown Development Authority Tries To Lure Hedge Funds Worried About Tax Changes
The Miami Downtown Development Authority hosted a party during Art Basel, in an attempt to lure Hedge Funds to relocate to Miami. The upcoming tax reform that is likely to negatively affect those living in Northern states was highlighted. Some of the invitees have expressed interest in relocating to Miami due to proposed tax changes. Under bills currently working through congress…
Judge halts work at Walmart-anchored mixed-use project in south Dade
Environmentalists scored a win on Friday after a federal judge ordered a stop to bulldozing at the proposed site of a Walmart in Miami-Dade County. Developers plan to build a mall, 900 apartments and a parking lot on the land, near Zoo Miami in south Dade. The Center for Biological Diversity and three other groups sued the U.S. Fish and Wildlife Service after it paved the way for the development earlier…
Those new towers are great, but where's the new mobility?
Why does government keep approving far taller towers in Miami-Dade when we're driving on the same old traffic-choked roads with inadequate mass transit? Most of us have asked that question in frustration as congestion gets worse, population expands and we're cramming more and more buildings and people into the same geographic confines. Now the public's question is joined by that…
Dan Gelber: New Mayor seeks to brand Miami Beach a cultural hub
Dan Gelber was born in Miami Beach – the only home he's known and to him the most interesting city in the world. As its new mayor, he wants to keep it that way but ensure the virtues always prevail over challenges that come with being so interesting. Some of the challenges facing Miami Beach include safety, sea level rise and its street-level raising project, which Mr. Gelber said is disruptive…