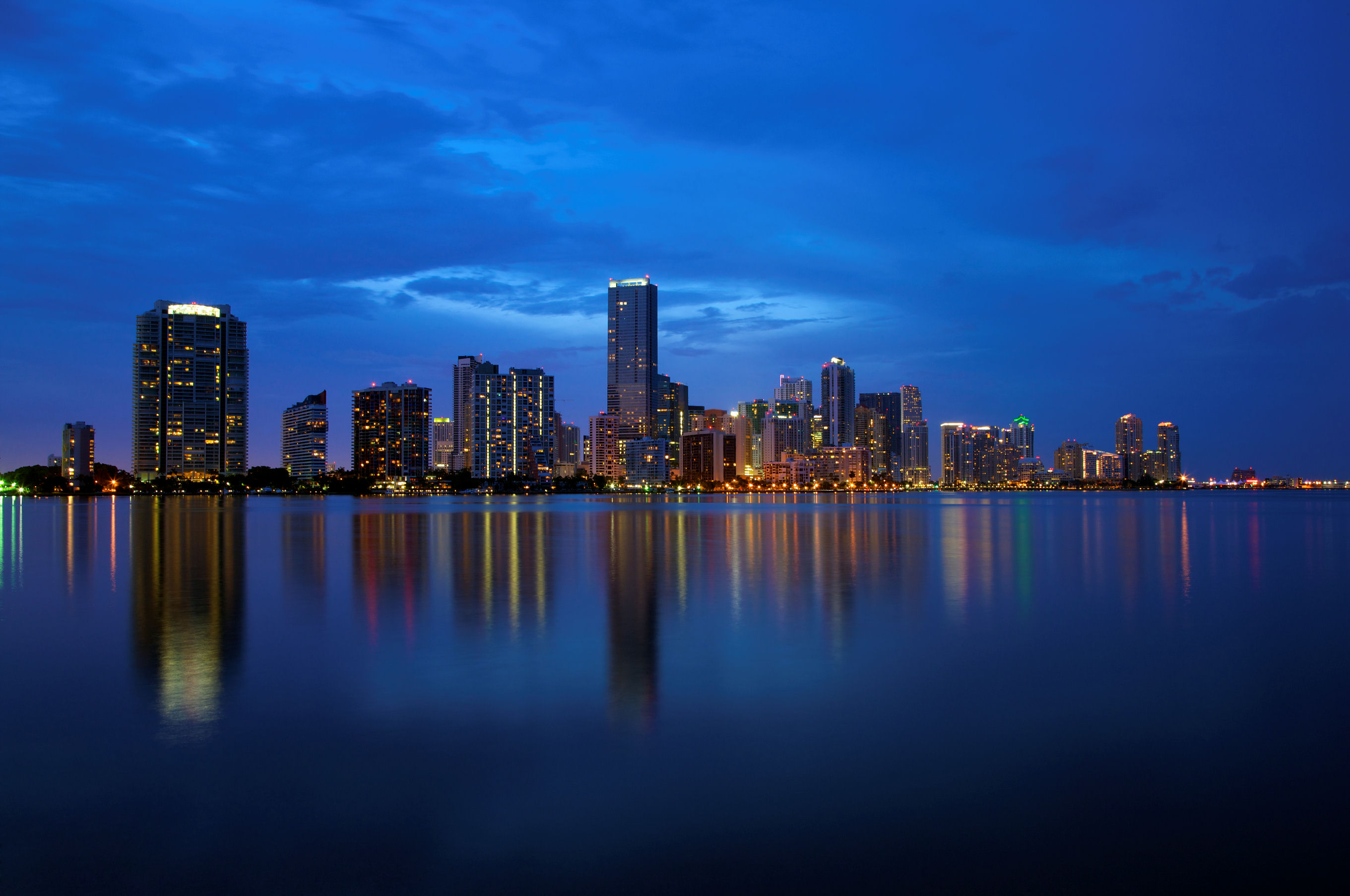 All rise: Miami-Dade commissioners approve $267M downtown Miami courthouse project
The Miami-Dade County Commission on Tuesday unanimously approved a deal with Plenary Group to build a new $267 million civil courthouse in downtown Miami. The proposed 23-story building will replace the 1928-era courthouse at 73 West Flagler Street that was the site of a trial of Chicago mobster Al Capone. Amid a packed audience of local judges and attorneys, county commissioners moved…
Chick-fil-A, Old Navy to Join $425M River Landing Project in Miami
UrbanX Group has inked new lease agreements with fast casual restaurant Chick-fil-A and clothing retailer Old Navy to occupy a total of 19,000 square feet along the Miami River. The tenants will join River Landing Shops & Residences, the 8.1-acre mixed-use development currently under construction. Chick-fil-A and Old Navy are both scheduled to open in spring 2020 and join already signed tenants Publix…
Moishe Mana's Downtown Miami Buying Binge Grows To $375 Million
With his recent acquisition of City National Bank's former headquarters for $25 million, billionaire Moishe Mana has now spent $375 million assembling properties in downtown Miami. This week, the Israeli-born real estate mogul closed on an existing 139,448-square-foot office building at 25 West Flagler Street and three adjacent parcels totaling 29,000 square feet. Located between West Flagler Street…
Aztec Arranges $142M Loan for Melo Group's 667-Unit Art Plaza Community in Miami
Aztec Group Inc. has arranged $142 million in agency debt financing for the developer Melo Group's new Art Plaza development in Miami. Berkadia's Miami office will act as seller-servicer for the Freddie Mac loan. The 10-year loan features full-term interest-only payment and a fixed interest rate under 3.5 percent. Aztec's Peter Mekras arranged the financing on behalf of Melo, which is using the loan to refinance…
Rieber Developments Tops Off Aventura Medical Office Building
Ivory 214, a 10-story medical office building in Aventura, Fla., topped off six months after Shalev Development Group secured a $36 million construction loan via BridgeInvest. Rieber Developments expects to deliver the project in the second quarter of 2020. Located at 2820 NE 214th St., the property is part of the Aventura Medical District. The development will include 34,000 square feet of office space…
Grails Sports Bar buys its Wynwood building
Grails Sports Bar in Wynwood paid $6.4 million to purchase its building. The bar, owned by Oscar Ortega, Hector Acevedo, Eddie Fuentes, and Manuel Picon, paid $877 per square foot for the building and about $563 per square foot for the land at 2800 North Miami Avenue, according to the brokers involved in the sale. Grails is owned by the same people behind Cocktail Cartel and Grails' sister restaurant…
Prologis Signs New Tenant at Miami Industrial Park
SPR Global Storage & Logistics has signed a new, long-term lease for an 80,000-square-foot cold storage facility at the Beacon at 97th Avenue industrial park in Doral, Fla. Transwestern Commercial Services negotiated the deal on behalf of the tenant, while JLL assisted landlord Prologis. Located at 2000 NW 97th Ave. in Miami's Airport submarket, the industrial park consists of Class A warehouse…
South Florida's biggest office leases of 2019
South Florida's office leasing market this year was spurred by tenants seeking to relocate to better spaces, often in more eco-friendly buildings. "The trend we're seeing in the marketplace is that tenants are seeking new office space that allows them to hire, retain and motivate the workforce, as well as to better reflect their image," said Stephen Rutchik, executive managing director at Colliers…
All-free Miami-Dade transit is answer, Xavier Suarez says
Among attempts to regain riders on Miami-Dade transit, some, like contactless payment and monthly discounts, are here now. Others, like Transit Alliance's redesign of the Metrobus route network, are near. But Commissioner Xavier Suarez says one solution gaining steam around the US, at which city trolleys here excel, could add widespread ridership: make it free. "It is time for Miami-Dade County to…
Miami's scooter pilot program walks a tightrope
The City of Miami's scooter pilot program has once again been extended, this time to mid-February, with its long-term future still up in the air. Chairman Ken Russell, the district commissioner for the scooter pilot, again asked his fellow commissioners to extend the pilot while the administration hashes out a solicitation for proposals. While the legislation had originally called for a four-month extension,
Predictions For South Florida CRE In 2020
So 2019 is drawing to a close, having given the world of commercial real estate things we expected — like a booming industrial market — and things we didn't (WeWork and opportunity zones were among the greatest flops of the decade). Bisnow asked some South Florida real estate pros what 2020 may bring. Here are their thoughts: Jeff Gordon, vice president, JLL: "We have a number of interesting new…"
What It Took To Build Zaha Hadid's Miami Tower
Architect and developer Louis Birdman has worked on about 80 condominium projects around the country, but few are as high-profile as 1000 Museum, the downtown Miami condo designed by famed architect Zaha Hadid, known for projects such as the London Olympic Aquatic Centre and the Guangzhou Opera House. One Thousand Museum, sometimes called the Scorpion Tower, was the only…
Moishe Mana plans 11-building tech center along Flagler
Moishe Mana and the Mana Group plan a large-scale tech center, anchored by Flagler Street, for downtown Miami, representatives told the Downtown Development Authority on Friday. Mana Tech, said Paul Lambert, managing principal of Lambert Advisory, will bring tech and venture capital companies into the city's core "very much at the direction of Moishe Mana. Flagler Street will be the center, and…
Atlantic Sapphire building 'largest aquaculture facility in world' in the Redlands
Atlantic Sapphire, an indoor salmon farming company founded in Norway nearly a decade ago, is on track to finish the first of three construction phases on a sprawling facility in Miami-Dade's Redland by July. Once completed, it will be "the largest aquaculture facility in the world." That's according to CFO José Prado, who told county commissioners Tuesday that the company aims to increase its…
China's largest co-working firm eyes a New York IPO
China's largest co-working company, Ucommune, has filed plans for an initial public offering on the New York Stock Exchange. The offering could take place as early as next month, the Wall Street Journal reported. It will represent a test of investor sentiment following WeWork's IPO debacle this fall — was WeWork's failure a symptom of problems specific to the company, or is the co-working business…
Moishe Mana buys City National Bank building in downtown Miami
Moishe Mana paid $25 million for the City National Bank building on Flagler Street in downtown Miami, adding to his property empire. John Crotty of Avison Young Seller City National Bank was previously based out of the the 12-story, 140,000-square-foot building at 25 West Flagler Street. It was on the market with John Crotty, Michael Fay, David Duckworth, Brian de la Fé and others at Avison Young.
Sustainable Hospitality Brand, Shepherd Eco, Launches in Wynwood
Lucky Shepherd announces the launch of its Shepherd Eco sustainable hospitality brand with a flagship location in Wynwood, Miami. The project, developed by Shepherd Atma and Hoar Program Management (HPM), with Touzet Studio as architect and Gensler as interior design, is slated to open late 2022. Shepherd Eco offers extraordinary, one-of-a-kind experiences – thoughtfully designed and curated…
Experts Round-Up: Top Retail Property Trends to Expect in 2020
A new decade awaits us in 2020, and with it the inevitable, constant evolution of the retail industry market. As one of the most competitive markets in the world, change and adaptation are truly the only constants. The rise in use of technology coupled with metadata metrics for analyzing consumer habits have inspired retailers to adapt and not only stay on top of trends, but ahead of…
Top 25 South Florida Retail Shopping Center Transactions of 2019
2019 is going down as another successful year South Florida's commercial real estate market. Across the board of primary stats: vacancy levels, asking rates, and absorption, things have been positive as the decade is coming to a close. One of the most significant contributors to the upbeat sentiment in South Florida retail, particularly, is with the shopping center transactions. Compared to 2018's retail…
Judge says Parque Towers developer mismarketed condo size
When Josh and Michelle Kurzban saw brochures for Parque Towers in Sunny Isles Beach and put down a deposit in 2015, they were expecting to upgrade to a new 2,500-square-foot condo. Four years later, a Miami-Dade Circuit judge ruled that the developer, J. Milton & Associates, mismarketed the size of Kurzban's unit by almost 25 percent. The ruling, delivered last week, could have significant…
These were South Florida's biggest retail leases of 2019
Some of the top retail leases in 2019 (Credit: Google Maps) South Florida's retail leasing market is in transition, as the sector struggles nationwide amid the growing strength of e-commerce. Many stores are rethinking their brick-and-mortar strategies, which means less retail and more restaurants and service uses, said Dave Preston, executive managing director at Colliers International South Florida.
Video: CCIM Chief Economist K.C. Conway Discusses Commercial Real Estate Vectors 2020
As the economic expansion continues into the year 2020, we all wonder what can be expected to drive the commercial real estate industry going into the future? In this two part video series, CCIM Chief Economist K.C. Conway joins the show host to offer views on the economic cycle, trends to watch within sectors, and other factors set to likely affect commercial real estate in the new year. He discusses election…
A Primer from the Fed on Negative Interest Rates
The European Central Bank (ECB) in recent months cut its key deposit facility rate—or the interest rate that European banks earn when they deposit excess reserves at the ECB—to negative 0.5% with the intent of stimulating growth. The figure below presents this rate alongside the deposit rate U.S. banks earn at the Federal Reserve. In the U.S., this rate is referred to as the IOER (interest on excess…)
PortMiami Welcomes Largest Container Ship To Dock In Florida
The largest container ship to ever call on a Florida port sailed into PortMiami early Wednesday morning. Officials from the county, including Mayor Carlos Gimenez and others, welcomed the CMA CGM Magellan into the port. The 167-foot wide vessel can hold between 120,000 and 146,000 pallets. Gimenez and Tourism and Ports Committee chairwoman Rebeca Sosa spoke on the county's commitment…
Eco-friendly Wynwood hotel planned for Art by God site
A new eco-friendly hotel is expected to break ground on the site of the Art by God store in Wynwood. Lucky Shepherd, co-founded by Shepherd Atma and Hoar Program Management, will build Shepherd Eco Wynwood at 60 Northeast 27th Street, joining a number of other hotels that have been proposed in the neighborhood. Christine Menedis and Naveen Trehan co-founded Pooler, Georgia-based…
WeWork's Claure on dumping Adam Neumann, renegotiating leases
Marcelo Claure thinks Adam Neumann is misunderstood and that the prospects for WeWork remain strong. The new executive chairman of WeWork spoke to the New York Times for his first interview since SoftBank effectively took over the company. He said he still values Neumann's opinion a lot and meets with him frequently outside of the office, but he also recounted telling Neumann he needed to…
Blackstone plans to build new Medley warehouse
Blackstone has now acquired 18 acres in Medley where it will build a new warehouse, according to the seller. In its latest deal, the New York-based private equity firm acquired a 2.2-acre property at 9800 Northwest 87th Avenue for $3.3 million from Miami-based Fordome Investment Group. The purchase adds to its growing industrial portfolio in South Florida. The property sold for a…
Meet the financial backers behind WeWork's rise and fall
It was only after WeWork pulled its IPO and Adam Neumann's ouster that one of the company's board members took a stance. Former Goldman Sachs partner Mark Schwartz (Credit: Goldman Sachs) In early October, former Goldman Sachs partner Mark Schwartz told WeWork's board members: No more fantasizing — it was time to save the company. "I've stayed silent too long," he said, according to…
Ugo Colombo pays off $236M construction loan for Brickell Flatiron
Ugo Colombo's CMC Group paid off its construction for Brickell Flatiron, less than two months after the condo tower was completed. The $236 million in construction debt was issued by Bank OZK, Goldman Sachs' Broad Street, and RFR Realty in 2017. It broke down to a $138.5 million mortgage and a $97.5 million mezzanine loan. Brickell Flatiron, a 64-story, 527-unit tower at 1000 Brickell Plaza, is one…
What apocalypse? Expo showed few signs of retail's struggles
And it's a wrap on one of the largest retail real estate conventions in the country. Attendance at the New York Deal Making conference, put on every December by the International Council of Shopping Centers, was on pace to surpass the usual 10,000 people, an ICSC representative said. Final figures were not immediately available. As of noon Thursday the three-day West Side event had 9,178…
Galbut sells 50% stake in Mondrian South Beach
Russell Galbut is continuing to sell off part of his hotel portfolio. Galbut's Crescent Heights sold 50 percent of its Mondrian South Beach condo-hotel to investor Michael S. Liebowitz for an undisclosed amount. Galbut, himself, will retain 50 percent ownership, and Menin Hospitality will continue to manage and operate the property, according to a press release. Menin helped develop the 335-key…
WeWork tries to escape leases — and eviction
After word of mass layoffs and a shift toward austerity, the inevitable is happening: WeWork is quietly trying to back out of leases. Executives at the embattled co-working company have been negotiating with landlords to find a way out of agreements it signed in up to 100 buildings around the world, The Information reported. Meanwhile in New York, Chestnut Holdings is trying to boot WeWork from…
Melo Group grabs more land north of downtown Miami for $28M
The Melo Group just picked up another site in Miami's Arts & Entertainment District near Edgewater. Melo paid $28 million for the 1.6-acre block between 18th and 19th streets on the west side of Biscayne Boulevard, according to a spokesperson. The land is zoned for a transit-oriented, mixed-use residential development with up to 800 units and street-level retail. Property records show the seller is…
Miami may seek $250M for affordable home-buying program
The Miami City Commission is looking to seek $250 million in loans and grants to create an affordable home ownership program with at least 2,500 residential units. Proposed by commissioner Joe Carollo, the pilot program would use the funds to build more than 600 two-bedroom condos and 1,900 one-bedroom condos in all five of Miami's city commission districts. The money would also be used to…
Melo Group lands $142M refi for Art Plaza
The Melo Group closed on $142 million in refinancing for Art Plaza in downtown Miami's Arts & Entertainment District. The loan comes a year after Melo closed on a similar, $142 million refinancing of Square Station, a two-tower, 710-unit apartment development at 1424 Northeast Miami Place. The latest refinancing is for Art Plaza, a 667-unit apartment project at 58 Northeast 14th Street with 15,000 …