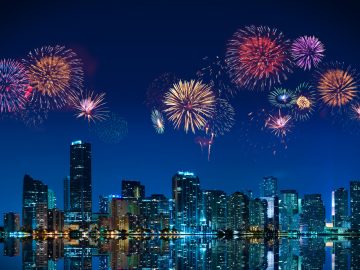 Cousins Properties sells interest in Courvoisier Centre in Miami's Brickell Key
Cousins Properties, an Atlanta-based real estate investment trust, just sold its 20 percent interest in the Courvoisier Centre office complex in Miami's Brickell Key for $33.9 million. The Courvoisier Centre, a 343,000-square-foot office complex at 501 and 601 Brickell Key Drive, was purchased in 2014 by Orlando-based investor Parkway Properties for $146 million, records show. A spokesperson for Cousins…
Mixed-use Miami Plaza tower moves ahead to join two others
Better but still lacking. That was the consensus of a City of Miami review board evaluating the renderings and floor plans for a mixed-use tower to be called Miami Plaza. The Urban Development Review Board on Dec. 20 was looking over fresh documents on the project, deferred with the developer's approval in November. Nearly all board members said the redrawn plans were an improvement from…
South Florida's biggest office deals of 2017
South Florida's luxury office market, which often boasts gleaming high-rises set against sunny landscapes with water views, didn't outshine the previous year in sales. But considering it survived some crazy weather (including a hurricane) and a shift in investment dollars towards multifamily and industrial real estate, the market remained relatively healthy. Office towers smack in the middle of growing…
Coral Gables office market roaring into 2018
The Coral Gables office market continues to be steady and reliable, observers say. "In the big picture, Coral Gables is solid," said Donna Abood, principal and managing director of Avison Young's Miami operations. "It never has major shifts, because of the value of the city overall. "In 2018, we expect a stronger first quarter than we had this year, and the second quarter will be stronger than the first, because…
Brightline rail still standing in station awaiting feds' OK
The startup luxury Brightline rail service to link Miami with West Palm Beach is still standing in the station, the company announced Friday. In a news release, the company says it still doesn't have federal permission to start service. "The company continues working toward operational readiness with the Federal Railroad Administration for the launch of introductory service between West Palm Beach…
Land for Pop-up businesses face legislative tangle
A late addition to proposed legislation to govern temporary uses on vacant land, which impacts so-called pop-up businesses, has stalled the measure. Miami city commissioners approved the ordinance amendment on first reading in September, noting that planning and zoning officials were making further tweaks. The final version of the proposal was up for a final vote Dec. 14, but Commission Chairman…
International passengers through Miami International Airport grow
The number of international passengers traveling through Miami International Airport this year is slightly ahead of the same period in 2016, most recent data from the Miami-Dade Aviation Department show. Those international passengers are coveted in most areas of business, from real estate to retail sales, and in restaurants and hotels. Those who stay in Miami tend to stay longer and spend more per…
Edgewater's Missoni Baia launches first phase of construction
The luxury condo project broke ground in October Miami's Missoni Baia, a high-end condo project rising in Edgewater, announced the first phase of construction has begun for the 649-foot tower after breaking ground a couple of months ago. A spokesperson for OKO Group says 190 piles totaling over 12,000 linear feet have been installed along with 150 tons of steel reinforcing bar, and over 1,000…
The next threat to RE prices: demographics
Real estate executives are keeping an anxious eye on the Federal Reserve, but maybe they shouldn't. Conventional wisdom holds that when the central bank raises short-term rates, long-term rates also rise, which pushes up the cost of mortgages and puts downward pressure on property prices. But recently this didn't seem to hold true, the Wall Street Journal reported. The Fed raised its short-term…
Investors take a knee – for now – as land prices soar in Overtown
The Miami Innovation District's developers spent $100 million assembling a 10.4-acre plot where they hope to attract technology companies like Amazon, developer Michael Simkins told TRD. There's an aerial map of the city of Miami on the desk of Cornelius "Neil" Shiver. His job is to promote economic development in a 600-acre swath of real estate in Overtown and Park West that's outlined in red…
The 10 juiciest real estate lawsuits of 2017
Accusations of backstabbing, disputes over multimillion-dollar deals, undisclosed vermin problems and many other allegations of shady behavior involving South Florida real estate developers, brokers and buyers made headlines in 2017. Lucky for you, The Real Deal was there to document all the salaciousness. Here's a look back at the…
Are South Florida's retail landlords too optimistic about the market?
The first retail portion of the $350 million mixed-use development at the former Plantation Mall is nearly 65 percent leased, Encore Capital Management says. From the December issue: As South Florida's retail real estate sector continues to show strength — an anomaly as the rest of the country sees vacancy rates creep ever higher — some worry that landlords in the tri-county region's hottest neighborhoods…
$5.1 Million Coral Gables Sale Closes
Sold was a 37,134-square-foot building, situated on a 21,244-square foot parcel, located at 4950 SW 8th Street in Coral Gables. The Buyer, GDJARD Investment LLC, purchased the property for $5,100,000 from 4950 SW Eighth LLC. The deal closed on March 31. Preferred Medical Partners previously utilized the 1985-built, three-story medical office building as…
Condo Building On Washington Avenue Hits The Market: $14 million
A low-rise condo building in South Beach has hit the market for $14 million. The Golden Dreams Condominium, a 26-unit complex at 65 and 75 Washington Avenue, is being offered as a bulk sale, according to CoStar Group. Built in 1960, units range in size from 380-square-foot studios to 620-square-foot one-bedrooms. The list price breaks down to about $540,000 per condo. The building is being marketed…
As Developers Go On Shopping Spree, Miami Retail Has Never Been Hotter
There's a gold rush on for retail in South Florida. Developers and mall operators want to renovate and expand shopping centers across the region. New retail is popping up, too, especially open-air "high-street" shops with surprisingly gourmet dining — a breezy contrast to the enclosed suburban malls of old. The cost of all that investment runs into the billions. The timing may seem odd, given the obstacles…
Crowdfunding Backs Miami Infill Apartments
An emerging trend among real estate investors has made its way into Miami's development community. Ricky Trinidad, Coral Gables-based developer and president of Metronomic Inc., recently launched a private crowdfunding platform to raise capital for his residential projects, where investors can pitch in as little as $2,000 to back the firm's latest ventures: GroveHaus, a boutique rental community in…
Miami Hotel Market Could Reach Maturity In 2016: Experts Say
Industry experts say Miami's hotel market could be reaching its peak in 2016 as revenues and occupancy rates begin to level out. Last year was solid for the individual hotels that make up Miami's leisure industry: more than 44 million travelers passed through the Miami International Airport, a bevy of new hotel developments opened their doors and room rates saw steady gains compared to 2014.
Could Moishe Mana Be Assembling A Portfolio In Another Submarket?
Switching gears from Wynwood, Moishe Mana has purchased a commercial property along Northeast 167th Street in North Miami Beach. Miami-Dade County records show a Mana affiliate paid $9.5 million for the Regions Bank office tower and adjacent retail at 699 Northeast 167th Street and 699 North Miami Beach Boulevard. Jaw of Divine Square, an LLC managed by Glenn M. Chwatt was the seller.
5 Revelations From UM Real Estate Conference With National Leaders
Executives with industry heavyweights such as Blackstone Group, Prudential Real Estate Investors and Federal Realty Investment Trust told attendees of the University of Miami's Real Estate Impact Conference that 2016 won't be as strong for real estate values as the previous two years, but we're not headed into a recession. Nearly 600 people learned about what's ahead in the real estate market at the…
Thor Unloads Design District Properties For $128.3M
Less than three years after it began assembling a war chest of properties in Miami's Design District, Thor Equities has just sold eight sites to Redsky Capital and JZ Capital Partners… The properties include: 3995 North Miami Avenue; 10 Northeast 40th Street; 28 Northeast 40th Street; 40 Northeast 40th Street; 50 Northeast 40th Street; 53 Northeast 39th Street; 3925 North Miami Avenue; 15 Northeast 39th Street.
Miami rental development draws $46.4 million construction loan
Pinnacle Housing Group and Ascend Properties got a $46.4 million construction loan to build a 272-unit apartment complex near Miami International Airport. Pinnacle and Ascend expect to finish construction of the Oasis at Blue Lagoon apartments at 6650 Northwest 7 Street in Miami in mid-2019. The development firms also secured a preferred equity investment in the development by Arbor Realty…
Sale of Kendall Synagogue Negotiated for $5.35 Million
Sold was a property owned by Bet Breira Congregation. Juan Carlos Mas, former CEO for one of the nation's largest equipment rental companies, just paid $5.35 million for the Kendall synagogue, which he's eyeing for possible redevelopment. Mas' purchased includes the synagogue at 9408 Southwest 87th Avenue, which has operated for…
Ground broken for construction of Elysee Miami
Two Roads Development broke ground for construction of Elysee Miami, a 100-unit condominium tower in the Miami's East Edgewater neighborhood. West Palm Beach-based Two Roads, led by managing principal Reid Boren, is developing the 57-story condo at 788 Northeast 23 Street in partnership with entities managed by New York-based investment firm DW Partners. Construction is expected…
Jeffrey Dagowitz and Lionheart Capital buy Miami Beach's Seagull Hotel at auction
Hotelier Jeffrey Dagowitz and Lionheart Capital bought the Seagull Hotel Miami Beach at auction Friday, putting in a high bid of $31.1 million for the prime piece of waterfront land, Dagowitz confirmed. Bidders were required to submit a $5 million deposit, according to the requirements set by the auctioneer, Pompano Beach-based Fisher Auction Company.
SEC sues Robert Shapiro for allegedly masterminding $1B Ponzi scheme
The Securities and Exchange Commission is suing Robert Shapiro, the former head of embattled Woodbridge Group of Companies, for allegedly running a $1 billion Ponzi scheme. Shapiro, who resigned earlier this month, is accused of misleading investors by making it appear that Woodbridge was financing property acquisitions made by third-party borrowers, the Wall Street Journal reported. Most of…
Blackstone REIT pays $139M for Codina's West Kendall apartment complex
An entity of Blackstone Group's real estate investment trust just scooped up an apartment complex in southwest Miami-Dade for about $139 million… Signature at Kendall, developed by Armando Codina's CC Residential firm, sold in two separate parcels. Records show Blackstone's REIT paid $96.95 million for the first phase, which includes a 396-unit apartment complex at 8881 Southwest 172nd Avenue.
18 Miami metro cities ranked by median rent prices
Rents are rising in Boca and Homestead In looking at the median rent for one bedroom apartments across the Miami metro area, we learn Homestead and Sunrise are are producing some of the fastest-rising figures in the region. The Zumper report of 18 cities shows median rent in Homestead rose by a whopping 15.1 percent year over year to $1,070. Placing in second and third was Sunrise and Plantation…
Inside the food hall coming to MiamiCentral
Central Fare Miami's booming food hall scene—2017's version of a food court—continues to expand, with the latest news coming from the under-construction MiamiCentral, an 11-acre mixed-use project encompassing residences, office space, retail, and a public transit hub for Brightline Express Train Station. Central Fare, which had planned to open this Fall, is now targeting Summer 2018 and has chosen…
Developer Richard Siemens dies at 82
Florida developer Richard "Dick" Siemens died on Sunday at the age of 82, according to his family. Siemens, president and CEO of the Siemens Group, founded the company in 1964 and led the development of more than 15,000 homes in over 20 communities since then. He was active in Boca Raton, where Siemens Group is building Akoya Boca West, a luxury condo building under construction at the…
Developer Buys 823,000-SF Industrial Complex in Doral with Expansion Potential as Land Scarcity Spurs Demand for Infill Locations
The developer of Amazon's massive warehouse in Miami-Dade County has acquired another large industrial project nearby. Orlando-based Foundry Commercial, along with partner American Realty Advisors, bought Miami Free Zone, a two-building warehouse-distribution complex totaling 823,000 square feet on 47 acres in Doral, FL. The buyers declined to reveal the price. The transaction…
Miami-Dade transit takes worst plunge in use ever
Miami-Dade's beleaguered transit system took its worst plunge in use ever in the past fiscal year, new figures reveal. Ridership among all four transit modes declined a combined 9.6% as almost one in every 10 riders disappeared. Declines hit across the board, though the drop in bus passengers, the largest single group of transit riders with 58 million yearly trips, was greatest, at 11%. The figures through Sept. 30…
E-Commerce And The Need For Local Distribution Centers
The revolution in retail has been Amazonian. Because of the growth of that online mega-merchant, all aspects of commerce have changed. As a result, other retailers have had to wade into the e-commerce pool in order to remain competitive. The question facing many e-commerce retailers – especially those trying to get a toehold in a land ruled by two giants, Amazon and Walmart – is how to…
Masoud Shojaee sues development partner for $100K in office rent spat
Three months ago, Miami-based developer Masoud Shojaee and New Boston Fund, an investment, development and management firm based in Bean Town, sold an 11-story office building in Doral for $96.1 million — a 253 percent price increase from what he and the company paid for it in 2010. One might think such a substantial profit would have left the previous owners more than happy about…
Crocker Partners Unveiled Citigroup Center During Miami Art Week
The intersection of real estate, art and high-design merged at Miami Art Week when South Florida-based investment giant Crocker Partners unveiled its highly-anticipated Citigroup Center in Downtown Miami. The complex boasts a newly renovated tower, featuring a refurbished modern glass façade, stunning lobby and multiple retail spaces on the ground level redesigned by world renowned architect…
Are Miami Beach's Luxury Towers the Future of Climate Resilience?
The Monad Terrace—a 59-unit Miami Beach luxury condominium—hasn't been built yet, but its salesroom is up and running. Set on the ground floor of an office building a few blocks from the Monad's bayfront building site, the space re-creates the look and feel of a model apartment in hopes that its white marble bathroom, open-plan kitchen, and glassy bedroom might persuade buyers to spend from $1.7…