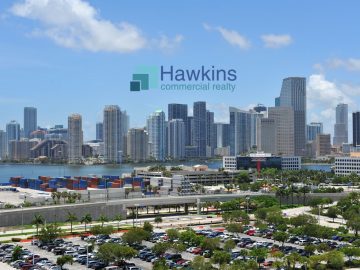 Mast Capital Unveils Plans for Miami Development
Mast Capital has added another project to break ground on in 2022 after acquiring the land for its three-building master-planned development in Miami. The company, alongside equity partner Rockpoint, acquired a 2.8-acre site located at 1420 S Miami Avenue in the city's Brickell neighborhood for $103 million in an off-market transaction with an undisclosed seller.
Chicago firm plans apartments, commercial complex on Edgewater OZ site
A Chicago-based real estate firm made its first venture in Miami in a bet on the Magic City's thriving apartment market and tech industry. Trilogy Real Estate Group plans to build a 20-story rental… The plan is to build the apartment high-rise on the soccer fields at 169 Northeast 27th Street and 2728 Northeast Second Avenue, Karasik said. Zoning allows 20 stories…
Seagis picks up Doral industrial properties for $29M
Bradlee Lord, vice president, Seagis Property Group, in front of 3075 NW 107th Avenue  and 9700 NW 17th Street: Seagis Property Group continued its South Florida buying binge by acquiring two Doral industrial properties in separate deals totaling $28.6 million. The Philadelphia-based industrial real estate firm now owns 113 warehouse properties with more than…
Sale & Lease Valued At More Than $17 Million Negotiated on Doral Warehouse
Buyer Seagis Property Group purchased the warehouse from AllPlus Computer Systems Corp for $15,600,000. The price equates to $195.00 per square foot. The deal closed on December 14, 2021. "The lack of inventory of properties for sale within this size range along with continued demand for e-commerce/distribution centers made it the right time for…
Save Calusa nonprofit sues Miami-Dade over golf course redevelopment
A grassroots residents organization sued Miami-Dade County to overturn a vote that paved the way for the development of a residential complex on the long shuttered Calusa Country Club golf course property. Nonprofit Save Calusa and its leader, Amanda Prieto, are asking the court to void the county commission's approval rezoning the 169-acre property…
Moishe Mana buys historic downtown Miami buildings for $34M
Downtown Miami's largest private landowner closed at least two more deals before the end of the year, adding to his war chest of properties, The Real Deal has learned. Sergio Rok Moishe Mana paid $29.5 million for the Shoreland Arcade at 120 Northeast First Street and about $4.8 million for the building at 1 West Flagler Street, according to a source. The cash…
South Florida's most intriguing real estate lawsuits of 2021
In the past year, lawsuits tied to the deadly collapse of the Champlain Towers South in Surfside garnered the most attention, while litigation targeting a Miami Beach hotel executive, a waterfront mansion landlord, and the city of Miami sought to expose shady dealings. Here are the juiciest lawsuits reported by The Real Deal in 2021. Champlain Towers South…
Mast Capital pays $103M for Brickell site, plans 1,250-unit condo-rental complex
Mast Capital plans to build a massive complex with a condo tower and two apartment high-rises on a Brickell site. Coconut Grove-based Mast Capital, led by Camilo Miguel Jr., paid $103 million for the land at 1420 South Miami Avenue and proposes 1,250 residential units, according to a news release. The vision for the 2.8 acre-site is for an 80-story condominium…
NY investor pays $10M for multifamily dev site near Miami River
Stonecutter Capital Management paid $10.4 million for a multifamily development site a block north of the Miami River. The New York City-based real estate investment firm bought the property at 1400 Northwest 17th Avenue, which now houses a Chase Bank building, as well as the adjacent vacant lot at 1404 Northwest 17th Avenue, according to a deed.
Holiday sales jumped 11% from pre-pandemic levels
Despite concerns over supply chain issues, inflation and the omicron variant's spread, one report says retailers had a holly jolly Christmas,. Boosts among in-store and online shoppers pushed sales nearly 11 percent above pre-pandemic levels and marked an 8.5 percent increase year-over-year, according to Mastercard's SpendingPulse report. The analysis…
Here are South Florida's biggest retail leases of 2021
Terra's CentroCity development A lot of uncertainty remains about the retail market and how brick-and-mortar stores will evolve in the future in light of e-commerce growth. But if this year's biggest leases are an indicator, three types of retailers remain buoyant: discount stores, gyms and grocers. They signed the largest retail leases in South Florida in 2021. Still…
Moishe Mana, already downtown Miami's biggest landlord, pays $25M for three more buildings
Moishe Mana, already the biggest downtown Miami landlord, added three buildings to his massive holdings, as he plans to transform the area into a tech and cultural hub. Mana paid a combined $25.4 million for the properties at 100 North Miami Avenue, 173 Northeast First Street and 124 Northeast Second Avenue, according to a news release from Colliers…
Top Projects That Will Reshape Miami
Even though tourism is one of South Florida's biggest job generators and the hospitality sector took a hard hit in 2020, the Magic City managed to bounce back fairly easily. The metro's favorable geographical location and business-friendly environment, coupled with a preference for mixed-use buildings, are among the factors leading its resurgence. An array of outside…
Here are South Florida's biggest industrial leases of 2021
The numbers are in for South Florida's biggest industrial leases of 2021. Of the top five, Amazon takes two spots, fewer than in 2020, when the e-commerce behemoth snagged four of the five top spots. The average square footage of the top five industrial leases this year rose slightly — to 258,530 square feet from 223,520 square feet last year…
Miami's Top Commercial Real Estate Moments of 2021
The Magic City has been one of the more fortunate U.S. metros that have seen a steep recovery since the outset of the pandemic in early 2020. Although Miami's economy relies heavily on tourism and the sector is still one of the most affected by the ongoing health crisis, the city's economy managed to kick off its comeback fairly easily. The unemployment…
ShareMD scores again in Boynton Beach, acquiring medical offices for $38M
ShareMD is bullish on Boynton Beach, acquiring two medical office buildings for $38.1 million just seven months after dropping $6.5 million for a health care property there. In an off-market deal, the Alpharetta, Georgia-based health care real estate and technology firm acquired Boynton Beach Medical Plaza at 10151 Enterprise Center Boulevard…
Chart: Miami Commercial Real Estate Sales to List Price Ratio November 2021
In this month's chart of the sales price to listing price ratio for commercial property, though the ratio was down from the prior month, that prior month was the highest and years. The ratio is thus holding strong. This is for property sales as reported in the Miami Commercial MLS for improved commercial real estate (MLS classification: commercial/industrial) that…
Integra, Constellation Group Trade Office Building in Miami Beach for $26.5M
Miami-based Integra Investments, in partnership with Miami-based Constellation Group, has sold 1674 Meridian, a 31,979-square-foot office building in Miami Beach for $26.5 million or $828 price per square foot. The buyer was not disclosed. Integra Investments and Constellation Group acquired 1674 Meridian in August 2019 for $10.1 million. Over the…
Chart: Miami-Dade Commercial Real Estate Sales November 2021
The chart herein displays the quantity of closed commercial property sales within the county of Miami-Dade, including both improved commercial properties and vacant commercial land, that were recorded in the Miami Commercial MLS for the two years ending November of 2021. November's volume up a bit versus the prior month. As has been the case of late…
Vivian Dimond sells Hollywood apartments for $103M
Broker, investor, and developer Vivian Dimond closed this week on her $102.5 million sale of Hollywood East, a 247-unit apartment building she acquired four years ago as a distressed asset and turned around, The Real Deal has learned. New York-based GMF Capital bought the 15-story building at 2165 Van Buren Street in Hollywood for about $413,000 per apartment…
Brookfield buys Solano at Miramar multifamily complex for $188M
Brookfield Properties bought the Solano at Miramar for $187.7 million, adding to unceasing investor appetite for apartment complexes in light of a robust market. The New York-based real estate behemoth bought the garden-style community at 11700 Southwest 26th Street from an affiliate of Atlanta-based RangeWater Real Estate, according to property records.
Lucky Day? Luckey's Management wins approval for 172-room, dual-branded hotel in Fort Lauderdale
Hotel developers Sadhana and Sanjaykumar Patel won approval to build an eight-story, 172-room, dual-branded hotel on the site of a vacant bank in Fort Lauderdale. Sadhana "Sandy" Patel is president of Luckey's Management, a Fort Lauderdale-based hotel development and management company, and Sanjaykuma…
Fort Lauderdale approves downsized riverfront condo project downtown
A developer won site plan approval for a mid-rise riverfront condo project in downtown Fort Lauderdale after trimming its height and number of units. The Fort Lauderdale City Commission voted 4-1 last week for a revised site plan for 808 Southeast 4th Residences, a 12-story condo with 67 units. The developer, Boca Raton-based Robert…
Author Patrick Bet-David drops $9M on Broward office buildings
In separate deals totaling $8.6 million, author and social media influencer Patrick Bet-David picked up a pair of office buildings in Broward County. In Fort Lauderdale, an affiliate managed by Bet-David paid $4.2 million for a freestanding one-story office building at 5990 Federal Highway, according to records. The buyer was represented by Jaime Sturgis with Native…
Westover pays $79M for Dania Beach apartment complex
Westover Companies jumped into South Florida's multifamily frenzy with a $78.7 million acquisition in Dania Beach just days before the end of the year. An affiliate of Westover, a King of Prussia, Pennsylvania-based real estate firm headed by President Guntram Weissenberger, bought the 240-unit Beach Walk at Sheridan apartment complex, according to records.
Redfearn Capital nabs West Palm Beach retail/office property for $18M
Redfearn Capital's acquisition of a West Palm Beach retail and office building shows that commercial real estate wheeling and dealing in the city remains on fire as 2021 closes out. The Delray Beach-based commercial real estate investment firm, headed by founder Alexander Redfearn, paid $17.9 million for the two-story mixed-use project at 222 Clematis Street…
Estate Companies plans apartments in downtown West Palm, paid $16M for dev site
Estate Companies has conquered several Miami-Dade County submarkets with its Soleste-branded multifamily developments. Now it will build apartments for the first time in downtown West Palm Beach. Estate scooped up 2.5 acres of land at 550 North Rosemary Avenue for $15.8 million, with plans to build a multifamily complex, according to a news release.