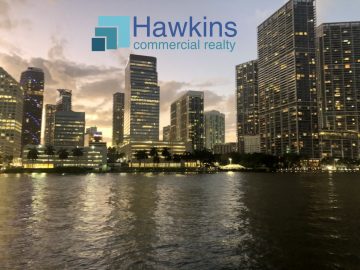 Video: Q4 Multifamily Update with RealPage Senior Manager-Market Analytics Carl Whitaker
Given what has been going on in multifamily, this one is must see video. Discussed are southeast markets, concentrating on Florida, noting that something like 9 out of the top 30 markets are in Florida. Addressed in whether the increased demand in Zoom towns (desirable locations that accommodate remote workers) continue? Also, will the 2021 sales…
Condo sales, occupancy on the rise in Greater Downtown Miami, report shows
The report defines the area as including downtown Miami, Brickell, the Arts & Entertainment District, Edgewater, Midtown, the central business district, and Overtown (iStock) After condo sales plummeted in Greater Downtown Miami at the start of the pandemic, the area's residential market is showing signs of a substantial recovery, fueled in part by the surge in population…
Industrial strength: GLP Capital Partners scores $64M construction loan for Doral logistics project
As demand outpaces supply in South Florida's industrial market, GLP Capital Partners scored a $64.2 million construction loan for a new logistics park in Doral, The Real Deal has learned. The Santa Monica, California-based industrial real estate firm is building Modlo Air Logistics Center on the former site of PepsiCo's… at 7777 Northwest 41st Street. The project…
US mall values plummeted by one-third in 4 years
New data on United States mall values are the latest sign of how far the once-glorious retail centers have fallen. Malls have lost a third of their value in the past four years, according to Green Street data reported by Bisnow. Class-B and Class-C regional malls reportedly suffered the greatest value declines. The findings are similar to a Fitch Ratings report in…
These are the 10 largest real estate fundraisers of the last 5 years
The following is a preview of one of the hundreds of data sets that will be available on TRD Pro— the one-stop real estate terminal that provides all the data and market information you need. When it comes to the top real estate fundraiser of the past five years, the results can be written in stone — Blackstone, that is. The longtime industry titan has raised nearly…
Major Food Group partners with Michael Stern on its First Branded Condo Tower in Miami
Developer Michael Stern is partnering with Major Food Group to build a branded luxury condo tower in Miami's Brickell neighborhood, The Real Deal has learned. Stern's JDS Development Group and the New York-based restaurant and hospitality group plan to build Major, a 259-unit tower at 888 Brickell Avenue, Major Food Group partner Jeff Zalaznick confirmed.
Video: SmartRent's Lucas Haldeman on multifamily's tech era
The residential real estate sector is becoming more institutionalized, with greater consolidation of ownership among the largest players as Wall Street spurs a number of novel business models such as iBuying. But institutionalization and wider adoption of technology go hand-in-hand, according to Lucas Haldeman. "You can't make this an institutional…
Affluent millennials still priced out of homebuying, renting instead in South Florida, report shows
Many millennials are well into their careers and enjoying higher incomes, and in normal times, would be poised to take their next leap into adulthood: buying a home. But the booming housing market has left little inventory and pushed up prices, leaving the remaining supply out of reach, even for higher earners. Inflation also has made it difficult to save for a…
Scroll Through Google Streetviews of Miami's Skyline for the Past 14 Years
Anyone that has had the pleasure of driving across the bridge to Key Biscayne, or even better, to walk, bike, or run on it, has to have noticed what a great view one gets of Miami's rapidly growing skyline. What one loses track of is how much that skyline view is changing over time. SCROLL DOWN to check out these Google StreetView images recorded over…
Treasury to expand reporting on shell companies in real estate deals
President Joe Biden's administration is reportedly set to make life more difficult for those looking to make all-cash real estate purchases in the United States using shell companies. The Treasury Department is looking to develop reporting regulations for all-cash deals, Bloomberg reported, citing two senior administration officials. The report comes as the…
U.S. Moves To Limit Money Laundering Through Real Estate Transactions
A mansion in Malibu, a palace in Miami, an estate in the Washington, D.C. suburbs and multiple commercial buildings in Cleveland have something in common: All were purchased with suspicious assets by people later sanctioned for corruption or human rights abuse. Similar deals could face new scrutiny under a proposal issued Monday by the U.S. Treasury…
Respark Residential acquires Wynwood Bay apartment building for $67M
A Fort Lauderdale-based multifamily real estate investment firm dropped $67 million for a 156-unit apartment building bordering two of Miami's hottest neighborhoods. Respark Residential, led by President Nicolas Weinstein, acquired Wynwood Bay, a 19-story high-rise at 2500 Biscayne Boulevard, between Edgewater and Wynwood, according to a press…
Mayor calls for canceling Rickenbacker revamp process, starting over
Amidst debate over procedures, Mayor Daniella Levine Cava on Tuesday recommended canceling and restarting a procurement in the existing request for proposals (RFP) to design, build, finance, operate and maintain the Rickenbacker Causeway. In a memorandum to county commissioners, the mayor argues this path would "allow time to confirm federal…
Modernistic Coral Gables mobility hub avoids roadblock
Plans for a modern aesthetic and design for the Coral Gables Mobility Hub continue to move forward despite criticism. A motion initiated by Commissioner Rhonda Anderson suggesting having the city's mobility hub design plans go back to the Board of Architects for a third time was rejected during Tuesday's city commission meeting. "I would think that the…"
Miami looks at making Regatta Harbour garage a condo to net taxes
Miami city commissioners are considering a formal move that would help capture tax revenue from a portion of the city's newest municipal parking facility, the Regatta Harbour Parking Garage. At its meeting today (12/9), the City Commission is to consider a resolution to direct City Manager Art Noriega to change the form of ownership of the property on the…
Bill in legislature would send $25 million to restore Freedom Tower
Following up on a proposal by Gov. Ron DeSantis, Rep. Bryan Avila of Miami Springs, has requested $25 million in the next state budget to restore the Freedom Tower at 600 Biscayne Blvd., a signature building by noted architects that opened as home to the Miami Daily News in 1925. Lawmakers are to consider the budget request during the legislative…
UM booster John Ruiz wants to launch Coral Gables football stadium effort
A prominent University of Miami booster is mounting an effort to build the Hurricanes football team a new home in Coral Gables. Coral Gables-based attorney John Ruiz is forming an eight-member committee that will push for the development of a college football stadium at Coral Gables Senior High School, according to the Miami Herald. Ruiz, founder of MSP…
New Jersey investors buy apartments in Brownsville Opportunity Zone for $14M
An investment group led by Bowery Properties' Thomas Neary sold apartments in a Brownsville Opportunity Zone for $14.2 million, nearly double their purchase price from two years ago. The Thomas Fergus Trust, led by Neary and through an affiliate, sold the St. George Apartments at 5200 Northwest 26th Avenue to Lakewood, New Jersey-based 5200 NW…
New warehouse leases boosted by inflation, supply chain crisis
As inflation woes roil the economy at large, industrial real estate players are reportedly seizing on new contracts to pass on the increased costs. Prices for industrial property leases are up 25 percent on average compared to five-year lease contracts that expired in 2021, according to CBRE data reported by the Wall Street Journal. The increases stem…
Univista Insurance founders drop $48M for Le Jeune Road office buildings
A group of Miami insurance industry executives scooped up the office component of a Miami mixed-use project for $47.5 million. An entity managed by Univista Insurance CEO Ivan Herrera, his wife and UniVista Insurance President Ania Herrera and Univista Insurance COO Luis Castro, bought two five-story office buildings at 850 Northwest 42nd Avenue…
Chicago-based multifamily investor scoops up OZ dev site in Miami's Edgewater
A Chicago-based multifamily investor scooped up a potential development site in an OZ in Miami's Edgewater neighborhood for $12.5 million. Trilogy Real Estate Group, through an affiliate, bought the miniature soccer fields at 169 Northeast 27th Street and 2728 Northeast Second Avenue, as well as the adjacent vacant lot at 166 Northeast 28th Street, according to records.
Apollo Capital expands to Brickell, Pura Vida to Coral Gables, other leasing news
Renderings of Building 24 at Prologis' Beacon Lakes industrial park and the Boulevard apartment project in Miami and the office tower at 701 Brickell in Miami, with Prologis CEO Hamid Moghadam: Apollo Capital Management I701 Brickell Financial firm Apollo Capital Management inked a long-term, 24,000-square-foot lease at 701 Brickell, according to the landlord's…
Boxed out: Supply chain, energy crises rock real estate
With huge heating bills looming, Valentina Gojcaj moved quickly to lock in energy rates and keep her tenants warm through the winter months. The mere threat of rising demand amid a global energy crunch has landlords worried that the cost of heating oil could rise to a whopping $4 per gallon this winter, Gojcaj, who owns three buildings in the Bronx, said.
Cargo Transport King Ocean Expands To 157K SF At Prologis Beacon Lakes Industrial Park
Cargo transport company King Ocean Services is relocating and expanding within Miami, taking 157,528 square feet in the Airport West submarket. The ocean transport company signed a long-term deal to occupy an entire building at the Prologis Beacon Lakes industrial park. The building, located at 13155 NW 19th Lane, is currently under development and scheduled…
What's an Airbnb worth? Suit seeks nearly $3M price drop for Miami Beach building without short-term rental permit
A real estate investor wants the price of a Miami Beach apartment…. cut… claiming he signed an inflated purchase contract after he was duped that the building can be rented out on Airbnb and VRBO. Raz Ofer, through an affiliate, sued sellers Alfredo and Regina Arias, alleging that they knowingly misrepresented that their building at 1533 Drexel Avenue has a short-term…
Video: Five South Florida mayors discuss keeping the market hot
"I like to say there's two kinds of people," Miami-Dade County Mayor Daniella Levine Cava said: "The people that already live [in South Florida], and people who want to live here." In the last 24 months, thousands of people have flocked to the region for its business-friendly reputation and its laid-back lifestyle. But new Floridians have found a residential market…
Dollar General to open 1,000 stores aimed at wealthier, more suburban shoppers
Suburban shoppers beware: a Popshelf location could soon be coming to a location near you. Dollar General is aiming to operate about 1,000 Popshelf stores by the end of the 2025 fiscal year, CNBC reported. As of late October, there are 30 locations operating in six states. The retailer launched the Popshelf brand in 2020, aiming to draw in higher-income customers.
Levered and loaded: KKR looks to flex its real estate muscle
There's a particular kind of "New York is back, baby!" vibe to the Edge, the observation deck at Hudson Yards where thrill-seekers can dangle from the tip of a skyscraper 1,131 feet above the city's new power center. The notion that plenty of people are willing to pay nearly $200 a pop to shake off their pandemic funk via self-inflicted vertigo is what KKR & Co. was betting…
Crypto-talk: Why real estate NFTs are the future of the NFT market?
Real estate, as opposed to movable personal property, does not need a physical transfer because it is immovable and therefore impossible to steal. Future real estate transactions will increasingly be conducted digitally with the use of new technology. Due to the coronavirus, there have been many shifts in the way we live our lives. One of these shifts has been the…
9 Reasons to Invest in South Florida Commercial Real Estate
On a national and global level, Florida and particularly the South Florida market has been among the strongest, with continually solid returns and safety for the capital of international & domestic investors. US News & World Report currently ranks Florida #8 in fiscal stability and #10 with its economy nationwide. South Florida commercial real estate leads the…
The Fed: Measuring expected inflation with breakevens
A U.S. Treasury security typically promises to repay an investor a flow of coupon payments and then principal repayment once the security matures. These payments are made in U.S. dollars. A security that promises to deliver future dollars is called a nominal security. Most U.S. Treasury securities are nominal securities. Nominal securities do not offer investors protection…
Melo Group buying entire block in Miami's Arts & Entertainment District for $105M to build resi towers
The Melo Group wants to build residential high-rises with retail on a full city block in Miami's Arts & Entertainment District, and has the property under contract for $105 million, The Real Deal has learned. The Melo family's development firm expects to close in mid-December on just over 3 acres between Biscayne Boulevard and…
Gomez Development scores $45M loan to build Aventura medical building
After closing on an Aventura site, developer Marlon Gomez's firm secured a $45 million loan to build a medical office building on the property. Miami-based Gomez Development Group plans to use the proceeds from the Parkview Financial loan to build a speculative 142,000-square-foot, seven-story project at 21291 Northeast 28th Avenue, according…
WeWork says it must correct financial statements
WeWork's life as a public company is off to a rough start. The coworking firm said Wednesday it has to revise its financial statements for three quarters after finding that it misclassified some of its public shares. WeWork disclosed that it previously counted certain shares as permanent equity, but those shares should have been called temporary equity.
Deepak Khosa nabs Homestead apartment complex for $11M
Deepak Khosa keeps stacking up South Florida apartment complexes, adding a 105-unit property in Homestead to his growing multifamily portfolio. Khosa, a real estate investor who owns Palm Beach Gardens-based Atlantic Property Services, told The Real Deal that his company recently paid $10.6 million for Card Sound, a garden-style…
Video: Hugh Kelly PhD on Central Business District Recovery; Big City Markets Defy COVID Expectations
Hugh Kelly, PhD, joins Michael to discuss how central business districts in major cities are recovering, despite pandemic hesitations. With Miami now having the third most dense skyline in the United States, this conversation is highly relevant to Miami area commercial real estate investors. To some degree, this is reality check pushback on the idea that "central business…"
Key International, Wexford snatch Pompano Beach Marriott for $54M
Key International co-presidents Inigo and Diego Ardid, President of Wexford Real Estate Investors Joseph Jacobs and Fort Lauderdale Marriott Pompano Beach Resort & Spa: In a $54 million deal, a Marriott-branded hotel in Pompano Beach traded for a second time in three years. Miami-based Key International and West Palm Beach-based Wexford Real…
Cofe Properties buys fully leased Sunrise industrial portfolio for $42M
Cofe Properties bought a fully leased industrial portfolio in the Sunrise Commerce Park for $42.3 million. A trust led by Leonard Edelman sold the seven-building portfolio to Coral Gables-based Cofe in two deals, records show. Cofe's affiliate took out a $35.9 million acquisition loan from Ocean Bank. In the biggest of the two purchases, Cofe bought the…
Seagis pays $30M for rental car center near FLL, plans warehouse
Seagis Property Group bought a warehouse development site near Fort Lauderdale-Hollywood International Airport for $29.5 million, marking its ongoing bet on the booming South Florida industrial market. The Conshohocken, Pennsylvania-based company bought the Alamo Rent A Car-leased property at 1700 Eller Drive from Eller Drive Properties…
Corinthian Waterford buys Margate rental complex for $21M
The Waterford Villas rental complex in Margate at 6954 Southwest Fifth Street (Google Maps) Fort Lauderdale-based Victoria One sold the Waterford Villas rental complex in Margate for $20.6 million. Coral Gables-based Corinthian Waterford bought the villa-style community at 6954 Southwest Fifth Street, according to a news release. The buyer took…
Boynton Beach approves 236-unit apartment project with 118 workforce units downtown
Rendering of The Pierce with Jeff Burns, CEO of Affiliated Development Affiliated Development won approval for The Pierce, a mixed-use development in downtown Boynton Beach with 236 apartments, half of them rent-controlled workforce units. Fort Lauderdale-based Affiliated outbid four other developers — including the Related Companies…
Hawaii's former richest person Jay Shidler pays $153M for Boynton Beach apartments
Real estate investor and philanthropist Jay Shidler, who once was Hawaii's richest person, bought the Sealofts at Boynton Village apartments for $153 million. His family office, The Shidler Group, bought the complex at 600 Sealofts Drive from an affiliate of Boston-based Rockpoint Group, records show. The buyer immediately executed…
California firm pays $59M for West Palm Beach apartment portfolio
Lancaster Apartments at 1210 Palm Beach Lakes Boulevard, The Charmer at 345 30th Street and Sunset Place at 1001 36th Street in West Palm Beach. Inset: Kingdom Development's William Leach: Riverside, California-based Kingdom Development's affiliate NeuRock Capital bought three West Palm Beach multifamily complexes for $59.3 million. NeuRock purchased…
JV buys West Palm Beach office building for $13M
A joint venture between an investment firm and a construction group purchased an office building in West Palm Beach. District Pointe LLC, a joint venture between Sweden-based Index Investments and West Palm Beach-based Verdex Construction, bought the 65,760 square-foot building at 1501 Belvedere Road for $13.4 million, according to a release. The sale comes…