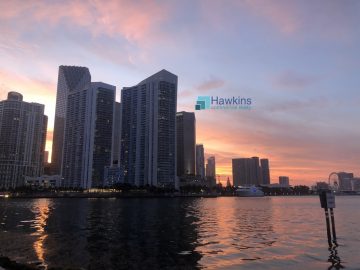 Terreno To Develop $491M Industrial Project At Countyline Corporate Park In Hialeah
Terreno Realty Corp. intends to further expand at Countyline Corporate Park, a 620-acre master-planned industrial campus developed by Florida East Coast Industries in Hialeah. According to a Securities and Exchange Commission Filing from February 9, Terreno plans to pay $173.6 million for a 121-acre site within the Hialeah industrial park where a 2.2 million-square-foot…
Terreno Realty To Pay $174M For 121-Acre Hialeah Development in Countyline Corporate Park
A Bellevue, Washington-based REIT has reached a deal to acquire the site of a 2.2M SF industrial development in Hialeah for $173.6M. Terreno Realty Corp. has agreed to purchase 121 acres in Hialeah's Countyline Corporate Park, it said in a Feb. 10 Securities and Exchange Commission prospectus. Terreno already owns seven fully leased buildings in the vast…
How Retail Consumer Trends Influence Retail Real Estate and Vice Versa
Retail consumer trends affect retail real estate in several ways, but the degree of influence may surprise you, especially if you're new to the industry. The rule of thumb is that as consumers increase spending, investing in retail real estate follows suit. In turn, those properties become more valuable since they'll have a clear justification…
Miami Apartment Vacancy Is On The Rise, But Don't Expect Rents To Drop
After a historic run of growth that left Miami as the most expensive city to live in in America last year, South Florida's rental market has cooled slightly in recent months. The billion-dollar River District from The Chetrit Group added a 52-story rental tower to Miami's pipeline when it broke ground in December. Vacancy is on the rise, the number of apartments being leased is down…
413 Apartments Planned At Overtown Block 19, Near Brightline's MiamiCentral
Plans have been filed with the City of Miami for an apartment project called Overtown Block 19. Overtown Block 19 is a 7 minute walk from Brightline's MiamiCentral station, according to Google Maps. The property is adjacent to the Brightline tracks. Overtown Block 19 is proposed as twin 25-story towers with: 413 multifamily apartments 23,000 +/- square feet of ground…
Lawmaker Makes Development-Friendly Changes To Florida Anti-Rent Control Bill
The state legislator who is sponsoring legislation that would ban Florida localities from implementing any form of rent control, while funding the production of new housing, is making some changes to her bill. Republican state Sen. Alexis Calatayud, who represents part of Miami, filed a 95-page replacement to her bill, SB 102, that would streamline the development process…
CRE Investor Stephen Bittel on Industry's 2023 Outlook in South Florida and Beyond
After the past few years we've experienced, nobody would have imagined what came our way in 2022. We began the year cautiously optimistic about a return to some sense of normalcy after two years of uncertainty, first due to the abrupt and sweeping shutdowns of 2020 and later because of supply chain difficulties and rising inflation in 2021. However, the war in Ukraine…
Silicon Valley Tech Company LeverX With 1600 Employees Moving World HQ To Miami
Yet another tech company has just announced plans for a world headquarters in Miami. LeverX said in a statement that it was moving it's headquarters from Mountain View, California to Miami. The new office is at the 47-story Wells Fargo Center (previously known as Met 2) in downtown Miami, according to the company's website. The LeverX website says it has over 1,600 employees…
Miami Worldcenter Files To Build Standalone Retail Building: Is It An Apple Store?
Miami Worldcenter has filed building plans for a new retail building. There are also rumors that Worldcenter may be getting an Apple Store, according to a Tweet from Ryan RC Rea, citing a source. It isn't clear where the store would be built, Rea wrote. The new standalone retail building is known as Block F West and is planned next to World Square, on the same block…
Restaurant Closes On Edgewater Block Where 5 Towers Planned
At 3333 Biscayne Boulevard in Edgewater, a Wendy's restaurant has now closed, according to a Reddit thread. At least five towers are now in planning for the block. Beitel Group has filed plans for a 3-tower mixed-use project on the property where Wendy's is located. The Beitel project is planned to have a 41-story residential tower, 40-story residential tower, and a 12-story office…
Video: 2023 Commercial Real Estate Financing Outlook is Discussed by Mortgage Bankers Association VP of Research & Economics Jamie Woodwell
In this 20 minute video, Jamie Woodwell, Vice President, Research and Economics, at the Mortgage Bankers Association (MBA) joins America's Commercial Real Estate Show host Michael Bull to share highlights from the newly released Mortgage Bankers Association's report: MBA CREF Outlook Survey; Unsettled Markets to Dissipate in 2023. This is generated from…
First Glass Installed At 588-Unit Nema Apartment Tower in Edgewater
Nema Miami, a 39-story apartment tower under construction in Edgewater, has had its first glass installed, new photos show. Whole Foods Market has signed a lease to occupy the ground floor of the development. The new supermarket will serve adjacent areas including Midtown Miami and Wynwood. Nema's first phase is planned to rise 39 stories, or 430 feet and include…
Omni 21 Apartment Project Planned With 97 Units
An apartment project called Omni 21 is being planned near the border of Edgewater and Wynwood. The project site is at 100 NE 21st St (previously listed for sale on Loopnet). Plans were recently filed with DERM for the construction of drainage wells, which usually indicates the start of construction is near. According to a filing with Miami's Building Department, Omni 21…
Miami Station 42-Story Tower Construction Permit Reactivated
A construction permit to build the 42-story Miami Station tower has been reactivated, shortly after it was purchased by a development group. Miami Building Department records show the activation request was submitted on February 8. An email address at The John Buck Company is listed as the contact. Coastal Construction is listed as the contractor. A demolition permit…
Miami Beach hypes aesthetics, residents just want the parking
"Less about landscaping, and more about commercial revitalization and added parking" is what residents of Miami Beach echoed at a meeting for the 41st Street Corridor Revitalization, as the city presented a final concept design recommendation for the $15 million general obligation bond project. The capital improvement project to revitalize the 41st Street Corridor…
54-story downtown Melo tower to add 824 apartments
A family company that has brought hundreds of new apartments to the City of Miami, helping to ease the city's major housing needs, is planning another major mixed-use residential project downtown. Owner-developer 6 Plaza LLC plans a 54-story multi-family residential tower with ground floor retail at 530 NE First Ave. and 46 NE First St. 6 Plaza LLC is affiliated with The Melo Group.
33-acre Underdeck has a plan but not the money
"The Overtown Miami Greenway, the heart of the city" is the name recommended by the Underdeck Executive Committee through survey results in its community engagement efforts to plan for the 33-acre green space that is to be built under the I-395 signature bridge that is under construction, with a 2026 date for completion. The project is not yet fully funded. "This name encompasses…"
Teahouse brewing for middle of Biscayne Boulevard downtown
Plans to break up busy Biscayne Boulevard with lush, green space and a quaint teahouse are still in the works as the developers work through permitting with the city. In August 2021, the Miami Parking Authority (MPA) announced its collaboration with real estate developer Property Markets Group on the Green Initiative to increase public green space and walkability…
Brickell towers near river to offer 784 new units
Miami's Brickell neighborhood continues its impressive growth, with a developer ready to bring a pair of mixed-use residential towers to a high-profile property south of the Miami River. Newgard Development Group has proposed the project, One Brickell Riverfront, at 99 SW Seventh St. The site plan proposes a structure consisting of two towers of 43 and 44 stories with 784 residential…
HistoryMiami planning much larger new museum
As part of the county's MetroCenter project plan, HistoryMiami Museum is currently engaged in the planning stages to create a world-class museum. Miami-Dade County officials recently released a Request for Proposal (RFP) that seeks to pre-qualify developers for a MetroCenter project that would redesign about 17 acres of county-owned land that include the present…
Asana Partners Adds Five New Tenants to Sunset Harbour Retail Center in Miami Beach
Asana Partners has announced the addition of five new tenants to Sunset Harbour, a 21,000-square-foot retail center in Miami Beach. Restaurants Casa Bufala, Sacro and Nautical Bowls will occupy 2,500, 2,813 and 950 square feet, respectively. Chip City Cookies will also join the food-and-beverage lineup, leasing 980 square feet. Additionally, fitness and wellness club The Outsider…
Largest Solar Rooftop Install Completed On Badia Spices Facility In Sweetwater
Florida solar contractor SALT Energy recently completed the installation of a 3.24-MW solar project on the roof Badia Spices' 300,000-sq.-ft manufacturing facility in Sweetwater. The project is currently the largest privately owned solar project in Florida and is capable of offsetting approximately 80% of the facilities electricity consumption. Established in 1967 by Jose Badia…
Clara Homes Secures $26M Loan for Bay Harbor Islands Community
Rendering of the project. Courtesy of Clara Homes Clara Homes has landed construction financing for its first multifamily project in South Florida. The firm secured a $26 million loan that will be used to help develop the first building of its Clara Bay Harbor project in Miami. Maxim Capital provided the financing. The developer plans to break ground on the first building…
Master Building Permit Issued At 444 Brickell Tower 2 aka One Brickell Tower 2
A master building permit has been issued for 444 Brickell Tower II (also known as One Brickell Tower 2). Building department records show that the permit was issued to the contractor on February 7. A separate foundation permit had previously been issued on November 28. 444 Brickell Tower II will include 506 apartments in a 44-story tower. A $164M construction loan to build…
PortMiami Getting World's Largest Shore Power System
Plans for a Shore Power system at PortMiami that will significantly reduce air pollution are moving forward, with a contractor given the go-ahead for build-out. Denmark-based PowerCon announced this week that it had been awarded a contract to build five shore power systems at PortMiami. It will be the largest shore power system in the world upon completion, expected…
Second 649-Foot Tower Approved By FAA At Brickell's River District
The Federal Aviation Administration has issued height approval for a second tower at The River District in Brickell. The second tower is permitted to rise 642 feet above ground, or 650 feet above sea level – identical to an another tower already under construction in the district. The approval was issued on February 16. Construction on the second tower is expected to begin…
Berkadia Arranges $113M Refinancing of Gateway at Wynwood Office Building in Miami
Berkadia has arranged a $113 million loan to refinance Gateway at Wynwood, a 220,000-square-foot office building located at 2616 N. Miami Ave. in Miami that opened last year. Charles Foschini, Christopher Apone and Robert Iudice of Berkadia's South Florida office arranged the loan through A10 Capital on behalf of the borrower and developer, New York-based Rose & Berg…
Rose & Berg Realty Lands $113M Refi for Miami Asset Gateway at Wynwood
Gateway at Wynwood. Image courtesy of Berkadia Rose & Berg Realty Group has received a $113 million loan for the refinancing of Gateway at Wynwood, a 220,000-square-foot office and retail building in Miami. Berkadia's Senior Managing Director Charles Foschini, Associate Director Robert Iudice and Managing Director Christopher Apone arranged the financing…
Fisher Island Residents Rail Against Baylink Project
Nearly four decades in the making, Miamians may finally get public transit connecting the mainland and Miami Beach. But not if a vocal contingent of NIMBY detractors gets its way. First proposed in 1988, the long-awaited Baylink corridor has been championed by transit advocates and fed-up Miami commuters alike as an answer to the area's notorious traffic and lack of parking.
The Estate Cos. Breaks Ground on Pompano Beach Luxury Property
Soleste Pompano Beach. Image courtesy of The Estate Cos. The Estate Cos. has broken ground on the 253-unit Soleste Pompano Beach community, its latest luxury multifamily development in South Florida under its Soleste Living brand. Located at 208 N Federal Highway in Pompano Beach, Fla., in Broward County, the building will measure eight stories with 4,000 square feet of…