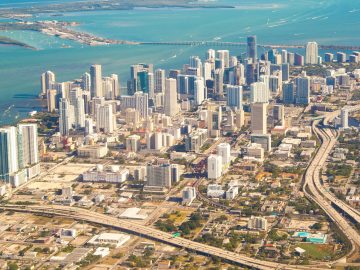 Russell Galbut, WP Carey sell Shelborne South Beach
W.P. Carey and Russell Galbut sold the oceanfront Shelborne South Beach, which was marketed for sale in the $120 million range, The Real Deal has learned. Dallas-based Westdale Real Estate Investment & Management acquired the majority of the condo-hotel rooms at the 257-key condo-hotel at 1801 Collins Avenue in Miami Beach. W.P. Carey, a real estate…
Iconic Miami Beach Hotel Trades for $120M
A joint venture between King Street Real Estate, Westdale Properties and Cedar Capital Partners has acquired the 275-key Shelborne South Beach Hotel in Miami Beach, Fla., for $120 million. Located at 1801 Collins Ave., the oceanfront property is within walking distance of The Fillmore concert venue and Miami Beach Convention Center. Shelborne is 5 miles from…
FTC halts alleged website scheme tied to Miami developer Bob Zangrillo
Bob Zangrillo and the Magic City Innovation District A federal court struck a blow to a web of companies tied to Miami real estate developer Bob Zangrillo that allegedly deceived people into thinking they were government websites. The U.S. District Court in Florida granted the Federal Trade Commission a preliminary injunction to halt a scheme that…
Spanish investor buys mixed-use building near Española Way
A Spanish investor paid $12 million for a property near Española Way in Miami Beach. Miami Retail 200, an LLC tied to Grupo Invivas principal Jaime Garbisu, acquired the mixed-use residential and retail building at 1452 Washington Avenue, property records show. The trust of Barry Fishman sold the 12,379-square-foot building. Fishman, who was the…
Douglas Station project scores $99M loan for second tower
The developers at a massive mixed-use project along U.S. 1 just closed on a $99 million construction loan for the second tower. 13th Floor Investments and Adler Group secured the loan from Banco Santander and TD Bank for the Link at Douglas's second building, a 36-story, 421-unit apartment tower, according to the developers. The building, designed by Arquitectonica…
"It's all working": Trump lauds Opportunity Zones during State of the Union
President Donald Trump hailed the troubled Opportunity Zones as an unqualified success during his State of the Union address on Tuesday. "Jobs and investments are pouring into 9,000 previously neglected neighborhoods thanks to Opportunity zones," Trump said during the joint session of Congress…
Estate Companies completes 338-unit West Miami project
The Estate Companies completed its fourth new rental project in West Miami. Soleste Twenty2, an eight-story, 338-unit development at 2201 Ludlam Road, secured its certificate of occupancy. The Estate Companies, led by Robert Suris, broke ground on the complex in the fourth quarter of 2017 and launched leasing in October. Suris has developed and sold…
Coconut Grove's Dinner Key Marina hurricane damage repairs linger
Dinner Key Marina, which hugs the Coconut Grove waterfront and historic Miami City Hall, is in the midst of a multi-million dollar rebuild and City of Miami officials anticipate completion of the three-phase project in mid-2021. The municipal marina, owned and operated by the city, sustained serious damages when Hurricane Irma hit the area on Sept. 10, 2017.
Regatta Harbour in Coconut Grove advances in historic aviation site
The famous waterfront in Coconut Grove seems to be ever fluid, with small to substantial changes a near constant reality. The dawn of this new year is no different, bringing with it ongoing reconstruction and restoration of the city's Dinner Key Marina, and the major addition of a new parking garage bordered by commercial and retail uses. The garage will be managed by…
Judge exits, Coconut Grove Playhouse takes step backward
Monday should have been something of a step forward in determining the future of the long-dormant Coconut Grove Playhouse, but progress was once again halted after a judge set to hear the case recused himself. Oral arguments over the legality of City of Miami Mayor Francis Suarez's veto of the Miami-Dade County's plan to demolish and build over a majority of…
Miami mulls a moratorium on new self-storage projects
Miami, FL, is mulling two moves that would clamp down on self-storage development — moves that some industry observers welcome as a much-needed cooling-off period but that others view as government overreach. On January 15, Miami's Planning, Zoning & Appeals Board endorsed two proposed rules for self-storage developments in the city…
The Nightlife King Who Turned On The Mob Is Helping The Resurgence Of Watson Island
Mio Danilovic had been a vice president at lifestyle hotel conglomerate SBE, in charge of running high-end clubs in Los Angeles and Las Vegas. When he was preparing to move to Miami several years ago, he imagined he would discover scores of European-style waterfront bars and restaurants, where people would eat and drink, lounge in the sun and dip in the water.
20 Minutes With: Chairman and CEO of Aman Resorts Vladislav Doronin
Vladislav Doronin was a self-described "Aman junkie" long before he bought the luxury resort brand, popular worldwide for its wellness offerings and $1,500-plus per-night price tags. In the 1990s, Doronin was a young commodities trader when he was first introduced to an Aman property, the Amanpuri resort in Thailand. "My first taste of the brand…
Op-Ed: Act in haste on public-private land deals, repent at leisure
Alarms rang in Miami when an unstable city commission talked of undoing a riverfront land swap for a new administration building. The complex deal with a subsidiary of The Adler Group had taken years to hammer together and then pass. Adler had every right to believe a final OK was indeed final and has been acting on that certainty. Yet a new commission majority…
Was the mayor's Coconut Grove Playhouse veto legal?
There was a meeting regarding the Coconut Grove Playhouse at the County level on Monday, but it's been postponed. Judge Thomas J. Rebull has recused himself from the case as of Thursday afternoon, another judge will be assigned and he will now have to be brought up to speed, so the case will drag on. The Appellate Division of the 11th Judicial Circuit was going to…
New Cocowalk to start opening in summer
The redevelopment of Cocowalk, where some shops and the office building are scheduled to begin opening this summer, is one of the more talked-about projects in Coconut Grove. The shopping and entertainment complex at 3015 Grand Avenue, very near the busy intersection of Grand Avenue and Main Highway, was built in 1990 but fell into disuse. It was acquired…
Macy's to close 125 stores, slash 2K jobs
Beleaguered retail giant Macy's is planning to close over 100 of its stores, cut 2,000 jobs and test out a new strategy for future locations. The Cincinnati-based company intends to shutter 125 of its weakest locations over the next three years, its chief executive told the Wall Street Journal. The closures represent about a fifth of the troubled retailer's portfolio…
Aztec Group Secures Refi for Miami-Area Retail Asset
Aztec Group has secured a $17.4 million refinancing for Sunset Strip, an 86,029-square-foot retail asset in Miami. Senior Managing Director Howard Taft, Executive Vice President Charles Penan and Senior Associate Joel Zusman represented the borrower. The non-recourse mortgage is set to mature in 10 years and… Located at 10855 S.W. 72nd Street on 8.8 acres…
Aztec Group Arranges $17.4M Refinancing for Retail Center in Miami
Aztec Group has arranged a $17.4 million refinancing loan for Sunset Strip, an 86,029-square-foot retail center in Miami. Presidente Supermarket and Dollar Tree anchor the property, which includes other tenants such as Atlantis Academy, Metro PCS, Inkaholik and Atlakat Restaurant & Grill. The property is situated at 10855 S.W. 72nd St., 12 miles west of downtown…
16K apartments to be delivered in South Florida this year: report
South Florida will see nearly 16,000 apartments delivered this year, leading rents to flatten in markets with added supply, according to a recently released report. Fueled in part by population growth, the number of apartment deliveries will be nearly double the 8,871 units that were completed in South Florida last year, according to Berkadia's annual…
Freshwater Group buys Miami office building
Freshwater Group paid $7.2 million for an office building near Coral Way in Miami. The Brooklyn-based private equity real estate firm closed on the six-story, 33,407-square-foot office building at 1800 Southwest 27th Avenue, said managing partner Joey Sayegh. Property records show 1800 Professional Building LLC, led by Julio Del Rey, sold the 51,722-square-foot building for $216 per square foot. The family owns a line of "love hotels…"
Miami's International Status Helps Sustain Office Development, Fundamentals
The surge of momentum happening in Miami's office market is undeniable with the metro emerging as a new international hub for startups and regional companies alike. Fueled by a multilingual workforce and easy access to Latin America and the Caribbean, Miami's status as an international gateway is drawing the attention of office landlords and…
If you want to find where the retail meltdown is, take a look at retail real estate investment trusts. A recent article on the Motley Fool website says REITS for malls were down 9.1 percent in 2019 as more people shopped online and some retailers declared bankruptcy. Malls are turning into the haves and have nots. Among the haves is the Whitman family and its…
Inside the coronavirus epidemic's impact on US real estate
The impact of China's coronavirus outbreak on real estate in the U.S. remains muted for now When real estate broker Sunanne Zhu brought a group of Chinese clients to visit a Manhattan luxury apartment tower last week, the building's staff had some concerns. In the wake of the Chinese government's decision to put the central city of Wuhan on lockdown…
2020 "will get a little better" after peak year for retail bankruptcies: Brookfield
Just days after making an $81 million bid to save tapped-out retailer Forever 21, company executives at Brookfield Property Partners think the worst of the bankruptcy bloodbath is behind them. "We had 3.5 million square feet of closures due to bankruptcies," last year, Brookfield CEO Brian Kingston said on the company's fourth-quarter earnings call Wednesday.
Climate change is a real threat to America's very expensive stadiums
Miami's Hard Rock Stadium hosts the Kansas City Chiefs and the San Francisco 49ers in Super Bowl LIV on Sunday. Over the last few years, extreme weather and hurricane threats have affected several games at the 65,000-seat stadium. Stadiums across the country are threatened by climate change as well, according to CNBC. Some teams and stadium owners are…
Miami commission closer to issuing $85M in bonds for affordable housing
The Miami City Commission unanimously accepted the data of an affordable housing master plan created by Florida International University, during a special meeting on Friday. However, city commissioners want to analyze the report's suggestions on how to leverage $85 million in bond money for affordable housing to up to $6 billion, in order to build 32,000…
Why Super Bowl LIV could spark interest in Miami Gardens real estate
Tens of thousands of people will pass through the turnstiles into Hard Rock Stadium on Sunday for Super Bowl LIV, as they take part in the spectacle and competition. And when it's over, nearly all of them will bypass the neighborhood entirely on their way out. While the stadium's privately-funded, $500 million renovation boasts an open-air canopy along with….
How "third-grade math" led to one of Blackstone's first RE deals
It was the height of the 1990s when Stephen Schwarzman struck one of Blackstone's first real estate deals — guided by little more than what he said was third-grade math. At the time, the U.S. government was selling off foreclosed properties to firms like Blackstone, Goldman Sachs and Morgan Stanley. Blackstone and Goldman had teamed up to bid on a portfolio…
Video: This 1982 pre-Amazon Documentary About the (then) New Dominance of Indoor Malls Feels so – well – 1982
Just watching the first couple of minutes of this video, then skipping through a bit, one quickly realizes just how much things have changed in the past couple of decades. At that time, indoor malls had become dominant on the retail landscape, but this dominance had only taken hold in the prior decade or two. Now, retail is on the ropes, with numbers of retail malls…
Why Use a New Construction Inspector?
Having new office buildings, warehouses, apartments, residential homes, strip malls, or any other structure built from the ground-up according to your own specifications often sounds like the easiest way to avoid extensive (and expensive) repairs later on, but before you start talking to architects and builders, you should know that new construction is plagued by the…
JB's on the Beach site hits the market for $18M
JB's on the Beach and Native Realty's Jaime Sturgis (Credit: Google Maps) The site of one of Deerfield Beach's most popular restaurants hit the market for $18 million. Native Realty, led by Jaime Sturgis, is listing the oceanfront restaurant JB's on the Beach at 300 Northeast 21 Avenue, along with a nearly 1-acre parking lot across the street. The parking lot could be…
Opportunity Zone site in Aventura hits market, could trade for $100M, broker says
An assemblage of land in an Opportunity Zone in Aventura could trade for about $100 million, according to the listing broker. The 10.5-acre site at 21440 Biscayne Boulevard hit the market on Friday, said Jonathan Molano of Blue B CRE and Blue B Properties, who is listing the property. Molano said the property could sell for more than $100 million based on…
Video: REIS Senior Economist Barbara Denham Discusses Commercial Real Estate Opportunities in 2020
As the decades closes out with the end of 2019 and we consider the upcoming decade, the question arises as to what opportunities might be forthcoming in commercial real estate? Barbara Denham, Senior Economist with Moody's Analytics REIS, appears on America's Commercial Real Estate Show to share observations and thoughts on the major commercial…
Miami developer Harvey Hernandez fights back against Airbnb
Harvey Hernandez's development group is striking back against Airbnb after the short-term rental company alleged he committed fraud and siphoned money out of an apartment-sharing concept. NGD Homesharing, led by Miami developer Hernandez, alleges in a countersuit filed Friday in Miami-Dade Circuit Court that Airbnb was actually the one operating in…
Miami Beach Convention Center contractor sues city, alleging $90M in unpaid work
During Art Basel Miami Beach, attendees enjoyed new exhibition space at the Miami Beach Convention Center, thanks to the completion of a half billion-dollar renovation project. But Clark Construction, the contractor on the project, alleges the city of Miami Beach still owes it about $90 million in unpaid work, even as the…
TA Realty drops $112M on apartments in Flagler Village
The love affair with multifamily properties in Fort Lauderdale's Flagler Village continues. TA Realty bought a 340-unit apartment project in Fort Lauderdale's Flagler Village for $112 million from a partnership between Morgan Group and JPMorgan. The development, known as Pearl Flagler Village, sold for $329,411 per unit, records show. The project at 400…
Bridge Development sells Fort Lauderdale warehouses for $28M
Bridge Development Partners sells two warehouses near Port Everglades in Fort Lauderdale for $28 million to an entity that lists its address as Morgan Stanley Private Wealth Advisors in Chicago. Chicago-based Bridge Development sold the 174,129-square-foot properties at 3233-3303 Southwest 12th Avenue for $161 per square foot, records show. The…
Code Capital snags affordable housing complex in Lauderhill for $45M
Code Capital Partners bought an affordable apartment complex in Lauderhill for $44.6 million. The New York-based private equity firm purchased the 814-unit Cypress Grove-Lauderhill apartments at 4200 Northwest 19th Street for $54,791 per unit. Reliance Sadalgrove LLC, which is tied to the Housing Preservation Trust of Marietta, Georgia, sold the…
Agassi scores again with $61M Pembroke Pines based charter school sale
Andre Agassi and Franklin Academy at 5000 Southwest 207th Terrace (Credit: Getty Images) Andre Agassi, the world's former No. 1 tennis player, had a punishing backhand that led to points against his opponents. Now, as a charter school developer, his company has found a way to get in and out of deals quickly and turn a profit. Turner-Agassi Charter School Facilities…