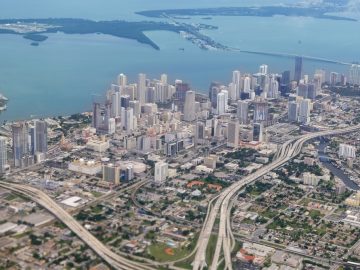 Macy's to shutter historic downtown Miami store amid rash of closures
Macy's will shutter its downtown Miami store this quarter as part of a new wave of closures nationwide, the retailer announced Thursday.
The company plans to close 11 stores early this year, including one in Gainesville and four in California. The restructuring will save the department store chain about $300 million a year, according to a press release. The move is part of 100 planned closures announced…
Ocean Terrace Development Wins Key Approval
The city's Historic Preservation Board voted for the proposed makeover North Beach's waterfront Ocean Terrace redevelopment just won a unanimous vote from the city's Historic Preservation Board on Tuesday, reports the Miami Herald. The project will span a condo tower, hotel, storefronts, and the restoration of 11 historic buildings on Ocean Terrace and Collins Avenue. It's been a long road to get here.
Video: Deloitte's Mark Van Deusen on Provisions of the Tax Cuts and Jobs Act
Mark Van Deusen, with Deloitte, joins America's Commercial Real Estate Show to discuss what The Tax Cuts and Jobs Act while honing in on major changes in the bill, small business, big business and household benefits of the bill, changes impacting CRE, and carried interest and interest deductions. He discusses changes in personal and corporate tax rates.
Cofe Properties buys warehouse portfolio in Hialeah
Commercial real estate investment firm Cofe Properties just paid $32.5 million for a portfolio of warehouses in Hialeah. The deal includes 41 warehouses totaling roughly 376,000 square feet in two areas: west of the Red Road and north of the Hialeah Expressway, and west of 16th Avenue and north of Okeechobee Road. Cofe Cix West Hialeah LLC, an affiliate of Cofe Properties, paid nearly $90 per square foot…
Starwood picks up Homestead rentals as part of $600M acquisition
Starwood Property Trust snapped up a rental complex in Homestead as part of a $600 million acquisition of affordable housing units in Florida, property records show. The Greenwich, Connecticut-based investment firm paid $34.35 million for the Homestead Colony, a 312-unit development at 800 East Mowry Drive. Starwood affiliate SPT Dolphin Homestead Colony paid about $110,100 per apartment.
Alex Blavatnik and Sandor Scher get approval for North Beach redevelopment
To make way for their ambitious redevelopment project on a 2.2-acre slice of North Beach, Alex Blavatnik and Sandor Scher want to demolish substantial portions of 12 historic buildings and make exceptions to a master plan approved by city voters last year for Miami Beach's next emerging neighborhood. And after more than four hours of discussion at a Miami Beach Historic Preservation…
Doral's Office Market Seeing 'Unprecedented Rental Rate Growth'
Easily accessed by three major highways, the City of Doral has long been an ideal site for offices. In fact, the city says that 150,000 people per day come in just to work. A residential boom over the past few years — the population rose by 26.1% from 2010 to 2016 — has also boosted the office sector. CREC Senior Vice President Doug Okun, who supervises leasing at Lennar Corporate Center, said there is a…
Malls dying slower death than some investors anticipated
The bell tolls for traditional retail malls, but investors betting against debt in the sector haven't seen the gains some thought they'd see by now. Amid increasing competition from online retailers, shifting consumer trends, and empty malls, investors have looked to the CMBX 6, a credit default swap index that tracks bonds backed by mortgages on malls among other properties. Yet, so far only four loans tied to…
Jorge Villacampa: Wells Fargo region's president is adding two branches
In the conference room at the Wells Fargo offices in downtown, Jorge Villacampa pointed out a mural of Miami on the wall, saying "this is just one way we connect to the community." Among the photos is an image of a Wells Fargo & Co.'s Express office in Camaguey, Cuba, in 1924. Though Mr. Villacampa says Wells Fargo will do business "with anyone, no matter how large or small," the Hispanic business…
Curtain lifted from Coconut Grove Playhouse battle details
As a county commissioner plans to unravel the negotiated lease and adopted restoration plan for the Coconut Grove Playhouse, preservationists fighting to save the entire building are claiming a victory at the city level. Immediately after a Dec. 14 vote by Miami city commissioners, the one clear fact was that a third party was getting more than three months to raise additional millions to restore all…
Florida Department of Transportation weighs five options for Kendall corridor
The Florida Department of Transportation is considering five transit alternatives for the Kendall corridor as part of the Smart Plan to broaden the county's rapid transit web and expects to recommend one to the county Transportation Planning Organization by spring. The state agency continues its project development and environment study as it continues to meet with stakeholders and agencies. Since…
Mount Sinai Medical Center to finish expansion this year
Mount Sinai Medical Center, which broke ground in late 2016 on a $275 million expansion plan to include a new surgical tower and emergency department to its Miami Beach campus, anticipates completing construction by year's end, according to Chief Executive Officer Steven Sonenreich. "The new surgical tower will offer up to 350,000 square feet of space, 12 state-of-the-art operating rooms…
Miami Mayor Shares Outlook With CRE Execs
Miami Mayor Francis Suarez had just left a meeting with Pitbull when he settled into a conference room in his real estate office at Carlton Fields just before Christmas to meet privately with about a dozen key real estate and finance executives and share his thoughts about the coming year. "This is a pivotal moment for the city," said the 40-year-old mayor, who was elected in November after serving eight years…"
An "elaborate shell game": Miami businessman David Brillembourg sued over alleged real estate investment scheme
A partner of Miami-based investor David Brillembourg is suing him for allegedly stealing money in a labyrinthine shell company scheme involving the Raleigh Miami Beach hotel and a resort on the island of Anguilla. The plaintiff, Crandal Properties, claims an 88 percent interest in Brilla AJ RMB, a Miami-based LLC founded in 2009 that bought the Raleigh that year. Brillembourg managed the company…
Death without fanfare: Many mall tenants simply choosing not to renew leases
A high number of mall tenants are choosing to quietly bow out of their space at the end of a lease, instead of breaking it. A report by Green Street Advisors found that 979 of 2,468 in-line retail stores (non-anchor tenants) that closed in 2017 chose to do so quietly by not announcing their closure and simply not renewing leases. That's in contrast to "doing something a bit…
Miami board to review Worldcenter, Miami River and Little Havana projects
New apartment buildings in Little Havana, a massive residential development along the Miami River, and retail at Miami Worldcenter are among a handful of projects going before the city of Miami later this month. The developers of Miami Worldcenter filed plans for the seven-story, 1,100-space parking garage with about 81,000 square feet of retail space. The building would be built on Block D of the…
Hallandale Beach developer under contract to buy Miami Gardens site for mixed-use project
A Hallandale Beach developer is under contract to buy a plot of land in Miami Gardens with plans to build a $60 million mixed-use project, according to the South Florida Business Journal. AAA Investment Group I LLC, led by Elyhau Hadad, is proposing New Way Gardens, a mixed-use project with 429 apartments and 2,200 square feet of commercial space, on the site at 16800 Northwest 22nd…
Transit-Oriented Developments in the Pipeline Across South Florida
Link at Douglas is expected to break ground later this year as a $464 million, game-changing development in South Miami. The Link at Douglas project, a joint venture between 13th Floor Investments and the Adler Group, will have 1,375 units of residential, 280,000 square feet of office space, 75,000 square feet of retail and 83,000 square feet of public space on a seven-acre site bordered by U.S. 1…
CRE Predictions For 2018: 'South Florida May Be Ready To Boom Again'
As 2017 faded away and 2018 stormed in, Bisnow asked some of Miami's top commercial real estate executives for their predictions as to how the market will fare in the coming year and where they see opportunity. Douglas Elliman Florida CEO Jay Phillip Parker: "South Florida was a buyer's market in 2017, particularly in the ultra-luxury sector. While the market is generally seeing lower pricing, there is no doubt…"
Miami-Dade closes in on waterborne transportation system
It hasn't been clear sailing for Miami-Dade officials studying the feasibility of a waterborne transportation system. They're having to navigate around obstacles from water depth to infrastructure to regulations. That was clear in a status report Monday to the Miami River Commission, delivered by Irene Hegedus, chief of transportation enhancements at the Miami-Dade Department of Transportation and…
MiamiCentral subcontractor sues for $25.8M of allegedly unpaid work
A steel contractor hired to help build the Brightline train station in downtown Miami filed a lawsuit claiming $25.8 million for additional work due to faulty project planning. ADF International Inc., part of ADF Group Inc., a publicly traded Canadian company, sued general contractor Suffolk Construction Inc., project architect and engineer Skidmore, Owings & Merrill LLP, and All Aboard Florida, the company…
Miami marina development planned by Genting Group advances
The Miami City Commission took a step toward clearing the way for a marina development along Biscayne Bay just north of downtown Miami. The commission agreed to accept a deed for submerged land in Biscayne Bay, which the city would lease along with other submerged land for a marina development by Malaysia-based Genting Group. Genting wants to lease the submerged land for a marina…
Coral Gables is getting a Life Time fitness club and an "urban living room" park
Gables Station is breaking ground soon More details are shaping up about Gables Station, a mixed-use development between US1 and Miami's Metrorail in Coral Gables. The South Florida Business Journal reports that health and wellness club Life Time is slated to open its first Miami-Dade County location at Gable Station, which is from developer NP International. Construction for the project is kicking off…
NP International scores $158M construction loan for mixed-use Gables project
NP International just closed on a $158.4 million construction loan for its mixed-use Gables Station development, property records show.
Bank of the Ozarks is the lender. Developer Brent Reynolds plans to break ground on the Coral Gables project before the end of the first quarter, he said. Construction is expected to take about 30 months. Records reveal the developer also inked a lease for about 90,000…
Macy's is closing its historic downtown Miami location
Let's walk down memory lane Sad news today for Miami shoppers and history buffs: Macy's is closing stores across the country and its flagship downtown Miami store was not spared. That's the Macy's located in the historic Burden's building, which was once a home-grown Florida department store chain. There's no set closing date for the Miami Macy's store, according to CBS Miami, but clearance…
Miami Worldcenter nabs construction loan for retail component
Miami Worldcenter Associates just closed a $43 million construction loan for the retail and parking component of the massive mixed-use project under construction in downtown Miami. The loan, provided by Fifth Third Bank, brings the project's total financing up to about $500 million, according to a spokesperson. It's being used for 53,000 square feet of retail space and a 1,100-space parking garage on…
Nicklaus Children's Hospital buys shuttered hospital campus for $88M
Nicklaus Children's Hospital just paid $88 million for the Miami Medical Center campus near Miami International Airport, property records show. HC 5959 NW 7th Street LLC, an affiliate of the Carter Validus Mission Critical REIT, sold the property at 5959 Northwest Seventh Street to Variety Children's Hospital, an entity of Nicklaus Children's Hospital. The deal…
Moinian ramps up lending with over $200M in NY, Miami deals
Joseph Moinian's Moinian Group is building up its lending operation with four new financing deals for projects in Brooklyn, Harlem and Miami totaling $216.3 million, according to documents filed on the Tel Aviv Stock Exchange on Wednesday. That puts Moinian's total lending activity at $513 million, of which $84 million is in mezzanine lending. Moinian, which has about $2 billion in real estate assets…
Macy's Adds Seven More Stores to Closure List to Bring Total in Latest Round to 11
Macy's on Thursday announced 11 more store closings including seven that weren't previously disclosed. They include one in downtown Miami as well as Macy's stores in Gainesville, FL; Novato, CA; Terre Haute, IN; Fort Gratiot Township, MI; Cincinnati, OH; and Burlington, VT. Clearance sales are expected to begin at most locations Jan. 8 and last for eight to 12 weeks. Including these stores, Macy's has closed…
Miami Worldcenter Gets $43M in Financing
Miami Worldcenter developers said they have secured a $43 million construction loan, bringing financing for the massive mixed-used project in downtown Miami to about $500 million. Fifth Third Bank provided the new loan for 53,000 square feet of retail and a 1,100-space parking garage on Northeast Second Avenue between Eighth and 10th Street…
The Versace Mansion is back in the spotlight, thanks to 'American Crime Story'
Even producer Ryan Murphy can't believe he was able to shoot at Villa Casa Casuarina The South Beach mansion featured in producer Ryan Murphy's new American Crime Story season devoted to the murder of fashion designer Gianni Versace is no movie set. It's the real thing. Twenty years after Versace's death, Murphy and crew headed to Miami to film parts of the show at the iconic 1930-era home that…
Schmier joint venture spends $38M on Doral shopping center
Schmier Property Group just purchased a Bed Bath & Beyond-anchored shopping center in Doral for $37.9 million, a source close to the deal confirmed. A joint venture between the Boca Raton-based retail and office developer, led by Brian Schmier, and Independencia Asset Management acquired the 107,000-square-foot shopping center at 10640 Northwest 19th Street for about…
Tax Changes Seen as Boon for South Florida Commercial Real Estate, Pros Say
Some real estate professionals insist the Tax Cuts and Jobs Act hurts homeowners, but the impact on commercial real estate is largely seen as positive. The National Association of Realtors (NAR) says it's concerned that the bill reduces tax benefits for homeowners due to restrictions on mortgage interest deductions. Still, the residential and commercial trade group credits member advocacy for adding…