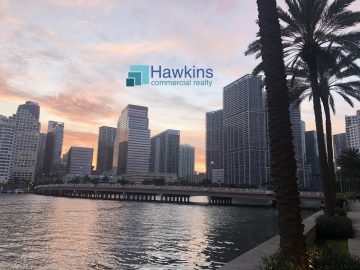 Metronomic loses Coconut Grove project in foreclosure sale
Developer Metronomic lost its completed Coconut Grove apartment project in a foreclosure sale, adding to its financial woes of recent years. Wilmington Trust, the largest creditor on GroveHaus, sold the 10-unit building at 3265 Bird Avenue for $8.1 million in a foreclosure sale to Bolonki LLC, an entity led by Norberto Roman and Julia Roman, according to…
EdgeConneX buys dev site for data center in Doral
EdgeConneX is betting on the data center real estate market. The firm wants to build a nearly 173,000-square-foot facility on land it purchased at the Beacon Station industrial park in west Miami-Dade County, according to records. An entity led by Juan Fayen and Juan Ramos sold the 6.3-acre site for $13.7 million. The data center…
Centennial plans 190 affordable rentals in Florida City
As South Florida's ever-rising rents continue to price out apartment dwellers, Centennial Management is betting on affordable housing in Florida City. The Miami Lakes-based firm plans the 190-unit Cordova Estates townhouse rental complex south… The seven-building community is planned for a 12.2-acre site that includes properties at 321 and 329 East Davis Parkway.
506-Unit Brickell Apartment Tower Set To Break Ground This Month
Related Group has obtained a $164 million construction loan for 444 Brickell Tower II and will begin construction this month, the developer told Commercial Observer. Construction financing for the adjacent 75-story Baccarat tower is also imminent, the developer said. 444 Brickell Tower II will include 506 apartments in a 44-story tower. Construction permits have already…
Commissioners Move Forward With Expedited Metrorail To Hard Rock Stadium
Miami-Dade commissioners voted yesterday to expedite design of the North Corridor heavy rail system to Hard Rock Stadium. At its January 9 meeting, the county's Transportation, Mobility and Planning Committee voted 9-0 to increase funding to infrastructure design firm HNTB by $44 million, to a total of $49.5 million for the project. The North Corridor of the SMART Program…
Residential Building With 427 Units Planned Near Metromover Station
A utilities deal has just been signed that will allow a residential building to be built a few blocks north of the Signature Bridge at 1550 NE Miami Place. The agreement between Miami-Dade's Water & Sewer Department and CL RE 15 MIA LLC was recorded on December 28, 2022. A total of 427 apartments are planned, the agreement states. Jennifer Bernell signed on behalf…
Crypto Firm FTX's Miami Office Lease Deals Axed in Bankruptcy Court
Sam Bankman-Fried's cryptocurrency exchange FTX was gearing up to move its headquarters to Miami less than two weeks before the company's collapse late last year. On October 26, West Realm Shires, operator of FTX's U.S. exchange, executed a lease for office space in a Brickell Avenue commercial skyscraper with sprawling views of Biscayne Bay — a deal that would've made the…
Wall Of Glass Now Rising At Miami World Tower 1
If you like glass, you'll love the new 53-story Miami World Tower 1 now rising at Miami Worldcenter. Miami World Tower 1 is planned to rise 579 feet, which would make it the second tallest rental building in the city. The first Miami World Tower is planned to include 565 apartments, 3,000 square feet of full service restaurant, and 401 parking spaces. NBWW the architect…
New Year, Same Story: Another Big Law Firm Opening First Miami Office
Another of the 100 largest U.S. law firms is following its peers to Miami. Boston-based law firm Mintz, Levin, Cohn, Ferris, Glovsky and Popeo is opening a new office in Miami, it announced Tuesday. The outpost will be its first in South Florida and seventh in the U.S. The firm, with specialties in energy and sustainability, private equity, life sciences, technology, financial…
Atlantic | Pacific Breaks Ground on 616-Unit Miami Community
Atlantic Station. Image courtesy of Atlantic | Pacific Cos. Atlantic | Pacific Cos. has broken ground on Atlantic Station, a 616-unit, mixed-income community in Miami that will include 360 workforce housing apartments. Previously known as Block 45, the project is considered the largest single-phase transit-oriented development to ever get underway in Miami-Dade County.
Atlantic Pacific Cos. Breaks Ground on 616-Unit Mixed-Income Residential Development in Miami
Atlantic Pacific Cos. (A|P) has broken ground on Atlantic Station, a 616-unit mixed-income rental community located at 151 NW 7th St. in Miami. The Boca Raton, Fla.-based developer says the project is the largest, single-phase, transit-oriented mixed-income community in Miami-Dade County. Atlantic Station will comprise 256 market-rate apartments and 360 workforce housing…
Monetary policy efforts to curb inflation have been a major component of economic news this past year. And for good reason: At its peak in June 2022, the headline consumer price index (CPI) was almost 9% higher than it was a year before. The consumer price index excluding food and energy—often known as core CPI—peaked in September, at about 6.7%. By either measure…
Swire plans two-tower project with supertall on Brickell Key
Swire Properties wants to add one more supertall to its pipeline of projects in Miami. The real estate arm of the Hong Kong-based firm is proposing a two-tower development on Brickell Key, a man-made island that connects to Brickell, according to filings with the Federal Aviation Association. The buildings would rise on the waterfront site of the existing…
Aimco spinoff Air pays $251M for South Beach Southgate Towers
Air Communities beefed up its portfolio with the $250.5 million purchase of Southgate Towers in Miami Beach. Air, or Apartment Income Real Estate Investment Trust, paid $223.5 million for the pair of 14-story multifamily buildings at 910 West Avenue, and $26.9 million for the garage with ground-floor retail at 959 West Avenue, according to records. The Gumenick…
Vlad Doronin, Len Blavatnik score $242M construction loan for Aman Miami Beach
Billionaires Vlad Doronin and Len Blavatnik secured a $242.4 million construction loan from Bank OZK for the oceanfront Aman Miami Beach development, bringing the total financing to more than $277 million. Affiliates of Doronin's OKO Group and Blavatnik's Access Industries are partnering on the two-building luxury hotel and condo project, under…
What are Community Development Districts? Inside a key financing mechanism for big developers
In the mid-2010s, Miami Worldcenter master developers Art Falcone and Nitin Motwani faced a dilemma planning the $4 billion mixed-use community in downtown Miami's Park West section. How would they pay for the sewer pipes, roads and sidewalks needed to support new high-rise buildings on more than 25 acres of primarily industrial properties and vacant parking…
$1 million aid would put Olympia Theater restoration $16 million shy
The Miami City Commission is to decide today (1/12) whether to appropriate $1 million to fund the ongoing restoration of the historic Olympia Theater and Tower. The commission is to consider a resolution to accept $500,000 from the Florida Department of State Division of Historical Resources to repair the Olympia Theater. The city is required to match the grant funds…
Coral Gables Developer Allen Morris Lets It All Out in His Book "All In"
The audience of some 100 people included a who's who of prominent citizens, especially those in real estate, investing, and banking. Ad- dressing them in a dark blue suit and pin-striped shirt, W. Allen Morris was a portrait of affability, in contrast to some of the darker moments described in his book. He was at Books & Books to talk about "All In," his autobiography of…
First Ever Supertall Tower Proposed On Brickell Key
Brickell Key could be getting its first ever supertall tower, according to new filings with the Federal Aviation Administration. The FAA filings were received by the agency on December 20, 2022. Two towers would be built on the south end of Brickell Key. Tower 1 is proposed to rise 1,049 feet, while tower 2 is proposed to rise 700 feet. No developer is listed in the filing.
36-Story Atlantic Station Breaks Ground in Overtown, Miami's Largest Mixed Income TOD
A formal groundbreaking ceremony was held this morning for the 36-story Atlantic Station (formerly Block 45) tower in Overtown. Site work has been underway since at least November. According to the developers, it is the largest single phase mixed-income Transit-Oriented Development to ever get underway in Miami-Dade County. In a July 11 water and sewer utilities…
Demolition Underway At 710 Edge Property
Demolition is now underway at the 710 Edge property in Edgewater, according to One Thousand Group. Sales will be launching soon for a new project, developer Louis Birdman wrote on Instagram. It will be an ultra-luxury tower, developer Kevin Venger wrote. Plans were filed with Miami planners in 2021 for a 55 story, 649-foot tower on the site with: 70 residential units…
Florida Was The Fastest Growing State In 2022, Census Says
Florida's population increased 1.9% between 2021 and 2022 – faster than any other state in the nation, according to the Census Bureau. It is the first time since 1957 that Florida has ranked #1 for growth on a percentage basis, the agency said. As of July 1, 2022, Florida's population was 22,244,823, up 416,754 compared to the same time in 2021. Only Texas added more on a…
Up for vote this week: Aman Miami Beach, medical marijuana zoning in Miami
This week, the Miami City Commission is set to vote on a number of zoning ordinances, including one tied to medical marijuana dispensaries. And a Miami Beach board will review changes to the redevelopment of the historic Versailles property into the Aman Miami Beach. At Tuesday's Miami Beach Historic Preservation Board meeting, developer Vlad Doronin's…
Commercial Borrowing Cost: Rate Watch for December 30, 2022
The interest rate environment has changed fairly dramatically over the past 18 months. At the end of 2022, five year treasury rates, most closely tracked for commercial property borrowing cost, closed at 3.99%, up from the 0.2% to 0.4% range it was bouncing around within during the months preceding February 2021. If one considers this essentially 4% versus 0.5%, then this would represent…
A Turkish Tower in Downtown Miami
A rare tulip is budding in Downtown Miami. When fully grown by early 2026, Okan Tower – a glass, concrete, and steel structure designed to resemble a tulip – will be a luxury, mixed-use residential, hotel, and commercial complex costing about $400 million and adding a stunning new figure to Downtown Miami's skyline. The 70-floor skyscraper will be 902-feet tall and the tallest…
The Great Tsunami: How Miami has become the new global city
On a rainy evening in early November, a sell-out crowd of more than 250 people crowded a second-floor auditorium in the downtown campus of Miami-Dade College. Students, professors, government officials, entrepreneurs, business executives – all were gathered at the event hosted by the Economic Club of Miami to listen to a conversation between Miami Mayor Francis Suarez…
$14.4M Sale-Leaseback Brokered of Single-Tenant Retail Property in Miami Leased to Walgreens
SRS Real Estate Partners' National Net Lease Group (NNLG) has facilitated the $14.4 million sale of a single-tenant retail property located 3595 Coral Way in Miami. Comprising 16,285 square feet, the property is occupied by the seller, Walgreens, which has signed a new 15-year, corporate guaranteed, triple-net lease. Sean Lutz, Dan Elliot, Matthew Mousavi and…
Investors sue Rishi Kapoor over Urbin Coconut Grove project
Rishi Kapoor is facing a hostile takeover bid. A minority group of investors wants to oust the Coral Gables-based developer as manager for his Urbin Coconut Grove… In 2018, Kapoor, CEO of development firm Location Ventures, teamed up with Coconut Grove-based Terra and Brickell-based Banyan Street Capital to buy a four-story office building with an open courtyard at 3138 Commodore Plaza.
Miami-Dade ranks as 'most competitive' apartment market in 2022
By now, it has become clear Miami-Dade County residents have a hard time finding a rental. Amid the population influx, apartment hunters face stiff competition. Turns out, the county is not just a tough place to find a unit, but the toughest market in the U.S. A new RentCafe report found Miami-Dade was the "most competitive" apartment market of 2022.
Berkowitz makes first industrial play in Homestead
Berkowitz Development Group plans a self-storage and distribution center in Homestead, marking the firm's debut in industrial real estate in the city. The Coconut Grove-based company wants to build a nearly 400,000-square-foot speculative project on land west of the Homestead-Miami Speedway, Michael Berkowitz, company president, told The Real Deal. Berkowitz…
Carlyle and Crow Buy Miami Industrial Site for $24M
A joint venture between private equity giant Carlyle Group and developer Crow Holdings bought land west of Coral Gables, a wealthy suburb of Miami, likely for industrial development. The duo paid $24 million for an 8.6-acre parcel at 2811 SW 70th Avenue, just south of Coral Way and adjacent to the Palmetto Expressway, and simultaneously secured a $72.1M…
The Lion King: Can Robert Rivani conquer Miami's restaurant jungle?
After dropping $19 million on the ground-floor retail space at the Miami Beach boutique condominium Marea at the end of 2021, Robert Rivani wasn't finished. The Black Lion Investment Group founder immediately began eyeing another prime retail space down the street owned by the same sellers, A&D Group Realty's Domenico Albano and Americo D'Agostini.
Fortune, KAR score financing for One River Point condo tower
Developers Edgardo Defortuna and Shahab Karmely secured financing for their planned waterfront condo project along the Miami River. Defortuna's Fortune International Group bought into the One River Point site late last year, joining Karmely's KAR Properties. Karmely's plans for the 60-story, connecting two-to…
Industrial Real Estate Rents Take Flight Near Airports
Industrial real estate near airports in the nation's most densely populated areas could be attractive investments for 2023. With transportation accounting for up to 70% of overall supply chain costs, businesses are increasingly locating their distribution centers closer to airports, according to CBRE Supply Chain Advisory. Many companies also have brought manufacturing…
10 of 2022's Biggest Commercial Real Estate Trends
While commercial real estate is typically viewed as a long-term investment — both for property owners and the businesses that lease space in their buildings — it's certainly not immune to the influence of trends. And 2022 was perhaps more trend-oriented than most years in the industry. As the world finally began to fully emerge from the COVID-19 pandemic…
Jonathan Landau On Launching His New Firm Landau Properties And Why He Left Fortis
The former CEO of Fortis Property Group started a new chapter in his career last month, and he is bringing his family along with the launch of Landau Properties. Landau will be working side by side with his daughter and son-in-law, Yaeli and DC Lowinger, and looking at developments in South Florida, New York and Boston. The family firm plans to start construction on its…
Ares pays $111M for warehouse dev site in Hialeah
From left: Ares Management's co-founders Antony Ressler and Michael Arougheti along with an aerial view of Ares' newly-acquired 52 acres of land on the northwest corner of Northwest 154th Street and West 40th Avenue in Hialeah: Ares Management paid $111.1 million for a Countyline Corporate Park development site in Hialeah, with plans for a three-building industrial complex.
BNP Paribas To Open New Office in Miami
BNP Paribas Securities Corp, a unit of Europe's leading bank BNP Paribas, today announced its plans to open a new office in the metro-Miami area. The Miami office will support the continued growth of its Global Markets business in the US, amongst others, and the increasing number of clients with a foothold in South Florida. The hub will provide an additional gateway…
This Week's South Florida Deal Sheet
Harbor Group International has acquired an apartment community in Miami Gardens for $113M. The Virginia-based investor bought the 420-unit development known as Oak Enclave Miami on Dec. 29 from Resia, a firm owned by Brazilian-based developer MRV, the South Florida Business Journal reports. Cushman & Wakefield brokered the deal. The 14-acre parcel includes five…
Top 10 Commercial Real Estate Trends for 2023
In 2022, spiking interest rates, inflation and a war in the Ukraine brought considerable change to commercial real estate and the U.S. economy overall. With interest rates and values expected to stabilize, and all stakeholders rethinking the highest and best use of their property and capital, this year promises to be an interesting one, too. Here are 10 trends likely to shape…
U-Haul Growth States of 2022: Texas, Florida Top List Again
Texas, Florida and the Carolinas were the preferred destinations of one-way U-Haul® truck customers during 2022, ranking as the top growth states on the annual U-Haul Growth Index. U-Haul transactional data confirms that migration to the Southeast and Southwest U.S. – trends that were amplified and accelerated during the pandemic – continued through last year, although…
Brightline Gets Big Boost In Traffic From Aventura & Boca, New Trains Added
Brightline told investors today that it is seeing strong traffic at its two new stations in Aventura & Boca Raton. The Boca station opened December 21, with Aventura opening December 24. In the final days of December, the two new stations accounted for 24% of Brightline ridership, with 17,682 rides. The company said it moved two Orlando trainsets to the south segment…
Photo: Spider-Like Arch Of Signature Bridge Now Rising
A new photo by Phillip Pessar shows one of the Signature Bridge arches rising out of the ground. Each segment will be a precast installation, except for the final segment (seen in purple) poured in place. Temporary towers will support the structure during the work… Pictures show current construction, plans, and rendering of completed bridge…
CareRite pays $36M for pair of Broward nursing, rehab centers
CareRite Centers paid $35.6 million for two Broward County nursing and rehabilitation facilities, marking the firm's continued investment in South Florida's health care market. The firm bought Manor Pines at 1701 Northeast 26th Street in Wilton Manors, and Manor Oaks at 2121 East Commercial Boulevard in Fort Lauderdale, according to records and real estate data provider…
Capital Square Purchases Parkland Multifamily Asset
Parkland Apartments. Image courtesy of Bell Partners Capital Square has added a nearly fully occupied community in Parkland, Fla. to its portfolio of Section 1031 communities. The firm acquired the 396-unit Parkland Apartments on behalf of CS1031 Parkland Apartments, DST from Bell Partners. The firm is looking to raise $105.7 million in equity from investors, with a minimum…
Steve Ross scores approval for 515 Fern in downtown West Palm
Stephen Ross' plan to develop the biggest office tower in downtown West Palm Beach passed a major hurdle on Wednesday. The West Palm Beach Downtown Action Committee greenlit the site plan and four variances, or exemptions from the city code, for the planned 25-story 515 Fern. City approval of several other aspects of the project are still pending. Ross' Related Companies…