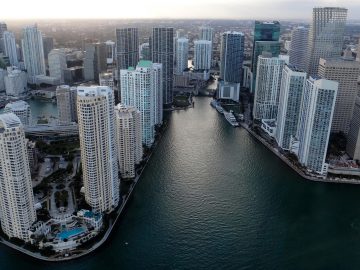 Caoba, the first tower at $4 billion Miami Worldcenter project, completed
The first building at Miami Worldcenter, a 27-acre, mixed-use project in downtown Miami is now completed. CIM Group and Falcone Group completed Caoba, a 444-unit rental tower, at 698 Northeast First Avenue, according to a press release. Rents start at $1,774 for a 349-square-foot studio apartment, which would be considered a micro unit in Miami, information on Caoba's website shows. Caoba is…
British firm pays $49 million for Pullman Miami Airport hotel
London + Regional Properties paid $48.65 million for the Pullman Miami Airport hotel. Los Angeles-based Laurus Corp. sold the 281-room hotel at 5800 Blue Lagoon Drive, property records show. The buyer, a London-based real estate and investment firm, purchased the property without ties to a management agreement but plans to keep the Pullman brand for a year, according to HFF. The hotel is one…
University of Miami Unveils Plans for $260 Million On-Campus Residential Village
The University of Miami has unveiled plans for a residential village set to replace the existing Stanford and Hecht Residential colleges on the university's campus in Coral Gables. The 522,000-square-foot development — named Centennial Village — will include 1,700 beds for first-year students in four residential colleges, indoor and outdoor spaces for academic and extracurricular activities, a learning hub…
One Biscayne Tower to Undergo $10 Million Renovation
One Biscayne Tower, a Class A, 691,000-square-foot office building in downtown Miami at 2 S Biscayne Boulevard, is set to undergo a $10 million renovation program, while the owner, L&B Realty Advisors, has added a new tenant to the property's roster. Law firm Buchanan Ingersoll & Rooney will occupy 14,000 square feet at LEED Gold-certified tower. Cushman & Wakefield represented the landlord in the…
The Citadel in Little River to Open Soon
Big news for Little River: following a massive renovation, the Citadel, the 60K SF mixed-use space that formerly served as a Federal Reserve Bank, is on the cusp of opening. Bisnow/Deirdra Funcheon The Citadel, undergoing renovations in May 2018. The project by Urban Atlantic Group, located at 8300 Northeast Second Avenue, will incorporate radio station offices, a food hall, retail, events and, in the…
Miami tourism sets record in 2018, surpassing 2017 gains
Though final figures won't be in until next month, tourism had "a record 2018, building on a record 2017," said Rolando Aedo, chief operating officer of the Greater Miami Convention & Visitors Bureau. Not only were hotel occupancy rates and average room rates up, but revpar (revenue per available room) gained significantly. "Revpar is what the hotel industry really cares about; it's the holy grail…"
Deep examination of the future for Miami River
A new committee is taking shape to consider the further mission of the Miami River Commission. The idea for self-appraisal and planning came in December from Horacio Stuart Aguirre, chairman of the commission. He announced his desire to have a study to "look at where we are and where we want to go." At the commission's first meeting of the year Jan. 7, Mr. Aguirre said several members of the…
'Great and exciting improvements' due at Miami Circle
The Miami Circle site at Brickell Point, which once belonged to the Tequesta Indians, could finally be seeing some major improvements. The Florida Department of State is "finalizing plans to make some great and exciting improvements at the site" that will be coming out in the coming months, according to Sarah Revell, director of communications for the department. "Currently, the department maintains…"
South Florida Airbnb hosts made $315 million in 2018
South Florida Airbnb hosts made $315 million in 2018 and took in a total of 1.47 million guests, according to Airbnb. The short-term rental company announced on Tuesday that there are now more than 45,000 Floridian hosts who share their homes through Airbnb, each earning an average of $6,500 annually in supplemental income. Miami-Dade County hosts on Airbnb made $204 million with 954,000…
When 'Geofencing' Is Not Enough: Airbnb Files Federal Lawsuit Against Miami Beach
Airbnb has been around for a decade now, and regulators are still figuring out how to tame the disruptive beast. In Miami Beach, which has 20,000 hotel rooms to protect, people face fines of $20K for running illegal short-term rentals out of homes and apartments. A recent attempt to further crack down on such operations has gone too far, Airbnb says, and it has filed a federal lawsuit against the city.
Co-working operator Spaces to lease half of One CocoWalk
Spaces is heading to Coconut Grove. Regus' co-working operator signed a lease for nearly 43,000 square feet at One CocoWalk, a five-story, 85,762-square-foot office building under construction at CocoWalk. Spaces will anchor the office building, taking about 2,000 square feet on the ground floor and the remaining 41,000 square feet on the second and third floors, according to a release.
Clarion Partners pays $33 million for Tropical Shipping's Medley facility
Clarion Partners just paid $32.6 million for Tropical Shipping's Medley facility as South Florida's industrial prices continue to rise. Tropical Shipping sold the nearly 21-acre site at 9505 Northwest 108th Avenue for about $180 per square foot. Clarion Partners' Lit Industrial Limited Partnership bought the 182,000-square-foot warehouse, which was built in 2000. Property records show Tropical Shipping paid…
Ordinary vs. Inflation Indexed Treasuries "TIPS" Spread Indicates Inflation Expectations Dipping
The difference in yield between that of Treasury Inflation Protection Securities, commonly referred to as TIPS, and the yield of ordinary U.S. Treasury securities with the same maturity dates is referred to as the  TIPS spread.  The chart above shows this spread for various maturites for the past 15 years. Ordinary U.S. Treasury securities don't initially take inflation into account, they instead are just bought and sold at…
CIM Delivers 43-Story Apartment Tower Within Miami Worldcenter Project
CIM Group has completed construction of CAOBA, a 43-story apartment tower located at 698 N.E. 1st Ave. in downtown Miami. The 444-unit building is the first tower to open at the $2 billion mixed-use Miami Worldcenter development. The City of Miami has approved an adjacent 40-story, 429-unit tower. CIM Group has received a Temporary Certificate of Occupancy for CAOBA, allowing residents to move…
Doral Receives World Council Platinum Certification For A Second Year
In 2018, the City of Doral joined the World Council on City Data (WCCD) for a second time as a WCCD ISO 37120 Platinum Certified city, joining the ranks of global cities like Barcelona and Dubai. This prestigious certification marks a commitment to transparency, data-driven decision making and a commitment to creating a smarter, more sustainable, prosperous, and resilient future for the City of Doral.
Joint venture between Ugo Colombo and Shoma Homes faces foreclosure
A joint venture between developers Ugo Colombo and Shoma Homes is facing a $16.2 million foreclosure lawsuit. SHEDDF2-FL1 LLC, an affiliate of Safe Harbor Equity, is seeking to foreclosure on Coral Gables Luxury Holdings LLC, the company that planned to develop the Collection Residences at 250 Bird Road, 4101 Salzedo Street and 4112 Aurora Street in Coral Gables, a lawsuit filed on Friday shows.
Report: Multifamily rents rose 3.2% last year and will rise nearly 3% this year
Owners of multifamily buildings charged an average monthly rent of $1,419 in December, 3.2 percent more than in December 2017, Yardi Matrix reported. The average monthly rent is expected to increase nearly 3 percent this year, according to the Yardi Matrix report. The division of real estate software publisher Yardi Systems based its rental housing report on an analysis of 127 large real estate markets…
Report: Availability of U.S. warehouse space last year was the lowest since 2000
The availability of warehouse space in the U.S. last year hit the lowest level since 2000 and will remain tight this year as e-commerce continues to boost demand for storage and distribution facilities, especially near heavily populated areas. Real estate brokerage CBRE reported that only 7 percent of industrial space was vacant and available in the fourth quarter, the lowest level since 2000. Demand for…
SoFla industrial construction to decline in 2019: CIASF report
The industrial construction boom in Miami-Dade is waning and development of new warehouses will take a dip in 2019, according to the Commercial Industrial Association of South Florida's annual industrial market report. While rental rates increased slightly in 2018, the cost of land acquisitions and construction is becoming too expensive for developers to consider new projects. Rezoning of industrial…
Dirty Rabbit partnership to launch new concept in Wynwood; other restaurant news…
The owners of The Dirty Rabbit, a bar in Wynwood, are launching a new concept. The group signed a $4.1 million, 10-year lease for 5,000 square feet across the street from The Dirty Rabbit at 194 to 196 Northwest 24th Street. Tony Arellano, Joey Fernandez and David Spitz represented the landlord in the lease and Costa Grillas and Maurizio Galle of Avenue Real Estate Partners represented the tenant.
Monaco Yacht Club & Residences scores construction loan, to launch sales later this month
Optimum Development USA just scored a $55 million construction loan as it prepares to launch sales of Monaco Yacht Club & Residences in Miami Beach, The Real Deal has learned. The boutique, luxury condo project is planned for 6800 Indian Creek Drive on one of the last remaining vacant bayfront sites in North Beach. The 11-story, 39-unit development is designed by Arquitectonica with the common…
WeWork, err…The We Company, is already weighing an IPO
It's been a yo-yo week for The We Company. Its main investor, Softbank Group, with a sinking stock price and concerns from Saudi and Abu Dhabi backers, drastically reduced a planned investment.  And at at its global annual conference, the flexible-office company rebranded a day later. Now the company, formerly known as WeWork, is weighing the prospect of an IPO, much sooner than expected…
Trump's tax bill to boost SoFla CRE this year but interest rates pose risk: survey of real estate pros
South Florida's real estate market will get a jolt of new investment in 2019 from President Trump's new tax law, despite concerns over rising interest rates, according to real estate professionals surveyed in the tri-county area. The tax break, which includes the Opportunity Zones program, was one of the main reasons for optimism for this year's commercial real estate market, according to the Miami law…
CitizenM Acquires Land in Downtown Miami, Plans to Break Ground on 348-Room Hotel
Netherlands-based citizenM has acquired land in downtown Miami to build a 348-room hotel. The land was purchased for $10.8 million from Miami Worldcenter Associates, the developers of Miami Worldcenter, a $2 billion mixed-use project that will include a 60-story Paramount condominium community, the 444-unit CAOBA apartment tower and retail space. Art Falcone and Nitin Motwani lead Miami…
Fed rate may surpass 3% in 2019: Federal Reserve's Karen Gilmore
In 2019, the benchmark federal funds rate could crack the 3 percent mark for the first time in more than a decade, according to the Federal Reserve's top official in Miami. During a luncheon this week hosted by CREW-Miami, Karen Gilmore, vice president and regional executive at the Miami branch of the Federal Reserve Bank of Atlanta, said the regulatory body is anticipating two hikes this year…
Widening Of Busy NW 25th Street Approved By Transportation Planning Organization To Alleviate Traffic In Doral
On Dec. 6, the Miami-Dade Transportation Planning Organization (TPO) approved an amendment to the Fiscal Year 2019 Transportation Improvement Program (TIP) to include a widening project along NW 25th Street from NW 117th Avenue to NW 87th Avenue. This project would increase capacity and improve travel times by widening this roadway from five to seven lanes. In 2016, the TPO completed the…
The Diplotmat Beach Resort – one of South Florida's largest – just hit the market, asking as much as $1B
Brookfield Asset Management is looking to sell the Diplomat Beach Resort in Hollywood, the largest resort in Broward County and the second-largest in South Florida after the Fontainebleau Miami Beach. And the asking price is reportedly as much as $1 billion, or $1 million per key. Brookfield subsidiary Thayer Lodging Group hired Newmark Knight Frank and Hodges Ward Elliott to market the…
Developer plans live-work project in Miami's Morningside
A pair of Venezuelan developers filed plans for a live-work mixed-use building in Miami's Morningside neighborhood. Rosa 55 Morningside LLC, led by Sady Chocron and Roberto Cohen… Morningside Place, a 24-unit rental building with 31,770 square feet of live-work space and about 9,000 square feet of retail…  at 5501 and 5445 Biscayne Boulevard, Chocron said. Construction will begin as soon…
CitizenM pays $11 million for Miami Worldcenter land
Miami Worldcenter Associates just sold the site of a planned citizenM hotel to the Dutch hotel chain for $10.75 million. Netherlands-based citizenM plans to break ground on the 12-story, 348-room hotel this year, Ernest Lee, managing director for development and investments of citizenM, said in a statement. OSIB Miami Worldcenter Properties acquired a 15,000-square-foot development site on…