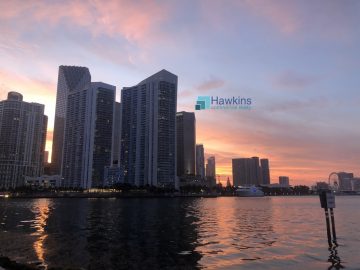 Fed's Beige Book Brings Some Positive Signs on Inflation
From mid-November through December last year, the gap between labor supply and demand appeared to narrow, and nonlabor cost increases slowed, according to the Federal Reserve Bank of Atlanta's new Beige Book report of economic conditions in the Southeast. Broadly, economic activity grew gradually as retailers reported solid holiday sales, auto sales rose…
February Groundbreaking Announced For 44-Story Brickell Tower, 88% Sold
A February groundbreaking date has been announced for the 44-story Lofty Brickell, according to the Herald. Construction permitting is already underway, Miami Building Department records show. Demolition at the site has been completed. The developer is also planning to build additional housing towers on land it owns adjacent to the Lofty site, the report said. Lofty will…
South Florida Office Market Keeps Ascending To New Heights
The epicenter of the activity remains Brickell, Miami's financial hub, where asking rents hit $88.83 per SF in the fourth quarter, a 33% increase year-over-year, according to Blanca Commercial Real Estate data provided to Bisnow. Miami saw 1M SF of leasing activity in the quarter and a record-breaking 4.3M SF in 2022, of which 811K SF consisted of new-to-market tenants.
Chart: Miami-Dade Commercial Real Estate Sales vs. Average, then vs. 5-Year Treasury, Five Years Ending December 2022
In the chart above, the number of closed sales as a percentage of the five year average is plotted by month, grouped by year; the dataset is displayed just below. The most striking element is the year end surge of 2021, with closed sales exceeded 250% of the average. The next most striking thing is perhaps the surge in the first half of 2022, which is of course really a continuance of late 2021.
Namdar Towers Utilities Deal Signed – 1,400 New Apartments Coming To Downtown Miami
A giant new utilities agreement has just been recorded that will bring nearly 1,400 new apartments to downtown Miami. The deal will allow for Namdar Towers to move forward with construction. Permitting is already underway for the project with Miami's Building Department. According to the utilities agreement recorded on January 13, Namdar Towers will include…
Naftali Group Towers At Miami Worldcenter Approved By FAA To Rise 691 Feet
Naftali Group has obtained height approval from the Federal Aviation Administration for a twin-tower project planned at Miami Worldcenter. According to a letter issued by the agency on January 13, the developer is permitted to build to a height of 684 feet above ground, or 691 feet above sea level. Naftali Group purchased the property in March for for $40.5 million.
Terra, Turnberry Select Balfour Beatty to Construct 800-Room Hotel in Miami Beach
Locally based co-developers Terra and Turnberry have selected Balfour Beatty to construct the new Grand Hyatt Miami Beach Convention Center Hotel. Located at the intersection of 17th Street and Convention Center Drive, the 17-story, 800-room hotel will serve as the central anchor of the Miami Beach Convention Center District. The design-build team also includes…
Stockbridge Buys $20M Warehouse in Miami Airport West Sale-Leaseback Deal
CA-based real estate investment management firm Stockbridge has completed its $20-million purchase of 4343 NW 77th Avenue, a 28,000-square-foot single tenant warehouse/service facility sitting on 5.6-acres of land in the Airport West submarket of Miami, FL. Wayne Ramoski of Cushman & Wakefield and Kemp Conrad of Cushman & Wakefield represented the seller…
13th Floor, Adler Deliver 37-Story Cascade Apartment Tower in Miami
A joint venture between locally based 13th Floor Investments and Adler Development, in partnership with global investment manager Barings, has delivered Cascade, a 37-story apartment tower located at 3050 SW 37th Ave. in Miami. The 421-unit community is the second residential high-rise to be delivered within the Link at Douglas, a seven-acre master-planned…
RFR, Tricap file dueling lawsuits for control of W South Beach
New York developers Aby Rosen and David Edelstein are in a high-noon standoff over a proposed buyout deal for the W South Beach — with a maturing loan raising the stakes. Entities controlled by Edelstein, principal of Tricap (formerly Tristar Capital), and Rosen, co-founder and principal of RFR Realty, recently filed dueling lawsuits against each other in Miami-Dade…
Related, partners launch sales of Bal Harbour condos, with PH asking over $65M
The Related Group, Two Roads Development and Rockpoint are launching sales of Rivage, a planned oceanfront condo project in Bal Harbour. The developers are betting on continued demand for large, ultra-luxury units on the water, and they're looking to fill a gap in supply in Bal Harbour, where Oceana, built in 2016, ranks as the most recently completed…
"Of grave concern": Neighboring condo owners oppose Aimco's Edgewater project
Just as Aimco's apartment project in Edgewater makes headway, opposition from a pair of neighboring condominiums could throw a wrench in plans. The Bay Park Towers and Charter Club condo associations are asking Miami to rescind its approval of eight waivers granted to the project that allow deviations from development code requirements related…
Map: Here's where South Florida is getting new apartments this year
A record number of new apartments are on tap in South Florida this year. South Florida multifamily developers are expected to complete 22,541 units in 2023, which would surpass annual deliveries for at least the past decade, according to a Berkadia report. The volume of new units is almost double the 12,179 apartments completed last year and more than the roughly…
Corporate Relocations And A Strong Housing Market Continue To Draw Top Developers To Miami
Miami real estate continues to post records. According to the Miami-Dade Beacon Council, the county's public-private economics development partnership, 57 companies relocated to Miami last year. In addition, another 150 indicated they were likely to move their operations to South Florida. Competition for available office space is intense and rents are rising.
Chetrit, Facing Loan Default, Looking To Offload Over 8,000 Units
While an expected wave of distressed property sales hasn't yet hit, ripples are starting to emerge. New York landlord Chetrit Group is looking to sell more than 8,000 residential units it acquired across 10 states in 2019 as it faces default on a $481M loan it used to finance the acquisition, The Real Deal reports, citing a report by Trepp. The CMBS loan, originated by JPMorgan…
'Topgolf for Pickleball' and Other Emerging Retail Concepts To Watch in 2023
Retail has never been more active. At least by one measure. Many national retailers are still expanding despite recession fears heading into 2023. And many of them are trying out new, unorthodox concepts. This comes as monthly retail sales (excluding auto, gasoline, and online retailers, a measure that best encapsulates brick-and-mortar retail sales), pushed to a new record high…
Moving Miami-Dade's Urban Development Boundary Could Jeopardize Work To Restore Water Flow To Biscayne Bay
Late last year, just before Miami-Dade County Commissioners made the controversial decision to move the urban boundary that protects wetlands and farms to make way for a warehouse complex in South Dade, former chairman Jose 'Pepe' Diaz lectured opponents at the crowded commission chambers. "It is not environmentally sensitive land," he said. "What is important is that […]…
40-Story 2600 Biscayne Advances With Utilities Agreement Signed
The partnership of developers planning a 40-story tower at 2600 Biscayne are moving forward with a newly signed agreement with Miami-Dade's Water & Sewer Department. According to the deal recorded on January 12, the county will provide utilities to the new development. The utilities agreement states that 2600 Biscayne will include: 399 apartments 174,524 sf…
FAA Approves One River Pointe To Rise 797 Feet
Downtown Miami's One River Point towers have been granted approval by the Federal Aviation Administration – again. The project includes two 60-story towers connected at the top. According to a letter issued by the FAA on January 16, the towers are permitted to rise to a height of 788 feet above ground, or 797 feet above sea level. In 2014, the FAA approved…
Appeal Filed Over City Approval Of 60-Story Edgewater Tower
Approval of a 650-foot apartment tower in Edgewater is being appealed. Aimco is planning a 60-story tower with 241 residential units at 560-640 NE 34th Street. The appeal was filed by Bay Park Towers Condominium Association Inc., which neighbors the property to the south. The 13-story, 254-unit Bay Park was built in 1961, and multiple developers have been trying…
Shojaees sue Miami agent who called wife Stephanie a "gold digger"
In a nasty comment online, a Miami realtor claims Masoud Shojaee "stole money from his daughters' trust fund to buy elaborate gifts for this gold digger" — referring to Masoud's wife, Stephanie. That's just a taste of the mean things Joanne Silva, an agent with Cervera Real Estate, said about the Shojaees in a recent Instagram post. Now, the Shoma Group power couple…
Jesta wins approval for apartment, hotel project on North Bay Village Shuckers site
Jesta Group scored approval for its multifamily and hotel project on the site of popular Shuckers Waterfront Grill in North Bay Village. The green light marks progress for plans that have been in the works for more than two years, as well as a continuation of North Bay Village's redevelopment that aims to morph the municipality into a mecca of high-rises. Jesta will build…
Landlords target home design tenants for empty MiMo retail spaces
In the past year, an organic mattress shop, a floral and plant store and a high-end flooring company have moved into a single-story building at 6665 Biscayne Boulevard — a sign that retail leasing in Miami's Upper Eastside is picking up. But the neighborhood's commercial landlords may not be able to count on them for the long haul, experts say. Known for its…
Fixing Florida property insurance mess a slow process
After the two bills aimed at fixing the property insurance crisis in Florida, experts are hopeful the new measures are a step in the right direction, but the effects will still take time. Gov. Ron DeSantis signed senate bill 4-A and senate bill 2-A from the special session in December. The first bill provides $750 million for disaster relief to Floridians affected by…
Miami OKs LED signs, bayfront parks billboards advance
Vibrant hues have illuminated Miami for decades, and now the addition of large LED billboards on government-owned property will intensify the city's colorful neon backdrop. The Miami City Commission on Jan. 12 gave final approval to amend the sign ordinance to allow larger digital advertising signs on numerous city properties. An ordinance allowing advertising…
Concerns mount over boat ramp at Miami Marine Stadium
City of Miami officials continue to forge ahead with a plan to develop and construct a boat ramp next to Marine Stadium on Virginia Key, over the concerns and objections of the city's own Virginia Key Advisory Board and other organizations. Members of the advisory board tangled and argued several times throughout 2022 with city staff who were actively promoting…
Notable Retail Leases Signed in South Florida Q4 2022
South Florida Retail Real Estate Leases 2021 – 2022 We've compiled a comprehensive list of the top retail leases signed by square footage in South Florida during 2022 and throughout 2021. This past quarter was busy overall, and there were several big box leases signed and sealed. Despite the sentiment that the traditional retail market…
U.S. shopping center vacancy hits 15-year low
Shopping centers haven't been this well occupied since prior to the Great Recession, but the reason for that may be cause for concern. The vacancy rate in the fourth quarter for shopping centers — typically defined as a sizable area with a large amount of individual stores, as opposed to a mall where many stores are in the same building — was 5.7 percent, according to a…
Miami board to vote on Kushner's Edgewater rental project, Aria's Brickell condo building
Kushner Companies, Aria Development Group and a self-storage developer all have projects going before the city of Miami this week. The Miami Urban Development Review Board will review plans for New York-based Kushner and PTM Partners' massive multifamily mixed-use development in Edgewater, as the proposal moves through the site plan review process. The phased…
eBay car stereo retailer buys Hialeah warehouse
eBay car electronics retailer Techronics is turning up its distribution volume in Hialeah. An entity managed by Techtronics President Sharome Yerushalmi and company CEO Yoel Gidanian paid $10 million for a roughly 37,000-square-foot warehouse at 3130 West 15th Avenue, records show. Popular Bank provided the buyer with a $5.5 million mortgage. The deal breaks…
Banesco Expands Construction Lending, MasTec Expects Rebound
Building costs may be out of control, but that did not stop Miami-based Banesco USA from announcing a construction loan of $22.3 million for a mixed-use development on Miami Beach. The hyper-modern designed building at 1685 Washington Ave. is just off of Lincoln Road, the popular shopping, dining, and nightlife destination, and includes a luxury hotel, restaurant…
Lease roundup: Nuveen scores European bank, Rosen's RFR nabs coworking firm
BNP Paribas Securities I Brickell I Miami A subsidiary of European bank BNP Paribas will open an office in Miami's Brickell, marking continued migration of financial firms to the neighborhood. BNP Paribas Securities Corporation signed a seven and a half year lease for 7,700 square feet at 801 Brickell Avenue, according to…
The Webster wants to sell Miami Beach HQ on Collins Avenue
The Webster, a fashion house that sells designer clothing and home furnishings, is looking to sell an even larger piece of merchandise. The Miami Beach-based company is listing its headquarters for sale, asking $15.5 million to free up cash for an expansion… But the retailer will only sell if it can stay as a long-term tenant… of the historic building at 1220 Collins Avenue, said Jared…
Plans Filed With UDRB For Edgewater Collective, With 1,300 Residential Units
Plans have been submitted to the Urban Development Review Board for a three-tower project called Edgewater Collective. One of the towers is already rising at 2000 Biscayne, with 420 units under construction in a 36-story building. Demolition to clear the way for two additional towers at 1900 Biscayne began in May 2022. Construction permitting for the second…
Pink Street Furniture, Rock Salt Sidewalks Planned For 41st Street In Miami Beach
A design team has presented an updated vision for a project to revitalize 41st Street in Miami Beach. The new proposal calls for "oases" at several points along the street, paved with bright Miami Beach Red Concrete with a salt rock finish. Benches, bike racks, trash receptacles, and street lamps at the oases would be painted a pinkish color to match the concrete.
First Paint At 648-Foot Chetrit Miami River Tower, Second Tower Breaking Ground Soon
Chetrit Group's 54-story rental apartment tower on the Miami River continues its rapid construction with painting now underway, new photos show. The tower is being built as a "premier rental building," the developer said recently. Two retail buildings are also now under construction, according to the developer. Groundbreaking on a luxury condo tower is planned…
58-Story Downtown 1st Shown Near Completion With 'Modern Tropical' Interior
Downtown 1st, a 58-story tower, now has a "modern tropical" interior, with leasing underway, according to the project's Instagram page. It is the tallest apartment building ever by developer Melo Group. The tower broke ground with test piling in March 2021, with top off taking place in April 2022. The project includes 560 market-rate rental apartments, 10,000 sf…
Mindspace Signs for 32 KSF Miami Coworking Space
Mindspace, an international boutique flex space provider, has unveiled plans for a new, 31,192-square-foot coworking space in downtown Miami. The company has signed a 10-year lease at 100 N. Biscayne Blvd., planning to occupy three floors at the 30-story tower. RFR Realty owns the 310,000-square-foot Class A office property, after an $81.1 million acquisition in January…
Harbert Management drops $66M for Broward warehouse complexes
Harbert Management Corporation paid $65.8 million for a Broward County industrial park. An affiliate of the Birmingham, Ala.-based investment management firm acquired Lauderdale Lakes Industrial Flex Park, a collection of 11 small-bay warehouses spanning nearly 360,000 square feet completed in 1973, records and Vizzda show. The…
Related Group joins $1B-plus Bahia Mar project in Fort Lauderdale
Jorge Pérez's Related Group joined the development team of the planned Bahia Mar project in Fort Lauderdale, as the Miami-based firm continues expanding throughout South Florida. Related entered into a joint venture with Jimmy Tate's Tate Capital and Sergio Rok's Rok Enterprises to redevelop the major mixed-use project at a site that is home to the Fort Lauderdale…
JV drops $40M for portfolio of aging Palm Beach County rentals
A partnership between New York and Toronto-based companies is betting on aging apartment complexes in Palm Beach County. North Point Management and Medallion Corporation bought five garden-style communities consisting of a total of 433 units in unincorporated parts of the county for $40.1 million, according to records…