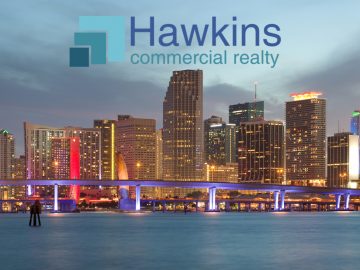 Atlanta Fed: Beige Book Finds Scattered Bright Spots amid Pandemic Economy
Economic conditions in the Southeast continue to be shaped by the COVID-19 pandemic, as overall activity expanded modestly and scattered bright spots emerged from mid-November through December, according to the latest Beige Book report of economic conditions from the Federal Reserve Bank of Atlanta. Labor markets remained divergent. Atlanta Fed business…
NAR Commercial Market Insights 2020 Released
The modest recovery in commercial sales transactions in the third quarter halted in November amid a resurgence of coronavirus cases that may have given investors pause in their acquisitions. Commercial sales transactions fell 57% yearover-year in November, with sales falling across property types, even for industrial properties. In both the multifamily and office…
How Miami Is Recruiting Finance And Tech Firms — And Maybe Elon Musk
South Florida has always had abundant sunshine and no state income tax, but in the past couple of years — and especially with the coronavirus pandemic boosting remote work — the state is on a run, drawing high-profile billionaires, hedge funds, financial firms and tech companies. And if social media rumblings are to be believed, Miami could soon lure one of…
Biden to extend limits on evictions, foreclosures
President Joe Biden is extending federal limits on evictions through at least the end of March. Biden is expected to move quickly to extend protections for renters, Bloomberg reported, and may sign an executive order within hours of his inauguration. Biden will also ask federal agencies to consider extending foreclosure protections and forbearance options. The existing…
The New Law Unmasking Anonymous LLCs Could Particularly Affect Miami Businesses. Here's How To Comply
A new law intended to unmask the owners of limited liability corporations in an attempt to crack down on money launderers and slumlords could particularly impact Miami and New York, where shell companies are often used to obscure the owners of high-priced real estate. Heretofore, companies could be set up with minimal paperwork, listing little more…
New bowling alley lease couldn't keep South Florida's retail market out of the gutter in Q4
Even with a newly inked 62,000-square-foot bowling alley lease, South Florida's retail market saw mostly gutter balls in the fourth quarter. Across the tri-county area, vacancy rates rose and square footage returned to the market, according to a newly released report from Colliers International. And yet in some parts of the region, average asking rents rose, and…
Neighbors sue to overturn approval of Dezer's mega project in North Miami Beach
A homeowners association filed a lawsuit challenging the city of North Miami Beach's recent rezoning of the Intracoastal Mall for father-and-son developers Michael and Gil Dezer. The Eastern Shores Property Owners Association and three Eastern Shores residents – Bruce Lamberto, Stacy Roskin and Bruce Kusens – are appealing the comprehensive zoning…
Trump pardons Zangrillo, previously involved with Little Haiti's Magic City porject, among other real estate figures
In his final hours in office, President Donald Trump granted pardons to dozens of friends, partners and executives, including several from the real estate world. One went to Eliyahu Weinstein, who was sentenced to prison in 2014. He and his company, Pine Projects, were convicted for a Ponzi scheme that resulted in $200 million in losses. His jail sentence of 264…
Multifamily's trillion-dollar tango
Multifamily lenders and policymakers have taken much the same approach with evictions and mounting debt during the pandemic: Put things off and hope the rental market's problems resolve themselves before it's too late. That strategy persists as vaccinations ramp up. But with a surge in Covid cases, restrictions on economic activity and evictions could continue for…
Joe Biden's real estate checklist
With one exception, real estate is not in Joe Biden's immediate agenda. But within the next few months, the industry will have a fight on its hands — and a few things to cheer. As Biden is sworn in today as the nation's 46th president, his focus is on ending the pandemic. That's good news for real estate, with the aforementioned exception: his proposal to continue the…
Nonprofit gone, historic Gusman Theater gets temporary manager
The City of Miami has turned to a full-service commercial real estate brokerage firm to manage the historic Olympia Building on a temporary basis after terminating its partnership with a non-profit operator late last year. City Manager Arthur Noriega was given the go-ahead from commissioners last week to negotiate an agreement with NAI Miami to…
Some banks limit applicants for PPP loans
The Paycheck Protection Program is back, and many local lenders are getting on board – though some are administering the program more selectively. Richard Helber, CEO of Tropical Financial Credit Union, told Miami Today earlier this month that he wasn't sure if he would participate in the program. But, he said this week, he decided to go for it – though…
Miami asks redevelopment agency to pay for Ferre Park
Miami city commissioners say it's long past due for the Omni Community Redevelopment Agency (CRA) to pay to improve Maurice A. Ferre Park. Currently, the Omni CRA owes about $6 million, including several $2 million payments, which prompted commissioners last week to unanimously urge the Omni CRA Board to pay money owed for work at the park. The Omni…
Update: Same court again takes hard line on late rent payment into court registry
We previously wrote about a case in which a Florida appellate court strictly applied the statute requiring a commercial tenant to pay rent into the court registry during an eviction proceeding. The appellate court noted that there is no "fairness" exception to the statute's requirement of paying on time. Now the same appellate court has reiterated that principle, but…
For decades, New York City has offered communities an enticing deal: Approve new housing and locals will get half of the affordable units. But in 2014, the Obama administration warned the city that so-called "community preference" might be reinforcing segregation. The city balked, offering to tweak the policy but not to dump it. "Without any promise of local…
The One Real Estate Partners pays $9M for Miami Gardens apartments
An Aventura-based real estate investment and management firm paid $8.6 million for a 30-unit Miami Gardens apartment community. The One Real Estate Partners bought the complex at 2754 to 2790 Northwest 191st Terrace, known as "Gardens Club," according to records. The price equates to $286,667 per unit. The One specializes in acquiring and rehabbing…
Industrial now 36% of Blackstone's RE portfolio
In the past five years, Blackstone has pivoted its portfolio away from retail and hotels and instead turned toward one of real estate's hottest asset classes — industrial — helping the investment firm avoid losses that others are now facing. The company bolstered its presence in the industrial sector to account for 36 percent of its real estate equity value, up from only…
Opportunity Zone investments got a boost in 2020
It was a good year for Opportunity Zones. More than $12 billion was invested in Opportunity Funds by the end of August, Bloomberg News reported, citing the most recent data available from Novogradac. The tax deferral program, which was formalized in the Tax Cuts and Jobs Act of 2017, got off to a slow start partly because the regulations were…
Stuart Elliott It seems like the whole world is heading south for the winter — and staying there. Since the pandemic hit, South Florida — despite seeing an enormous number of Covid cases — has benefited with rarely a day going by without news of a mammoth luxury sale or prominent company relocating some of their employees from elsewhere in the country….
Startup wants to bring "micro-warehouses" to vacant retail
A startup that focuses on creating last-mile fulfillment centers aims to compete with logistics giants. Fabric, which was founded in Tel Aviv but is now headquartered in New York City, has raised $136 million in funding from venture capital, Business Insider reported. The company has partnered with retailers on last-mile distribution centers, often by…
Retail rent collections rebound to 90%
The pandemic has exacerbated the retail sector's pre-existing problems, deteriorating rent collections and forcing landlords to make compromises with their tenants. But there were some encouraging signs as 2020 came to a close. Before the pandemic, national tenants paid 94 percent of rent. When Covid-19 hit, that all came crashing down, according to the…
Real estate stocks hold gains even as market doesn't
Real estate stocks ended the week in positive territory while the broader market gave up its gains after President-elect Joe Biden rolled out a $1.9 trillion stimulus proposal. Stocks tend to rise when Washington injects money into the economy, but negative reaction from some members of Congress — or fears that the measure would pass and spark inflation…
Miami Beach approves 8-story addition for International Inn
Miami Beach approved a redevelopment deal that will preserve the 65-year-old waterfront International Inn in North Beach while allowing the owner the right to build an 80-foot-tall, or eight-story addition. Commissioners approved the historic designation and zoning amendment for the International Inn at 2301 Normandy Isle on first reading Wednesday…
Tax relief may be coming to Miami-Dade commercial property owners
Pedro Garcia (iStock, IRS) Tax relief may be coming to commercial and industrial property owners in Miami-Dade County. Miami-Dade County's Office of the Property Appraiser announced on Thursday that it will consider landlords' financial losses when assessing 2021 fair market values. The office will consider local market conditions, like vacancy and rental…
RMR Mortgage Trust Provides $10.9 Million First Mortgage Bridge Loan for the Acquisition of an Office Building in Miami
MR Mortgage Trust (Nasdaq: RMRM) today announced the closing of a $10.9 million first mortgage bridge loan it provided to finance the acquisition of a nine-story multi-tenant office building containing 83,000 square feet at 5040 NW 7th Street in Miami, Florida. This first mortgage bridge loan is structured with a two-year initial term and two one-year extension…
Lument Provides $11 Million in Fannie Mae Financing for Martha's Apartments in Hialeah
Lument, a national leader in commercial real estate finance, announced today that it provided an $11 million Fannie Mae conventional multifamily loan to refinance Martha's Apartments, a garden-style multifamily property at6875 W 7th Avenue in Hialeah, in Miami-Dade County. "We were thrilled to help this first-time Fannie Mae borrower obtain beneficial agency…
Former Sapir employee accuses company of retaliation
Alex Sapir (Getty) A former employee of the Sapir Organization claims her old boss retaliated against her after she failed to find a "smoking gun" implicating one of Alex Sapir's enemies. Patricia Lemanski, who worked as a paralegal at the real estate firm for nearly 10 years, alleges that the Sapir Organization directed her to dig up dirt on her former supervisor at the…
Related gets height increase needed for Terminal Island office project in Miami Beach
The Related Group has the zoning it needs to build a 75-foot-tall office building on Terminal Island in Miami Beach. The Miami Beach City Commission on Wednesday unanimously increased height limits on Terminal Island's I-1 district from 40 feet to 75 feet. The zoning change will enable Related to pursue a 160,000-square-foot office building that will…
Owners moving ahead in construction's hardest-hit sectors include first Atwell Suites in Miami
In November, IHG Hotels & Resorts announced that its first Atwell Suites hotel was under construction in Miami. Expected to open this summer, the 90-unit property is located in Miami's booming Brickell district. The hotel is part of a new high-rise, mixed-use property which also includes a new 140-room Hotel Indigo Miami Brickell. Despite the COVID-19 pandemic, Miami…
A-Rod's ex-brother-in-law alleges racketeering, embezzlement in new lawsuit against retired Yankee
Retired New York Yankees player and real estate investor Alex Rodriguez is facing new allegations of racketeering, embezzlement and fraud in a complaint filed by his ex-brother-in-law. Constantine Scurtis is suing Rodriguez, Monument Capital Management principal Stuart Zook, Newport Property Ventures and other companies affiliated with Rodriguez.
CEO of Miami Beach Developer Taubco Irwin Tauber Discusses Qualities/Attributes for Success in Real Estate Development
The real estate industry offers several career opportunities that are often in demand. One of those is that of a commercial real estate developer. A real estate developer requires certain specific traits, including vision, creativity, ability to take financial risks, problem-solving, and relationships, says Irwin Tauber. "Real estate development can be lucrative but also risky. I am…"
Blackstone's tech and innovations team closes lease at 2 MiamiCentral
Shorenstein Properties LLC (Shorenstein), an owner and operator of high-quality office, residential and mixed-use properties across the U.S., recently announced that Blackstone has signed a 41,000-square-foot lease at 2 MiamiCentral in Downtown Miami. Blackstone intends to create a new office to expand the firm's in-house technology capabilities with plans…
December Hotel Occupancy and RevPAR Lowest Since May in US: Miami/Hialeah, Florida, Reports Highest December Occupancy
The U.S. hotel industry showed performance levels closer to earlier months of the pandemic, according to December 2020 data from STR. December 2020 (percentage change from December 2019): · Occupancy: 36.7% (-32.3%). Average daily rate (ADR): US$91.96 (-27.6%). Revenue per available ). room (RevPAR): US$33.76 (-51.0%Occupancy and RevPAR were the…
Chart: Miami Commercial Real Estate Sales to List Price Ratio Ends Year About Average ~ December 2020 MLS
Miami Association of Realtors January 2011 to December 2020 Sales to List Price Ratio for Commercial/Industrial Property Type Classification within Miami-Dade County and Price from $1 Million to $10 Million The sales to list price ratio as reported by the Miami MLS for improved commercial real estate within Miami-Dade County from $1 million to $10 million…
Starwood Sells Plantation Apartment Community for $64M
Starwood Capital Group has sold Gatehouse on the Green, a 312-unit Class B community in Plantation, Fla. The Praedium Group purchased the property for $63.7 million, according to Yardi Matrix data. Berkadia provided a $47.8 million Fannie Mae acquisition loan. The fixed-rate note matures in 2028, has five years of interest-only payments and represents a 65 percent loan…
Former Plantation fertility clinic sells for $8M
A company affiliated with South Florida personal injury attorney Sagi Shaked paid $7.5 million for a medical office building in Plantation. Shaked bought the 15,000-square-foot building at 201 North Pine Island Road, according to records. The building was previously home to Plantation Fertility & Genetics, the medical practice of Dr. Mick Abae, who is also…
Island Capital affiliate pays $64M for Margate apartments
Celebration Pointe (Garco) A Texas-based real estate investment company paid $64 million for a 282-unit Margate apartment complex. An affiliate of C-III Capital Partners bought the 295,000-square-foot complex at 5555 Celebration Pointe Lane, called "Celebration Pointe," according to records. The deal equates to about $227,000 a unit. C-III is owned by real estate…