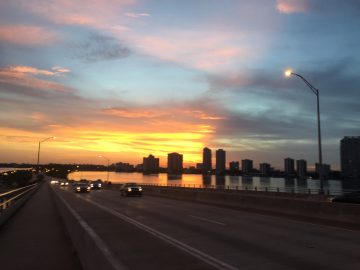 Components of vast Miami Worldcenter coming together
The vast components of the sweeping Miami Worldcenter project are coming together as residential towers rise and plans for a 330,000-plus-square-foot shopping venue are being finalized. A team representing developers Miami Worldcenter Associates LLC met with the city's Urban Development Review Board recently with proposed façade changes to a large parking structure and the selection of a key…
Developer Plans Nearly 700 Apartments in Downtown Miami
Developer Property Markets Group paid $55 million for a site at 400 Biscayne Blvd. in downtown Miami, where it plans to build nearly 700 rental units above 20,000 square feet of shops and restaurants. The property is located across from Bayside Marketplace and offers unobstructed views of Biscayne Bay. "We feel that this market is one of the most important areas of Miami from a future growth…
Video: SNL Skit Imagines Pitbull Pitching Jeff Bezos to Locate Amazon's HQ2 in Miami
In this parody video, queued up to 3:39 where Miami enters to make its pitch, Pitbull joins to do his thing following pitches by Boston with an "impassioned" Casey Affleck (who quickly recommends Los Angeles instead), Atlanta, and Corey Booker pitching – sort of – New Jersey. This is not SNL's best work, but for those in Miami, it is worth the chuckle.
Video: RealPage Director of Analytics Jay Parsons on U.S. Multifamily Property Performance and Trends
Jay Parsons, Director of Analytics with RealPage, which offers property management software solutions for the multifamily, commercial, single-family and vacation rental housing industries, appears with show host Michael Bull on America's Commercial Real Estate Show to talk about multifamily performance trends moving into the year of 2018. Among the topics that are discussed are a review of 2017 performance, rental rates, growth levels, potential growth opportunities, vacancy rates, and supply…
South Florida Primed To Ride Continued Industrial Wave
The industrial market has been enjoying a record-setting run, and "the party's not over," according to Cushman & Wakefield's 2018-19 North American Industrial Forecast Report. Perhaps no market in the country stands to benefit more than South Florida in the next two years. Yellow Green Farmers Market/Flickr The Yellow Green Farmers Market in Hollywood hosts 300 vendors in a 100K SF warehouse.
Video: MorningStar Credit Ratings Vice President Steve Jellinek Discusses the eCommerce Impact on Grocery Retail
Steve Jellinek, Vice President with MorningStar Credit Ratings, appears on America's Commercial Real Estate Show with Michael Bull to give an assessment and provide a forecast the grocery retailing sector. Discuss are eCommerce's impact on the sector, risks and opportunities created, changes happening or will happen in-store, services that are impacting growth, and the CMBS lending outlook.
The post Video: MorningStar Credit Ratings Vice President Steve Jellinek Discusses the eCommerce I…
Video: Ernst & Young National Tax REIT Leader Dianne Umberger with on the Impact of The Tax Cuts and Jobs Act
Dianne Umberger, National Tax REIT Leader with Ernst & Young, appears with show host Michael Bull on America's Commercial Real Estate Show to talk about the Tax Cuts and Jobs Act impact on the overall economy and real estate, including commercial real estate. Among the topics she discusses are the potential impact on jobs and related effect on commercial property of all types.
The post Video: Ernst & Young National Tax REIT Leader Dianne Umberger with on the Impact of The Tax Cuts and Jobs…
Coconut Grove Playhouse script gets major rewrite
The script has been rewritten again in the seemingly endless drama over the fate of the closed and dilapidated Coconut Grove Playhouse. The latest plot twist has a Miami-Dade commissioner rejecting the idea of allowing a third party time to raise enough cash to rebuild a large theater. The state owns the cavernous and historic playhouse and has leased it to the county and Florida International University.
Tax reduction on pass-through companies to have big impact
Tax experts and individual business owners welcome the income tax reduction on pass-through companies that's starting this year. Despite its complexities, the change is expected to help area business owners in 2018. Miguel Farra, chairman of tax and accounting at accounting and advisory firm MBAF, warns business owners that the new law's income reduction is not automatic. "You have to qualify…"
Miami River could double current cargo load
An ongoing state-led study, part of the Miami River Freight Improvement Plan, concludes the river has the capacity to handle double the cargo now on the waterway. "There's a lot of reserve capacity on the river," said Jack Schnettler, vice president and senior transportation engineer with Atkins North America Inc., a consulting firm working with the Florida Department of Transportation (FDOT) on the freight…
Designer Naeem Khan's Miami fashion high school plans a 2020 opening
"Slowly but surely my school is becoming a reality." Fashion designer Naeem Khan's big headquarters move from NYC to Miami has been in the works for years, and now one component of the project is moving forward. Part of Khan's HQ includes a high school devoted to fashion education. "An immigrant's dream," Khan wrote on Instagram. "Miami Dade schools confirms the partnership with Naeem Khan…
Edgewater 'Micro-Unit' Condos Might Be Sold Out When They Open Next Month
The 86 condos that comprise 26 Edgewater, a new building at 321 NE 26th St. in Miami, range from 560 to 998 SF. Some of them even have two bedrooms. Although a working definition of "micro-unit" typically refers to units 350 SF or smaller, these are being touted as "Edgewater's first micro-units" and are set to open in February. According to a press release, the man behind 26 Edgewater, Stripey…
Buyers settle litigation with 1010 Brickell developers, move forward with purchase of units
Nine months after Victor Mijares and Caterina Angilello sued the developers of 1010 Brickell to cancel contracts on three condo units, the investors appear to have had a change of heart following setbacks in Miami-Dade Circuit Court. Barry Rothberg, an attorney for 1010 Brickell Holdings, and Key International Co-President Inigo Ardid, whose company is co-developing the 50-floor luxury tower, told…
Proposal to sell Opa-locka site pulled amid ethics probe
A nonprofit with an alleged history of not paying its bills may not get the sweet deal it expected on a development site in Opa-locka.
Last week, county commissioner Barbara Jordan requested that EcoTech Visions Foundation, Inc., led by Pandwe Gibson, receive three county-owned properties for just $10. In exchange, the nonprofit would build affordable housing on the lots, which are valued at…
$13,500,000 Purchase Negotiated on Behalf Of The Cushman School
Negotiated recently was the sale of an office building located at 4700 Biscayne Boulevard in Miami, Florida. The seller was MGB Biscayne Boulevard Corp and the buyer is The Cushman School, Inc. The sale price was $13,500,000 or $356 per square foot. This five-story property will become the new High School for the Cushman School. Founded in 1924, the Cushman School expanded in 2017 from;;;
Panorama Tower move-ins slated for March 2018
It's an 85-story development Construction is moving along at Panorama Tower in Brickell, which is aiming to claim the title of the tallest residential building on the eastern seaboard south of New York. Move-ins are scheduled for March 2018, and developer Florida East Coast Realty, LLC just announced that Fortune Development Sales will take over the remaining leases at Panorama Tower. Besides views over…
WeWork's next expansion plan? Study halls
The $20 billion co-working company is partnering with 2U Inc., an online education company, to let students enrolled in 2U courses use any of WeWork's 207 offices as study spaces, according to Bloomberg. The students will be able to rent conference rooms where they can work with classmates and join in-person study groups at the offices, and 2U has also pledged to give WeWork members $5 million in…
These 3 Words Best Describe South Florida Real Estate Market
For the past four years, the real estate team at the Berger Singerman law firm has been doing its own annual survey of local developers, brokers and investors to gauge market conditions. This year, 102 people responded to the survey, and 31% of respondents said they expect 2018 will be even more successful than 2017. Alan Light via Flickr Creative Commons South Beach at sunset Partner Barry D.
Video: Reis Economist Barbara Denham Discusses U.S. Retail Property Sector Performance
Barbara Denham, Economist with Reis, appears on America's Commercial Real Estate Show to discuss the retail property sector within the overall commercial real estate market. In this video, she provides forecasts for the year of 2018, discusses vacancy rate and occupancy rate trends, some sample rental rates, the recently enacted Tax Cuts and Jobs Act and its potential impact, and online retail sales performance.
The post Video: Reis Economist Barbara Denham Discusses U.S. Retail Property …
Codina Partners adds 17 acres to planned Beacon Logistics Park in Hialeah, as firm returns to industrial roots
Codina Partners just purchased another 17 acres in Hialeah, bringing the total assemblage for its planned Beacon Logistics Park to 72 acres, with the capacity to develop at least 1.3 million square feet of warehouse space, The Real Deal has learned. The plan is to build distribution warehouses amid rising demand in the sector, and represents Codina's return to the industrial market after more than…
Miami hotel industry sees lift following storm-battered hurricane season
Miami's hotel industry had one of the strongest fourth quarters of any market in the country last year, on increased demand following the devastation from Hurricane Irma in September. Revenue per available room — a widely used metric of the market's health — shot up 16.3 percent to $152.42 from October through December. That's about four times the growth in RevPAR nationwide over the same period in…
Foundry partnership buys Doral business park from PGIM
A partnership between Foundry Commercial and American Realty Advisors just paid $22.8 million for a six-building business park in Doral.
An affiliate of Prudential's PGIM Real Estate sold Transal Park, a 134,175-square-foot compex at 8200 and 8290 Northwest 27th Street, for about $170 per square foot, according to a press release from Cushman & Wakefield. It last sold for $13.1 million…
Another blow to retail: Amazon's automated store launch is a 'Go'
From TRD NYC: Amazon's cashier-free store is opening after a year of delays. Running off a new system called Amazon Go, the store is filled with cameras that allow the technology to track shoppers and identify the products they select and then charge their accounts.
Though the tech giant notes that cashiers would still be needed if items being sold included restricted products like alcohol…
South Florida Identified as a Finalist for Amazon HQ2
South Florida business development leaders said they aren't surprised that the Tri-County region made the list of 20 finalist communities for Amazon's new headquarters, though the timing caught them off guard. "I didn't think we'd see this until February or March," said Bob Swindell, CEO of the Greater Fort Lauderdale Alliance. But Swindell insists the accomplishment shows…
'Most Important Undeveloped Site' in Miami's Wynwood For Sale
A 1.72-acre slice of land in Miami's Wynwood neighborhood is up for grabs in what could lead to a mixed-use project with rentals, shops, restaurants, offices and a hotel. Cushman & Wakefield says it has been named the exclusive adviser for the sale of Strada Wynwood on behalf of the William & Doris Friedopfer Trusts. There is no asking price for the land, at Northwest Second Avenue and Northwest 25th…
The Nautilus Hotel on South Beach Hits the Block
The fully-renovated Nautilus South Beach hotel has hit the market, and the listing broker said the oceanfront property could command nearly three times the previous sale price of $61 million. CBRE Hotels said Wednesday that it's marketing the 250-room hotel, located at 1825 Collins Ave. in Miami Beach, FL, for owner Quadrum Global. CBRE's Christian Charre said there is no asking price, but he expects…
International Air Transport Association Leases 26,000 SF in Miami
International Air Transport Association leased 26,105 square feet at the 703 Waterford office building at 703 Waterford Way in Miami, FL. Occupancy is scheduled for June. The 10-story, 247,000-square-foot office building was constructed in 2001 on 14.2 acres in the Miami Airport submarket, within the Waterford at Blue Lagoon business park. The building is home to multiple tenants including Baxter…
Doral Commons Shopping Center Fetches $72M
Robust growth and a stellar retail occupancy rate in Doral, FL led to the sale of the Doral Commons shopping center for $71.56 million, or about $518 per square foot. Miami-based developer Terra sold the 138,091-square-foot plaza at 7550 NW 104th Avenue to Jamestown LP, an investment and management company. The center, currently 95 percent leased, is anchored by Publix Super Markets and TJ Maxx.
Building on Miami's Brickell Avenue Pulled Off the Market
Banco Santander International has canceled plans to sell its 15-story office building in downtown Miami. Services and Promotions Miami LLC, an entity tied to Santander, hired Avison Young last year to market its 188,138-square-foot building at 1401 Brickell Ave. It was expected to be a prime redevelopment opportunity, given that the bank was seeking another Miami location and other tenants there…
Miami Firm Buys 41-Building Industrial Portfolio
An affiliate of Boston-based TA Realty sold a 376,016-square-foot industrial portfolio in Hialeah, FL for $32.5 million, or about $86 per square foot. The 41-building West Hialeah Industrial Portfolio is arranged in two separate clusters: one just west of the Red Road corridor and north of the Hialeah Expressway, and the other west of West 16th Avenue and north of Okeechobee Road. The buyer was an entity…
American Top Team Leases 17,000 SF in Sunny Isles Beach
American Top Team, a mixed martial arts academy, signed a five-year lease for 16,500 square feet of retail space in the R.K. Village Plaza shopping center at 18100-18288 Collins Ave. in Sunny Isles Beach, FL. Built in 1957 and renovated in 1987, the R.K. Village Plaza shopping center totals 151,213 square feet and is located in the Aventura submarket. Jorge Ventura of R.K. Centers represented the landlord…
Florida Blue Leased 82,000 SF in Miami
Florida Blue, a health insurance provider in Florida, signed an 81,856-square-foot lease at 8600 NW 36th Street in Miami, FL. The eight-story, 230,504-square-foot Doral Court office building was built in 1992, renovated in 1998 and is located in the Miami Airport submarket. Gordon Messinger and Ericka Witkowski of Cushman & Wakefield represented the landlord. David Behar of BEHAR…
Planet Fitness Leases 20,000 SF in Miami
Planet Fitness, a national franchisor and operator of fitness centers, leased 19,700 square feet at 19101-19191 S. Dixie Hwy in Miami, FL. The 233,453-square-foot Point Royale Shopping Center was built in 1971 with renovations in 1993 and is located in the South Dade submarket. Marielle De La Hoz of Regency Centers represented the landlord, Equity One…
Video: Reis Economist Barbara Denham on the U.S. Retail Property Investment Market
In this video, Barbara Denham, Economist with Reis, joins show Michael Bull on America's Commercial Real Estate Show to discuss the retail property sector, specifically forecasts and investment opportunities for the year 2018. Some of the commercial real estate related topics discussed in this piece are a review of the prior year 2017 retail, new supply that has come or is coming online, supply and cap rate expectations/projections for 2018, as well as tips for retail property buyers and sellers…
Court rules that insurers must treat notice of claim for construction defects as a "suit"
The Florida Supreme Court ruled that filing notice of a claim for a construction defect is equivalent to a filing a "suit" that a general liability insurer may have to defend. The ruling came in response to a question about the state's procedural requirements before filing a court claim for a construction defect. The case centered on the Sapphire Condominium, a high-rise condo in Fort Lauderdale on North Ocean…
Duke Realty pays $35.7M for Medley industrial site
Duke Realty paid $35.7 million for a lumber yard in Medley where the Indianapolis-based company plans to construct warehouses. Duke bought the 35.1-acre property at 10300 Northwest 121st Way in Medley from an affiliate of Universal Forest Products. Duke plans to build distribution warehouses spanning 650,000 square feet on the Medley property. The property now has 452,109 square feet…
Business leaders consider Miami just making the Amazon HQ2 cut a win
"This shows we're not just a fun-in-the-sun city." Miami officials and business leaders are celebrating just making the top-20 cut of cities that might host Amazon's second headquarters, even if Amazon HQ2 doesn't ultimately pan out. The Miami Herald's Douglas Hanks points out that being in consideration at all is a chance to highlight Miami's strengths (diversity, Florida's lack of an income tax…
Construction is complete at Miami's Privé at Island Estates
Prive is reportedly almost 75 percent sold Privé at Island Estates, one of the most unique recent residential developments in Miami, is complete. That's according to the South Florida Business Journal: Michael Neumann, director of sales for co-developer BH3, told SFBJ that Privé is almost 75 percent sold and closings have started. The twin-tower project has its own island in Aventura out on Dumfoundling…
Who stands to gain if Miami wins Amazon's second headquarters?
Who stands to gain if Miami wins Amazon's second headquarters? Of five sites in Miami-Dade submitted in a regional bid, three are in or near Overtown, Miami Mayor Francis Suarez told The Real Deal. Real estate investor Mitchell Newman owns one site; Michael Simkins owns the other – the Miami Innovation District property in Park West; and the third is the mixed-use Miami Worldcenter project…
Boymelgreen scores construction loan on Surfside luxury townhome development
Developer Menachem Boymelgreen just secured a $23.5 million construction loan for a planned townhome project in Surfside, property records show. The developer, under the guise of Eden Surfside LLC, wants to build a 68-unit luxury townhome project on about 2.9 acres. The site, between 93rd and 94th Streets on Collins Avenue, sits across the street from Fendi Château Residences building.
SoFla's affordable housing crisis: How can developers spur construction?
With all its glimmering waterfront high-rises, South Florida still has a thick cloud hovering over the issue of affordable housing. There is enormous demand from residents, but the supply is not there. A push for more incentives and subsidies and an effort to retool existing apartment stocks are a few of the potential solutions to increasing the amount of affordable housing. Those were just some of the…
PMG closes on 400 Biscayne, nabs financing for apartment tower
Property Markets Group has closed on the site at 400 Biscayne Boulevard where it intends to build a massive two-phase, mixed-use development, as the company continues to move forward with major new construction projects in South Florida. The New York developer paid $55 million for the 1.15-acre site and financed the deal with a $35 million loan from Greybrook Realty Partners, its partner on…
Mast Capital's proposed Miami River Walk wins city board nod
A month after the Miami River Commission approved Mast Capital's plan for its 6.3-acre apartment complex on the riverfront, the city's Urban Development Review Board gave the project a thumbs up. Mast Capital, which is led by CEO Camilo Miguel, Jr., has a contract to buy a redevelopment site at 1001 Northwest Seventh Street where the company wants to put four buildings that will have a total…
Miami is still in the running for Amazon's new headquarters
20 cities are left in the competition Forget the naysayers: Miami made the cut for Amazon's list of finalists for its HQ2 competition. Curbed posted the full list of 20 cities selected as potential hosts by the online retail giant for its forthcoming second headquarters. Not much is known about the next phase of the selection process, except that Amazon will reach out to the cities picked and that the same criteria…
Preservationists' dreams came true yesterday at Miami Beach City Hall
Two new local historic districts are official in North Beach North Beach now has two new local historic districts with demolition protection for more than 200 architecturally significant buildings, reports the Miami Herald. Yesteday's unanimous vote from the Miami Beach City Commission designated the most buildings at one time since 1990. The neighborhood's Art Deco buildings represent "Miami Modern…"
More growth expected for South Florida CRE in 2018: CCIM conference
Population growth, new jobs and a tight residential market are fueling Florida's commercial sectors, and that isn't expected to change anytime soon. That's how economist Sean Snaith summarized the current market as he kicked off the 2018 CCIM Commercial Outlook conference. One other major factor has contributed to the rising fortunes, he told the crowd at the Coral Gables Country Club on…
Design changes to Miami Worldcenter's retail portion approved
The developers of Miami Worldcenter just won a key design modification to the massive project's retail component. On Wednesday, the Miami Urban Development Review Board granted a request by the Nitin Motwani and Art Falcone-led development team to tweak the facades for the $2 billion mixed-use project's retail structure, also known as Block D. The changes will allow Miami Worldcenter…
Miami makes shortlist for Amazon HQ2
A surprise package arrived Thursday morning. Amazon has announced its shortlist of 20 proposals for its $5 billion second headquarters, with New York, Miami and Los Angeles all making the cut. There were 238 proposals from around the U.S., Canada, and Mexico for HQ2, although all 20 finalists are American, except for Toronto, Ontario. In the Miami area, proposals were submitted for Overtown…
Suit demonstrates costliness of construction disputes
It seems, Miami and South Florida has been in an unending period of construction and development. These projects range from residential and commercial buildings to considerable overhauls of the regional infrastructure, like passenger rail corridors. However, with construction comes the potential for disputes and even construction litigation. Major construction projects, such as the Brightline rail…
Firm Negotiates $41.8 Million, 70-Acre Development Site In West Kendall
A Miami based commercial real estate team recently negotiated the sale of a 70-acre development site located at the Southeast Corner of Southwest 88th Street and Southwest 162nd Avenue in West Kendall. KTC SW 88 St, LLC purchased the site from West Kendall Holdings, LLC for $41,837,000. Plans for the parcel, recently dubbed Kendall Town Center, are yet to be determined.
One Thousand Museum hits a major milestone
Check out these incredible photos from the top Zaha Hadid-designed development One Thousand Museum is almost at its 62-story zenith. The Next Miami reported yesterday that the ultra luxury condo in downtown Miami is nearing top off. Just check out these vertigo-inducing Instagrams from 706 feet above ground.
SoBe developer/playboy Thomas Kramer's personal property will be auctioned off
Bid on everything from furniture to life-size collectible figures Notorious Miami developer Thomas Kramer's personal effects — including everything from European high-end furniture to life-size collectible figurines to a mask collection — will be auctioned off next month by the Miami-Dade County Sheriff's Office. The Sheriff's sale is the latest chapter in Kramer's saga, which included his Star Island mansions…
Dev site in Wynwood hits the market
A development site along Northwest Second Avenue in Wynwood just hit the market. The William & Doris Friedopfer Trusts are selling the 1.72-acre assemblage at 2421, 2431 and 2455 Northwest Second Avenue; 146, 159, 169 and 172 Northwest 25th Street and the lot at 153 NW 25th Street. The assemblage is being listed without a price, but recent land sales along Northwest Second Avenue have closed for…
E-commerce is driving industrial demand, especially in Miami
E-commerce companies are gobbling up newly built warehouse space across the U.S. to become one of the leading industrial tenant types in the country, according to recent data released by JLL. E-commerce tenants now account for 16 percent of industrial activity in Miami and 12 percent nationwide, which ranks second behind logistics firms. During a presentation titled "The E-Commerce Revolution…"
Nautilus South Beach marketed for sale, sources say could sell for as much as $180M
The Nautilus South Beach is being marketed for sale, and hotel industry sources say the property could trade for as much as $180 million, or about $720,000 per key. Quadrum Global owns the beachfront 250-key hotel at 1825 Collins Avenue. The development, investment and management firm paid $61 million for the dilapidated property in 2011 and began renovations a year later.
50,000-square-foot lot underneath Macy's Miami Beach hits the market
The Miami Beach property leased to Macy's is for sale, and the owners expect it to trade for more than $20 million. Macy's still has about 32 years left on its lease, and the planned sale is another indication of the once vaunted retailer's escalating woes. The 50,000-square-foot lot at 1675 Meridian Avenue is zoned CD-3, meaning it can be developed into 137,000 square feet, and up to 75 feet tall, according…