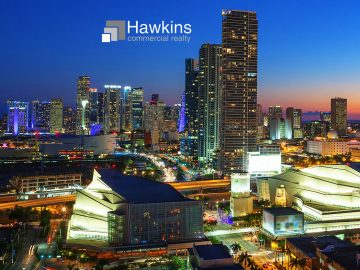 L&L Holding, Oak Row Equities Obtain $215M Construction Financing for Mixed-Use Development in Miami
L&L Holding Co. and Oak Row Equities, with project partner Shorenstein Properties and co-investor Claure Group, have obtained $215 million in financing for the construction of The Wynwood Plaza, a mixed-use project in Miami. Construction will begin on the 1 million-square-feet development immediately, with completion scheduled for 2025. Designed by architecture…
One Million-Square-Foot Wynwood Plaza Financed, Will Begin Construction Immediately
The developers of The Wynwood Plaza have obtained $215 million in construction financing. They have also announced that two full floors of office space have been pre-leased. With full project financing now in place, major construction will commence immediately with full completion anticipated in 2025, the developers said in a press release. Gensler is designing the project…
Wynwood Plaza project scores $215M construction loan
In yet another sign that lenders are still confident in the South Florida market, a mixed-use office development in Wynwood secured a $215 million construction loan. Little Rock, Arkansas-based Bank OZK provided the loan to L&L Holding Company, Oak Row Equities, San Francisco-based Shorenstein Properties and Marcelo Claure's Miami-based Claure Group for…
Downtown Miami's $185M Riverside Wharf Enters Construction Permitting
The $185M Riverside Wharf complex has moved into the construction permitting phase. Records shows a construction permit was applied for on December 22, with plans submitted on January 4 and now in review. A private provider is being used for plan review and inspections, according to Building Department records. There is no contractor attached to the permit…
Miami-Dade real estate vacancies reach new low as South Florida rent rockets to record highs; up for all asset classes
Rents rose across all asset classes in South Florida in the fourth quarter of 2022 as vacancies sank further amid a development rush to fill demand. That bodes well for builders and Realtors and shouldn't too adversely impact the businesses and residents — prospective or already in the area — with enough cash to cover costs. For those struggling to get by, it may portend…
MPA Approves 'Innovative' Mixed-Use Redevelopment Of College Station Garage
An "innovative" mixed-use redevelopment of the College Station Garage has been given approval by the Miami Parking Authority, according to a press release issued today. Oscar Rodriguez, Principal of developer College Station Partners, LLC, said they were excited to now begin the pre-development process, with groundbreaking "in the very near future." Under the terms…
JP Morgan's 2023 commercial real estate outlook
The 2023 commercial real estate outlook indicates there may be challenges ahead. Retail is at a crossroads, and the future of office space is unclear. Plus, supply chain issues persist, and inflation is near 40-year highs, prompting the Fed to steadily increase interest rates. But there are a few bright spots in the commercial real estate forecast. Multifamily properties continue to perform…
Developer plans 7-story self-storage project in Little Haiti
A site in the Little Haiti neighborhood of Miami could be redeveloped as self-storage. The city's Urban Design Review Board will consider plans for the 24,513-square-foot site at 7140 N.E. Miami Court on Jan. 18. It currently has a 4-unit apartment complex. The property was acquired for $1 million in 2021 by 7200 NE Miami Court LLC, managed by Federico A. Albornoz Sanchez.
Population Growth Metric: Miami-Dade Ranks #1 For Drivers Licenses Exchanged From Other States
Miami-Dade sits atop the list of Florida counties where drivers exchanged their out-of-state licenses in 2022, according to data from Florida's Department of Highway Safety and Motor Vehicles (via Florida Realtors). Overall Miami-Dade gained 59,113 people last year, the drivers license data shows. Broward ranked second with 40,212, followed by Hillsborough (38,330)…
Fort Partners pays $42M for Surfside condo development site
Fort Partners paid $41.5 million for a Surfside development site where the firm has approval to build a 14-unit condominium. The Miami-based company bought the almost 1-acre property at 9163-9165 Collins Avenue from Wexford Capital, according to records and real estate data provider Vizzda. The buyer also scored a $50 million mortgage for the site…
One Brickell City Centre Supertall Advances With Demolition Filing
A demolition permit has just been applied for at the One Brickell City Centre supertall site. The demolition permit is for a building at 700 Brickell Avenue and was applied for on January 20, according to Miami Building Department records. Review of the permit isn't yet underway, since the full plans have yet to be filed. There also does not yet appear to be a demolition permit,,,
Mixed-Use Project Proposed To Replace Surface Parking Lot In South Beach
The owner of the Washington Park Hotel in South Beach is proposing a 7-story mixed-use project on an adjacent municipal surface parking lot. WPH Properties, LLC submitted the proposal for a 99-year lease of the city property. The proposal include: 135 structured parking spaces in three levels, including a single subterranean level utilizing mechanical lifts…
Video Shows Model Of 950-Foot Cipriani Residences Planned In Brickell
There's a scale model of the 80-story Cipriani Residences planned in Brickell in the project's sales center, according to a video posted by John Pompliano. The Cipriani Residences tower is approved at a height of 940 feet above ground, or 950 feet feet above sea level. Two additional towers with rental apartments are also approved at the same property, rising 50 and 60 stories…
Metromover To Miami Beach Expected To Open In 2028 or 2029
Completion of Metromover to Miami Beach is expected in 2028 or 2029, according to a presentation yesterday by a Miami-Dade commissioner (photos of the presentation were tweeted by Mark R. Brown.) That timeframe is similar to an announcement made by Miami-Dade County a few months ago. In November, the county said that it expected to begin…
NBA Legend Alonzo Mourning Is Expanding His Affordable Housing Reach
The former NBA star, a Hall of Fame center who spent the bulk of his career with the Miami Heat, has stayed in South Florida after his playing days, working as a vice president for his former team. But he has also launched and grown a nonprofit developer, AM Affordable Housing, that has delivered hundreds of new affordable apartments in the Sunshine State.
South Florida industrial market softens, rents rise again in fourth quarter
South Florida's industrial market slowed down slightly in the final quarter of last year, as vacancies inched up while asking rents rose again. The tri-county region posted a 4 percent vacancy rate compared to 3.4 percent during the same period of the previous year, according to a recent Newmark report. And leasing activity across Miami-Dade, Broward…
Prestige JV scores $21M construction loan for Hialeah apartments
Prestige Companies and its partner scored a $20.5 million construction loan for a multifamily project on a former Salvation Army site in Hialeah, marking the firm's continued wager on the city. Prestige and Florida Value Partners have started building the project, consisting of 100 townhouses for rent and a three-story building with 12 apartments atop 5,000 square feet…
Seven Brickell Avenue buildings to fall for 400-foot-long residences
New condos are coming to the Brickell neighborhood in the form of a new low-rise multi-family residential project planned for Brickell Avenue. The project, 2200 Brickell, will be a five-story structure, home to 104 dwellings, with interior parking for up to 197 vehicles. The City of Miami's Urban Development Review Board unanimously voted to recommend approval of the…
Deadline electric bus deal fuels new South Dade rapid transit
New 60-foot battery electric buses are now geared to roll in two years on the South Corridor Rapid Transit Project, which was delayed during the pandemic as a global supply pinch stalled progress. Before that, service had been planned to start this month. Under the gun to order the buses by month's end to retain the bidder's price guarantee in the face of inflation…
Miami tourism glows as international arrivals soar
With a planned increased in seat capacity for international passengers coming to Miami and higher hotel occupancy and daily rate recorded in just the first two weeks of this year, the county's tourism outlook glows brightly. For the first two weeks of the 2023 combined, occupancy in county hotels has risen 8.1% over the last year. Similarly, average daily rate rose 4.6%…
Shore Club Condos Launch, Designed By Robert A.M. Stern Architects
In South Beach, plans for the Shoreclub Private Collection have just been unveiled. It is the first ever oceanfront project designed by the legendary Robert A.M. Stern Architects. It is also the firm's first-ever residential project in Miami Beach (RAMSA is designing the St. Regis Residences in Brickell, and completed the Miami Beach Library in 2005). The new condos will be built…
Related, Two Roads Launch Bal Harbour Condo Tower With $65M Penthouse
Related Group is charging ahead with another uber-luxury waterfront condominium development in Miami. Related, along with development partners Two Roads Development and Rockpoint Group, launched sales Wednesday on Rivage in Bal Harbour, a 24-story, 61-unit condo building, the developers announced. The project will stand 270 feet with asking prices starting…
Renderings Show What Brickell Key Supertall Tower Could Look Like
What would a supertall tower look like on Brickell Key? Architect Varabyeu Partners has just released a series of renderings showing a potential tower. The architect is based in based in Miami, Minsk and Brest, according to its website. The renderings release comes a few weeks after a Federal Aviation Administration filing requesting approval for two possible new towers…
Piling Equipment Arrives At Brickell Site Where 506-Unit Apartment Building About To Begin
Foundation construction appears about to begin at 444 Brickell Tower II, after equipment was delivered to the site late last week. The 44-story tower is planned to include 506 apartments. Developer Related Group has said it plans to break ground on the project this month, after it obtained a $164 million construction loan recently. Construction permits have already been…
Raanan Katz's shopping center allegedly tells neighbor: No parking for you!
Raanan Katz is allegedly getting territorial about sharing parking with a neighbor of one of his South Florida shopping centers, according to a recent lawsuit. Upper Deck Ale and Sports Grille is seeking a court order to stop Katz from restricting the adjacent restaurant's customers access to the parking lot at his RK Sage Plaza at 800 East Hallandale Boulevard in…
Lease roundup: Citigroup Center in downtown Miami nabs tenants
In South Florida's office leasing spree, Brickell has emerged as a most coveted location. Yet, four firms shunned the neighborhood, instead opting for downtown Miami and specifically for the Citigroup Center tower at 201 South Biscayne Boulevard. In the biggest lease, Andorran private bank Andbanc moved from 1221 Brickell Avenue to 6,700 square feet at Citigroup Center.
How pickleball is invading the real estate world
Pickleball is everywhere. A cross between tennis and ping pong, the racket sport is played in quick games of 11 points. It is played on a smaller court with a shorter net, and people love it. Between August 2021 and August 2022, 14 percent of Americans played pickleball at least once, amounting to 36.5 million picklers playing last year, according to the 2023 APP Pickleball…
Regal Cinemas to close 39 U.S. theaters following bankruptcy
The silver screens at dozens of Regal Cinemas across the nation will go dark soon. The Tennessee-based movie chain, the second largest in the U.S., will close 39 theaters from Los Angeles to New York to Miami after its parent company in the U.K. declared bankruptcy, Variety reported, citing legal filings. Cineworld Group, based in London, will reject the Regal Cinemas leases…
"Existential urgency": Housing crisis clouds South Florida, expert says
South Florida has benefited from a surge in companies and employees moving to the tri-county region during the pandemic. But for the area to continue to thrive, housing must become more affordable, experts said during a real estate event on Friday. University of Miami professor Andrea Heuson and independent consultant Saif Ishoof provided their economic forecast…
Tishman Speyer exec had $3M portfolio when she disappeared
The husband of missing Tishman Speyer executive Ana Walshe isn't talking, but one potential motive in her disappearance is emerging. Walshe's husband, Brian, searched "how long for someone to be missing to inherit," prosecutors revealed this week at his arraignment on a murder charge. As for what nearby assets could be worth inheriting, Ana had amassed a $2.8 million…
South Florida office rents rise in the fourth quarter
Miami's Brickell and downtown West Palm Beach continued setting the pace for South Florida's office market's momentum in the final quarter of last year, according to a recently released report. Average rents rose across the tri-county region in the fourth quarter, Avison Young's report shows. Miami-Dade and Palm Beach counties' vacancy…
Brightline Completes Final Installation Of Rail Track On Orlando Segment
The final section of track on Brightline's new corridor to Orlando has now been installed, according to a video by The Roaming Railfan. To mark the occasion, ceremonial golden clips were installed, tying the final section of rail together. Installation of the last 1600 foot section of tracks is a major milestone in connecting Miami to Orlando by train. The rail forms a brand new segment…
Miami Has The Nation's Highest Inflation Rate of 23 major Metropolitan Statistical Areas
Miami-Fort Lauderdale-West Palm Beach's inflation rate between December 2021 and December 2022 was 9.9%, according to the Consumer Price Index released by the U.S. Bureau of Labor Statistics last week, That makes the Miami area number 1 for inflation out of 23 major Metropolitan Statistical Areas, according to a Wallethub analysis. High housing costs in the…
Citadel Brickell Demolition Permit Approved
A demolition permit has been approved at a Brickell property reportedly owned by hedge fund giant Citadel. According to the demolition permit, total demolition of a 6,000 square feet building at 1250 Brickell Bay Drive is planned. A 12-unit apartment building on the site. Citadel is also said to own the office building next door, and is planning an iconic headquarters…
The Crosby Miami Worldcenter Submitted To FAA At 390 Feet
The Crosby – a tower planned to be built at Miami Worldcenter, has been submitted for height approval to the Federal Aviation Administration. According to a January 12 filing with the agency, the tower is planned to rise to a height of 377 feet above ground, or 390 feet above sea level. The Crosby is planned to include 450 condo units and 3,370 square feet of retail…
Chart: Commercial Real Estate Quarterly Price Index Moves, Calculated Standard Deviation, Empirical Rule Observations Using FRED Data
Board of Governors of the Federal Reserve System (US), Interest Rates and Price Indexes; Commercial Real Estate Price Index, Level, index levels retrieved from FRED, Federal Reserve Bank of St. Louis; Series BOGZ1FL075035503Q, January 16, 2023.The chart herein shows the quarterly change of the Commercial Real Estate Price Index from the Board of Governors of the US Federal Reserve…
Rigged Rent? Residents Allege Massive Price-Fixing Scheme in Miami Apartment Market
Miami ranks as one of the worst cities in the country for housing affordability, if not dead last. The crisis deteriorated last year as the Miami metro area experienced an unparalleled annual spike in housing costs, pushing countless residents to work long hours only to fall short on their bills. A slew of economic factors have been blamed for skyrocketing Miami…
Russian ex-police general buys Pembroke Pines strip mall for $23M
A Russian ex-police general — allegedly tied to a public corruption scandal in his motherland — dropped $23 million for a Pembroke Pines strip mall. An entity managed by Anatoly Petukhov bought the two-building retail property at 304 Southwest 145th Avenue… $689 per square foot for the 33,400-square-foot mall… tenant roster includes Xfinity, the Habit Burger Grill, Pieology…
Boyd Watterson drops $38M for veterans clinic in Sunrise
Healthcare Realty Trust sold a Veterans Affairs clinic in Sunrise for $38.2 million, 23.3 percent less than its purchase price six years ago. Boyd Watterson Asset Management bought the William "Bill" Kling Department of Veterans Affairs Outpatient Clinic at 9800 West Commercial Boulevard, according to…
Brokers' entity pays $22M for Fort Lauderdale dev site
Cushman & Wakefield's Denny St. Germain and Robert Given with 1151 Southwest Ninth Avenue in Fort Lauderdale (Cushman & Wakefield, Google Maps) Denny St. Romain and Robert Given are usually brokering land sales for someone else. But in a recent $22 million deal for 11 nearly vacant acres in Fort Lauderdale, the Cushman & Wakefield brokers are the…
Randall Realty pays $15M for Palm Beach office-retail building
Randall Realty Group bought a Palm Beach office and retail building, with plans to open its East Coast headquarters at the property. The Los Angeles-based firm purchased the two-story building at 2875 South Ocean Boulevard for $15 million from The Silverman Group, according to the buyer's news release. Cushman & Wakefield's Scott…
Brookfield wants to sell Mizner Park in Boca Raton
Brookfield Properties is looking to sell Boca Raton's Mizner Park. The massive mixed-use project is on the market unpriced, according to an offering obtained by The Real Deal. Completed in the 1990s, Mizner Park consists of a 272-unit apartment building, 270,000 square feet of retail buildings, a 268,000-square-foot office tower and 2,389 parking spaces. The entire project…
Landstar pays $57M to add 857 acres to Avenir in Palm Beach Gardens
Avenir's master developer paid $56.7 million for 857 acres in the Palm Beach Gardens planned community. Records show that Avenir Holdings LLC sold the acreage to Avenir Development LLC. Both entities are managed by partners of Landstar Development Group, a Coral Gables-based family-owned real estate development…