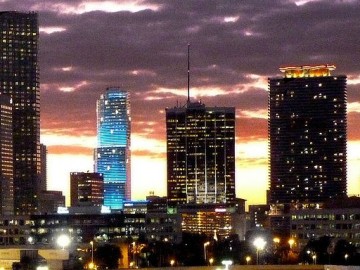 Gatsby Enterprises pays $126M for 800 Brickell
Deutsche Bank's RREEF sold a Brickell office building to Gatsby Enterprises for $125.5 million, according to sources. Gatsby Enterprises, a New York-based real estate firm led by principal Nader Shalom, and Master Mind LLC, led by Babak Ebrahimzadeh, closed on 800 Brickell, CBRE said. The 2-acre property includes a 209,122-square-foot office building and an adjacent 9-story parking garage. The firm declined…
Miami Tower Changes Hands in $126M Deal
The Miami office tower known as 800 Brickell has come under new ownership. With the assistance of CBRE, RREEF Property Trust sold the 209,100-square-foot property to Gatsby Enterprises and Master Mind LLC in a deal valued, according to South Florida Business Journal, at $125.5 million. "(The property was) highly pursued by a variety of different investment groups, including institutional, high net worth…
Multifamily arm of Florida Crystals nabs construction loan for Hialeah project
The apartment development arm of Florida Crystals closed on a $38 million construction loan for a new project in Hialeah. FC Hialeah Development LLC scored the financing from PNC Bank for the 245-unit development planned for 11055 West 36th Avenue. The FCI Residential affiliate acquired the 10.8-acre site from Lennar Corp. in 2017 for $9 million. The property is west of I-75 and east of the…
Miami Beach board greenlights new rules for hotel development along Lincoln Road
Hotel development along Lincoln Road is now a step closer to reality. A proposed ordinance that would make it easier to build hotels along the South Beach pedestrian promenade won the endorsement of the Miami Beach Planning Board on Tuesday. Two Lincoln Road property owners who want to redevelop their office buildings as hotels pushed for the new rule. They claim that current city…
Finvarb moves forward with mixed-use apartment project in North Beach
Robert Finvarb and an aerial view of the properties (Credit: Google Maps) Miami Beach developer Robert Finvarb has one less obstacle in his path of building a 220-foot-tall mixed-use apartment complex in North Beach, The Miami Beach Planning Board unanimously approved a land swap in which Finvarb absorbed 4,522 square feet of city-owned land – portions of the Abbot Court and Normandy…
BAC Florida Bank Relocates HQ to Coral Gables Development
BAC Florida Bank has inked a 63,000-square-foot, long-term lease at The Plaza at Coral Gables, the 7-acre, mixed-use development currently under construction in Coral Gables, Fla. Starting 2022, the bank will relocate its headquarters from 169 Miracle Mile and occupy the top three floors of the project's south tower. Agave Holdings is the owner of the upcoming building. Located at 2901 Ponce de Leon…
Investors buy bayfront apartments in North Beach
An investment group led by Jonathan Politano bought a waterfront apartment assemblage in North Beach for $7.3 million, The Real Deal has learned. The assemblage includes 2050, 2070 and 2095 Bay Drive in Miami Beach, and is composed of a 70-unit bayfront apartment building on two lots, and a vacant lot across the street. Pierre on the Bay LLC, led by Aaron Edelstein, sold the properties. Jose Melgar…
Miami Beach investors head north, buy Broward rental portfolio
Miami Beach investors Jack Avid and Steven Oved paid $8.9 million for a 54-unit portfolio of apartments in east Broward County. Madison Realty Investors sold the following properties: — 15-unit Jasmine Court apartments at 816-822 Northeast 18th Avenue in Fort Lauderdale — 14-unit BV Apartments at 2850 Northeast 30th Place in Fort Lauderdale — 10-unit Victor Apartments at 3451 Northeast 11th Avenue…
Miami Beach Canopy to mark city's entrance
The Miami Beach Canopy, French artist Daniel Buren's latest work, has won unanimous approval from City of Miami Beach commissioners. The transparent cylinder pedestrian bridge and gateway off the MacArthur Causeway is lined with curved glass panels that, when hit by sunlight, will allow pedestrians to walk on color. The Miami Beach Canopy or the Pedestrian Bridge Project is one component of the…
Miami Worldcenter residences plan more parking for bikes than cars
The developer of a major mixed-use residential project within Miami Worldcenter plans a building with more parking spaces for bicycles than for cars. So it may be no surprise that the site abuts a Metromover station. Akara Partners, a Chicago-based real estate investment and development company, is proposing the project in the multi-block Worldcenter development, rising in the Park West neighborhood.
Donald Trump's Doral golf resort may host the G7 summit: report
Donald Trump and Trump National Doral (Credit: Getty Images) The Trump administration has picked Trump National Doral as a finalist for hosting the world's most powerful leaders at the G7 summit next year. Trump National Doral, an 800-acre golf resort in Doral owned by the Trump Organization, is in the running for the meeting after the Trump administration completed site surveys of possible locations…
Miami explores leasing Allapattah land to Major project
A request for information has been issued on behalf of the City of Miami for about 18 acres of city-owned land in Allapattah as the city considers leasing the property. The two square blocks are between Northwest 19th and 20th streets and Northwest 12th and 14th avenues, north of Jackson Memorial and the Veterans Administration hospitals. Andrew Schimmel, project lead from the city's real estate…
Baptist Health Inpatient Rehabilitation Relocating to Homestead Hospital
A new, 23-bed inpatient rehabilitation unit opened July 20th at Homestead Hospital, accommodating the relocation of Baptist Hospital's Inpatient Rehabilitation program. Baptist Health Rehabilitation cares for children (ages 4 and up) and adults who are facing an acute or disabling injury or illness. The program includes certified rehabilitation nurses and a full complement of physical, speech, occupational…
High-flying Melreese golf course development hits county turbulence
A full year after a high-power group sought the City of Miami's only golf course beside Miami International Airport for a vast office, retail and hotel complex including a soccer stadium, the group finally got around to talking with the airport. That was eight months after voters had OK'd talks about a lease of the city's largest green space for a project due to be larger than landmark Brickell City Centre, on about…
The New EB-5 Rules Are Out, And The Rush To Invest Is On
U.S. Citizenship and Immigration Services has finalized a new rule for the EB-5 Immigrant Investor Program that will nearly double the funds foreign investors need to loan to U.S.-based projects in order to get green cards. The new limit could have a substantial impact on funding for development projects around the country. Allison Berman, the head of the EB-5 group at New York-based real estate lender…
Multifamily Developers Pull Back on Deliveries in South Florida
While apartment demand remains strong in South Florida, multifamily deliveries were down sharply in the second quarter, according to commercial real estate firm Berkadia. According to Berkadia's recently released Q2 2019 South Florida Multifamily Report, construction was completed on 8,522 units in the second quarter in South Florida, down from 12,562 additions posted in the second quarter of…
Video: PwC Workforce Strategy Lead Bhushan Sethi Discusses the Impact of the Sharing Economy on CRE
Bhushan Sethi, Workforce Strategy Lead with PwC, joins America's Commercial Real Estate Show to discuss how the flexible talent economy, – the gig economy – is affecting the commercial real estate industry. He begins by talking about the balance, essentially, between community ambiance and its talent ppol, versus cost. They go on to discuss the radical differences in co-working environments…
Residents Scorch Mayor Scholl's Plan to Cram 9000 Residential Units Into the Town Center District of Sunny Isles Beach
Sunny Isles Beach Mayor George "Bud" Scholl ran in 2014 on a platform that he would stand against high density development on the west side of Collins Avenue. Now that he's been re-elected, he's lying down on his promises. Or maybe he was lying all along. Mayor Scholl was fresh off a vacation in Sicily when he breezed back into town with an idea that was so crazy it just might have worked. That…
Blockchain Center's grand opening attracts local, international leaders
Blockchain Center's grand opening in June was well received by local and international community leaders including a ribbon cutting by Miami Mayor Francis Suarez and an announcement by Nick Spanos informing the community that the space is open for free during the summer. "Miami is entering its next phase in its technological advancement; the center is part of the redevelopment of Miami's Central…
Smart Growth in the Heart of Miami-Dade County
The term 'smart growth' is repeatedly overused in the real estate development world as a semantics tool aimed at gaining support or other benefit from the community. The end result doesn't always match the 'smart' with the 'growth' and too often projects fail to deliver on their promised vision. However, sometimes a project concept comes along that seems to check many of the boxes on the…
Renowned Adrienne Arsht Center architect César Pelli dies at 92
Acclaimed architect César Pelli, whose firm designed some of the world's most distinctive buildings, died Friday. He was 92. La Gaceta, a newspaper in San Miguel de Tucumán, his hometown in northern Argentina, reported the news. Pelli, who came to the U.S. in 1952 to continue his architecture studies at the…
New owner of Toys R Us plans 2 store openings this year in small-scale U.S. comeback
The new owner of the Toys R Us brand will open scores of new stores this year, but only two in the United States, where the former owner declared bankruptcy in 2017. Several former executives of Toys R Us founded Parsippany, New Jersey-based Tru Kids Brands in January, and it now manages the Toys R Us, Babies R Us and Geoffrey brands. Toys R Us liquidated its U.S. business after its 2017 bankruptcy…
Apartment pricing slowdown: Rents are cooling in downtown Miami, report says
Amid an influx of new high-end apartments in Miami, rent growth is starting to slow down in downtown Miami and South Beach, according to a new report. The report from Berkadia shows that the average monthly apartment rent in downtown Miami and South Beach rose only 0.8 percent in the second quarter of 2019, year-over-year, to $2,112. That compares to an annual increase of 2.7 percent…
Avra Jain, Akara Partners and Mishorim win approvals for hotel and resi projects in Miami
When it came to conceptualizing 555 Riverhouse, a new mixed-use project on the Miami River proposed by an Avra Jain-led development team, New York City-based architect Carlos Zapata made several site visits to soak in the maritime activities along the city's water way. The result is a design featuring two striking glass-and-steel buildings that resemble cargo ships weighed down by stacks of containers…
Lissette Calderon plans second apartment project in Allapattah
Lissette Calderon and a rendering of the project (Credit: Sonya Revell) Lissette Calderon is firmly planting her flag in Allapattah. The Miami Urban Design Review Board on Wednesday approved the developer's second planned apartment project in the neighborhood. The proposed mixed-use development would have 323 apartments and a 336-space parking structure at 1625 Northwest 20th Street. Known…
Glasshaus in the Grove lands construction financing
The developers behind Glasshaus in the Grove secured a $13.2 million construction loan to finish building the boutique luxury condo project. The loan was provided by Boynton Beach-based Trez Forman Capital. It was arranged by David Larson of NKF Capital Markets. Javier Lluch and Daniel Ribeiro are developing the five-story, 23-unit condo building at 3161 Center Street that is expected to be…
Tariffs, natural disasters are driving up construction costs in Florida: report
This has been a rough year for Florida's housing market. A new report by BuildFax found that existing home maintenance construction costs in Florida increased 13 percent in June, on a year-over-year basis. Buildfax's CEO Holly Tachovsky said via email that natural disasters could have driven up some of the costs in Florida and made it more difficult to find workers. Nationally, she said tariffs on construction…
Foreign investment in US homes plummeted to $78 billion over the past year
A map of the US with flags from China, Canada and India Foreign investment in residential real estate in the U.S. has taken a tumble. Foreign buyers purchased $77.9 billion worth of existing U.S. homes between April 2018 and March 2019, a 36 percent decline compared to the $121 billion recorded the previous year, according to a report from the National Association of Realtors released Wednesday.
Boyne Capital Partners signs lease at One Cocowalk
The Gap has announced that it will depart CocoWalk at the end of August. The Gap is one of the original tenants and they are part of the community, it will be sad to see them go. Starbucks will not return, they have a better rent deal across the street where they are. Their location across the street has not hurt business and it has helped business at Panther Coffee across Main Highway; they sort of feed off…
South Florida by the numbers: Miami, the tax haven
South Florida (Credit: iStock) "South Florida by the numbers" is a web feature that catalogs the most notable, quirky and surprising real estate statistics. One state's tax is another state's treasure (or something like that). However the phrase goes, Florida certainly seems to be reaping the benefits of new laws that are driving companies and residents of New York, California, and other tax-heavy states to seek…
Uchi and Wabi Sabi to open in Wynwood, Carrot Express hops to Coral Gables & other restaurant news
Two restaurants inked leases for space at Wynwood 25, a newly completed apartment development at 240 Northwest 25th Street. Related Group and East End Capital are the developers. Uchi Miami, led by chef Tyson Cole, is taking 5,500 square feet. The famed sushi restaurant is based in Austin. Tahini Street Food, a Middle Eastern restaurant based in San Diego, is leasing 2,000 square feet, according to a…
Yardi Kube Regional Manager, Coworking Discusses Coworking Trends
Warren Hersowitz of Yardi Kube joins Michael of America's Commercial Real Estate Show in Studio One to discuss coworking trends and how they're affecting office real estate property today. He talks about how buildings are incorporating coworking in buildings, using the concept to increase rent per square foot. Contibuting technologies are discusses, particularly for large coworking / shared space companies. Issues specific to shared space are discussed, including managing conference rooms…
In Palmetto Bay, it's about time, it's about space…
Some of you may remember the theme song from a 60s sitcom, "It's About Time," probably better than the show itself. It goes like this: It's about time, it's about space… It's about people in the strangest place… In a strange way, it makes me think about Palmetto Bay and the light years it's taking to launch a downtown. I mean really, isn't it about time for the Palmetto Bay Council to start delivering…
Is Mayor Gimenez being spiteful over the Coconut Grove Playhouse?
There's an interesting article in Political Cortadito, which calls out County Mayor Carlos Gimenez regarding the Coconut Grove Playhouse at 3500 Main Highway. It basically calls him a spiteful schmuck. It says, "It is proof positive that Miami-Dade Mayor Carlos Gimenez, who wants to sell off every part of the county he can before he is out of office next year, has become completely delusional or thinks he can…"
Another lawsuit regarding the Coconut Grove Playhouse
Attorney David Winker is filing a lawsuit/petition with the county. "I represent two residents that live within 500 feet of the Playhouse and we will be filing an Amicus Brief in support of upholding the Mayor's veto," he said. They have until September to file the suit. Winker said, "The County's arguments that the Mayor's veto is illegal are without merit and this is an inappropriate attempt to override the decision…"