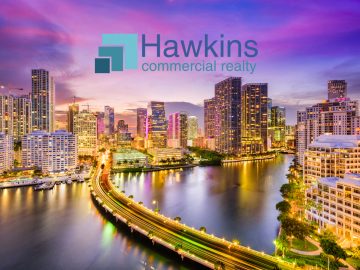 Moishe Mana expands downtown Miami assemblage with $12 million purchase
Downtown Miami's largest private property owner is still adding to his assemblage. Mana, who has envisioned transforming his real estate into the Mana Common tech and cultural hub, bought the half-acre parking lot at 49 Northwest First Street for $12.4 million, according to a news release. Miami Beach investor Andrew Mirmelli, manager of M&M Parking, sold…
Witkoff, Monroe pay $94 million for site of canceled Marriott hotel at Miami Worldcenter
New York-based Witkoff and a partner swooped in to buy the site of MDM Group's long-hyped — but now-canceled — Marriott Marquis Miami Worldcenter Hotel for $94 million. Witkoff, led by Chair and CEO Steven Witkoff, and Chicago-based Monroe Capital bought the 4.7-acre site at 700 North Miami Avenue, according to a news release. It is not yet clear…
Chart: Miami-Dade Commercial Property Estimated Turnover 2016 to 2020
The question comes up as to how frequent a commercial property trades in the Miami area. Many take a guess at this, but which I've never heard of anyone else really making an effort to truly quantify it. I've taken a swing at it here. The Methodology. The value of what trades as a percentage as the numerator (selling prices) is not disclosed for many trades and in any…
Brazil's Biggest Homebuilder Expanding Quickly In U.S. Multifamily
The biggest homebuilder in Brazil has entered the U.S. multifamily market and is expanding quickly through a South Florida developer and landlord. Miami-based AHS Residential controls and operates 11 communities and over 2,500 apartment units in Florida. In South Florida specifically, AHS Residential has five new apartment communities…
Related Group Seals $73 Million Loan From Cerberus for Wynwood 29 Project
The Related Group has locked in $72.8 million in construction debt from Cerberus Capital Management for a planned mixed-use residential and retail development, Wynwood 29, in the Wynwood section of Miami, Commercial Observer has learned. The financing will allow Related and its partner Metro 1, a Miami-based real estate firm with a history in…
"The Cult of We" review: "Emperor's New Clothes" of the Silicon Valley age
Jamie Dimon, billionaire banker, adviser to presidents, leonine master of the financial universe, had FOMO. Mohammed bin Salman, the brash upstart who had come out on top in a ruthless Game of Thobes at the House of Saud, was eager to announce his primacy on the world stage. Masayoshi Son, whose early bet on Alibaba had made him one of the world's…
Here's what tenants pay at Downtown Miami's Citigroup Center
The following is a preview of one of the hundreds of data sets that will be available on TRD Pro – the one stop… The priciest Miami office tower to trade hands in the past two years is a bit of a fixer-upper. As of March, the 810,000-square-foot Citigroup Center at 201 S Biscayne Boulevard in Downtown Miami was only 62 percent leased….
Pandemic fueled record business openings wave in Miami
The Covid-19 pandemic fueled the greatest wave of business openings in Miami-Dade County history, a new report from the US Census Bureau reveals. As the pandemic developed last year, the number of new business applications in the county rose nearly 25% above the level of 2019, which was the record at that time for Miami, a community that has…
Downtown Miami Office Vacancy at 24% in Q2, Up Slightly From Q1
Vacancy rates for office and retail properties remain high, but brokers and businesses are betting on a booming Miami market for business transplants. Direct vacancy for Downtown Miami office buildings was at 23 percent on average in the second quarter, according to a report from Colliers. Vacancies for all Miami-Dade County office properties stood…
Miami may forgive millions in Jungle Island debt
The Miami City Commission plans to consider amending a development agreement with ESJ JI Leasehold LLC to pay a portion of a loan given by the city to the original lessee for construction and operation of a hotel at Jungle Island on Watson Island in exchange for the project being completed by 2026. That would require ESJ to show a certificate of occupancy for…
Venetian, Rickenbacker Causeway redevelopment sought
Miami-Dade County received an unsolicited proposal from a consortium of firms, identified as the Plan Z Consortium, for a project to improve the Venetian and Rickenbacker causeways and Bear Cut Bridge. Now, county commissioners are today (7/8) to discuss the proposal and authorize the mayor to open a solicitation to others for the same project purpose.
Research Points To E-Commerce-Driven Need For Another 330 Million Square Feet By 2025
Even though the most-dire days of the COVID-19 pandemic may be in the past, that, by no means, has pumped the brakes on the frenetic pace of e-commerce activity, driven by the steady drum beat of consumer demand. That was evident in the findings of a report recently issued by Los Angeles-based industrial real estate […]…
Restaurant aid runs dry, leaving most applicants with nothing
The federal pandemic relief fund for struggling restaurants fell short, helping less than a third of eateries that sought assistance. The $28.6 billion Restaurant Revitalization Fund, which was established as part of the federal $1.9 trillion coronavirus relief package, closed on Wednesday because it ran out of money, the New York Times reported.
CP Group Acquires One Biscayne Tower in Downtown Miami for $225M
CP Group, formerly Crocker Partners, has acquired One Biscayne Tower, a 38-story office tower in downtown Miami, in a joint venture with funds managed by Rialto Capital Management and Sabal Capital Partners. Dow Chemical sold the asset for $225 million, according to the Daily Miami News. L&B Realty has managed One Biscayne Tower on behalf of Dow…
CP Group JV Buys 1 Million Square Feet Miami Tower
A joint venture of CP Group, formerly known as Crocker Partners, along with funds managed by Rialto Capital Management and Sabal Capital Partners, has acquired the downtown Miami office building One Biscayne Tower, CP Group announced. The purchase price was $225 million, according to The Real Deal, which first reported the purchase. The…
$4.8M Sale of Coral Way Medical Office Property Brokered
Marcus & Millichap has brokered the $4.8 million sale of a three-story, 15,250-square-foot medical office property located at 1790 Coral Way in Miami. Douglas Mandel and Adam Klein of Marcus & Millichap represented the seller. Miami-based L2 Partners, a limited liability company, was the seller. The seller will occupy about 30 percent of the building. The…
Edgewater's Bay Park Condo Towers in $130M Bulk Buyout Deal
If Beach Hill Capital Partners has their way, Edgewater will be seeing another luxury, waterfront condo tower be built. The Miami-based investment firm has offered $130 million to buy out the 1960s waterfront condo complex at 3301 NE 5th Avenue. The 14-story, 254-unit building was built in 1961 and has one of the largest surface parking lots in…
Chetrit's lender alleges it stole $2M insurance payout for South Beach hotel damage
Chetrit Group's new lender alleges that the New York real estate firm stole $2 million in insurance money tied to damages at the long-shuttered Tides South Beach hotel at 1220 Ocean Drive, court filings show. The latest allegations are part of a $45 million foreclosure lawsuit filed earlier this year by Safe Harbor Equity affiliate SHEDDF3 VNB LLC against CG Tides…
Lumber prices are splintering, futures drop 40% in June
Someone yell timber. June was the worst month on record for the lumber futures as prices for the homebuilding commodity are falling fast after an unprecedented run-up. The lumber bubble has finally popped because demand eased and supply grew, CNBC reported. Lumber futures tanked by more than 40 percent in June, the biggest monthly drop in data kept…
Zom wants to sell two South Florida apartment buildings for nearly $500M
Zom Living CEO Greg West with the properties Apartment developer Zom is ready to part ways with two high-end rental projects it recently completed. The company hopes that the South Florida properties will sell for more than $460 million… Orlando-based Zom listed the 438-unit, 50-story Solitair tower at 86 Southwest Eighth Street in Miami's Brickell neighborhood…
Ronny Finvarb buys Deerfield Beach mixed-use property for $9M
Real estate investor Ronny Finvarb bought another property in Deerfield Beach. Finvarb, through his Sandcastle 1 affiliate, bought the office-retail building with restaurants at 233-249 Northeast 21st Avenue for $9.3 million, he said. The seller is Atlantic Pavilion, managed by James Nizzo and Ellen Spiros, according to corporate records. The three-story, 51,662-square…
FBE buys Lauderhill apartment complex for $95M
FBE Limited bought a Lauderhill apartment complex for $94.6 million. Records show 4200 Cypress Owner, tied to New York-based FBE, bought the complex at 4200 Northwest 19th Street from an affiliate of Code Capital Partners, also based in New York. The buyer took out an $80.4 million loan from MF1 Capital to finance the purchase. The 814-unit complex was…
Crow Holdings buys Delray Beach apartments for $112M
Dallas-based Crow Holdings bought a Delray Beach apartment complex for $111.75 million, marking one of the highest-priced multifamily deals in South Florida this year. Records show a limited partnership of CH Realty IX/MF Boca Raton Congress, in the care of Crow Holdings, bought the 369-unit Alta Congress at 250 Congress Park Drive. The deal breaks down…
Pebb Enterprises buys Boca Raton office building for $18M
Real estate investment firm Pebb Enterprises bought a Boca Raton office building for $18.4 million in an off-market deal, The Real Deal has learned. Boca Raton-based Pebb, led by president and CEO Ian Weiner, purchased the building at 1801 North Military Trail, according to a press release. Property records show the seller is North Circular Boca Raton LP.
Tricera Capital, partners buy West Palm Beach office tower for $61M
Tricera Capital and three other partners bought One Clearlake office tower in West Palm Beach for $60.7 million. Tricera, NDT Development, New England Development and Rockpoint Group purchased the property at 250 South Australian Avenue, according to a news release. The seller, a joint venture between Dallas-based private equity real estate fund manager…