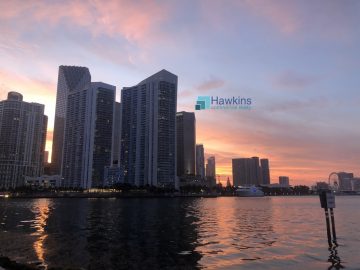 Brookfield pays $27 million for Medley warehouses
Brookfield Property Partners is increasing its presence in South Florida's booming industrial market. The real estate arm of the Toronto-based asset manager purchased two industrial warehouses at 10800 Northwest 92nd Terrace in Medley for $26.9 million, records show. Oviedo, Florida-based A. Duda & Sons sold the warehouses. The property includes three separate…
Marginal gain in hotel occupancy as unrest hit some cities
Demand for hotel rooms continued to rise in many markets across the country last week. The civil unrest of the last two weeks may have dampened demand in some cities. (iStock) U.S. hotels last week continued their slow recovery from the depths of the coronavirus pandemic. National occupancy crept up to 36.4 percent from 35.3 percent the week prior….
Urbanica scores approval for new hotel in North Beach
Urbanica Management has the green light to build a new hotel on one of the last vacant oceanfront parcels in Miami Beach. The Miami Beach Historic Preservation Board on Tuesday unanimously approved Urbanica Management's plans to construct an 11-story, 209-room hotel with a 104-seat restaurant and a 91-space garage at 6747 Collins Avenue. The future…
Macy's CEO says sales down 50%, less than expected, as stores reopen
As Macy's reopens its stores, sales are down 50 percent — better than the retailer's grim expectations of an 85 percent decline. So CEO Jeff Gennette is calling it a win. Gennette said during a virtual conference Tuesday that Macy's sales since beginning to open stores indicate that the steep decline in retail sales is only temporary, the Wall Street Journal reported. "The lure…"
AMC may close some theaters in an effort to stay in business
AMC is pressed to get eyes back in front of their screens starting in July — but not without some cuts ahead. (Getty) AMC is pressed to get eyes back in front of their screens — but not without some cuts ahead. The world's largest movie theater chain recently announced that it was facing billions of dollars in losses and was concerned about the company's ability to…
CC Residential scores $30M loan for "active adult" rentals in Cooper City
CC Residential scored a $30.8 million construction loan to begin construction of an "active adult" rental community in Cooper City. CC Residential, led by longtime South Florida developers Armando Codina and James Carr, is planning to build the 175-unit development on Monterra Boulevard in central Broward County. The group secured the loan from…
Billionaire developer Doronin buys Fort Lauderdale assemblage for $63M
Billionaire developer Vladislav Doronin assembled and closed on three blocks of land in Fort Lauderdale for nearly $63 million, marking his first plan to develop in Broward County. Doronin's OKO Group, through a land trust, closed on 6.7 acres south of the New River and Las Olas Boulevard, an area that has attracted a group of developers, property records show.
Simon Property Group axes $3.6 billion Taubman Centers acquisition
In the latest mega deal to fall apart due to the coronavirus, mall operator Simon Property Group is axing its $3.6 billion deal to buy Taubman Centers. Simon executives on Wednesday said Taubman breached the contract by failing to take measures to mitigate the impact of the pandemic. "The merger agreement specifically gave Simon the right to terminate the…"
Altman scores $55M construction loan for Ludlam Trail project
The Altman Companies closed on a $55.4 million construction loan for a Ludlam Trail apartment project. Altman Companies secured the loan from Comerica Bank and IberiaBank to build the 312-unit apartment complex at 7004 Bird Road near the Ludlam Trail Corridor District, according to a press release. The six-story building will be on about 2.74 acres of land.
Bids final step to raise Tamiami Trail, flow water to Everglades
Contractors have until the beginning of next month to bid on a project to raise a 6.5-mile segment of the Tamiami Trail, the final step in infrastructure to increase the flow of fresh water to the Everglades and Florida Bay. "The deadline for bids is early July," said Alecia Collins, deputy communications director for the Florida Department of Transportation…
Enterprise Florida grants spur trade shows, business matchmaking
Enterprise Florida Inc., the state's economic development arm, has continued to support Florida's small and mid-sized businesses throughout the pandemic by introducing two new grant programs and maintaining existing initiatives such as offering certificates of free trade and website customization services. Manny Mencia, the senior vice president of the…
Downtown Miami filled with cautious optimism as recovery begins
Downtown Miami has not been Teflon during Covid-19. Still, there is cautious optimism the urban core could be seeing a return to normal, and some economic development opportunities could emerge from the pandemic. The City of Miami has begun its reopening, and by extension, downtown Miami is starting to liven up again. Shopping hubs like…
Christina Crespi: Leading Downtown Development Authority into recovery
Since she came back home from college, Christina Crespi has been involved in government. A Miami Beach native, her fondness for Miami Beach's parks and recreation led her to her hometown city's government, where she worked as a case worker in homeless services. Her boss at the time then recommended she apply for a former county management training…
Landlords sue Big Retail as missed rent payments pile up
A growing number of retail landlords are suing to get unpaid rent from "credit tenants" like H&M, Urban Outfitters, and Gap that have been battered by the coronavirus. (Getty) Before the coronavirus, retailers like H&M and Urban Outfitters were the kinds of companies that landlords targeted. Owners laid out pricey incentive packages and heavily courted…
Retailers take stock of insurance coverage after looting
Looting and vandalism in cities across the country, which arose alongside peaceful protests for racial justice, have posed another setback for retailers already struggling with the fallout of the coronavirus pandemic. But damages from civil unrest may prove more manageable than the unprecedented public health crisis in one respect: insurance coverage.
Chart: Miami-Dade MLS Commercial Property Sales Nearly 3 Months into the COVID-19 Pandemic ~ Down but Not Out
The chart above shows the number of commercial property sales in Miami-Dade county, frequently considered as the general Miami, Florida metro area, for both improved and vacant land that were recorded in the Miami Realtors MLS from January 2018 to May 2020. Though MLS only picks up a portion of commercial property sales, and thus is not fully representative…
Chart: Miami Commercial Real Estate Sales to List Price Ratio Continues to Hold Up in May ~ MLS
Miami Association of Realtors January 2015 to May 2020 Property Types Land-Commercial/Business/Agricultural/Industrial, Commercial/Industrial Miami-Dade County Calculated from 8,338 commercial proeprty listings Last month we noted that though one month does not say much it was worth noting that commercial properties traded at a somewhat normal…
Dezer's plans to remake Intracoastal Mall face opposition
Dezer Development's plans to transform Intracoastal Mall in North Miami Beach into a high-rise, mixed-use project are facing opposition. The North Miami Beach Planning & Zoning Board on Monday delayed its review of the developer's plans to turn Intracoastal Mall into a 2.8 million-square-foot project with retail, office, residential and hotel until at least July 13.
Trends That Will Redefine Industrial Architecture, Design
Distribution centers are among the fastest-growing class in the industrial sector, particularly due to e-commerce irreversibly impacting the way people shop. The coronavirus crisis, coupled with consumer preference and demand for high-speed shipping service, has boosted demand for last-mile delivery. As a result, design flexibility has become of paramount…
Easton Group to Develop 266,000 SF Warehouse in Hialeah Gardens
Easton Group will develop a 266,000-square-foot warehouse in Hialeah Gardens near Miami. An affiliate of Easton acquired an 8.5-acre site for $8.2 million. In September, a different Easton affiliate bought an adjacent 8.5-acre site for $5.6 million. Easton will develop the 266,000-square-foot property across the entire 17-acre site, which is located on NW 107th…
Nearly 80% of renters have made payments in June: report
One survey of 11.5 million apartments shows that 80 percent of renters paid at least some rent in June. (iStock) Rent collections continue to appear stronger than initially expected despite financial stress brought on by the coronavirus. Roughly 80 percent of residential tenants paid at least some rent during the first week of June. That's a slight increase from rent…
Wells Fargo seeks to foreclose on Southland Mall in Cutler Bay
Even as malls reopened in South Florida, those that are struggling could wind up under new ownership in coming months. Wells Fargo, representing a trust of commercial mortgage backed securities investors, filed a foreclosure lawsuit against the owner of Southland Mall in Cutler Bay at 20505 S Dixie Highway, claiming the borrower is in default on…
Amazon to open store on Lincoln Road
Amazon will open a store on Lincoln Road, as brick-and-mortar retailers nationwide struggle to pay rent during the pandemic. Amazon is leasing 5,000 square feet at 700 Lincoln Road in Miami Beach for a 4-Star location, which means it will sell products rated four stars and above by Amazon customers, as well as new and trending products, according to a…
Small investors swarm crowdfunding real estate deals
While the amount of crowdfunded real estate deals on offer has declined substantially in recent months, demand is strong for those investment opportunities that remain, such as the Renaissance Harborplace Hotel in Baltimore (iStock, Google Maps) It's not just large investment funds that are seeking out buying opportunities during the coronavirus crisis.
Men's Wearhouse parent company considering bankruptcy
Men's Wearhouse and Jos. A. Bank may soon join the growing list of retailers that have declared bankruptcy in recent months. Tailored Brands, the retailers' Houston-based parent company, has been reaching out to interested parties in an effort to restructure more than $1 billion in debt, according to Bloomberg. The plans are still in the early stages and the…
South Florida Retail Summary: Leases, Sales & Construction Projects
Market Snapshot for South Florida Retail A summary of the highlights, trends, and current market activity for South Florida commercial real estate focusing on Miami-Dade County: Analysis derived and compiled from leasing data and transaction reports in order to better understand the overall health of the CRE market in Miami-Dade County.
Mall Of America Owner, Developer of American Dream Miami, Staring Down Billions In Debt
Triple Five Group, the developer of the Mall of America outside Minneapolis and the American Dream mall in New Jersey, with another one planned for Miami, is facing acute financial troubles because of the coronavirus. Wikimedia Commons/Brad Miller The American Dream mall, when it was under construction, at the Meadowlands in New Jersey…
"This is a tsunami": These big retailers stiffed their landlords in May
About 40 percent of national retail chains once again skimped on their rent in May, according to the latest monthly report on collection rates. Among those are 24 Hour Fitness, AMC Theaters and Pier One, all of which have either announced potential bankruptcy or plans to liquidate assets. Overall, national retailers paid 60.1 percent of rent, a small increase from April's…
Domestic travel gives Airbnb a boost
The travel industry is beginning to show signs of life again, with city residents heading to nearby vacation rentals in droves. Airbnb saw more nights booked for its U.S. listings between May 17 and June 3 than it did during the same period a year ago, according to Bloomberg. Similarly, Germany, Portugal, South Korea and New Zealand are also seeing a surge…
Steve Madden vacates Lincoln Road lease
Miami Beach's Lincoln Road could be in for a rough time as coronavirus hits the retail industry particularly hard. Steve Madden vacated its lease at 663 Lincoln Road, according to the data provider Trepp. The shoe retailer notified the property owner, Thor Equities, that it would not be renewing its 2,269-square-foot lease on April 30. The space accounted for 45…
Miami After 90 Days Of Coronavirus: 'The Distress Is Definitely Coming'
Three months ago Friday, Miami-Dade Mayor Carlos Giménez issued an executive order declaring a state of emergency due to the coronavirus. Shutdowns of restaurants, hotels, beaches, trains and parks all followed. David Beckham's brand-new soccer team, InterMiami, stopped playing after just its second match. Richard Branson's Virgin Cruises, which was about…
Long-Dreamed Train To Miami Beach Could Be A Monorail
For decades, Miami officials have tangled over whether and how to connect downtown Miami, which is on the mainland, with Miami Beach, which is on a barrier island on the other side of Biscayne Bay, via mass transit. Courtesy of Meridiam A monorail is proposed to connect Downtown Miami and Miami Beach. In recent years, officials have decided that the route should…
Le Parc at Brickell condo association sues Alta Developers and partner for alleged construction defects
Alta Developers CEO Raimundo Onetto and Le Parc at Brickell rendering Three years after turning over Le Parc at Brickell to its condo association, the developer still hasn't fixed a litany of design and construction defects at the mid-rise luxury tower, according to a recently filed lawsuit. The condo association sued Parc Brickell One, a joint venture between Alta…
State opens applications for hemp industry
State regulators on April 27 opened the door for applications to cultivate hemp in Florida. Hemp cultivation was enabled by federal legislation in 2018 and a state bill authorized pilot projects in 2017. The Florida Department of Agriculture and Consumer Services has been creating rules and regulations for growers. The University of Florida and Florida…
Coral Gables approves Belmont, Baptist Health senior living project
Belmont Village Senior Living and Baptist Health South Florida have received unanimous approval from the Coral Gables City Commission to build Belmont Village Coral Gables, a premier mixed-use senior living community. Belmont Village Coral Gables will offer residents luxury senior living, wellness, and first-class elder care within an urban, amenity…
Assignment for benefit of creditors provides bankruptcy alternative
The COVID-19 pandemic has not only taken its toll on human lives, but also on our local and national economies. Thousands of businesses are facing a severe cash crunch and doing what they can to keep their doors open by applying for relief loans, tapping into credit lines or borrowing from friends to stay afloat, reducing staff and cutting expenses. The unpleasant…
Opportunity Zones investors get a Covid-19 lifeline
Opportunity Zone investors received an extension from federal government because of Covid-19 The federal government has extended the deadline for Opportunity Zone investors and developers to deploy capital and begin construction on projects, citing the pandemic as the reason. The rules had required that twice a year the government check to ensure Opportunity…
Seritage terminates leases on most of its Sears, Kmart locations
The real estate company that Sears spun off five years ago to shore up cash is cutting ties with most of the struggling retailer's remaining stores. Seritage Growth Properties is terminating the master lease covering 12 of the remaining Sears and Kmart stores in its portfolio, the company announced Thursday. The real estate investment trust will collect a $5.3 million termination fee from Sears' parent company, Transformco, as…
The Fed: How fast can the U.S. economy recover? V-shape vs. "swoosh"
How fast can the economy recover from a recession? A faster recovery would look like a V-shaped bounce. A slower recovery would look like a "swoosh." The path depends on the economic sectors and time series data you look at. Here are some FRED Blog examples that study past episodes. Slow recoveries: Mortgage, credit card, and commercial real estate…
The Future Of Office Space 'Will Be Different On The Other Side' Of The Coronavirus Pandemic
Are you working from home during the coronavirus pandemic? Pretty soon, "working from home" could become simply "working". That's because the future of the traditional office space is evolving as many companies begin to rethink what their offices will look like upon reopening. The 'new normal' for companies may be downsizing office size and office…
Remy Jacobson allegedly in default on Design District loan: lawsuit
Cryptocurrency enthusiasts Remy Jacobson and his brother Jean-Marc Jacobson turned to an Arkansas community bank last year to finance the redevelopment of a historic building in the Miami Design District. But now, the Jacobsons are facing a lawsuit from Conway, Arkansas-based Centennial Bank, alleging that Remy Jacobson, Vanessa Jacobson and Jean-Marc…
Short-term rentals, gyms, fitness studios can operate again in Miami-Dade
First came hotels reopening. Now, short-term rentals can again operate in Miami-Dade County, effective immediately, and in Broward County. In Miami-Dade, gyms, fitness studios, and summer camps can also reopen beginning June 8, according to Mayor Carlos Gimenez. Florida's Department of Business & Professional Regulation approved Miami-Dade and…
Simon Property Group sues Gap for $66M in unpaid rent
David Simon with the Roosevelt Field Mall in New York, and the University Park Mall in Indiana, The gloves are off between the biggest mall operator in the country and one of its most important tenants. Simon Property Group is suing Gap Inc. for its alleged "failure to pay more than $65.9 million in rent and other charges due," according to a lawsuit filed Tuesday that…
The Marriage Between CRE & Infrastructure
A rocky road means a rocky relationship It's time to take a break from COVID-19—somewhat of a break, that is. When the lockdowns started in March, area roadways were mostly absent of traffic. The post The Marriage Between CRE & Infrastructure appeared first on Commercial Real Estate South Florida….
Construction starts in SoFla continue to plummet
Construction in South Florida is feeling the brunt of coronavirus. South Florida's total construction starts fell significantly for the second straight month, dropping 33 percent in April to $684.4 million, down from $1.03 billion in April 2019, according to a report by Dodge Data & Analytics. Residential construction fell 35 percent to $390.4 million, a…
Design experts: These office solutions will slow Covid's spread
With businesses beginning to reopen following a decline in Covid-19 cases, restrictions on the use of shared spaces will remain necessary to limit spread of the coronavirus. But they will also have to evolve as our knowledge of the virus does, design experts say. Common-sense practices and good design can help restore activity to public spaces, whether…
Developer of nixed Sunny Isles Beach project seeks return of $5M advance: lawsuit
A proposal to build Infinity, a 15-story mixed-use project on the west side of Sunny Isles Beach is dead. As a result, developer GPI Real Estate Group wants to kill a $20 million deal that has been pending since 2015 to buy the land. The developer's affiliate, GPI Sunny Isles LLC, is suing TNG Holdings and its owner Robert Cornfeld in Miami-Dade Circuit Court to force the…