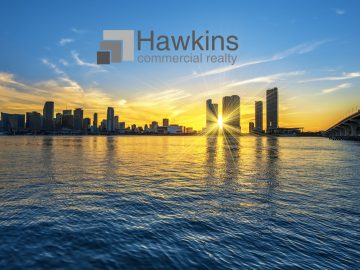 Fuse Group acquires Security Building in downtown Miami, plans to sue WeWork for alleged lease breach
Fuse Group Investment acquired the storied Security Building in downtown Miami and plans to sue WeWork over allegedly vacating its offices in violation of the lease, The Real Deal has learned. The 17-story, historic building at 117 Northeast First Avenue was under a foreclosure action against the previous owner, Security Building AR Owner LLC. Fuse Group…
All in on Miami: Kushner pays $21 million for Edgewater site of planned apartment tower
Kushner Companies paid $20.5 million for a slice of an assemblage in Miami's Edgewater neighborhood, more than two years after going into contract on the property, The Real Deal has learned. Investor Enrique Manhard and his partners sold the 0.75-acre piece of a larger assemblage, at 2000 Biscayne Boulevard, to New York-based Kushner, led by Charles…
Melo joins Miami condo craze with two-tower Edgewater project
Melo Group is launching condo sales of one of two towers on a site it has been assembling for more than a decade in Miami's Edgewater, The Real Deal has learned. The Melo family, which has largely focused on building rental towers in recent years, released information to brokers on its next project, Aria Reserve Miami. The two-tower, roughly 800-unit…
Arch, Infinity JV to build mixed-use multifamily tower in Miami's Edgewater
Arch Companies and Infinity Real Estate are partnering to build a mixed-use multifamily project in Miami's Edgewater, across the street from their 2500 Biscayne tower. The two New York firms plan to develop the more than 1-acre assemblage at 2501 Biscayne Boulevard, most recently home to Latin Cafe 2000. The property sold for $13 million in 2017 to an entity…
Investor buys multifamily complex near Miami Shores for $15M
Investor Leon Ojalvo bought the lakefront Blue Lake Village Apartments near Miami Shores for $15 million. Ojalvo, of Miami-based investment firm Liberty Base Investments, bought the 106-unit community at 1205 Northwest 103 Lane from an entity tied to investor Fidel Yero, according to the seller's broker. The deal breaks down to $141,509 per unit. Jacob…
State Attorney moving to River Landing in what could be $108 million lease
Leaky bathrooms, malfunctioning air conditioning, faulty elevators, and a flooded parking garage. Those are some things that staff at State Attorney Katherine Fernandez Rundle's office will say goodbye to in about six months, when they move into new space at River Landing Shops & Residences. The arrangement will benefit both tenant and landlord…
FPL is Offering Commercial Property Owners EV Fast Charger Stations at No Cost
Florida Power and Light (FPL) recently reached out to me to inquire as to who I might know that could be interested in having FPL install a few electric vehicle (EV) fast charging stations at no cost. FPL will provide the EV chargers and cover the installation and maintenance. There also note that there would be no net impact on electricity costs. They are looking…
Air urban mobility set to take off in Miami; passenger drones coming soon that you think
The Miami Parking Authority and the Miami-Dade County Department of Transportation and Public Works are already thinking about how to integrate emerging urban air mobility into the transportation ecosystem in Miami. Air mobility of passengers is closer than we might think, "it is something that would be here within the next two to three years," said…
CIP Miami Springs, LV Lending Break Ground on 120,225 SF Mixed-Use Project
CIP Miami Springs and LV Lending have broken ground on Miami Springs Town Center, a 120,225-square-foot mixed-use project located at 1 Curtiss Parkway in Miami Springs, about 10 miles outside of downtown Miami. The project is scheduled to be complete in the second quarter of 2022. Designed by Cabrera Ramos Architects, Miami Springs Town Center will feature…
Miami Office Market Update: Rising Demand, Falling Vacancy Rates
Miami has been reaping the benefits of migration trends for quite some time, becoming one of the nation's fastest-rising cities. According to CommercialEdge data, the market encompassed some 7.7 million square feet of vacant office space as of May and a vacancy rate of 14.6 percent, falling below the 15.3 percent national average. Miami is dealing with…
Related Group, Starwood Team Up With Baccarat-Branded Condo Project In Miami
Jorge Pérez's Related Group and Barry Sternlicht's SH Hotels & Resorts will be working together on a project for the first time with a Baccarat-branded residential project in Miami's Brickell neighborhood. Baccarat makes crystal and has been in existence since 1764. A Baccarat Hotel & Residences at 53rd Street and Fifth Avenue in New York opened in 2015 with…
Allapattah Residents Fight For A Seat At The Table As City Makes Development Decisions
Allapattah is a primarily Latino, working-class neighborhood in Miami, with one section called Little Santo Domingo for its influx of residents from the Dominican Republic. In the past few years, as land prices in trendier neighborhoods like Wynwood and Brickell shot up, Miami developers have turned their attention there. A funky project with units on stilts, designed…
Despite big gaps, Miami tourism passes pre-covid levels
Miami-Dade's tourism industry is surpassing many comparable 2019 statistics despite a glaring lack of international, convention and cruise travel. At the Greater Miami Convention & Visitors Bureau's State of the Tourism and Hospitality Industry's May breakfast, experts predicted summer hotel occupancy highs would approach summer 2019 lows.
EB-5 program set to expire at the end of June
A U.S. visa program that gave green cards to investors and was popular among real estate developers, is set to expire, with no clear plan for an extension. As it stands, the EB-5 program allows foreign investors in the U.S. who put at least $900,000 into a business that creates 10 or more jobs to apply for permanent residence. It's now due to expire at the end of June.
Canadian finance firm to relocate headquarters, 450 jobs to Miami
A Canadian firm seeking to relocate its global headquarters to Miami and create 450 high-paying jobs got a go-ahead Tuesday to receive $167,500 through a Miami-Dade incentives program. Dallas was competing for the headquarters. The global wealth and asset management firm has vowed to spend $5 million on a 45,000-square-foot office and by 2028 create the…
Nuveen Nears Completion of $55M Renovation at Three Office Properties in Miami
Nuveen Real Estate is nearing completion of renovations at three of its office properties in Miami. The assets are located at 801 Brickell and 701 Brickell in the city's Brickell financial district and at Waterford Business District, a 250-acre office hub that Nuveen co-owns with Allianz Real Estate. The capital improvements total $55 million in value and include digital…
Chart – Inflation Watch May 2021: Rise in Inflation Expectations Pauses at Elevated Levels; 5-Year TIPS Spread Indicating 2.57%
Federal Reserve Bank of St. Louis, 5-Year Breakeven Inflation Rate, commonly referred to as the TIPS Spread, a measure of expected inflation derived from 5-Year Treasury Constant Maturity Securities and 5-Year Treasury Inflation-Indexed Constant Maturity Securities, for the 5 years ending 5/31/21 Above is the chart for the 5-Year breakeven inflation…
Dear Mr. President: Landlords urge Biden to let eviction ban expire
Throughout the pandemic, landlords and real estate trade groups have filed lawsuits seeking to end the federal eviction ban. So far, none has succeeded. Now, with the moratorium set to end on June 30, property owners are asking the Biden administration not to issue another extension. Twelve organizations representing landlords, brokers and developers sent a…
Miami's First Large-Scale Opportunity Zone Project Begins Leasing
Miami-based multifamily developer The Estate Cos. and PTM Partners, a real estate investment and development firm with a focus on qualified opportunity zones, announced Monday that they have launched leasing at Soleste Grand Central in Overtown, which they described as Downtown Miami's first large-scale opportunity zone project. Scott Meyer, chief…
Mall REIT Washington Prime Group files for Chapter 11 bankruptcy
In November, with mall owners getting crushed, Washington Prime Group CEO Lou Conforti said that bankruptcy was off the table. But in March, it was reported that the mall REIT was preparing for the filing. Now it has done the deed. Washington Prime Group filed for Chapter 11 bankruptcy Sunday. The company has secured $100 million of funding for day-to-day…
Related Group's condo kings expand their realm
Getting burned twice in Las Vegas didn't kill Related Group's dream of national expansion. But it taught the megadeveloper the importance of boots on the ground. Miami condo king Jorge Pérez and his son Jon Paul are expanding their Related Group with a $13 billion pipeline of projects throughout the Americas, their boldest move beyond Florida since…
HFZ Capital off the hook for $6M in failed Shore Club South Beach deal
HFZ Capital Group is off the hook from paying $6 million to the planned operator of the Shore Club in South Beach, following litigation tied to the companies' failed deal. HFZ Capital Group wanted to redevelop the property at 1901 Collins Avenue in Miami Beach into a condo-hotel, and signed luxury Brazilian hospitality brand Fasano to manage the revived…
TPG nabs Miami AC Marriott, Hampton Inn in Edgewater for $61M
TPG Real Estate Partners bought two hotels in Miami's Edgewater neighborhood for $61 million. Investor TPG, through an affiliate, bought the AC Hotel Miami Midtown at 3400 Biscayne Boulevard and the next-door Hampton Inn & Suites at 3450 Biscayne Boulevard, records show. TPG bought the properties through its national…
Drive Shack bringing Puttery socializing and golf entertainment concept to Wynwood
Drive Shack Inc. (NYSE: DS), a leading owner and operator of golf-related leisure and entertainment businesses, announced today that it will bring Puttery, its newest competitive socializing and entertainment golf experience to Wynwood, an eclectic neighborhood in the core of Miami, Florida. Located approximately two miles from downtown Miami…
Moishe Mana expands downtown Miami assemblage with $27M purchase
Moishe Mana, the biggest private real estate owner in downtown Miami, bought two more buildings for $27.2 million. The properties add to his massive assemblage aimed at creating a tech hub. Records show 41 Flagler Realty, which is linked to Mana's Wynwood convention center, bought the properties at 62 Northeast First Street and 41 East Flagler Street from…
Grove Isle legal battle ending, as developer rebrands planned waterfront condo project
After winning an appeals court decision that caps a lengthy legal battle, the developer of The Markers Grove Isle is moving forward with construction, and rebranding the planned waterfront condominium project as Vita. Construction is expected to begin in early 2022 after design tweaks, said John Shubin, the attorney for the developer, Grove Isle Associates, LLP.
North Miami studios, home to "Miami Vice" and "The Birdcage," sells to developer that plans mixed-use project
North Miami Studios and two productions, "The Birdcage" and "Miami Vice" (Getty) The production studios, once home to "The Birdcage," "Miami Vice," "Something About Mary" and a number of other films and television shows, sold to a developer that plans a mixed-use project… paid $10.5 million for the 2.8-acre property at 12100 Northeast 16th Avenue in…
The share of US companies planning to slash their office space is plummeting
US companies that planned to downsize their office real estate during the pandemic are now rethinking their plans. Only 9% of large US companies, defined as 10,000 employees or more, anticipate their office portfolios will get "significantly smaller" over the next three years, according to a new report from CBRE, a commercial real estate company. That's down from…
The Top 10 Tallest Buildings in Miami (You Can Live In)
If you've been visiting Miami over the years, one thing you've probably noticed is the buildings keep getting taller, and the skyline keeps growing. Ever since the FAA relaxed its height restrictions more than six years ago, Miami's skyline has continued to elevate itself with glimmering designs of glass and light. The tallest residential building in Miami as of this post…
Seattle investors buy Fort Lauderdale, Oakland Park apartment buildings for $7M
Seattle-based investors bought three multifamily buildings with 48 units in Broward County for $7.25 million. Schulman Properties, based in Las Vegas, Nevada, sold the two buildings at 999 West Prospect Road in Oakland Park and the building across the street at 1007 West Prospect Road in Fort Lauderdale to Delaware-registered Jass 2 LLC, records show. The deal…
Cortland buys Deerfield Beach multifamily complex for $66M
Cortland bought a 226-unit Deerfield Beach multifamily complex for $66 million. Atlanta-based Cortland bought the 226-unit Indigo Station at 67 Southwest 12th Avenue from Palm Beach Gardens-based Ram Realty Advisors, records show. The deal breaks down to $291,814 per unit. Ram Realty, led by Casey Cummings, buys, renovates, manages and develops…
Hudson Capital, Barron Commercial tycoons buy Oakland Park shopping center for $10M
Real estate honchos Steven Hudson and Charles Ladd Jr. bought the Primavera Plaza in Oakland Park for $10 million, their second retail purchase in the city in as many weeks. Hudson, of Hudson Capital Group, and Ladd, of Barron Commercial Development, bought the property at 830 and 840 East Oakland Park Boulevard from ATID Investments, managed…