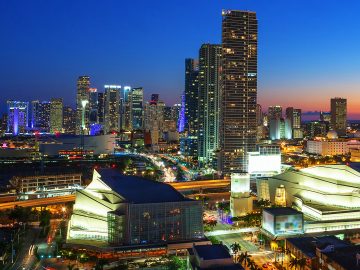 Parkway Properties, KKR pay $250M for former Sabadell Financial Center: sources
A partnership between Parkway Properties and investment giant KKR just paid $250 million for the former Sabadell Financial Center in Miami, sources told The Real Deal. The seller was Prudential Real Estate Investors, which bought the property in 2013 for $184.3 million, property records show. The deal marks one of the priciest office-building trades in Greater Downtown Miami since the Southeast…
KKR, Parkway Acquire 30-Story Sabadell Financial Center in Miami's Brickell District for $250M
KKR and Parkway Property Investments LLC have acquired Sabadell Financial Center, a 30-story office tower located at 1111 Brickell Avenue in Miami's Brickell submarket. PGIM Real Estate Investors sold the asset for $250 million after acquiring the building in 2013 for $184.3 million, according to The Real Deal. Square Mile Capital Management LLC originated acquisition financing on behalf of the new…
KKR, Parkway Properties Buy 522 KSF Miami Office Tower
The 522,000-square-foot office tower at 1111 Brickell Ave. in Miami's vibrant Brickell submarket has changed hands. In a joint venture, affiliates of KKR and Parkway Property Investments purchased the Class A building from PGIM Real Estate. Also known as Sabadell Financial Center, 1111 Brickell made its debut in the city's central business district in 2000 as part of a mixed-use development that…
KKR, Parkway Venture Acquires Miami Office Tower
A joint venture of KKR and Parkway Property Investments has acquired the 30-story office tower at 1111 Brickell. The joint venture purchased the 522,000-square-foot office building from New Jersey-based PGIM Real Estate. No purchase price was disclosed. Square Mile Capital Management LLC of New York City originated the financing for the deal. PGIM acquired the property, which was built in…
Half of Biltmore's rent to restore historic hotel
The Coral Gables City Commission voted unanimously last week to allow the Biltmore Hotel Limited Partnership to redirect 50% of annual rent payments to the city to the building's historic preservation, paying up to half of the historic monument's improvement costs. The city attorney and the city manager are to meet with Biltmore officials to draft the five-year agreement. City staff and the historic preservation…
New Flagler 'Festival Street' design adds $10 million to cost
Prospects for the Flagler Street renovation – which has dragged on several years – are suddenly brighter, as leaders of Miami-Dade County, Miami, and the Downtown Development Authority pledged to pump more money into the project. In February, the downtown authority, which has steered the project since its inception, agreed to consider suggestions by Moishe Mana, an investor who has…
Wells Fargo Grants $103M Financing for Miami Transit Oriented Development
Florida East Coast Industries has received $103 million in financing from Wells Fargo for MiamiCentral, a new transit-oriented development in Miami that will be the first of its kind in the area. The development consists of 2 MiamiCentral, a 10-story, 190,000-square-foot Class A tower which is scheduled for completion this month; and 3 MiamiCentral, a 130,000-square-foot mixed-use building…
Video: Reis Economist Predicts Self Storage CAP Rates to Rise 1.25% in Next 12 Months
Barbara Denham, Economist with REIS, a firm that provides structured and quality assured commercial real estate data including 30 years of commercial real estate market research and economic analyses. discusses how a 1.25% increase in CAP rates (capitalization ratio) could impact the self-storage property market, what is means for valuation and overall property performance. The conversation, basically a…
One pact on plan to narrow Biscayne Boulevard, but studies still due
The city's Off-Street Parking Board has approved a new more detailed agreement between the Miami Parking Authority and the Downtown Development Authority for the Biscayne Green Project. But the plan to transform Biscayne Boulevard into something other than a busy downtown street hugging vast surface parking lots may still be a couple of studies down the road. At the direction of…
5-point solution targets Brickell Bridge Gridlock
The Coast Guard says it's willing to test an altered schedule for opening the Brickell Avenue Bridge if others deliver on four key changes to the clogged roadway crossing the Miami River. On May 29, James Wolfe of the Florida Department of Transportation (FDOT) wrote to the Coast Guard requesting changes to scheduled bridge openings. They include trimming the morning operating curfew by 30 minutes…
Clock ticks to replace Miami-Dade civil courthouse
Miami-Dade has a timeline to build a civil courthouse to replace the crumbling one on Flagler Street, with work to start in July 2020, according to a memo from Mayor Carlos Giménez. Commissioners this month voted to cancel a public-private partnership solicitation for the tower, seek a new hybrid partnership and provide a timeline for their consideration June 19. Commissioners on Tuesday accepted…
Gubernatorial candidate Philip Levine discloses real estate assets worth $109 million
Florida gubernatorial candidate Philip Levine is worth a cool $133 million. In an effort to open a blind trust for his assets, the former Miami Beach mayor, on Monday, issued a financial disclosure revealing all of his holdings and net worth. The filings show Levine's real estate assets total more than $109 million, according to the Miami Herald. The portfolio is made up of properties throughout Miami, Miami…
Miami-Dade County's Office Market Fueled by Solid Local Economic Fundamentals
Driven by population and job growth, Miami-Dade County is one of the strongest and most sought-after commercial real estate markets in the Southeast. As of February 2018, the county's unemployment rate stood at 4.7 percent, which, while only a 10-basis point decline from the rate in February 2017, represents continued positive movement. The metro's economic stability and growing employment…
Marsha Soffer sues Ritz-Carlton, Miami Beach developer over delays
A member of the Soffer family is suing the development group behind The Ritz-Carlton Residences, Miami Beach over the condominium project's construction delays, and is looking to get her deposit back. It's the fourth lawsuit filed by buyers in the last four months, all seeking a refund of deposits due to delays. Marsha Soffer, the daughter of billionaire Turnberry Associates developer Donald Soffer…
Grand Peaks pays $66 million for apartment complex near FIU
Grand Peaks Properties paid $65.6 million for an apartment complex near Florida International University in Sweetwater, property records show. Real estate investors Manuel and Jorge Larrieu and Nitza Gonzalez sold Sundance Village, a 304-unit property at 11325 Northwest Seventh Street, for about $216,000 per apartment. They paid $7.2 million for the complex in 1997, and hired Larry Stockton of…
Celebrity Chef Samuelsson To Open A Restaurant In Overtown
Miami is trying to rebuild a neighborhood that was once a vibrant center for black culture, and a celebrity chef is contributing what he does best: food. Marcus Samuelsson has bought a former pool hall in Miami's Overtown neighborhood and plans to open a restaurant there later this year. A redevelopment board is already pouring tens of millions of dollars into Overtown, but Samuelsson is the first…
Miami Industrial Market's Future Hinges On Infill And Demand For Single-User Properties
After several years of strong absorption in leasing and robust sales volume, there's no question that Miami's industrial real estate market is the desired location for national tenants and institutional investors alike. But many insiders are questioning if sustaining that level of growth is possible and if there are still profitable transactions to be found. The answer is a resounding yes. There is little indication that…
$22.8M Sale Negotiated for Leasehold Interest in Industrial Property Near Miami Airport
HFF has arranged the $22.8 million sale of the leasehold interest in a two-building, 211,852-square-foot industrial property located roughly one mile from Miami International Airport. Manuel de Zárraga, Tracey Goo and Luis Castillo of HFF arranged the transaction on behalf of the seller, iStar Inc., and procured the buyer, the Dayan family from Brazil. Safety, Income & Growth Inc., managed by iStar…
Boutique 'Mr. C' hotel headed to Coconut Grove
The brand has existing locations in Los Angeles and New York A previously unnamed, five-story hotel under construction in Coconut Grove will be operated by the Cipriani family's boutique Mr. C brand. Under construction since last year, the project is being developed by the Fort family and Arquitectonica founding principal Bernardo Fort-Brescia. It is located on a narrow lot next to the group's renovation…
Plan to build Cuban museum on waterfront site behind AmericanAirlines Arena scrubbed
A proposal to build a Cuban Exile History Museum on the waterfront site behind the AmericanAirlines Area has been abandoned.
In its place, property could become what it was originally intended for more than 20 years ago: a waterfront park. The Miami-Dade County Commission was slated to vote this week to lease the land and build a privately funded Cuban museum, but the proposal was pulled…
Climate change already hitting home prices
The risk of climate change appears to be having an impact on housing prices. Average home prices in areas that face low risks of flooding, hurricanes and wildfires outpaced areas that had a greater risk of climate change between 2007 and 2017, according to figures from Attom Data Solutions reported by Bloomberg. Average home prices in areas at high risk were worth less last year than they were a…
Commercial Office Lease Negotiation – A Pro-Tenant Checklist
This Article provides you with tips to create a concise and effective negotiation checklist and the key points you should consider when negotiating a lease in a multi-tenant office building. This Article also highlights key provisions you should pay close attention to often found in office leases. At initial glance, a 20, 30 and sometimes 40 page commercial office lease agreement may seem daunting.
Trump administration may expose more wetlands to real estate development
The Trump administration is preparing to limit the definition of federally protected waterways in the Clean Water Act, an action that could expose many wetlands to real estate development. Scott Pruitt, the administrator of the U.S. Environmental Protection Agency, has completed a proposal to implement President Trump's executive order limiting the definition of federally protected waterways. Trump…
Report: Flawed load-bearing design likely contributed to FIU bridge collapse
A newly installed FIU pedestrian bridge collapsed March 15, killing six people. The unusual pedestrian bridge at Florida International University had an undetected design flaw that probably contributed to its collapse in March, the Miami Herald reported, citing a review by three independent structural engineers. At the newspaper's request, the engineers reviewed nearly 2,000 pages of mathematical…
Group led by Jackie Soffer, David Martin is sole bidder for Miami Beach Convention Center hotel
A group led by developers Jackie Soffer of Turnberry Associates and David Martin of Terra is the sole bidder to submit a proposal for a Miami Beach Convention Center hotel. Miami Beach Connect, which includes Bernardo Fort-Brescia's Arquitectonica, Craig Robins' Dacra, Meyer-Davis and Coastal Tishman, will go before the city's evaluation committee meeting next Thursday, a spokesperson for the team…
Why savvy investors are using Alaska to avoid property tax deduction caps
To get around a provision in the new tax law limiting federal deductions for state and local taxes to $10,000, investors in states like New York are turning to Alaska. Property owners have been establishing LLCs in no-tax states like Alaska or Delaware to get around the cap, according to Bloomberg. They then transfer parts of that LLC into several non-grantor trusts, which are treated as independent taxpayers…
Congress Passes New Banking Legislation to Reduce Regulatory Burden
Last month, President Donald Trump signed into law "The Economic Growth, Regulatory Relief and Consumer Protection Act." Billed as significant regulatory relief for banks by some—and not enough regulatory relief by others—the new law calibrates a massive piece of banking legislation enacted after the 2007-08 financial crisis. That law is the Dodd-Frank Act (the Act). The Reason for Dodd-Frank…
Fireman Derek's Pie Shop Opening in Coconut Grove
I was at Fireman Derek's Pie Shop the other day in Wynwood. The reason I bring them up is that they are coming to the Grove. Now this is something special, the pies are so rich, I don't think you can eat them every day. On Thursday, we had a green mint chocolate chip cheesecake along with Mocha Latte's, which were the best Mocha Latte's that I've had in a long time. But back to the pie – you could…
Miami Riverside Center redevelopment plan gets a new look
The updated layout places new emphasis on public space and river access Miami-based Adler Group has released an updated version of its plan to transform a prime piece of downtown riverfront real estate into a mixed-use, multi-building development. Slated to replace the city-owned administrative building known as Miami Riverside Complex, the project at at 444 SW Second Avenue calls for three to four…
Rotem Rosen's new firm to buy dev site in Miami's A&E District for $30M
MRR Development, a new firm led by Rotem Rosen, Jerry Rotonda and billionaire Anand Mahindra, is in contract to pay $30 million for a development site in Miami's Arts & Entertainment District. The firm is buying the majority of the city block between 18th and 19th streets and Northeast Second Avenue and Northeast Second Court. With bonuses, the 1.42-acre site allows for a mixed-use project of up to 1.9…
Fed hikes interest rates again, raises outlook for more increases in 2018
The Federal Reserve announced it will raise interest rates a quarter percentage point on Wednesday, and signaled that it could raise interest rates at least twice more this year. Most Federal Reserve officials now expect at least four rate increases this year, up from a previous projection in March of three rate increases, according to the Wall Street Journal. Most officials also expect the Fed will have..
Miami board to vote on Finvarb and Cho's mixed-use Brickell hotel, other projects
Miami's Urban Development Review Board will review proposals for two new mixed-use hotels in Miami's Edgewater and Brickell neighborhoods and the second phase of Liberty Square, an affordable housing development, at its upcoming meeting on June 20. Mixed-use hotel at 3047 Biscayne Boulevard in Edgewater. Kobi Karp Architecture & Design submitted plans for 3047 Biscayne Boulevard…