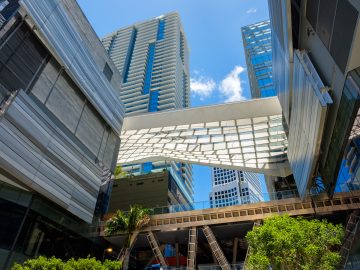 Amazon's major Miami fulfillment hub nearly done
Construction of the 855,000-square-foot Amazon fulfillment center at the Carrie Meek International Business Park is nearing completion. The Amazon center is the first of three phases. The second is a 280,000-square-foot industrial building. The final phase is a 5,000-square-foot headquarters for the Carrie Meek Foundation. The project will total more than 1 million square feet. All the buildings…
Miami Apartment Developer Secures $85M Construction Loan
Melo Group said it has secured an $85 million construction loan from Ocean Bank to build the Art Plaza Apartments, a planned 667-unit, transit-oriented development in downtown Miami. Art Plaza, at 58 NE 14th St., will feature two 34-story towers with ground-floor retail and restaurants. Amenities will include a resort-style swimming pool, a fitness center, a social room and security-controlled remote access.
Residents to vote on incorporating new city between Aventura and North Miami Beach
A section of Northeast Miami-Dade with more than $1 billion of real estate could become its own city if residents vote in favor of it during a special election in November. Miami-Dade commissioners approved the election on Tuesday, according to the Miami Herald. It would give the 20,000 residents in the area, which includes Highland Lakes, Skylake and the previously incorporated Ojus, a say in the proposed…
All rise: Miami-Dade commission restarts bidding process to build new courthouse
It's a do-over. The Miami-Dade County Commission will restart the bidding process for developers interested in building a new civil courthouse in downtown Miami. Commissioners on Tuesday approved a resolution sponsored by commissioner Sally Heyman to allow a partnership led by Florida East Coast Industries to continue bidding on its proposal to build a new courthouse alongside the old circa…
Construction company sues Jockey Club III over allegedly unpaid bill
Another legal battle is brewing at the Jockey Club condo complex in northeast Miami-Dade. North Bay Village-based AG Contractors Corp. last month sued Jockey Club III Association in Miami-Dade Circuit Court for nonpayment of construction services that commenced in 2016. During that time, Jockey Club III's condo board and the associations for the other two towers at 11111 Biscayne Boulevard have…
Melo closes $85M construction loan for Art Plaza apartments
Melo Group closed on an $85 million construction loan for two apartment towers north of downtown Miami. Ocean Bank is providing the financing for Art Plaza, two 34-story buildings with 667 multifamily units under construction at 58 Northeast 14th Street, in Miami's Arts & Entertainment District. The development is slated to open in mid 2019, according to a press release. Art Plaza will include 577 two…
Special meeting targets Jungle Island lease on Watson Island
Miami city commissioners will be playing a version of Beat the Clock on June 8 when they hold a special meeting to get a property lease before voters on the August primary election ballot. It involves Jungle Island and plan to build a hotel as part of a multi-million-dollar redevelopment of the animal theme park on city-owned Watson Island. The special meeting begins at 10:30 a.m. at City Hall. City…
Bird Square Plaza Lands $10 Million Refi
Su Investment Corp. has secured $10 million to refinance Bird Square Plaza, a Fresco y Más-anchored shopping center in Miami. CBRE's Capital Markets Debt & Structured Finance practice arranged the non-recourse, 20-year term loan through a correspondent life insurance company. The loan includes a low interest rate and the ability to advance future funds at various times throughout the loan term.
Ocean Bank Lends $85M for Development of Miami Resi Towers
Ocean Bank provided Miami-based real estate developer Melo Group with a $85 million loan to aid in development of Art Plaza Apartments, a multifamily complex currently under construction just north of Downtown Miami, according to a press release Tuesday announcing the deal. The planned development includes two, 34-story towers and 667 multifamily units at 58 Northeast 14th Street in…
Miami Logistics Park Bolsters Occupancy
Cushman & Wakefield has negotiated a 68,787-square-foot lease expansion at Airport North Logistics Park (ALP), a master-planned industrial complex encompassing 900,000 square feet of Class A space in Medley, Fla. Neutralogistics currently occupies 105,920 square feet at Building 1 and will be expanding into Building 2. The deal brings the property to 75 percent occupancy. Located at 8501-8503…
50K SF Industrial Lease for AAR Aircraft Arranged in Miami
A South Florida industrial team has secured a long-term lease for 50,000 square feet at Miami International Commerce Center (MICC), a 3.5 million-square-foot industrial park in Doral, Fla. The company worked on behalf of the landlord, PS Business Parks Inc., while NKF represented the tenant. AAR Aircraft Services relocated its headquarters at 7850 N.W. 25th St., just a few miles from Miami International…
In Miami, Signs Of A Condo Glut
While the housing market around the country is still benefiting from demand outweighing supply, the opposite is happening in Miami. "We are beginning to see the effects of market corrections," Miami-Dade County property appraiser Pedro Garcia wrote in a May 31 report. The market downturn is evident primarily with condominiums and high-value, single-family residential properties in…
Key Biscayne drops suit of Miami over Virginia Key
A 3-year-old lawsuit between the Village of Key Biscayne and the City of Miami about uses on Virginia Key is history. On May 11, an attorney for Key Biscayne filed in circuit court a Notice of Voluntary Dismissal without Prejudice in the case of Village of Key Biscayne vs. City of Miami and the National Marine Manufacturer's Association Inc. The dismissal of the lingering litigation has left players on both…
Gold Medal Awards to six, Tibor Hollo named Lifetime Achiever
Three accomplished individuals and three prominent organizations accepted Gold Medal honors highlighting their outstanding contributions to Greater Miami at Miami Today's Gold Medal Awards dinner. During the star-studded May 24 ceremony at Jungle Island that also marked Miami Today's 35th anniversary, longtime development leader Tibor Hollo, the founder of Florida East Coast Realty…
Federal Reserve Bank focuses on Miami's economy
Florida's construction business is booming, while job prospects continue to decline in information, the most recent statewide employment index from the Federal Reserve Bank of Atlanta shows. Statewide construction employment, which averaged 17.4% growth in the first quarter of 2018, has remained steady since rebounding from a fourth-quarter dip last year. Between January and March, about 16,800…
Baskir Capital buys Fogo de Chao building in Miami Beach's South of Fifth
Baskir Capital Management just paid $15.25 million for a retail building in Miami Beach's South-of-Fifth neighborhood, leased to the Brazilian steakhouse Fogo de Chao. The New York-based private equity firm bought the building at 836 First Street from a partnership controlled by restaurateur Myles Chefetz, Lyle Stern, Nelson Fox and Durfee Day, said Noah Fox of Koniver Stern Group. The seller was…
Despite Record New Development, Miami's Office Vacancy Remains Low
According to Transwestern, Miami-Dade County's office market continued to reflect near record-low vacancy in first quarter 2018, posting at 12.3 percent. Consistently low vacancy over the past several quarters has prompted the highest levels of new construction since 2010, with 811,731 square feet under construction as of first quarter. "Though construction activity in Miami-Dade has increased dramatically…
Logistics Company Relocates From Hialeah To Doral, Inking 44,000 SF Lease
Transwestern's South Florida industrial team announced it negotiated a new lease for 44,160 square feet on behalf of Esquire Logisitics Inc., a leading provider of warehouse logistics, air freight, and white-glove shipping. The tenant will relocate from Miami-Dade County's Hialeah submarket to Miami International Commerce Center (MICC), a 3.5 million-square-foot industrial park at 8272 NW 21st St. in Doral.
South Florida is coming off its EB-5 addiction
A program that was once described as the "crack cocaine of real estate financing" no longer seems to hold the same addiction for South Florida's developers. In 2014 and 2015, Rodrigo Azpurua's Riviera Point Development Group financed two projects entirely with capital raised from the EB-5 program, which gives foreign investors a green card in exchange for investing in job-creating U.S. projects. At the…
Prestige Builders Group seeks rezoning to build 212 apartments in Hialeah
An affiliate of Miami Lakes-based Prestige Builders Group proposed a development at 7755 West 4th Avenue in Hialeah that would replace an industrial property in Hialeah with 212 apartments. The affiliate of Prestige Builders, Hialeah 7.65 LLC, applied to Hialeah's municipal government to build a nine-building apartment complex on the site of a 62-year-old industrial building. The developer paid…
Owner of nearly 70 acres in West Kendall proposes major mixed-use development
The owner of a 69.85-acre site in southwest Miami-Dade County proposed a major development on the vacant land that would include apartments, hotel rooms, retail stores and office space. KTC SW 88th Street LLC filed a pre-application with the county government to develop the southwest corner of Southwest 88th Street and Southwest 158th Avenue in West Kendall, near West Kendall Baptist…
Simon Property Group is dedicating much of its focus to outlet malls like Chicago Premium Outlets in Aurora, Illinois, pictured. The onslaught of retail bankruptcies and store closings in the past year has mall owners in a mad dash to fill hundreds of vacant spaces. The mall owner with the largest holdings nationwide, Simon Property Group (SPG), is no exception. During a 12-month span, dozens of…
Renderings revealed: One Thousand Museum, 5000 North Ocean, more
The Zaha Hadid-designed One Thousand Museum is bringing back the heliport. The helicopter-friendly condo building will be the only residential tower on the East Coast to have a heliport, according to the developers. The development team, led by Gregg Covin, Louis Birdman and Kevin Venger, topped out the 62-story tower earlier this year. Prices at the 83-unit tower range from $5.5…
Cipriani to open first hotel in the Southeastern US in Coconut Grove: sources
The Cipriani family is bringing its Italian luxury brand to Miami's Coconut Grove, sources told The Real Deal. The famed family will operate the 98-room hotel, which is currently under construction, at 3401 and 3405 Main Highway, adjacent and behind the Engle Building. The property, at the corner of MacFarlane Road and Main Highway, would be the first Cipriani hotel in the Southeastern U.S. In Miami, the…
Florida's only private, residential helipad set to debut at One Thousand Museum
One Thousand Museum is Zaha Hadid's final residential tower in the Western Hemisphere. Magic City residents just keep getting more and more forms of transportation. First, the Brightline train opened its doors May 19 to commuters traveling between Miami-Dade, Broward, and Palm Beach counties. Then, Brightline named Lyft as its exclusive ride share partner. Lime, the bike-sharing service…
Miami-Dade's taxable property values rise in 2017 at a slower pace to $289B
Miami-Dade County's taxable property values rose 6 percent to $288.86 billion in 2017, despite the condo market slowdown. The county's property appraiser, Pedro J. Garcia, released the June 1 estimates, showing that property values are growing at a slower pace than in previous years. Garcia said in a release that the oversupply of condos put downward pressure on condo values, but that the short supply…
Hotel development ramps up in South Florida amid rising demand
Hotel construction is up in South Florida with a number of properties slated to come online this year, amid heightened demand following last year's hurricanes. Nearly 4,200 new hotel rooms and 2.8 million square feet of space will be completed within the next two years in the tri-county area, according to Lodging Econometrics data analyzed by Colliers International South Florida. Of the total, 3,158 keys will…
South Florida's residential construction booms in April, commercial plummets
For residential construction and commercial construction, South Florida was the tale of two markets in April. Residential construction in South Florida boomed, while commercial construction dropped off significantly in April compared to April 2017, according to a new report by Dodge Data & Analytics. Commercial construction starts decreased 42 percent in April to $316.2 million, while residential construction…
Sears to close another 72 US stores
Sears Holdings Corporation is set to close another 72 stores as the company attempts to stave off plummeting sales. While the retail giant has struggled to retain customers who are increasingly heading online to Amazon or seeking out Walmart stores, it has already closed hundreds of stores. With about a half-dozen stores in New York City, it is unclear which stores will shutter but the company is expected…
Concord Wilshire Sells Stake in Diplomat Resort in South Florida
A partnership that includes Concord Wilshire Cos. says it has sold the majority of its interest in the Diplomat Golf Resort & Spa in Hallandale Beach, FL for $43.25 million to a firm headed by developer Ari Pearl. The property at 501 Diplomat Pky has an 18-hole golf course, a 31,000-square-foot spa, a 48-slip marina, 10 clay tennis courts and a 60-key, AAA Five Diamond hotel. Concord Wilshire…
Louis Birdman, partners sell 127-acre Diplomat property in Hallandale for $43M
A partnership led by Louis Birdman sold the 127-acre Diplomat Golf & Tennis Club in Hallandale Beach to a company controlled by Ari Pearl for $43.25 million, property records show. Diplomat Golf Course Venture LLC, which includes Birdman, and Mike Meyers and Nate Sirang of California-based Concord Wilshire Companies, sold the property at 501 Diplomat Parkway to Maltese Diplomat Owner LLC…
It's been called the "e-pocalypse": the closing of so many brick-and-mortar stores because customers would rather get what they need with a click. But not every retailer seems to be swept up in the destruction. Discount retailers, which sell everything from spaghetti sauce and shampoo to sweatshirts — sometimes for as little as $1 — are not turning off the lights for good, like department stores and others.
Who Will Bankroll the $4B American Dream Miami?
American Dream Miami will rise in northwestern Miami-Dade County, with the first phase expected to open in 2023. Now that American Dream Miami has the blessing of county commissioners, the question becomes: How will the developer pay for the $4 billion behemoth? Triple Five Worldwide officials are revealing little about financing for the 5 million-square-foot planned mega…
Video: Jeremy Cohen of Hartman Simons discusses retail property legal trends
In this video from America's Commercial Real Estate Show, Jeremy Cohen of leading commercial real estate law firm Hartman Simons discusses commercial real estate legal trends in retail properties. Among the topics that are discussed are the ICSC RECon 2018, new trends in retail and mixed-use development, changes in leases and lease clauses, parking related challenges, and trends in retail…
National Rents See Slow Season Start,Most Renter Mega-Hubs Up, Hollywood in Top 5
The national average rent was $1,381 in May 2018, having increased by 2 percent year over year, and by 0.3 percent ($4) month over month, according to data from Yardi Matrix. Rents increased in 79 percent of the nation's biggest 250 cities in May, were unchanged in 17 percent of cities, and dropped in 4 percent of cities compared to May 2017. The top 25 fastest growing rents in the country are in small…