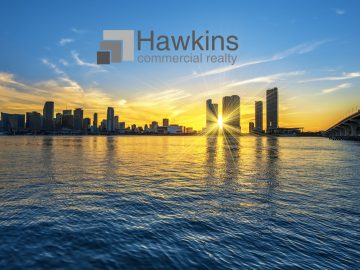 Kushner starts construction on first South Florida development, scores $80M loan
Laurent Morali and Charles Kushner with a rendering of their Wynwood project Kushner Companies started construction on its first South Florida development with partner Block Capital Group. The developers are financing construction of their Wynwood project with a roughly $80 million loan from Axos Bank and Fortress. New York-based Kushner, founded…
Kushner Breaks Ground On First Florida Project – in Wynwood
Kushner Cos. broke ground Thursday on its first development project in Florida, where the company has been purchasing land over the past few years. Wynd, formerly called Wynwood 27 & 28, will be a mixed-use complex in Miami composed of two buildings at 130 NW 27th St. in the Wynwood arts district. Designed by Arquitectonica and developed…
Interactive Map: Land Sales psf by Miami 21 Zoning Code
To really use this correctly, you'll need to access this on Google Maps directly. First, read the following. This map was made by using publicly available sales, filtering out sales types that tend to result in errant data. Consequently, though the underlying data was systematically assembled, it is far from complete, and thus is not perfect. Also note that this is intended…
SH Hotels & Resorts to Open 62-Story Treehouse Hotel in Brickell District
SH Hotels & Resorts, an affiliate of global private investment firm Starwood Capital Group led by Barry Sternlicht, will open the Treehouse Hotel in Miami's Brickell district in 2023. Rockwell Group and SHoP Architects are the designers of the development, which will be the first U.S. Treehouse Hotel. The first Treehouse Hotel debuted in London in 2019. Treehouse…
Yardi Releases Winter 2021 Miami Multifamily Report
As Miami continues to navigate the health crisis and ensuing economic hardship, the metro became an example of resilience in the face of adversity, according to a study by the Atlantic Council's Adrienne Arsht-Rockefeller Foundation Resilience Center. The report commended Miami's efforts to repurpose existing strategies—already tested against coastal…
Edgewater Assemblage Site Fronting Biscayne Blvd Lists for $49.5M
A commercial assemblage spanning almost three acres in Miami's blooming Edgewater neighborhood was recently placed on the market with a price tag nearing $50 million. The site includes a commercial building as well as 54 apartments. According to property records, the assemblage, located at 3333 Biscayne Boulevard, is controlled by Miami Sunrise Properties…
HFZ faces lawsuit, unpaid tax bill for Shore Club South Beach hotel
A partner in HFZ Capital Partners' Shore Club in South Beach filed a lawsuit against the hotel's owners, as HFZ's financial and legal troubles continue to mount. A company tied to The Clark Estates, the family of the late newspaper publisher and businessman Stephen Carlton Clark, is suing the Shore Club's owners to block the sale of the hotel without the approval…
Hulu unveils trailer for new WeWork documentary
"When you tell a 30-something male he's Jesus Christ, he's inclined to believe you." That's a line from the trailer for Hulu's new crime-thrilleresque documentary on WeWork, set to hit the streaming service April 2. The two-and-a-half minute preview for "WeWork: Or The Making And Breaking Of A $47 Billion Unicorn" released Wednesday give…
Retail spending falls in February, but here come stimulus checks
Retail sales in February dropped 3 percent from January, a sharper decline than expected, but reflecting the timing of stimulus payments. Sales in January had surged 7.3 percent after $600 stimulus payments were deposited into consumers' bank accounts at the end of last year. Spending then fell in February, but was $33 billion higher than in February 2020…
Citizens insurance seeks rate increase after adding 100K policies over last year
Florida's state-backed insurer, Citizens Property Insurance Corp., is seeking a rate increase as it grapples with more than 100,000 new customers gained over the past year. Barry Gilway, Citizens' president and CEO, said an increasing number of private insurers are not writing new policies or are restricting the types of properties they will cover, according to the…
Miami Beach Treehouse nightclub for sale — for cash or cryptocurrency
A Miami Beach nightclub is for sale, and open to Bitcoin buyers, which could make it the first known commercial real estate deal to close with cryptocurrency. Treehouse nightclub owner and operator Michael Freundlich put the single-story, 4,322-square-foot property at 323 23rd Street on the market. The nightclub, known for its techno and EDM…
Will This Miami Nightclub Be First U.S. CRE Sale In Bitcoin?
A Miami Beach nightclub called Treehouse at 323 23rd Street in South Beach is for sale, and the seller will accept Bitcoin as payment. If a Bitcoin buyer emerges, it could be the first U.S. commercial real estate transaction using cryptocurrency, according to.. "He'll do part Bitcoin, full Bitcoin. He'll hold paper. He'll do a lease with an option. He would probably entertain…"
Bitcoin price – Miami Beach Nightclub for Sale, Open to Bitcoin Buyers
A Miami Beach nightclub is for sale, and open to Bitcoin buyers, which could make it the first known commercial real estate deal to close with cryptocurrency. Treehouse nightclub owner and operator Michael Freundlich put the single-story, 4,322-square-foot property at 323 23rd Street on the market. The nightclub, known for its techno and EDM…
Eric Trump is pushing for the family's Doral golf resort in Florida to be turned into a casino
Eric Trump is pushing for the Trump Organization's financially struggling Miami Doral Resort in South Florida to be turned into a casino to help boost revenues, the Washington Post reported Wednesday. The Florida state legislature is considering pursuing legislation that would allow real estate developers to grant gambling permits to properties without needing…
Much Of NYC's CRE Business Has Moved To Florida. Will It Stay?
Miami has come to be known as the sixth borough of New York City, flourishing through the pandemic as moneyed Northeasterners have made a well-publicized move south. High earners, who in any other year would be packed into subways on their way to Midtown skyscrapers, are instead filling the Miami restaurants and buying pricey Florida houses and…
Oasis Wynwood unveils restaurant lineup, Pura Vida opens Abba Telavivian Kitchen on Miami Beach, other restaurant news
The Oasis, a mixed-use development in Wynwood, unveiled its food and beverage lineup. Coyo Taco co-founders Sven Vogtland and Alan Drummond are managing the 35,000-square-foot outdoor space. The Oasis is set to open next month and it will include six dining concepts, a tower bar, and a stage for live performances. Sandwich shop Alidoro, Buya…
Sluggish hotel market showing signs of life
Hotels are receiving an injection of new guests as more Americans receive the Covid-19 vaccine and consider traveling again. U.S. hotel occupancy hit 49 percent in the week ending March 6, its highest level since last August, the Wall Street Journal reported, citing data from STR. That's down from 65 percent in March 2020 before the effects of the pandemic were fully felt.
Four national, global firms sign Downtown Doral office leases
The Offices at Downtown Doral, a mixed-use office campus within the suburban town center of Doral, has announced leases for four new tenants at 8333, the campus's class "A" office building. A spokesperson for Codina Partners said the four new tenants are Paramount Residential Mortgage Group Inc. (PRMG), HDR Engineering Inc., Ekman Group and Kia Motors…
Coral Gables sounds out merchants on adding street music
Coral Gables city commissioners favor possibly easing noise prohibitions near and around the Central Business District. During their March 9 commission meeting, Commissioner Michael Mena brought up a discussion on whether restaurants or venues residing at the Central Business District should have lighter restrictions to play live music. Mr. Mena said he has…
Melreese soccer development seen as airport safety threat
Several county departments have joined the agency that runs Miami International Airport (MIA) in citing safety, traffic and commercial concerns with a soccer stadium complex proposed on nearby City of Miami-owned Melreese golf course. While there is reason for concern, said Lester Sola, Miami-Dade Aviation director, county staff still needs more information.
Wells Fargo moving Coconut Grove office into city-owned Regatta Harbour garage
Regatta Harbour, the mixed-use development at the helm of Coconut Grove's waterfront revitalization, has attracted a notable tenant. Project developer The TREO Group– a Miami-based, privately-held real estate investment firm – announced Tuesday a signed lease agreement with Wells Fargo, the diversified, community-based financial services company…
Requiring 68% more costly steel is waste, not patriotism
With the aim of patriotism, Miami-Dade commissioners just signed a blank check to raise costs to taxpayers on an unknown number of infrastructure projects by an unknown percentage with an unknown total price. They missed their target. Their unanimous vote requires that the county use iron and steel products that are made in the USA. Only if suppliers couldn't…
Blackstone, Starwood strike $6B deal for Extended Stay America
A long-in-the-works deal for an extended-stay hotel chain is finally coming to fruition. Blackstone Group and Starwood Capital Group have acquired Extended Stay America for about $6 billion, Bloomberg News reported. The two private-equity firms are paying $19.50 per share for the hotel operator, according to the report. Both companies have previously invested in the…
AEW sells Miami apartment complex to Grand Peaks for $63M
Cascades at the Hammocks with Grand Peaks CEO Luke Simpson and AEW CEO Jeff Furber (Google Maps) AEW Capital Management sold the Cascades at the Hammocks multifamily complex in southwest Miami-Dade County for $63 million. Records show AEW's affiliate, Cascades at Hammocks LLC, sold the apartments at 10605 Hammocks Boulevard, to Grand Peaks Properties' affiliate Cascades Hammocks Apartments LLC. Denver-based…
Newmark's bid to acquire Knotel is nearly complete
Newmark's bid to acquire Knotel is nearly complete. The bankrupt flex-office provider was scheduled to be sold on Friday afternoon in an auction, but no other qualified bidders submitted an offer, the Commercial Observer reported. A subsidiary of Newmark, which established a stalking-horse bid in advance of the auction, became the winner, according to the report.
Landlords, condo associations sue to end ban on eviction writs in Miami-Dade
A group of Miami-Dade County landlords, condo associations and others are pushing to end the moratorium on executing residential writs of possession filed during the pandemic. The county has suspended police enforcement of such writs for evictions filed since March 2020. The Miami-Dade Police Department executes writs of possession. Six landlords, three condo…
Data centers poised for record year of leasing
Data centers appear poised for record growth this year. A recent CBRE report found that demand is strong, and preleasing suggests 2021 a sustained surge, CNBC reported. Data centers https://therealdeal.com/chicago/tag/data-centers/ — essentially large warehouses filled with computing and data storage systems — are…
Spider nixes plans for Edgewater condo project, disposes of dev site for $7M
Spider sold an assemblage in Miami's Edgewater neighborhood for $7.25 million, after scrapping plans to build a 12-story condominium. Spider, led by Andres Goldenberg and Alejandro Eskenazi, sold the 28,000-square-foot site to Edgewater investor Jehad Audy, according to a press release. The two lots are at 113 and 123 Northeast 25th Street, and include a 1926-built…
Target moves to hybrid work-from-home model for corporate office
Target is making moves to take its corporate workforce remote after a banner year in sales. The company will cease operations at the City Center building in downtown Minneapolis and will find alternative office accommodations for its 3,500 workers, the New York Times reported. More than 25 percent of the big-box retailer's Minneapolis-area corporate…
Residence Inn Coconut Grove sells for $31M, to be converted to apartments
Hersha Hospitality Trust sold a Marriott-branded hotel in Coconut Grove for $31 million…. The Philadelphia-based hotel real estate investment trust sold the three-building, 140-unit Residence Inn by Marriott to AB Asset Management, led by Getzy Fellig and Sam Zalmanov. The Miami Beach-based buyer plans to upgrade the property at 2835 Tigertail Avenue in…
Hersha Hospitality Trust Sells 140-Room Hotel in Miami's Coconut Grove Neighborhood
Hersha Hospitality Trust has sold the Residence Inn by Marriott, a three-building, 140-room hotel at 2835 Tigertail Avenue in Miami's Coconut Grove neighborhood. John Crotty, Michael Fay, David Duckworth, Brian de la Fé, Emily Brais and Berkley Bloodworth of Avison Young represented the seller in the transaction. AB Asset Management purchased the hotel for an…
Record cargo activity at PortMiami; January busiest month in history
PortMiami, one of the top ports in the U.S., processed 113,835 Twenty-Foot Equivalent Units (TEUs) in January 2021, an increase of 21.02 percent from the 94,064 TEUs processed in January 2020, the most active month ever recorded. Between fiscal year to date, Oct. 1, 2020, through Jan. 31, 2021, PortMiami processed a total of 420,838 TEUs representing the busiest…
The future of commercial real estate in Miami Beach
One year after the pandemic shut everything down the region is seeing a pop of activity in residential sales and interest from companies in having some kind of a presence in South Florida. If and how long that lasts is unpredictable, but four local industry leaders shared their thoughts on what's ahead for commercial real estate in Miami Beach.
Rotem Rosen wins round in fight with Alex Sapir over Tamir Sapir's estate
Rotem Rosen has won the most recent courtroom skirmish in the protracted war for more than $100 million of the estate of his former father-in-law, the late Tamir Sapir. The dispute, now in its second year in New York Surrogate's Court, was nearly settled last year. But then the late real estate titan's son and executor of his will, Alex Sapir, reversed course at the…
Biscayne Boulevard dev site hits market for $11M
A multifamily and commercial development site at 11240 Biscayne Boulevard near North Miami hit the market for $10.5 million. Owner Alex Silberman purchased the 3.2 acres of land at 11240 Biscayne Boulevard in August 2012 for $2.9 million from Biscayne 114 Center of New York, property records show. The asking price shows a significant uptick in valuations since then.
The 369-unit multifamily Vesada in Doral begins lease-up phase
LMC has kicked off leasing at its second community in Doral, Fla. Leasing opportunities for Vesada will be available through the leasing office that opened earlier this month alongside virtual and online alternatives. Scheduled to see its first move-ins in March, the 369-unit Vesada will offer one-, two- and three-bedroom floorplans. The units…
Done deal: Biden signs $1.9T stimulus with billions for real estate
President Joe Biden signed the $1.9 trillion stimulus package on Thursday, aggressively expanding federal aid to renters, homeowners, small businesses and more. "This historic legislation is about rebuilding the backbone of this country," Biden said before signing the bill, "and giving the people of this nation, working people, the middle-class folks, people…
Bruce and Shawn Chait arrested on charges of extorting Miami based 13th Floor Investments
Father and son real estate duo Bruce and Shawn Chait were arrested on charges they tried to extort millions of dollars from Arnaud Karsenti of 13th Floor Investments, in connection to Tamarac housing communities the firm developed on golf courses once owned by the Chaits. The Florida Department of Law Enforcement arrested…
AMC reopens 90% of U.S. theaters
The show is going on for AMC. The international movie theater chain has reopened nearly 90 percent of its U.S. cinemas. AMC Entertainment Holdings said Wednesday that 527 out of 589 domestic theaters have reopened since last year's shutdown. They include theaters in New York City, and theaters in Los Angeles are set to reopen soon. Internationally…
Sunbeam Television buys North Bay Village site next to Channel 7 for $29M
Sunbeam Television Corp., owner of WSVN-Channel 7, bought property next to the TV station in North Bay Village for $29 million. Records show Sunbeam Television, led by Andrew Ansin, bought two lots next to Channel 7 from Isle of Dreams, led by Andre Radandt. The property at 1415 Northeast 79th Street now has a two-story, 17,426-square-foot utility…
Lynd buys Margate apartments from Grand Peaks for $51M
San Antonio-based multifamily investor Lynd bought a Margate apartment complex for $50.75 million. Lynd bought the 280-unit Lakes of Margate at 5750 Lakeside Drive from Denver-based Grand Peaks, according to a press release. The sale price equates to $181,250 per unit. Built in 1987, the garden-style community spans nearly 14 acres, according to property…
Raanan Katz buys Publix-anchored Plantation shopping center for $17M
Raanan Katz's RK Centers picked up a Publix-anchored Plantation shopping center for $17 million, its third South Florida acquisition since September. RK Centers, through affiliate RK Veranda, bought Veranda Shoppes from Regency Centers Corp. affiliate Equity One JV Sub Veranda, according to a deed. Property records show the 47,678-square-foot shopping…