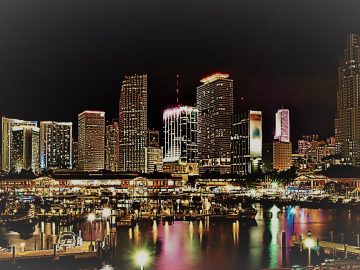 Parent company to close 7 Winn-Dixie supermarkets in South Florida
The parent company of Winn-Dixie will close 30 of the supermarket operator's stores in Florida, including seven in Broward and Palm Beach counties. Southeastern Grocers, which is preparing to file for Chapter 11 bankruptcy this month, announced Thursday that it will "voluntarily implement a court-supervised, prepackaged restructuring agreement." The restructuring will involve the shutdown of 94…
Big Swath Of Winn-Dixies Shuttering In Parent Company Bankruptcy
A Jacksonville-based grocer will be shuttering almost 100 underperforming stores — including a large number of Winn-Dixie-branded locations — as it strives to re-emerge from bankruptcy. Southeastern Grocers announced that it has entered into Chapter 11 bankruptcy to "voluntarily implement a court-supervised, prepackaged restructuring agreement that will force the operator to close 94 stores in its…
Who's Going to Move Into the Hundreds of Empty Toys 'R' Us Stores?
The collapse of Toys "R" Us Inc. is yet another blow for landlords, who now will have gaping holes of suburban retail space up for grabs. And few tenants would want them. The debt-laden toy chain, with more than 700 stores across the U.S., became one of the largest victims of the retail decline when it announced on Thursday that it would go out of business after a failed rescue effort. The liquidation could…
Coconut Grove Master Implementation Plan Released
Among the objectives of the plan are: pedestrian and bicycle friendly environment; either Commodore or Fuller St can be closed as a pedestrian St, which can have arts installed and widen sidewalk; store frontage improvement; solar smart benches is recommended on Grand Ave; no parallel parking on McFarlane; no parallel parking on Main Hwy and widen the sidewalk; propose a outdoor theater in…
National Real Estate Investor on Bal Harbour Shops: Only For the Rich, and It's Doing Just Fine
At the northern tip of Miami Beach's famed barrier island, atop what was once a tangle of mangrove-filled swamps, sits a three-story, 466,000-square-foot sanctum for the super-rich. A pair of models dressed in beige linen outfits strut silently past onlookers like a wandering catwalk ad. Outside, shoppers shell out $30 for valet parking and the right to show off their supercars near the main entryway.
Here's more proof that Miami is becoming a fashion capital
Milan-based Istituto Marangoni opens a campus in the Miami Design District Watch out New York: here's more proof that Miami is becoming a fashion powerhouse. Leaders at Milan-based fashion and design school Istituto Marangoni chose Miami's Design District for the school's very first U.S. outpost. "My first choice for Istituto Marangoni's inaugural U.S. campus was Miami because of its growing…
Lawsuits reveal cost to rent retail space at Brickell City Centre
Curious to know how far rents reach in one of Miami's newest luxury retail centers? Lawsuits filed by Brickell City Centre show the price is upwards of $130 per square foot. Over the past year, the mall operator, Brickell City Centre Retail LLC, has filed lawsuits against Koko & Palenki and BDBA. In both cases the lawsuits sought to collect unpaid rent after the stores closed, according to The Next Miami.
Condo developers are plotting the future of Miami's skyline
From TRD Miami's spring issue: With more than four years' supply of luxury condos for sale, it's plain to most people in the real estate community that the market does not need any more condo projects. Developers have no choice but to hope their existing projects inch closer to selling out while they toil away on plans designed for a better market in the future. Many are now plotting the next batch of…
Video: ArborCrowd Co-Founder Adam Kaufman on Commercial Real Estate CrowdFunding
Adam Kaufman, co-founder and managing director at ArborCrowd, a company that enables people to co-invest with successful real estate deal-makers in the industry, joins Michael Bull on his America's Commercial Real Estate Show to discuss crowdfunding for commercial real estate in 2018. They discuss reasons to use crowdfunding, investor management, some benefits of using ArborCrowd, what the process…
New projects adorn Biscayne Bay at Edgewater
New projects adorn Biscayne Bay at Edgewater. As six developments take a step toward completion, some locals wonder when more goods and services will also follow the real estate boom into the area. Jaret Turkell understands the growing appeal with the area. Mr. Turkell, the managing director at Holliday Fenoglio Fowler, said, "Location-wise it's closest to some of the hottest neighborhoods in…
Demolition spotted at Arquitectonica's Babylon Apartments
This will be sad for fans of this circa-1982 building Look away, fans of Arquitectonica's first building: The Next Miami spotted that demolition is in progress on the iconic Brickell building. Miami commissioners voted in January to overturn the building's protected architectural landmark status. Photos on the blog show the building looking out of sorts, and The Next Miami reports that a Notice of…
Sandor Scher on his grand plan for North Beach
Sandor Scher is looking to bring the magic back to North Beach. After a contentious campaign to upzone part of the quiet Miami Beach neighborhood failed in 2015, Scher and his business partner, Alex Blavatnik, went back to the drawing board and redesigned the $220 million beachfront, mixed-use development planned for Ocean Terrace. Scher is now fully embracing the neighborhood's history.
Sam Zell describes retail real estate as a "falling knife"
Retail's well-publicized struggles are still far from over, according to Sam Zell. The chairman of Equity International Group and Equity Residential discussed the state of the industry Tuesday morning on Bloomberg Daybreak, where he described retail as "still a falling knife." The United States has more retail per population than any other country, which has led to "an enormous number of obsolete shopping…
High Street Retail Continues to Battle Vacancies, Falling Rents
The tony retail districts in New York City, Chicago and San Francisco offer the best in luxury retail. But after years of getting prestige brands to agree to double-digit increases in rents, landlords on Manhattan's Fifth Avenue, Chicago's Michigan Avenue and San Francisco's Union Square are in their second year of double-digit declines in asking rents. In San Francisco, where well-heeled shoppers stroll Union…
Is EB-5, the 'crack cocaine of real estate financing,' here to stay?
Based on recent headlines, it might sound like the EB-5 visa program is akin to a kiss of death for some developers. In January, it became known that the U.S. Securities and Exchange Commission was investigating Kushner Companies' use of the EB-5 program following a fundraising trip to China last May. At the time, Nicole Kushner Meyer name-dropped her brother in the White House, Jared Kushner
Q&A: Miami's Wynwood 'Had That Special Sauce'
The founder and CEO of the Metro 1 brokerage was one of the first investors in Miami's Wynwood neighborhood, buying an eight-unit apartment building on 27th Street in 2003. "It was a blighted, post-industrial warehouse district with neglected and abandoned textile buildings with tenants paying very low rents in very bad conditions," he recalls. Plenty has changed in the past 15 years. The 50-block…
Residences by Armani/Casa is halfway to the top
Check out the construction in this drone video Residences by Armani/Casa, the luxury tower designed by starchitect Cesar Pelli with interiors from fashion designer Giorgio Armani, just hit its halfway point. Curbed Miami's been tracking this 56-story, 649-foot tall modern glass tower since the building's concrete was poured, and last week, the Sunny Isles Beach residence hit its halfway vertical milestone.
In Tightening Market, Florida Developers Turn To Private Lenders
Six months ago, Eden Multifamily President and CEO Jay Jacobson would have surveyed the strong South Florida market, checked his costs and said that everything was going swimmingly. "Monday, I had an update with the contractor building our high-rise in Fort Lauderdale on pricing," he said this morning during a Bisnow event at the W Hotel. "It's mind-boggling, what is starting to happen."
Serena Williams attends ground breaking for new tennis venue at Hard Rock Stadium
It's slated to be ready for the Miami Open's 2019 tournament Tennis superstar Serena Williams picked up a shovel for today's ground breaking ceremony at Hard Rock Stadium, which will soon serve as the new home for the Miami Open tennis tournament. South Florida Business Journal reports that the Miami Gardens tennis venue should be ready for the March 2019 tournament. That means this month's…
Miami commission to vote on developer incentives, Overtown apartment complex and two mixed-use projects
Miami commissioners on Thursday will consider new rules that would award developer incentives to save historic properties as part of a jam-packed zoning agenda that includes approval requests for an Overtown apartment complex adjacent to David Beckham's soccer stadium site and two mixed-use projects near the Douglas Road Metrorail Station and on the Miami River. As luxury condos have…
Florida bills to protect affordable housing fund dead in session
Two Florida bills aiming to protect affordable housing funds from being diverted elsewhere died in a subcommittee during the Florida Legislature session. It's the 11th consecutive year that funds from the William E. Sadowski Affordable Housing Act will be used to fill gaps in other budgets. Florida bills SB 874, sponsored by Naples Republican Sen. Kathleen Passidomo, and HB 191, sponsored by Tampa…
Big Four no more? Fidelity is buying rival Stewart for $1.2 billion
The "Big Four" title insurance players are about to become the Big Three. Industry heavyweight Fidelity National Financial has signed an agreement to buy rival Stewart Information Services Corp. for $1.2 billion in cash and stock, the company said Monday. Pending shareholder and regulatory approval, the deal could close by the second quarter of 2019. If approved, Fidelity will emerge as the nation's…
Proof Pizza & Pasta in Midtown to close, Nathan's Famous to open its first Miami location, more
A Midtown favorite is closing after 3.5 years. Proof Pizza & Pasta will close on Sunday, March 25, according to the restaurant's Instagram account. Proof, at 3328 North Miami Avenue, moved to the roughly 1,700-square-foot corner space in October 2014. Chef and owner Justin Flit told the Miami New Times that "at the end of the day, we were not profitable enough to keep the…
Doral office building attracts $48 million loan
Guardian Life Insurance Company made a $48 million loan secured by One Park Square, an 11-story office building in Doral. Commercial real estate brokerage firm CBRE arranged the financing on the 281,786-square-foot building at 3470 Northwest 82nd Avenue. CBRE said in a press release that its South Florida capital markets team arranged the loan for "a Boston-based institutional advisor," an apparent…
Jade Signature's grand opening is today, and it's nearly sold out    
This is the newest Sunny Isles Beach icon on "Billionaire's Beach" Today marks the grand opening for Pritzker Prize-winning Swiss architects Herzog & de Meuron's long-awaited Jade Signature. It's been a long journey since the Sunny Isles Beach tower's 2013 groundbreaking, and now Jade Signature's 192 residences are more than 95% sold. Developed by Fortune International Group's…
A condo project may be headed for single-family neighborhood in North Miami
The North Miami Planning Commission gave its nod to the development of a 67-unit, six-story condominium at its Wednesday meeting, paving the way for multifamily projects in a single-family neighborhood on Northeast 130th Street near West Dixie Highway. Turkish developer OZ and BF, LLC, led by Ozkan Ozcelik and Serhat Karakaya, will be developing the condominium at 840 Northeast 130th Street…
Islamorada's Cheeca Lodge, damaged by Hurricane Irma, to reopen by end of March
Islamorada's Cheeca Lodge & Spa will reopen on March 30 after completing $25 million in renovations and repairs spawned by Hurricane Irma. Upon reopening, the hotel, located at mile market 81.8 on Islamorada's Old Highway, will sport a renovated lobby and spa, renovated guestrooms, and a new restaurant. Cheeca also plans to open a new pool to augment its two refurbished pools.
Look inside a sleek model home at One Bay Residences development in the Design District
Each three-level condo includes a garage and rooftop terrace One Bay Residences, a tony development of 38 luxury condominium homes, is about ready to deliver in the Design District. The homes are expected to be ready in the second quarter of 2018, and now here's a look at One Bay Residences' model home, designed by Addison House. The three-bedroom home is incredibly open, with a glassy staircase…
Six confirmed dead in FIU bridge collapse
The search and rescue mission has turned to a recovery  Miami-Dade police confirmed this morning that at least six people died in yesterday's tragic bridge collapse near the campus of Florida International University. Ten others were injured and taken to the hospital, according to NBC Miami, and now the mission has turned from rescuing victims to recovery. It's not clear why the under-construction…
New York-based Carpe Real Estate Partners pays $14 million for Wynwood site
2335 North Miami Avenue
New York-based Carpe Real Estate Partners just paid $14 million for a development site in Wynwood. David Weitz and Erik Rutter of Carpe bought the 1.65-acre site at 2335 North Miami Avenue from Goltens Miami, a marine engine repair company. It hit the market in November with an expected sale price of $16 million to $20 million, based on comparable deals. Mika Mattingly, Noa Figari and Cecilia…
EB-5 fraud scheme in Palm Beach lands development team in jail
Palm Beach developer Robert Matthews and real estate attorney Leslie R. Evans have been charged with fraud for their involvement in a real estate scam that swindled $50 million from about 50 Chinese and Iranian investors in recent years. The scam redirected EB-5 funds intended for a Palm Beach condo-hotel project at 160 Royal Palm Way, according to the Palm Beach…
Several fatalities confirmed in FIU pedestrian bridge collapse
It happened around 1:45 p.m. today A pedestrian bridge under construction near Florida International University collapsed this afternoon, 7 News Miami reports, and the Florida Highway Patrol is already reporting several people have been killed in the accident. At least four people were injured. The bridge collapsed around 1:45 p.m. at Southwest Eighth Street near 109th Avenue. Here's an eye witness video…
See renderings of Fisher Island's Palazzo Della Luna, which just launched sales
It's on the island's last waterfront parcel Take a look at the ultra-luxury boutique condominium Palazzo Della Luna, which just launched sales last week. The 10-story building will feature 50 three- to seven-bedroom waterfront residences, including a $40 million penthouse — the priciest listing ever recorded on the island. The project is led by PDS Development, LLC and veteran developer Heinrich von Hanau…
Here's what we know about MCM, the builder of the FIU bridge that collapsed
A prominent Cuban-American, family owned construction business headed by an FIU graduate built the ill-fated pedestrian bridge that collapsed in Miami on Thursday, killing several people. Munilla Construction Management, founded more than three decades ago in Miami, had the contract for the $14.2 million bridge at Southwest 109th Avenue and Southwest Eighth Street. It collapsed just five…
Not playing around: Toys R Us to shutter all 735 US stores
The death of the once ubiquitous toy retailer Toys R Us is near, after the company announced it planned to close all of its 735 nationwide stores, ending months of efforts to salvage the iconic brand. The closures include its Babies R Us brand and come six months after filing for bankruptcy in September.  Its December effort to pull itself out of bankruptcy by closing 180 stores apparently failed to help save the…
Freshwater Group buys multifamily complex in North Miami Beach
New York investment firm Freshwater Group is set to close Thursday on a $5.9 million purchase of 51-unit apartment complex in North Miami Beach, The Real Deal has learned. The deal for the Carmel Apartments at 16700 and 16701 Northeast 21st Avenue breaks down to about $115,700 per unit. Records show the current owner, Dynamic GM LLC, paid $4.7 million for the property, or about $92,160 per…
Sonny Kahn buys neighboring Golden Beach oceanfront property for a big markdown
Billionaire developer Sonny Kahn just paid $14 million for an oceanfront teardown next to his home in Golden Beach. The 42,750-square-foot property at 115 Ocean Boulevard was originally listed for $24.9 million, which means it sold for a 44 percent discount off the asking price. It was later reduced to $19.9 million. Lucrecia Lindemann and Melissa Barragan of Dezer Platinum Realty represented the seller…
Rising construction costs challenge multifamily developers: panel
Rising construction costs are challenging the feasibility and affordability of some multifamily developments in South Florida, a panel of real estate professionals said Wednesday. "Even on jobs where we bought the land 10 years ago – which is almost free compared to what prices are now – we are having a hard time getting the numbers to work," said Patrick Campbell, a vice president of Miami-based…
Sherry Frontenac in North Beach scores historic preservation board approval
The Sherry Frontenac, a post-war modern hotel in Miami Beach, is getting a poolside makeover. On Monday, the Miami Beach Historic Preservation Board approved a request allowing the hotel owner to build a new deck with a concrete canopy, underground parking and a rooftop dining area for the property at 6565 Collins Avenue in North Beach. S.F. Land LLC can now demolish the existing pool deck and…