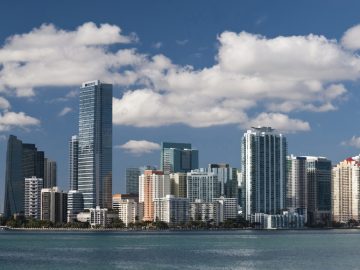 Here's where construction stands on the massive Miami Worldcenter
The $2 billion Miami Worldcenter project will create its own mini Miami skyline when it's done. The development, spearheaded by Art Falcone and Nitin Motwani, will include a street retail component, along with an office tower, two apartment buildings and the Marriott Marquis convention center in partnership with the MDM Group. Construction of the mega project's crown jewel, the 60-story Paramount…
Massive downtown Miami site hits market — again — for $125 million
A development site in downtown Miami is back on the market with a big price tag. The 2.52-acre property at 251 Flagler Street is asking $125 million, according to Dwntwn Realty Advisors' Devlin Marinoff, Tony Arellano and Skyler Marinoff. The firm is marketing the property as Flagler City Center, and can be developed into up to 4 million square feet and 2,500 residential units, according to a release. It's also…
A mixed-use project is proposed for a formerly contaminated 18-acre site in North Miami Beach
A vacant property in North Miami Beach at 15680 West Dixie Highway could undergo a major transformation. The Real Deal Miami reports on the master plan for New North Town Center — a mixed-use project with 1,650 apartments, 175,000 square feet of retail, 150,000 square feet of office space, a hotel, and a school — proposed for an approximately…
Downtown Development Authority's Biscayne Green wilts in Tallahassee
For Miami's Downtown Development Authority, results of this year's Florida legislative session could be summed up by the phrase "so near, yet so far away." Board members learned at their March 16 meeting that Biscayne Green, an audacious plan to create a "grand boulevard" on Biscayne Boulevard by replacing parking and traffic lanes with public spaces, had been awarded $1 million in the 2018-19…
Check out Flagler City Center, a 2.52-acre development site in downtown Miami 
DWNTWN Realty Advisors is bringing to market this high-density site for $125 million A full city block in downtown Miami is on the market. DWNTWN Realty Advisors is bringing Flagler City Center, a 2.52 acre site downtown at 251 Flagler Street, to market with an asking price of $125 million. The Flagler City Center site can accommodate up to 4 million square feet of buildable area and up to 2,500…
Miami's hotel market got a boost from hurricane-damaged competitors. Will that continue?
Miami's hotel market experienced a rise in occupancy over the last six months following devastating hurricanes that tore through the Keys and the Caribbean, rendering those destinations off limits to vacationers. An analysis from hotel research firm STR tracked that growth from September through February, looking at occupancy, revenue per available room and demand. And as those storm-battered islands…
Miami-Dade proposes two projects with teacher housing
Miami-Dade County Public Schools and the county's housing department are proposing a new kind of mixed-use development for Miami.
The school system and housing department are proposing a middle school with apartments for teachers as part of Southside Elementary's expansion in the Brickell area. The mid-rise building would have residential units on the ground floor and classrooms above. The school …
Chinese investment in US real estate fell 55% in 2017
Chinese investment in U.S. commercial real estate registered a jaw-dropping 55 percent decline in 2017, a result of tighter capital controls imposed by the Chinese government, increased regulatory scrutiny and more attractive opportunities in other countries, according to a report by Cushman & Wakefield released this morning. While experts had expected a sharp decline, the numbers reveal that the bottom…
Developer in contract to buy Coral Gables site of planned condo project
Coconut Grove-based Location Ventures is under contract to purchase a Coral Gables rental complex for $16 million where the firm plans to build a boutique condo project. Villa Valencia, a 13-story, 39-unit condo building, would be built on the property at 501-525 Valencia Avenue, replacing low-rise apartment buildings built in the 1950s, Location Ventures CEO Rishi Kapoor told the South Florida Business…
Miami-Dade officials propose building apartments for teachers on school grounds
That's one idea for affordable housing When you were in elementary school, did you ever imagine that your teacher lived at school? That could actually be a reality in Miami. The Miami Herald's Douglas Hanks reports on an interesting idea to create more affordable housing In Miami-Dade county by building apartments right on school grounds. There's a proposal in its preliminary stages to build a middle…
Micro units are good for Seattle but not Miami: Eden Multifamily's Jay Jacobson
Don't count developer Jay Jacobson among the multifamily developers catching onto the micro unit wave. "I'm not a big fan of solving affordability issues by cramming people into glorified hotel rooms," Eden Multifamily's president said during a Miami Finance Forum event on Friday. "I apologize to anyone in that business or [who] invested in it. If you…
Moishe Mana buys more office condos at 100 East Flagler
Moishe Mana dropped nearly $5 million on office units at 100 East Flagler Street, adding to his holdings at the downtown Miami office building. Mana paid $4.75 million for more than 25,600 square feet of office space on floors 2, 3, 8 and 9 at the 10-story Wells Fargo building. Popular Condo No. 3 LLC, led by Abraham Franco, sold the units. Mika Mattingly and Linn Ahsberg of Colliers International…
Israeli investor buys Miami apartment building
Miami-based Bar Invest Group just sold an apartment building in Miami's Upper East Side to Israeli-born real estate investor Yoram Izhak. Izhak, co-founder and CEO of IMC Equity Group, paid about $5.6 million, or $124,000 per unit, for the 45-unit building at 8000 Northeast Bayshore Court. He financed the deal with a nearly $4 million mortgage from Banco Popular, according to property records.
Major mixed-use project planned for North Miami Beach's West Dixie Highway
North Miami Beach planners on Thursday got their first look at a master plan for New North Town Center, slated to be built on a nearly 18-acre site on West Dixie Highway between 155th Street and 163rd Street. The property, which is mostly vacant, has been lying idle for at least four or five years, according to Justin Proffitt, North Miami Beach's planning and zoning director. In the next few years, New North…
Video: Elevator technology is revolutionizing vertical travel as supertalls abound
Over the next two years alone, there are 187 skyscrapers that are expected to pop up across the globe. This fascinating video goes in depth on the go-to technologies that are being engineered by some of the world's leading elevator firms. This touches on some of the topics in a recent report by Bloomberg, Supertalls are Driving an Elevator Revolution, which examined new technologies addressing…
Court battle ensues after "bizarre" death of real estate exec Andrea Greenberg
The death of Andrea Greenberg last October was declared an opioid overdose, as The Real Deal reported, however, her friends and sister remain suspicious over the circumstances, particularly in light of an ensuing legal battle with Greenberg's long-time partner, Alejandro Aparicio. According to court documents, Aparicio allegedly withdrew $10,000 from Greenberg's bank account the day she died and had…
Billionaire bailout: Issac Larian tries one last time to save Toys 'R' Us
After Toys 'R' Us threw in the towel and announced it would close all 735 American stores, billionaire Issac Larian has come up with a last-ditch effort to save some of the toy retailer's stores. He's bringing $100 million of his personal funds, according to Bloomberg, and he's also launched a GoFundMe campaign to garner external funds, which has currently…
EB-5 program extended through September
The EB-5 visa program is sticking around, though there are mixed feelings about the how. The program, which allows foreign investors to obtain a green card if they put $500,000 into job-creating projects, will remain in place until September 30, thanks to its inclusion in the spending bill Congress passed yesterday as Mansion Global reports. Known to some as the "crack cocaine of real estate financing," the…
Video: Mitch Roschelle and David Leavitt of PwC Trump Effect on Economy and Real Estate via PwC
Mitch Roschelle and David Leavitt with global accounting and professional service company PwC (PricewaterhouseCoopers) join host Michael Bull on America's Commercial Real Estate Show to discuss President Trump's effect on commercial real estate and the economy overall. They discuss a number of topics including trends in the economic outlook, interest rate changes, tax reform impacts, including…
The Ritz-Carlton Residences, Sunny Isles Beach is halfway to the top
Check out the construction video Oceanfront tower Ritz-Carlton Residences, Sunny Isles Beach just hit a big construction milestone: it surpassed its halfway point and is now up to 28 of 52 full stories. The building is on-schedule for next year's projected delivery date and it recently recorded seven sales in a span of 45 days for a total of $24 million in sales. The tower's curvilinear silhouette designed by…
Checking in on Park Grove: One Park Grove breaks ground
This is the third and final residential tower in Coconut Grove designed by OMA/Rem Koolhaas Here's a construction update on Park Grove, the ultra-luxurious residential development in Coconut Grove designed by the starchitect team of OMA/Rem Koolhaas. The development's first two towers are slated for completion in early summer. Now developers Terra Group and The Related Group just…
Flagstone Island Gardens can develop on Watson Island, judge rules
Mehmet Bayraktar, the Turkish developer behind a long-stalled $1 billion mega-yacht marina and resort project on Watson Island, just won a major court victory that will allow his firm to continue building the development. Miami-Dade Circuit Judge William Thomas on Thursday ruled in favor of Bayraktar's Flagstone Island Gardens LLC on all counts related to lawsuits he filed last year against the city of…
South Florida by the numbers: Pushing back the rising sea
The facts can no longer be denied: sea levels are rising, and South Florida is becoming more vulnerable to flooding with each passing year. With a population that continues to grow by roughly 8 percent each year, expanded commercial and residential real estate and the annual threat of hurricanes, the challenges facing our region are significant. A recent report from…
Who needs parking? Wynwood developers want new rules to encourage small projects
A proposal to boost development of small-scale warehouses similar to the ones that made Wynwood into a mecca for creative types would allow single lot owners to redevelop their properties into one-story buildings and forgo on-site parking requirements with payments to a neighborhood parking fund. The board of directors for the Wynwood Business Improvement District — an organization…
Publix: Where Real Estate Investing is a Pleasure
Publix Super Markets isn't just one of the nation's top grocery chains, it's also becoming a major real estate investor, buying up its own stores and self-anchored shopping centers when they hit the market. The Lakeland, FL-based retailer has been steadily increasing its ownership of retail real estate and currently owns 371 of its 1,167 stores, or nearly a third, according to the company's 2017 annual report.
David Beckham's team goes back to the drawing board for MLS stadium location
More than five sites are in consideration After zeroing in on Overtown and considering Melreese golf course, David Beckham and his partners in Miami's new MLS team are broadening their search for a stadium location. "We're actively looking at five or so sites," MLS Miami partner Jorge Mas told the Miami Herald. "There are a handful of sites that are interesting." Mas declined to confirm individual…
EB-5 gets yet another six-month extension
The EB-5 visa program, heavily favored by New York developers as a way of raising cheap capital overseas, is headed toward another six-month extension. The so-called "clean" extension does not include changes backed by Sen. Chuck Grassley, a staunch critic of the program, which gives green cards to foreign investors in exchange for a $500,000 investment. Language extending EB-5 through…
Floval Oil pays $6M for Hialeah Executive Motel
A Miami investor just paid $6 million for the Hialeah Executive Motel, property records show. Fraymond Corp and Merco Corp., led by Mercy Posada, sold the motel at 131 Okeechobee Road, as well as adjacent land to Orestes Flores' Floval Oil Corp. Floval owns a few other sites in Miami-Dade, and sold 15 gas stations to Sunshine Gasoline Distributors in 2015 for about $24 million. Fraymond and Merco sold…
Here are the new sites Beckham group is reportedly eyeing for $200M soccer stadium
The Hialeah Park Casino at 2200 e 4th Avenue, a Pepsi distribution center in Doral, the Melreese golf course and a truck depot near Jackson Memorial Hospital are among the sites David Beckham and his partners are now considering…  Overtown, which has been the site since 2015, is still a possibility. Beckham's group owns 6 acres of land at 650 nw 8th Street that it purchased for $19 million in 2016…
Crescent Heights close to deal with school board to build mixed-use tower in Miami's A&E district, could lead to large-scale redevelopment
A Miami-Dade School Board vote regarding the sale of a parking lot could lead to Crescent Heights' dramatic redevelopment of a large swath of land in Miami's Arts and Entertainment District. The school board on Wednesday authorized Superintendent Alberto Carvalho to negotiate a deal with 1370 NE 2nd LLC, an affiliate of Crescent Heights, to develop a mixed-use tower on the 49,075-square-foot surface…
Steel prices climb nationwide as real estate industry braces for tariffs
President Trump's controversial tariffs on steel and aluminum imports haven't taken effect yet but they are already having an impact on commercial real estate across the country. Steel prices have climbed around 10 percent nationwide as the construction industry prepares for Friday's change, according to the National Real Estate Investor. Trump announced the 25 percent tax on foreign steel and 10 percent…
Another Big Industrial Lease Signed in Medley
Airport North Logistics Park in Medley, FL is filling up fast. Marine Harvest USA has signed a lease for 106,000 square feet at the park, located east of NW 87th Avenue and NW 80th Street. in the Miami Airport North Industrial submarket. The seafood supplier will more than double its space when it relocates from 8550 NW 17th St. in Doral. The first phase of Airport North consists of four buildings…
Miami bridge collapse underscores dangers of defects
When a defect – or defects – is present in a construction project, the potential liability for a developer or contractor can be enormous. Simply mitigating a defect can result in a seven or eight figure price tag for parties involved in the project. In cases where personal injury or death result from a design or construction defect, which can also be an indication of professional malpractice, the legal and financial…
Fed raises short-term interest rates; signals more hikes on horizon
The Federal Reserve voted to raise short-term interest rates by a quarter of a percent, citing a strong economy, and signaled more hikes were on the horizon this year. The Fed's decision to raise its benchmark rate to between 1.5 and 1.75 percent came Wednesday, during its first meeting led by new Federal Reserve Chairman Jerome Powell. Officials planned three rate increases for 2018, but it seems…
SoFla lease roundup: Salmon distributor inks lease in Medley & more
Salmon company inks 106,000 sf lease in Medley. The Airport North Logistics Park in Medley just reeled in a big fish. The salmon distributor Marine Harvest US just inked a build-to-suit, 106,000-square-foot lease in a building under construction at the park.
The company will be moving out from its current Doral location to the property located just east of Northwest 87th Avenue and off…
Former NFL Linebacker-Turned-Radiologist Opening Medical Marijuana Clinic in Wynwood
The career path of Dr. Hervé Damas has been unorthodox. He has been a linebacker for the Buffalo Bills, a professor… Now he's taking his expertise to Wynwood, where he'll open a clinic offering cannabis evaluations and CBD products. He says Grassroots Medicine & Wellness Center, which will be located at 2328 N Miami Avenue, is expected to open by May 1 as the bustling neighborhood's first marijuana clinic.
MDX Dolphin Expressway Project Is Opening Avenues To The Future
The world is changing faster than ever. Consider just one of the global megatrends that is challenging highway transportation experts: the population of the world's urban areas is increasing by 200,000 people per day – all of whom demand fast and easy ways to get between point A to B within their respective metropolitan areas. The post MDX Dolphin Expressway Project Is Opening Avenues To The Future…