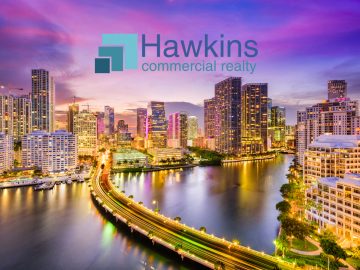 City Furniture leases Miami Gardens distribution center
City Furniture leased a nearly 287,000-square-foot building at Bridge Point Commerce Center in Miami Gardens, another deal marking the strength of South Florida's industrial market. The Fort Lauderdale-based furniture retailer led by founder Keith Koenig will open a distribution center at Bridge Development Partners' under…
Bridge Development Lands New Tenant at Miami Industrial Park
CITY Furniture has committed to a 286,991-square-foot, full-building lease at Bridge Point Commerce Center in Miami Gardens, Fla. The agreement brings Bridge Development Partners' 1.1 million-square-foot, three-building Phase I to 80 percent occupancy. Delivered in two separate phases, with final completion set for early 2023, Bridge Point Commerce Center…
Two Large-Scale Residential Developments Underway in Metro Miami for Combined $695M
Just outside Miami, two large-scale residential developments are underway totaling $695 million. The projects include the Five Park high-rise in Miami Beach and Plantation Walk in Plantation. Five Park. A joint venture between Terra, GFO Investments and New Valley is preparing to break ground on Five Park, a $345 million residential tower located at 500…
4 Industrial Tenants Ink More Than 293K SF of Deals in Miami-Dade
A quartet of industrial leases totaling 293,278 square feet have been inked in Miami-Dade County, with tenants ranging from Crane Worldwide Logistics to PGT Industries, according to information from Cushman & Wakefield. Crane Worldwide signed a six-year lease for 121,656 square feet at Crossroads West, located at 10901 NW 146th Street along the Florida…
SoLé Mia in North Miami scores $32M multifamily construction loan
The multifamily and retail SoLé Mia project in North Miami has secured a $32 million construction loan for its second rental community. Development duo Turnberry Associates, led by Jackie Soffer, and the LeFrak Organization, led by Richard LeFrak, secured the financing through affiliate SM Parcel A, a mortgage…
SALT shakeup: Democrats pressure Biden to repeal tax cap
As President Joe Biden unveils a multi-trillion-dollar infrastructure proposal this week, House Democrats are calling on him to repeal the Trump-era limit on state and local tax deductions, or SALT. Rep. Tom Suozzi, who represents parts of Queens and Long Island, along with Reps. Mikie Sherrill, Josh Gottheimer and Bill Pascrell of New Jersey, have publicly…
Cofe Properties sells Pinecrest office-retail plaza for $32M
Cofe Properties sold an office-retail plaza in Pinecrest for $32 million, the same price the investment firm paid for the property six years ago. Property records show an affiliate of Miami-based Orion Real Estate Group bought Pinecrest Town Center at 12651 South Dixie Highway from Cofe's Cofe Town Center. Coral Gables-based Cofe Properties bought Pinecrest…
Watch: Gil Dezer on guerrilla marketing and working with Donald Trump
For this month's The Closing, The Real Deal sat down with Gil Dezer, the head of Dezer Development and one of the most active real estate players in South Florida. The family-run firm, which was started in 1970 by Dezer's father, Michael, is behind flashy projects such as the Porsche Design Tower and Residences by Armani/Casa. The elder Dezer influenced his son's…
What distress? Dry powder piles up with few discounts in sight
After raising billions of dollars to spend on commercial real estate, distress investors are having a difficult time spending it. Despite projections of massive discounts in real estate prices, few have arisen. Banks have yet to write down loans and commercial property owners have had little incentive to sell. These factors, along with generous stimulus packages…
Miami-Dade regains 21,600 jobs in one-month recovery climb
Miami-Dade gained 21,600 workers on payrolls from January to February, unemployment ticked down and every sector but one added jobs as Covid-19 vaccination broadened. Nonetheless, every sector continued to show a decline from February 2020, the last normal month in the state before the pandemic hit in March. Figures from the US Bureau of Labor Statistics…
Work to begin on Miami Beach's tallest building
Terra, GFO Investments and New Valley plan to break ground this month on Five Park, a 48-story, roughly 280-unit tower at 500 Alton Road that will become the tallest building in Miami Beach at 519 feet upon completion in 2023. Construction will be made possible by the largest residential construction loan in South Florida to be funded since the pandemic struck…
Bidding nears for private developers of taller Government Center
Miami-Dade is seeking one more round of public input before requesting a first round of bids from private builders to redevelop downtown Miami's Government Center area into a taller, denser and more pedestrian-friendly metropolitan neighborhood. The goal, said Eileen Higgins, the county commissioner leading the effort, is to begin preliminary processes this…
Limited-capacity movie theaters fill, add programming
With social distanced automatic seating and ticketing protocols for each showing, several local theaters are reporting uptake of audiences, filling up showings at limited capacity. Still under strict safety regulations, movie theaters throughout Miami-Dade are seeing an increase of moviegoers, who are feeling safer and more confident as the Covid-19 vaccinations…
What Can We Expect From Retail in 2021?
Retail had a turbulent and uneven ride during the COVID-19 pandemic, but a broad recovery should follow once most Americans receive a vaccination. It goes without saying that 2020 was an incredibly challenging year for many brick-and-mortar retailers as pandemic-related restrictions made turning a profit an uphill battle. Although recovery likely won't be…
Subleases up 40% across US as companies ditch space
JPMorgan Chase, Salesforce and PricewaterhouseCoopers are among a growing number of firms looking to sublease space as the demand for traditional offices diminishes. About 137 million square feet of office space was up for sublease across the U.S. at the end of last year, according to CBRE Group, the Wall Street Journal reported. That represents a 40 percent…
"There will be blood:" VTS' Nick Romito on why landlords must embrace data
In this installment of the REInterview, TRD's Hiten Samtani sat down with founder and CEO of VTS Nick Romito. He noted the office sector's reputation as a steady, stable, unsexy source of income, and explained how all that could change. VTS began as a video-tour company (literally "View the Space") and is now a cloud-based leasing and portfolio management…
Founders Fund, Atomic and OpenStore ink long-term leases in Wynwood
Is Big Tech here to stay? Venture capital firms Founders Fund and Atomic and e-commerce company OpenStore signed leases for more than 22,000 square feet in Wynwood, while SoftBank and Microsoft are reportedly looking to expand their presence in Miami. Silicon Valley's Founders Fund, which took a temporary space in Brickell earlier this year, is leasing…
RedSky, JZ sell Wynwood Block at a loss for $24M
RedSky Capital and JZ Capital Partners sold the Wynwood Block retail building at a loss, as they have been offloading their Miami portfolio in recent months. The joint venture sold the one-story retail building at 2621 Northwest Second Avenue to Wynwood Block Realty, led by Joseph Cohen, for $24.2 million. The buyer took out a $12.2 million mortgage on the…
SoftBank Seeks More Miami Space as City's Tech Industry Expands
SoftBank Group Corp. is looking for a big block of expansion space in Miami in the latest sign that this city's tech sector is flexing its muscles. The Tokyo-based company, one of the world's largest tech investors, is searching for as much as 100,000 square feet of space, according to executives in the real-estate and technology industries. A SoftBank spokeswoman confirmed…
Melo Group Breaks Ground on 57-Story Downtown 1st Apartment Tower in Miami
Melo Group has started construction of Downtown 1st, a transit-oriented multifamily development at 22 SW 1st Street in Miami's central business district (CBD). The 57-story tower will include 560 market-rate apartments, 10,000 square feet of office space and 3,000 square feet of ground-floor retail space. Completion is slated for 2022. Downtown 1st will include…
Melo Group Breaking Ground On 57-Story Downtown Miami Tower
One of Miami's busiest developers, Melo Group, has launched construction of Downtown 1st, a transit-oriented development at 22 SW 1st Street in downtown Miami's central business district. The development comes as Miami's once-dead downtown is going through a boom. A Brookings report from last year found that Miami's downtown population decreased…
AquaBlue sells Miami Beach apartment complex for $10M
An apartment complex in Miami Beach sold for $10.4 million, slightly less than its asking price of $13.9 million…. AquaBlue Group, led by Philippe Harari, sold the 30-unit property, called Greenview Courtyard, to an entity led by the Dasilva family. The deal equates to $346,667 a unit. The three buildings span just over a half- acre at 2021, 2025 and 2031 Meridian Ave…
Natixis Lends $177M on Blackstone's MiamiCentral Office Towers Buy
Blackstone Real Estate tapped the commercial mortgage-backed securities (CMBS) market for its recent acquisition of two office towers in Downtown Miami, Commercial Observer has learned. Natixis was the lender in the deal, providing a $177 million loan. Shorenstein Properties sold the two recently built, Class A office buildings, 2 & 3 MiamiCentral, to funds…
Miami Heat's Arena Will Be Renamed After Cryptocurrency Exchange In $135M Deal
The FTX cryptocurrency exchange intends to buy the naming rights for the NBA's Miami Heat's arena for $135M, the Miami Herald reported Friday. The downtown Miami venue is called the American Airlines Arena, often referred to as the Triple A. An agreement with Miami-Dade County would last 19 years. In a complex deal, the county would take in $8.2M…
CDC extends national eviction ban through June
A few days before its expiration, the national eviction ban was extended for another three months. The Center for Disease Control and Prevention announced Monday it will continue the moratorium through June. "Keeping people in their homes and out of crowded or congregate settings — like homeless shelters — by preventing evictions is a key step in helping to…
South Florida by the numbers: Here comes the money
"South Florida by the numbers" is a web feature that catalogs the most notable, quirky and surprising real estate statistics. While Miami continues to reshape itself as the new global hub for technology and finance, it appears the latter industry has taken the lead in terms of decision makers choosing to live here — perhaps for the long term. In the past two…
Q&A With Akerman's Neisen Kasdin, former Miami Beach Mayor, on Miami's Rising Star
Scan the Miami skyline and it's hard not to lay eyes on a development bearing Neisen Kasdin's imprint. The commercial real estate pro led the South Beach revitalization that began taking shape in the late 1980s, and has also put his unique stamp on everything from urban revitalization to the development of complex, large-scale, multi-use projects and smaller…
Quantifying the Effect of Rent Growth Assumptions on Commercial Real Estate Cap Rates
When considering changes or potential changes in commercial real estate capitalization rates (cap rates), market participants tend to most commonly think of interest rates. However, rent growth assumptions also affect cap rates as the more one expect earnings to grow over time the less return an investor is willing to accept now. This is just like growth stocks in the…
More than 1 in 5 company execs plan to slash office space
Even as Covid vaccinations bring a return-to-office closer to fruition, more companies are expecting to reduce their real estate footprints. A recent survey conducted by the American Institute of CPA found that 21 percent of company executives said they expect to reduce their office space in the next 12 months, Bloomberg News reported. That's up by 3 percentage points…
Harbor Landings mixed-use multifamily, hotel and retail project near Seminole Hard Rock advances
Developers Eric Metz and Louis Birdman advanced their plan to build Harbor Landings, with apartments, hotel rooms, and retail space on a site that touches both Hollywood and Dania Beach near the Seminole Hard Rock Hotel & Casino. The Dania Beach commission on Tuesday approved the multifamily portion of Harbor Landings. The eight-story, 275-unit…
Miami commission deals Edgewater jai alai site a winning hand
West Flagler Associates scored a four-of-a-kind win when Miami commissioners Joe Carrollo, Alex Diaz de la Portilla, Manolo Reyes and Jeffrey Watson voted to approve a new settlement agreement, allowing the company to develop a jai alai fronton and card room in Miami's Edgewater neighborhood. The pari-mutuel and casino company also procured…
Royal Senior Care scores $42M construction loan for south Miami-Dade project
A senior living facility in south Miami-Dade County got a big boost, as the developer scored a $41.9 million construction loan. Aventura-based Royal Senior Care, led by CEO Avi Bittan and managing director Sean Kanov, plans a three-building, 200-unit independent living, assisted living and memory care facility near the Jackson South Medical Center. Tel-Aviv-based…
The REInterview: Real estate's climate reckoning, with Fifth Wall's Brendan Wallace and Greg Smithies
Real estate is the quiet sinner in the climate crisis. The industry might not be the Disney villain of greenhouse gases, cackling as it wreaks havoc on the world, but some estimates show it accounts for up to 40 percent of global carbon emissions. In major real estate markets such as New York, that number is over 70 percent. Why has the industry been unwilling…
Krispy Kreme sells Miami Gardens store — sans doughnuts — for $9M
Doughnut shop Krispy Kreme sold its store just outside Miami Gardens for $9 million. A deed shows the Winston-Salem, North Carolina-based chain and Florida Family Realty sold the 4,345-square-foot, one-story building at 530 Northeast 167th Street to New York-based Bremen House. The building was constructed in 2019 on 1.8 acres, according to property records.
ROVR Development Begins Pre-Leasing 300-Unit Miami TOD Community
ROVR Development has started pre-leasing its residential project that's being built atop the Miami Parking Authority's headquarters and garage. The developer began construction on Grand Station Apartments in August 2019 and is expecting to complete the luxury community and welcome its first residents in the summer. The $70 million project was the result…
WeWork to go public in $9B SPAC deal
If at first you don't succeed, try, try again: Two years after its failed IPO, WeWork has struck a deal to go public with a special-purpose acquisition company. The merger with BowX Acquisition Corp. would value the embattled flexible-office company at $9 billion including debt — a fraction of its $47 billion valuation in 2019. WeWork will get $1.3 billion in…
'People believed it': the rise and fall of WeWork, a $47bn unicorn
It's almost by requirement that Hulu's WeWork: Or The Making and Breaking of a $47 Billion Unicorn, a documentary on the spectacular over-inflation of the company that coated shared offices in a soft-lit shell of capitalistic spirituality, starts with Adam Neumann (in business terms, a unicorn is a private company valued at over $1bn). WeWork's charismatic…
Closed El Portal church to be born again with office and retail
The sight of a boarded up church with fading yellow paint and white columns along Northeast Second Avenue in El Portal has become customary for drivers and joggers. But that won't be for long. The former Rader Memorial United Methodist church and school at 205 Northeast 87th Street, closed for 10 years, will be born again as an office and retail site with…
Subway inks lease at Miami's Waterford Business District, plans to bring 100 employees
Subway made good on its announcement earlier this month that it's moving to Miami, inking a major lease at the Waterford Business District, with plans to bring 100 employees. The fast food giant leased 64,256 square feet at 1000 Waterford in the massive office park across Miami International Airport. The office park is owned by a joint venture of Chicago…
The money's moving to South Florida. Will the office leases follow?
Law firm Levine Kellogg Lehman Schneider + Grossman, now at downtown Miami's Citigroup Center, plans to cut its space in half at its future office as many attorneys opt to work from home permanently. Across the street, at Southeast Financial Center, law firm Meland Budwick plans to expand by 18 percent. These contrasting approaches show the dichotomy of the…
Bridge Development scores $78M construction loan for Opa-locka industrial park
A three-building industrial complex west of Miami-Opa Locka Executive Airport is on its way to completion in the third quarter, after scoring a $78.3 million construction loan. The Class A… will total 589,887 square feet. Bridge Point AVE spans 47 acres, as part of the 178-acre master-planned AVE, Aviation and Commerce Centre at 14350 Northwest 56th Court.
Bridge Development Secures $78.2M Construction Financing for Bridge Point AVE Industrial Park in Opa-Locka
Bridge Development Partners has secured $78.2 million in financing to develop Bridge Point AVE at Miami-Opa Locka Executive Airport. The three-building, 589,887-square-foot industrial business park is more than 72 percent preleased and is scheduled to be delivered in the third quarter. Steve Roth of CBRE's Debt & Structured Finance team arranged the loan…
Post-COVID Miami: The Changing Landscape of Commercial and Residential Development
Earlier this month, Bilzin Sumberg's South Florida Redevelopment Conference engaged hundreds of real estate developers, government staff and officials, architects, engineers, and construction professionals from 12 different states and three different countries in thoughtful discussions about the current real estate market and the future of land development…
Last piece of the pie: Franco & Vinny's Pizza Shack owners sell Fort Lauderdale Beach assemblage for $7M
All the pieces of the pie came together for the owners of Franco & Vinny's Pizza Shack. The pizzeria owners, Vinny and Caterina Esposito, sold their assemblage for $7.2 million and plan to close the Fort Lauderdale Beach restaurant next month. It's a deal that has been in the works for close to three years, according to the brokers involved. Marcus & Millichap's…
Stiles sells Sunrise office building to IP Capital for $25M
Investors remain bullish on South Florida's office market, despite the massive remote work shift, with IP Capital Partners as the latest to join the onslaught of buyers. The Boca Raton-based investment firm bought Sunrise Corporate Plaza from a company tied to Stiles Corp., a deed shows. IP Capital took out a $16.3 million…
Harbor Group International buys Boca Raton apartments for $81M
300 West Palmetto Park Road in Boca Raton with PGIM Real Estate executive Eric Adler, Harbor Group International CEO Jordan Slone and president T. Richard Litton Jr. (Google Maps) PGIM Real Estate sold a 248-unit apartment community in Boca Raton for $81 million. Norfolk, Virginia-based Harbor Group International bought the Heritage complex at 300…