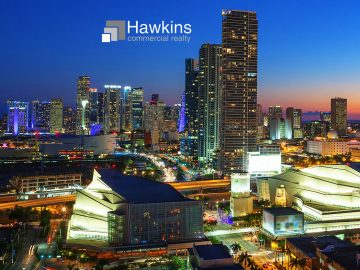 Affordable housing developer buys piece of Little Havana assemblage
The site and renderings of Premium Development's nearby project. (Premium Development) An affordable housing developer paid $15 million for land in Miami's Little Havana neighborhood. Premium Development bought the 2.3-acre property at 700 West Flagler Street from Presidente Supermarkets, according to a broker involved in the deal…
UOVO scoops up art storage facilities in Miami, West Palm Beach in $50M buy
Making a bet on South Florida's growth as an art mecca, New York-based UOVO bought a local art logistics provider and its storage centers in Miami and West Palm Beach for $50 million. UOVO, led by Miami-based real estate developer Steven Guttman, bought Museo Vault, including its art storage facility in Miami, five art transport vehicles and an in-house crafting…
Monarch paying $300M for downtown Miami's Citigroup Center office tower
Monarch Alternative Capital agreed to acquire a 90 percent stake in a downtown Miami office tower for $300 million, The Real Deal has learned. Monarch is taking over Townsend Group's interest in Citigroup Center, a 34-story office building and adjacent nine-story parking garage at 201 South Biscayne Boulevard, according to sources familiar with the…
Duke Realty Breaks Ground on 501K SF Project Northeast of Miami International Airport
Duke Realty Corp. has started work on a speculative logistics building that will span more than half a million square feet northeast of Miami International Airport, amid a shortage of modern industrial space in the area. The new project is the second of two distribution facilities in the company's Miami 27 Business Park in Medley, Fla., a small community…
Shelton Academy Picks Up Doral Cold Storage Site for $13 million
Even as the industrial sector booms thanks to a surge in online shopping, some buyers are still repurposing warehouses. Private school Shelton Academy has acquired a 75,164-square-foot cold storage facility in Doral, Fl., for $13.2 million, according to information from Cushman & Wakefield. The property, at 9455 NW 40th Street Road is located 12 miles west of…
Miami Market Update: An Emerging Hotspot for Office Transactions
As the pandemic's effects still loom over the office sector, sales have continued to contract in most U.S. markets. Miami and Phoenix seem to be the exceptions, according to CommercialEdge data, recording year-on-year growth both in transaction volume, and average price per square foot. Blackstone's $230 million Florida expansion in March made a significant…
Boutique Offices Make a Comeback in Miami
As hybrid work models become the new norm, companies are moving away from congested urban cores in search of boutique offerings, targeting move-in ready office suites. With outdoor meeting areas and reimagined workspaces, the most appealing properties are taking shape in areas with commercial activity that also allow for flexibility in employees' commutes.
Redwood, Winston Capital Nearing Completion of Workforce Housing Community in Opa-Locka
Redwood National Properties LLC and Winston Capital Partners LLC are co-developing The Mirage at Sailboat Cove, a new workforce housing community in Opa Locka. Upon completion, the property will offer 112 townhome units featuring four-bedroom and 2.5-bathroom floorplans available to low- and middle-income residents. The Mirage at Sailboat…
Latigo Group to Open Pomelo Apartments in Miami Gardens
The Latigo Group, a residential developer based in Los Angeles, is nearing completion of The Pomelo, a new, seven-story mid-rise multifamily community in Miami Gardens. The property will feature 259 one-, two- and three-bedroom apartments, all with modern finishes. Designed by local interior designer Moniomo, The Pomelo will feature keyless entry…
Ex-PayPal CEO Bill Harris will hire 200 for new Miami startup
Bill Harris, the former CEO of PayPal Holdings and Intuit, is the latest financial technology executive to launch a new company in Miami. On Tuesday, Harris announced he moved to the Magic City, where he'll open the headquarters of his newest venture, Nirvana Technology. The company, based in Miami's Wynwood, plans to hire up to 200 people for…
#Miamitech, Wall Street of the South: These Tech and VC Firms are Investing in Miami
"What if we move Silicon Valley to Miami?" This off-the-cuff tweet by Venture Capitalist Delian Asparouhov caught the eye of Miami Mayor Francis Suarez, who replied with a simple "How can I help?" This short conversation started a movement. Literally. The phrase has become a de facto slogan for Miami, in general, and a signal to tax- and regulation…
Downtown Miami Revitalization Begins with Flagler Street Makeover
After several years of planning, the City of Miami is finally moving forward with its long-awaited plan for revitalizing Downtown by revamping the Flagler Street corridor. The Downtown Flagler Street project's principal objective is to return the cultural and commercial viability of Flagler Street by improving and beautifying the corridor, transforming it into a…
Video: How climate change puts real estate at risk
Where should you invest when seas are rising, temperatures and going up, and extreme weather events are looming? "There is no place on earth that is completely safe and no risk," CBRE Global Investors' Aleksandra (Sasha) Njagulj said in the latest installation of TRD Tips. "It doesn't really depend that much on the building type or use… where the risks become more…
Sale Of Doral Industrial Land Site Negotiated
Fortuna Real Estate purchased the parcel located at 10405 NW 19th Street from Inter Dolphin Property LLC for $3,650,000. The deal closed April 30. The parcel is located within International Corporate Park, a 300-acre, Class A business campus encompassing more than 4 million square feet of industrial, office and retail space. The land site is north of the Dolphin…
Hand over the money: JP Morgan Chase loses lawsuit over North Miami branch rent increases
The JP Morgan Chase North Miami branch and attorney Howard DuBosar JP Morgan Chase will have to pay much more rent for it's North Miami branch after a federal judge sided with the bank's landlord. For the last two years, the bank had refused to pay annual rent increases for a one-story commercial building at 14590 Biscayne Boulevard that JP Morgan Chase…
2021 is raining dollar stores as near of new shops will be discount retailers
Cost-conscious consumers have gotten the attention of retailers. Nearly half of the 3,597 stores expected to open nationwide this year will be no-frills discount shops, according to a report from Coresight Research. Dollar General will open 1,035 locations, Dollar Tree will cut the ribbon on 393 stores and Family Dollar will open up 200 shops. Dollar Tree also…
National chains paid 93% of rent in April
In April 2020, one month after pandemic-related lockdowns started in much of the U.S., national chains such as Ann Taylor, Bob's Discount Furniture, Men's Wearhouse and Tilly's did not pay any of their rent. One year and the lifting of many restrictions later, those retailers have all returned to paying 90 percent or more. Rent collections for national chains…
FECI plans Countyline Corporate Park expansion with $33 million construction loan
Florida East Coast Industries is adding two warehouses to Countyline Corporate Park in Hialeah, after scoring a $32.8 million construction loan. Miami-based FECI secured the financing for buildings 27 and 28, at 4181 and 4241 West 108th Street, from Wells Fargo. It notified Miami-Dade County that it is starting construction, according to records. Each…
Chetrit scores $63 million construction loan for long-planned Collins Park hotel in Miami Beach
The Chetrit Group scored a financing lifeline for its long-planned Collins Park hotel redevelopment, The Real Deal has learned. New York-based Chetrit landed a $62.5 million construction loan for the project, according to sources. Chetrit has owned the property for nearly a decade. Maxim Capital Group, which declined to comment, is the lender. Robert Verrone's Iron…
Doral seeks to take over business-rich county lands
Doral wants to absorb two square miles on its southwestern corner that contain big-name commercial and industrial tenants. Miami-Dade is now reviewing the annexation request. If the county approves Doral's application, business additions to the city will include tenants at 436-acre Beacon Lakes Industrial Park, which hosts distribution centers for…
Public-private Miami administration building deal nears
The City of Miami's administration team could finally be moving away from the Miami Riverside Center in a public-private development deal with the Adler Group. City commissioners are to vote today (5/13) on whether a new headquarters building will be located as long planned at the Nexus site at 230 SW Third Street. This formal decision on the site is necessary for…
Navigation district funds pivotal to save Henry Flagler worker's home
The Miami River Commission has for many years been asking the City of Miami to clean up Fort Dallas Park – and, most urgently, to save Palm Cottage, a unique piece of the city's early history now located within the park's gates – from the ravages of time. Recent interest from the Florida Inland Navigation District, or FIND, could come to the rescue.
Miami Beach may sell six city properties
Miami Beach staff have targeted six city properties that could sell for a total of over $70 million that could then fund capital improvements. The big-ticket sale in the group would be the land that currently houses the soon-to-be-moved North Shore Branch Library at 7505 Collins Ave., which is estimated to be worth $58 million to $65 million, according to a…
Melo Group affiliate plans twin Edgewater towers
A developer is proposing twin towers of 15 stories, bringing apartments, office space and retail to a prominent corner in Miami's Edgewater district. The development, URBAN22, also includes an eight-story building in back and a parking pedestal for 529 vehicles. Cardinal Plaza Corp., affiliated with the Melo Group, plans to construct URBAN 22 at 2200 NE Second Avenue.
Bridge Investment Launches Abridge Flex Office Space Program; Starting with Miami, Other Select Markets
Anticipating increased demand for flexible office spaces in suburban markets, Bridge Commercial Real Estate, the commercial brokerage subsidiary of Bridge Investment Group, has launched Abridge, a flex office program starting in five high-growth U.S. markets that expects to deliver about 1 million square feet of inventory across Bridge's national office…
Simon says suburbia is hot, raises guidance for 2021
After a devastating year of mall closures and tenant bankruptcies, Simon Property Group raised its guidance, saying that people are returning to its retail centers. "We are encouraged with what we are seeing in terms of sales traffic," said David Simon, CEO of Simon Property Group, during the company's first-quarter earnings call. "Suburbia is hot, suburbia is the…"
New Uses for Vacant Retail Anchor Spaces
Both prior to and during the COVID-19 pandemic, many well-known retailers that occupied anchor spaces at the ends of malls and shopping centers made the difficult decision to close their doors permanently. Malls were hit especially hard as large department store chains (such as Sears) closed many of their locations, leaving behind empty blocks of…
Gambling portability a no-go in Florida this year for Jeffrey Soffer, Trump
Jeffrey Soffer will not be able to move his casino license to his Fontainebleau Miami Beach hotel, at least for this year. Florida Senate President Wilton Simpson told CBS Miami that Soffer will not be able to transfer his casino license from his Big Easy Casino in Hallandale Beach. He said that former President Trump would also not be able to transfer…
Video: Optimizing the office & the new workplace normal
CREtech CEO Michael Beckerman declared that he "can call BS" on the idea that the office is dead. Michael Beckerman To him, and to each of the speakers who participated in the TRD Brand Studio's first-ever webinar, the future of work is flexible. Beckerman sat down with some of the biggest names in the flex-office space for a forward-looking conversation on…
Arbor Management buys multifamily dev site near Aventura for $10M
Arbor Management Acquisition Company paid $10.3 million for a multifamily and retail development site near Aventura. The New York-based firm, through its AMAC Holdings III, will develop Aventura Park in joint venture with Coral Gables-based ROVR Development on 3 acres at 17990 West Dixie Highway, according to a news release. The mixed…
Thoma Bravo signs major lease in Brickell, UFC Gym inks one at Doral Square, & other Miami leasing highlights
Thoma Bravo expanded to Miami. The firm signed a long-term lease at 830 Brickell, a 55-story office building under construction in the Brickell Financial District. Thoma Bravo will occupy roughly 36,500 square feet on the two top floors. Thoma Bravo expects to open its office at 830 Brickell in the fourth quarter of 2022. Cushman & Wakefield represented…
Inflation Watch April 2021: 5 Year TIPS Spread Levels Out, Predicting 2.5% Inflation, as 10-Year Continues Climb
Federal Reserve Bank of St. Louis, 5-Year Breakeven Inflation Rate, commonly referred to as the TIPS Spread, a measure of expected inflation derived from 5-Year Treasury Constant Maturity Securities and 5-Year Treasury Inflation-Indexed Constant Maturity Securities, for the 5 years ending 4/30/21 Federal Reserve Bank of St. Louis, 5-Year Breakeven…
Industry Leaders Discuss Construction Delivery Methods and Potential Pitfalls
On March 3, 2021, Bilzin Sumberg hosted its annual South Florida Redevelopment Conference. During one of the sessions, the leaders of our firm's Construction Law Group, Joy Spillis Lundeen and Felix X. Rodriguez, were joined by Brad Meltzer, Chairman and CEO of Plaza Construction, and William O'Donnell, Managing Principal of Desimone Consulting Engineers…
Job recovery sputters, but hospitality & leisure add hiring
A weaker-than-expected month for job gains had one bright spot, and it's the same sector that has been leading employment for several months now. The leisure and hospitality sector led employment gains for the third straight month, bringing back 330,000 workers in April. Restaurants and bars did more than half the hiring, while recreation centers…
Rents rise across country as economy rebounds
Rents are going up, which is bad news for tenants staring down eviction. The median monthly charge on a vacant rental saw a $185 annual jump in March, Bloomberg News reported, citing data from the U.S. Census Bureau. In April, rents rose nearly 2 percent, the biggest jump since 2017. Those increases, along with the uneven economic recovery…
Lument Closes $12.8 Million Fannie Mae Loan for Multifamily Community in Hialeah, Florida
Lument recently announced the closing of a $12.8 million Fannie Mae conventional multifamily loan to facilitate the refinance of Civica, a 92-unit, garden-style apartment community in Hialeah, Florida, in Miami-Dade County. In addition to providing high-quality rental housing, Civica features four bottom floor retail spaces to benefit the surrounding community.
The Astor Companies closes sale of Merrick Manor retail condominium
Merrick Manor, a luxury mixed-use building in Coral Gables, has announced the sale of a retail condominium. In the transaction, a South American investor purchased a 1,115-square-foot space occupied by Elegance Beauty Salon for $1.03 million. Elegance offers specialized services for hair, nails, makeup and eyebrow threading. Elegance is part of…
No room in the warehouse: Amazon fuels shortage
Amazon takes up warehouse space — a lot of it. It's to the point where the vacancy rate is so low in some North American cities that their economies could be throttled, according to Colliers International Group and CBRE reports cited by Bloomberg News. The warehouse vacancy rate in Toronto shrunk to 0.5 percent as Amazon snatched up warehouses in response…
Alliance Residential buys site, scores $46 million construction loan for senior apartments in Delray Beach
A 187-unit apartment complex for seniors is on tap west of Delray Beach, after the developer bought the site and scored a $45.7 million construction loan. Alliance Residential Company, based in Phoenix, Arizona, bought the land at 6595 Morikami Park Road from an affiliate of Miami-based Millennium Management for $8.2 million, records show. Dallas-based…
Banyan Street Capital buys Weston office complex for $52 million
Banyan Street Capital bought the renovated Weston Corporate Center for $52.25 million. The Miami-based office investor bought the two-building complex at 2500 Weston Road and 2700 South Commerce Parkway from Newport Beach, California-based KBS, according to a news release. Christian Lee and José Lobón of CBRE represented KBS in the deal.
Bell Partners buys Fort Lauderdale apartments for $100 million
Bell Partners bought a 279-unit Fort Lauderdale multifamily complex for $99.5 million. The Greensboro, North Carolina-based multifamily investor and manager bought the Satori Apartments at 1015, 1111 and 1201 East Sunrise Boulevard from Greystar, according to a deed. The deal equates $356,631 per unit. Bell Partners, founded in 1976 and led by Jon Bell…