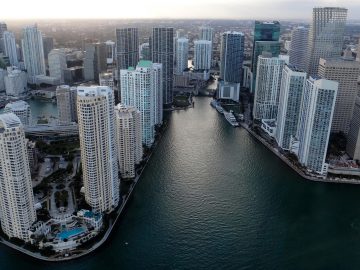 Triple Five's $4 Billion American Dream Miami Project Wins Final Approval from County Officials
American Dream Miami will be a massive mall and entertainment center in northwestern Miami-Dade County. The first phase is expected to open in 2023.  Make way for American Dream Miami. The Miami-Dade County Commission did just that Thursday, granting a series of approvals for the mammoth mall and entertainment center after roughly nine hours of debate. The $4 billion development, to be built…
Miami Gardens Shopping Complex Fetches $12 Million
Macken Cos. has completed the $11.9 million sale of Palmetto Design Plaza, a 62,500-square-foot shopping complex in Miami Gardens, Fla. Rise Star LLC acquired the seven-acre property, which hit the market in the fall of 2017. According to public records, the seller was Palmetto Design Center LLC, an entity affiliated with Macken Cos. Located at 3791 NW 167th Street, the shopping center is anchored by…
US Shopping Center Demand Falls to Six-Year Low as Net Absorption Declines and Store Closures Pile Up
Demand growth for mall and shopping center space by retailers fell to its lightest level in six years in the first quarter of 2018 as retailers continued to focus on their top-performing locations and shed marginal stores, with announced store closures totaling nearly 100 million square feet so far this year alone. The balancing act was reflected in the first quarter 2018 U.S. retail vacancy rate, which at 4.6% was…
PCCP Shells Out $127 Million for Miami Downtown Miami Office Tower
The $127 million sale of SunTrust International Center, a nearly 450,000-square-foot, Class A office tower in downtown Miami, sold. PCCP acquired the asset from Crocker Partners, while Invesco Real Estate provided $101.8 million in acquisition financing. Located at 1 SE 3rd Avenue, the LEED Silver certified property was completed in 1973 and recently underwent a $13.5 million renovation program. Amenities…
Video: Bainbridge Companies VP/COO Kevin Keane Bainbridge Discusses Multifamily Properties for 2018
In this America's Commercial Real Estate Show episode, Bainbridge Vice President and Chief Operating Office Kevin Keane discusses the multifamily sector, including demand drivers, development trends, regional trends, technology for units, issues with affordability, community access points, parking, ride share, labor shortage, construction costs, and rising rates. The Bainbridge Companies, founded…
Video: CCIM Institute Chief Economist KC Conway Bullish on U.S. Economy
In this video, KC Conway, Chief Economist at the CCIM Institute, joins the show host to discuss – if one could refer to such bubbling with enthusiasm as discussing – the U.S. economic state, including job market growth, home building affected by economy, interest rate volatility, net operating income (NOI) concerns, monthly jobs reports, truth of the retail sector, potential political big impacts on United…
Opposition mounts against Brightline's pursuit of more than $1B in bonds
Phase two of Brightline's Miami-to-Orlando train service is off to a bumpy start. Members of Florida's congressional delegation are discussing whether project is eligible for $1.15 billion in tax-exempt bonds that the project's parent company All Aboard Florida is seeking for the northern expansion of the service to Orlando. All Aboard received $600 million in private activity bonds for the first phase of the…
Mount Sinai Medical Center plans two major fall openings
A new surgical tower and emergency department at the Mount Sinai Medical Center in Miami Beach are on track to be completed by the end of November. Construction on a free-standing emergency department in Hialeah, also owned by Mount Sinai, is expected to be completed by the end of October, a delay by several months from the original expected opening period of this summer. Except for…
Dolphin Expressway getting double-decker elevated Viaduct
A new project on the Dolphin Expressway – State Road 836 – could improve access and alleviate congestion by creating a double-decker elevated bridge over the existing highway, tentatively named the Viaduct, along one of Miami's most crowded thoroughfares. The project, funded by $186 million in toll revenue from the Miami Expressway Authority (MDX), is intended to modernize the 836 corridor between…
Study: What to Do with All the Vacant Land in Miami and Other Major US CBDs?
We combed Yardi Matrix and PropertyShark data, as well as online government records to determine the amount of land that currently remains undeveloped in the urban cores (CBDs) of 25 American cities: Atlanta, Ga.; Austin, Texas; Buffalo, N.Y.; Chicago, Ill.; Cincinnati, Ohio; Dallas, Texas; Houston, Texas; Indianapolis, Ind.; Kansas City, Mo.; Las Vegas, Nev.; Los Angeles, Calif.; Miami, Florida…
Renovations on Flagler Street delayed once again
Directors of Miami's Downtown Development Authority have once again voted to delay the resumption of renovations on Flagler Street, this time for 30 days. But some signaled that they are getting weary of the postponements. "How much longer are we going to drag this out?" asked board member Alicia Cervera, managing partner of Cervera Real Estate. "I've had it. These things are devastating to the…"
Terra and AvalonBay buy Doral office park for mixed-use development
Terra and AvalonBay Communities just paid $33.5 million for a development site in Doral. The developers acquired the Atrium Office Park and adjacent restaurant at 3900 Northwest 79th Avenue in Doral, across the street from CityPlace Doral. Avalon Doral LLC paid $20 million for 4.6 acres of the site and Doral Atrium Retail Investments paid $13.5 million for the remaining 5.2 acres, property records show.
Crescent Heights to go before Miami Beach board for 5th and Alton tower
One of Miami Beach's most controversial development plans is up for discussion again. Developer Russell Galbut will go before the Miami Beach Land Use and Development Committee on Wednesday for the site at Fifth Street and Alton Road. A rally is planned in opposition. Galbut, co-founder of Crescent Heights, is proposing three options for the 85,348-square-foot block, in exchange for…
The Long View: Why real estate tech won't kill the middleman
Revolutions tend to promise one thing and deliver another. Think of the Jacobins paving the way for Napoleon, the Soviets toppling one autocracy only to ultimately replace it with another, or anti-corruption crusader Hugo Chavez building an empire of graft in Venezuela. Turns out this maxim also applies to real estate technology. Not too long ago, it seemed like the real estate business was about to enter…
Miami Beach Considers Annexing Scandal-Plagued North Bay Village
Since revelations surfaced last year of a blackmail plot against a commissioner with an undisclosed arrest for cocaine in his past, scandal after scandal has rocked tiny North Bay Village, a two-island town on the 79th Street Causeway. Now Miami Beach Commissioner Ricky Arriola is proposing a dramatic fix: He wants his city to take over the troubled village. "Frankly, North Bay Village residents that I've…"
Biscayne Bay Brewing to open at historic post office in downtown Miami
Biscayne Bay Brewing is opening a second location in a historic building in downtown Miami. The brewery, based in Doral at 8000 Northwest 25th Street, is opening a 6,200-square-foot brewery and taproom at the Old United States Post Office and Courthouse building, at 100 Northeast First Avenue. It's slated to open this winter, according to a spokesperson. Stambul USA, led by Daniel Peña…
Apollo Provides $140 Million Refi for Miami Beach's Faena District
Apollo Commercial Real Estate Finance has provided a $140 million floating-rate loan to Len Blavatnik's Access Industries to refinance the Faena Group-developed Faena District properties in Miami Beach, Fla., Commercial Observer can first report. The Faena District—between 32nd and 36th Street on Collins Avenue—is the creation of Argentine developer Alan Faena and totals more than 1 million square feet…
South Florida commercial insurance rates 'dodged bullet'
South Florida's commercial insurance rates have "dodged a bullet" after weathering a series of natural disasters. It was expected for rates to spike from 10% to 25% in 2018, but after the first quarter, the increases weren't what was assumed during a busy storm season. Instead, Miami is seeing 5% to 10% increases. Over the past five years there have been "bargain prices" where South Florida has seen…
New Hotel for Grove's Commodore Plaza
The parking lot next to Greenstreet Cafe is slated to become a hotel. But nothing has been finalized yet and the announcement may be premature. The Arts & Minds school property has also been sold. Talk is that an office building is going in there. The hotel is called Commodore Place, located at 3102 Commodore Plaza. From their website: "Commodore Place is a new mixed-use edifice planned for…"
Retail real estate these days can seem like a choose-your-own-adventure of sorts, with a variety of plausible story lines for all the players involved. Pivot to be experiential? Yes. Rebrand? Yup. Relaunch online? Affirmative. Chapter 11? Check. This last ending — filing for bankruptcy — is among the most prevalent plot lines, affecting not just retailers but landlords, brokers and lenders. And it is certainly…
Partying and excess remain fixtures of ICSC, even as some companies opt for modest events
Looking out from a booth in the Wynn nightclub Intrigue, it was difficult to ignore a man on stilts dressed as a tree bounding between the aisles. From up there, the view certainly spelled excess: women dancing on podiums and a crowd of real estate folk bumping and bopping to a top 40 playlist. The party at the nightclub Sunday night set the tone of what was to come on the inevitable party circuit that…
Duane Morris Opts for Smaller Miami Office in Move to Citigroup Center
Duane Morris is moving its downtown Miami office from the Southeast Financial Center to a smaller space at the nearby Citigroup Center, a relocation that reflects a national trend toward smaller law firm workspaces. Duane Morris is moving in September when its long-term, $16.8 million lease of the 34th floor penthouse begins at 201 S. Biscayne Blvd., offering views of Biscayne Bay, Bayfront Park and…
Faena District in Miami Beach scores $140 million refi
Len Blavatnik's Access Industries secured a $140 million loan to refinance the Faena District in Miami Beach. Apollo Commercial Real Estate Finance is providing the floating-rate loan, according to the Commercial Observer. The financing is backed by the Faena Hotel Miami Beach, Casa Faena hotel, the Faena Hotel Residences, the Faena Forum, the Faena Bazaar and the retail and parking.
Miami's hotel fortunes a tale of two years
Across the street from The Palm restaurant and across the bay from the Bal Harbour Shops is the Grand Beach Hotel Bay Harbor. Its position, between a carnivore's bliss and a temple to the monied set, embodies the northern reaches of Miami Beach: relaxed, well heeled, traditional. In a city of disparate submarkets, Bal Harbour and the contiguous Surfside are respite from the more raucous South Beach.
Is Hialeah "the next big thing" for real estate investment in SoFla?
Hialeah is hot. The city has been experiencing a surge in real estate investment, bolstering its reputation as an industrial hub while also identifying it as a more welcoming place for multifamily and commercial construction following recent moves to encourage development.
But investors drawn to cheaper land prices and those who may be looking to make a quick buck on a flip could find it difficult…
Video: Baird's Michael Bellisario on top line growth for hotels and hospitality
On this episode of America's Commercial Real Estate Show, Michael Bellisario, Vice President and Senior Analyst at Baird, joins host Michael Bull to discuss the hospitality sector, including sector health, place in the cycle, top line growth, employment, leisure and business travel trends, year-to-date performance, land cost, tips for new construction, renovation costs, tax reform impacts, property level value…
Construction starts on 187 apartments near Florida International University
A 187-unit apartment building that will cater to college students is under construction near Florida International University. TD Bank made a $55.04 million loan to finance construction of the rental property at 400 Southwest 107 Avenue in Sweetwater. The borrower is an affiliate of CA Ventures of Chicago, led by CEO Tom Scott, and the development is called The Residence at University City. CA Ventures…
Video: The Hospitality Group's President Tom French Discusses Whether it is Time to Sell hotels?
On this episode of America's Commercial Real Estate Show, Tom French, President of The Hospitality Group, joins host Michael Bull to discuss the hospitality / lodging sector. Among the topics discussed are sector health, RevPAR (revenue per available room) trends, buyer and seller cycle concerns, investor opportunities that may exist, hospitality property market trends, developments in hotel financing…
Moishe Mana's not done yet, picks up downtown Miami building for $13 million
Moishe Mana's portfolio of properties in downtown Miami keeps growing. The investor and developer just paid $12.9 million for a two-story retail and office building at 201 East Flagler Street. The deal brings his total spent in downtown Miami to nearly $285 million. Mika Mattingly and Cecilia Estevez of Colliers International South Florida represented Mana in the deal.
Miami Beach to request proposals for a new convention center hotel — once again
The Miami Beach City Commission voted unanimously this week to issue a request for proposal for developers to submit designs and bids for a convention center hotel. The hotel would be built on the same site that a previous hotel design was proposed in 2016, which was ultimately turned down by voters. But under the new request for proposal, the hotel would be a third smaller than the previous design.
Treasury issues new LLC disclosure law
The Treasury Department has re-upped rules meant to crack down on money laundering in real estate — but don't ask Uncle Sam for details. The Financial Crimes Enforcement Network (FinCEN) has released another set of rules requiring title companies to disclose the identity of all-cash buyers who purchase luxury property under the guise of an LLC, sources told The Real Deal. But FinCEN has…
American Dream Miami wins county commission approval
Make way for American Dream Miami. The Miami-Dade County Commission did just that Thursday, granting a series of approvals for the mammoth mall and entertainment center after roughly nine hours of debate. The $4 billion development, to be built on 174 acres at Interstate 75 and Florida's Turnpike in northwest Miami-Dade, will have more than 5 million square feet or retail and entertainment…
Okan Group launches Miami tower with fireworks display at PAMM
Hundreds of brokers, attorneys, bankers and industry insiders waited in a line that snaked around the entrance to the Pérez Art Museum Miami last week to celebrate the launch of Okan Tower, a new mixed-use tower planned for Miami's Arts & Entertainment District. The developer, Bekir Okan of the Turkey-based Okan Group, hosted the soirée on the top floor of PAMM with drinks and hor d'oeuvres…
Developer plans mixed-use hotel for Coconut Grove lot next to GreenStreet Cafe
Metronomic Inc. is under contract to buy the parking lot next to the popular GreenStreet Cafe in Coconut Grove, where the developer is planning to build an Aloft hotel. Metronomic, led by Ricky Trinidad, will pay $4.8 million, or about $670 per square foot, for the nearly 7,200-square-foot lot at 3110 Commodore Plaza, broker Miguel Pinto said. The Coral Gables-based developer is expected to close on…
Miami Beach shelves plan to raise roads amid opposition from North Bay Road residents
The Miami Beach City Commission voted down a plan to elevate North Bay Road amid growing concerns from residents that it could ruin their property values and lead to flooding on their properties. The contentious move could delay the project for close to six years since the Florida Department of Transportation plans to start its Alton Road project in 2021. While Alton Road is under construction, drivers…
Retailers Finding a New Home in South Florida
One out of every 10 new multifamily developments throughout South Florida is now incorporating at least some retail space into its design. While this is also common in condominium and office developments, the trend of incorporating retail, and even small amounts of office space, in residential developments seems to be increasing in the market. In the Downtown Miami submarket specifically, 180,000…
Luxe condo breaks ground in Coconut Grove, nearly 50 percent sold
The 23-unit residency held its groundbreaking ceremony on May 10. Glasshaus in the Grove, Miami's sexiest new boutique condominium, broke ground May 10. Located in Bayshore Village near Millionaire's Row, the boutique project is walking distance from marinas, parks, shops, and restaurants. Glasshaus in the Grove, is a 'livable residence' that mixes outdoor and green space that evokes the tropics.
Silvia Coltrane, partners add condos to mixed-use North Beach hotel project
Miami Beach developer Silvia Coltrane is proposing changes to her North Beach hotel project, including adding condos to the mixed-use development. Coltrane's 72+ Collins Hotel falls within the North Beach Town Center district. The Miami Beach Commission voted on Wednesday to pass an ordinance on second reading increasing the floor area ratio for the properties between 69th Street, Collins…
Developer of Ritz-Carlton Residences, Miami Beach sued over construction delays
Three condo buyers are suing the developer of the Ritz-Carlton Residences, Miami Beach over the project's construction delays, seeking to get their deposits refunded. Since March, three separate civil lawsuits have been filed in Miami-Dade County Circuit Court against 4701 North Meridian LLC, which is a partnership between Ophir Sternberg's Lionheart Capital and Elliott Management Corp. The three lawsuits…