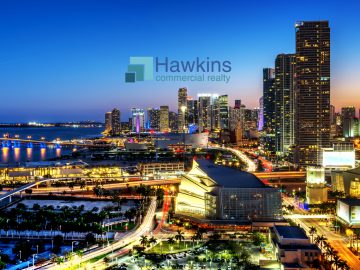 LIVWRK in contract to buy Wynwood assemblage from East End Capital
LIVWRK, a Brooklyn-based development firm, is making its first foray into Miami commercial real estate, The Real Deal has learned. The company, led by founder and CEO Asher Abehsera, is under contract to buy a 2.5-acre assemblage in Wynwood, according to sources. East End Capital is selling the properties at 2400 and 2500 North Miami Avenue in Miami. LIVWRK…
Ugo Colombo's CMC Group sells Brickell Flatiron sales center to Argentine investors
Ugo Colombo's CMC Group sold the Brickell Flatiron's sales center for $6.5 million to Argentine investors who plan to build a retail project on the site. The 11,088-square-foot triangle-shaped lot at 1101 South Miami Avenue is immediately south of Brickell Flatiron. CMC affiliate BP Development Holdings LLC sold the property. The buyer is Retail Ocean LLC, according…
Sky-high lumber prices are starting to impact apartment construction
Multifamily developers are starting to feel the pain of sky-high lumber costs. The price of softwood lumber jumped 83 percent from a year ago, the Wall Street Journal reported, citing data from CoStar Advisory Services. That jump has led to an increase in prices for single-family homes, and now it's trickling down to developers of apartment buildings, too.
Chart: Miami-Dade Population Shrunk in 2020 for First Time Since 1993
Put me down as surprised, even skeptical. Per the St. Louis Fed, for the first time since 1993 the population shrunk year over year, from 2,711,612 in 2019 to 2,707,303 in 2020. Who knew? This also follows negligible growth in the prior two years. You wouldn't know it in downtown Miami or in any of the county's urban centers. Miami's central business district has…
Mast Capital brings on JV partner Rockpoint to develop Miami Beach condo project
Rockpoint Group bought a stake in Mast Capital's long-planned Miami Beach condo project. An affiliate of Mast Capital sold the property at 4000 Alton Road to the joint venture for $18.2 million, records show. Coconut Grove-based Mast Capital, led by Camilo Miguel Jr., secured approval from the Miami Beach City Commission in November for a modified version…
22-Story Resi Tower Opening Soon with  312 Transit-Oriented Rentals Connected to Metrorail
Miami's newest transit-oriented apartments are now available for lease at CORE Link at Douglas, a new 312-unit residential tower which will offer premium amenities, unmatched connectivity, and a central location near the City's hottest shopping, dining and entertainment destinations. Slated to open in August at 3060 SW 37th Avenue, CORE will become the first…
Argentine architecture firm opening first U.S. office in Miami
Argentine architecture firm Hitzig Militello is opening its first office in the U.S. in Miami, in a bet on the city's growth as a tech and hospitality hub. The firm, led by architects Fernando Hitzig and Leonardo Militello, will start operating out of the Minds coworking space at 114 Northwest 25th Street in Wynwood in the next month, Militello said. Plans are to eventually open…
Historic Miami Circle Park downtown closing for an upgrade
Miami Circle Park is about to get a long-awaited sprucing up. The park, situated at the confluence of the Miami River and Biscayne Bay, will be closed beginning June 7 while repairs and improvements are underway, said Horacio Stuart Aguirre, chair of the Miami River Commission. The park sits atop the Miami Circle, a 2,000-year-old, historically significant…
Influencers leading the charge in Miami's tech boom
Miami's tech boom is real, and as cutting-edge companies flee Silicon Valley, New York and other areas to join start-ups and investors here that are turning the "Magic City" into a prime innovation hub, some local influencers are leading the charge. And it's likely none comes to mind sooner in that regard than Mayor Francis Suarez, who has courted…
Fintech Startup Nirvana Technology Signs Lease in Wynwood
Miami will soon welcome a new Silicon Valley tenant. Fintech startup Nirvana Technology, headed by tech veteran Bill Harris, signed a three-year lease for 3,700 square feet in Miami's Wynwood district. Asking rent for the office at 120 NE 27th Street was $38 per square foot, landlord Bill Rammos…
Miami Comes in at #4 on List of Top 10 Markets for Self Storage Rent Growth
On a national level, street-rate rents rose 8 percent for the average 10×10 non-climate-controlled and 9.5 percent for climate-controlled units of similar size, year-over-year as of April. Overall, annual street-rate performance was positive in all of the top markets tracked by Yardi Matrix, for both the standard 10×10 non-climate- and climate-controlled units…
Developers move fast to meet Miami's growth needs
As Miami continues to rebound from the pandemic, developers are making their mark by building new towers and infrastructure to meet the current and future needs of the city. Rishi Kapoor, "Best of Miami: Leading Residential Comeback" nominee and founder and CEO of Location Ventures, said one leading developer worthy of recognizing is Terra…
Miami Beach hotel on Alton Road heads to foreclosure auction
The owners of the Variety Hotel are almost out of options. The property, at 1700 Alton Road, is heading to a foreclosure auction June 7, nearly a year after a company tied to BridgeInvest filed a foreclosure lawsuit against AC 1700 Alton Owner LLC over an allegedly unpaid $25 million loan. Adam Verner of New York-based Springhouse Partners and Chaim Cahane…
Lagniappe owner acquires Edgewater property & other restaurant news
Lagniappe owner David Tunnell paid $2.5 million to acquire the property he had been leasing since the bar and restaurant opened in 2012 in Edgewater. The deal included a roughly 2,500-square-foot building on a nearly 7,200-square-foot lot, according to Marcus & Millichap broker Jonathan De La Rosa. Tunnell was able to finance the deal using a…
South Florida's hotel conundrum
The lights are still dark at the Diplomat Beach Resort, a sprawling 1,000-room oceanfront hotel in South Florida. More than a year after the pandemic began, conventions and business travelers — the lifeblood of such large properties — remain sparse. And cruises, which usually feed hordes of passengers to hotels, are still halted. While leisure travelers…
Hotel mogul Sam Nazarian's new food venture inks office lease in Coconut Grove
SBE Entertainment Group founder Sam Nazarian is forging ahead with his ghost kitchens venture. Nazarian, who last year sold his remaining stake in SBE's hotel business to French hospitality company Accor, inked a lease for his virtual kitchens platform C3. The company is taking 10,000-square-foot space at 3015 Grand Avenue in Miami's Coconut Grove. The office…
Is e-commerce king? Retailers reflect on pandemic changes during earnings calls
Many people are excited for shoppers to return, but many have switched to e-commerce. Amid rising vaccination numbers and lifting of Covid-related capacity restrictions nationwide, landlords are eager to see shoppers return to brick-and-mortar stores. But retailers may have different ideas. On their first-quarter earnings calls, executives of major retail brands said…
WeWork reports $2 billion in losses in Q1
WeWork's financial troubles keep getting worse. The embattled co-working company reported $2.1 billion in losses in the first quarter, according to the Financial Times. WeWork also shed 200,000 members over the last year, about a quarter of its membership. Membership dipped to 490,000 in March, from 693,000 in March 2020. Adding to that, the firm has…
Shahab Karmely, Edgardo Defortuna team up on bulk condo buy at Brickell City Centre
Swire Properties sold the remaining condos at Brickell City Centre in Miami, allowing the developer to move forward with new projects in the area, The Real Deal has learned. A partnership between Shahab Karmely's KAR Properties and Edgardo Defortuna's Fortune International Group acquired the 81 units at Reach and Rise for an undisclosed amount, with plans…
Development trio plans 340-unit multifamily complex near Homestead
A mixed-use, multifamily project with up to 340 units is to rise north of Homestead on land now used mostly as a scrap yard. The development trio of Jose Canero, Simon Ferro and Carlos Fernandez plans to build the complex on 5.4 acres at 29055 Southwest 162nd Avenue, after scoring county zoning approval this week. The project will include 3,000 square…
Lack Of Land Has Industrial Developers Looking To Take Over Florida's Golf Courses, Lakes And The Everglades
As senior vice president for Duke Realty, Stephanie Rodriguez oversees a portfolio of industrial properties in South and Central Florida, a geography with limited space and shrinking new development options. "We're all fighting over the same pieces of dirt," Rodriguez said during a May 12 Bisnow South Florida Industrial Update event. "… Industrial is the darling…"
Miami board approves projects in Wynwood and Little Havana
Miami's Urban Development Review board approved The Collective Wynwood, a co-living project in Wynwood at 2825 NW 2nd Ave, and Paseo Del Rio, the Related Group's mixed-income apartment building at 1401 NW 7th St near Marlins Park… an eight- to 12-story co-living building with 180 residential units, 70 lodging rooms and 9,508 square feet of… retail.
Alto Real Estate buys Lincoln Road retail building for $19M
Alto Real Estate Funds bought a Lincoln Road building for $18.9 million, marking the third South Beach retail deal so far this month. Gombinski Properties sold the property at 900-904 Lincoln Road in Miami Beach to Alto Real Estate, which offers several funds to investors, according to deal broker Ran Ziv. Ziv and Sean Shahad Ziv, both of GLT Group Brokerage…
ALTO Real Estate Funds Purchases Lincoln Road Retail Property in Miami Beach for $18.9M
ALTO Real Estate Funds has purchased a 7,142-square-foot retail property located in Miami Beach for $18.9 million. The property is situated along Lincoln Road, Miami Beach's high street retail corridor. The seller was Gombinski Properties, who bought the property in 1985. Ran Ziv and Sean Shahar Ziv of GLT Group Brokerage represented the seller and the buyer.
Saks CEO: Work-from-home is "culture killer," office must be default
Many companies are grappling with what office culture will look like in a post-pandemic world. For Saks, one thing is certain: The office will go back to being its primary workplace, with employees expected back at its Brookfield Place headquarters in September, the New York Times reported. The company's CEO, Marc Metrick, aims to make a statement about…
House Democrats consider curtailing Biden's inheritance tax plan
The Biden administration proposed dramatically expanding the inheritance tax on wealthy Americans. House Democrats are pumping the brakes. Democratic lawmakers are discussing a range of alternatives that would weaken Biden's ambitious plans for taxing estates' capital gains, Bloomberg reported Wednesday. In an effort to finance social programs as part…
Seagis Property Group pays $8 million for Medley industrial building with cold storage
The warehouse property in Medley (Google Maps) Seagis Property Group bought a Medley warehouse with cold storage space for $7.9 million. The Conshohocken, Pennsylvania-based logistic real estate investor bought the vacant building at 12800 Northwest 113th Court from Land Quest Enterprises, according to the brokers for the deal. Jose Sasson and…
CRE investors hedge bets in suburbs despite hope for urban office revival
Commercial real estate investors have high hopes that major office markets will return to normal in the near future, but most aren't betting on it just yet. Nearly three-quarters of real estate industry professionals believe that office leasing velocity in major cities will return to pre-pandemic levels within the next four years, according to a new survey…
Regal Acquisitions pays $34 million for CVS-anchored retail at Boulan South Beach hotel
Regal Acquisitions bought the CVS-anchored retail at the Boulan South Beach hotel for $34 million. The New York City-based investment firm bought the two-story retail at 2000 Collins Avenue and the retail at the garage at 237 20th Street from an affiliate of PGIM Real Estate and Madison Capital, records show. Regal Acquisitions took out a $22.1 million a…
The return to the workplace is re-shaping the workspace
As more Americans get vaccinated, the return-to-office movement is gathering steam. Companies that a month ago were merely speculating about recalling workers are now setting firm deadlines. JPMorgan Chase CEO Jamie Dimon told staff to start reporting to the office part-time by July, a move widely interpreted as a signal to other Wall Street firms that…
Florida Realtors organization sues CDC "landlord-in-chief" over eviction ban
The largest Realtors association in the country is the latest to sue the Centers for Disease Control and Prevention over its ban on evictions, which is set to expire June 30. Florida Realtors filed the federal suit, alleging many of its 200,000 members who handle residential leases have been "detrimentally impacted…"
Only 14% of restaurants closed permanently because of pandemic
The number of restaurant casualties resulting from the pandemic may be far less than expected. The National Restaurant Association found that 90,000 restaurants — approximately 14 percent of all eateries — across the U.S. have closed permanently or long-term, according to Bloomberg News. It was once predicted that one-third would shutter. In a normal year…
Fleet of LNG cruise ships anticipated at PortMiami
PortMiami expects an influx of liquefied natural gas-powered cruise ships to arrive through 2027, and Miami-Dade commissioners want Mayor Daniella Levine Cava's office to look at how best to accommodate the new vessels' needs. Commissioners in committee this month unanimously advanced a resolution by Rebeca Sosa that would direct Ms. Levine…
MMG Equity buys Plantation shopping center for $12M
MMG Equity Partners bought a Plantation retail center for $12 million. The Pinecrest-based investor bought Plantation Square at 1723-1797 North University Drive. The firm plans $2.4 million in capital improvements, including to the facade, stucco, lighting and landscaping, said Marcos Puente, MMG Equity Partners' acquisitions director. Pacific National…
Looking Into the Future of Cities
"Unprecedented" was and continues to be one of the most frequently used words to describe the current state of affairs in the world. The pandemic has become the number one threat to the health and well-being of each person, and its impact will be felt for years to come. COVID-19 has also played the role of an accelerator of the trends that were already…
A Q&A With Developer Yair Levy on Re-imagining Downtown Miami's Diamond & Jewelry District
Why did you decide to focus not only on the Miami Real Estate market but specifically in the diamond and jewelry district in downtown Miami?
When I began looking for commercial real estate investment opportunities in Miami, one of my first stops was in the jewelry and diamond district in the heart of downtown. I was shocked to find that some of the most…
South Florida's Outlying Markets, From Belle Glade to Treasure Coast, Heat Up
For years, economic developers in Palm Beach County pitched the rural Glades region as an up-and-coming area for industrial development. And for years, splashy deals failed to materialize. That recently changed, when Apopka-based Finfrock, a maker of precast concrete buildings, bought 94 acres on the site of a former state prison in Belle Glade, located just off…
MMG Equity Partners Acquires Plantation Square for $12 Million
MMG Equity Partners has acquired Plantation Square, a 65,796 sf retail strip center located in Plantation, FL., for $12,000,000 or $182 psf.  The property is located at 1723-1797 N University Drive, Plantation, FL., Pacific National Bank provided the buyer with an $10,157,000 acquisition and construction loan. Plantation Square…
Kushner Companies wins approval for four-tower mixed-use project in downtown Fort Lauderdale
Kushner Companies won approval to bring a four-tower, mixed-use development to downtown Fort Lauderdale, with 1,300 apartments, office and retail, and possibly a hotel. Construction of the Broward Boulevard project is expected to start in the first quarter of 2022 and finish in phases in 2026, Laurent Morali, president of New York-based Kushner Companies…
Mesirow buys Fort Lauderdale multifamily complex for $84M
Mesirow Financial bought a Fort Lauderdale multifamily complex for $83.5 million. The Chicago-based financial services firm bought Elan 16Forty at 1600-1700 East Sunrise Boulevard from GS Sunrise Subsidiary, an affiliate of Greystar and PGIM Real Estate, according to records. Charleston, South Carolina-based Greystar, led by Bob Faith…
Related Companies buys West Palm Beach office tower for $175M
Related Companies bought the CityPlace Tower in downtown West Palm Beach for $175 million, marking the company's second major office purchase there this year. Related, led by Miami Dolphins owner Stephen Ross, bought the 18-story building at 525 Okeechobee Boulevard from CPT Equity, an affiliate of Greenwich, Connecticut-based W. R. Berkley…
Related Group sells Royal Palm Beach apartments for $119M
The complex at 10900 Town Circle is shown with (from left) Group chair and CEO Jorge Pérez and President Jon Paul Pérez and Pantzer Properties co-CEOs Jason and Jordan Pantzer, The Related Group sold a Royal Palm Beach multifamily complex for $119.4 million. New York-based Pantzer Properties, through an affiliate, bought the 392-unit community…
Related Cos.' $175M Buying Spree in West Palm Beach
Related Cos. has expanded its downtown West Palm Beach, Fla., office footprint with the $175 million purchase of CityPlace Tower, as first reported by the South Florida Business Journal and confirmed by public records. The seller, W.R. Berkley Corp., picked up the 18-story, 297,652-square-foot asset in 2014, for $150 million, according to…