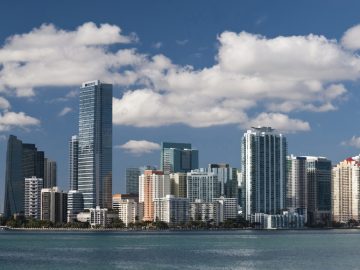 Here are the tallest projects proposed in Miami
More than 20 years ago, residential skyscrapers started sprouting up in Brickell and downtown Miami, slowly replacing low-rising condo and apartment buildings, older hotels and retail buildings. Today, Miami boasts the third tallest skyline in the U.S., trailing only New York City and Chicago with over 300 high-rises. Fueled by demand from wealthy South American buyers and the city's emergence as a…
Key International sells Miami Health District building to TopMed Realty
TopMed Realty, a private health care real estate investment firm, paid $13.9 million for an office building in Miami's Health District. Key International, along with its partner on the project, 13th Floor Investments, sold Highland Park Center, a Class A, 43,000-square-foot building at 1011 NW Sunnybrook Road for more than $320 per foot. The 11-story building, which was completed in 2011, sold fully…
Video: Ballard Spahr Partner Craig Ganz Discusses Trends and Expectations for Retail Bankruptcies
Craig Ganz, Partner with Ballard Spahr, a national law firm with headquarters in Philadelphia and more than 500 lawyers in its employ, joins America's Commercial Real Estate Show to discuss recent retail bankruptcies and the impact of big box closures on commercial property investors, particularly those concentrating on retail properties. He goes through a number of chains that have filed for…
Will A Walmart Be Allowed On Rare Habitat In Miami?
For years, private citizens have been battling developers, the government and the University of Miami over a rare ecosystem. "Pine rocklands," a habitat characterized by a limestone ridge and often covered with pine tree species and saw palmetto plants, once made up much of South Florida. Now, less than 2% of the original ecosystem is estimated to remain in Miami-Dade, and it is home to…
This is how many new condos are left to sell in Miami
To gauge the start of Miami's next condo cycle, you could look at the bulk of inventory that remains today. Developers currently have 2,101 new development units left to sell in Miami from this cycle, according to ISG Miami's latest report. Of those, 587 units have been delivered, 1,331 are under construction and 183 are in the preconstruction phase. The current cycle began in 2012, and the pipeline…
Co-working firm Spaces moving into 1111 Lincoln
The co-working firm Spaces just leased a lot of space in one of Miami Beach's marquee properties. Spaces leased 51,064 square feet at 1111 Lincoln, at the corner of Alton Road and Lincoln Road. The lease covers 55 percent of the total office space at the building. The property is known for its large parking garage designed by Swiss architectural firm Herzog & de Meuron that some say resembles…
One Thousand Museum seeks $331M condo inventory loan
One Thousand Museum, the Zaha Hadid-designed skyscraper in downtown Miami, is seeking a $331 million condo inventory loan as the project's completion date nears, The Real Deal has learned. The project's developers tapped Lotus Capital Partners to arrange the loan, according to an email obtained by TRD. Financing offers are due June 13. The development group, which includes Louis Birdman…
Miami seeks law firm to cut deal with David Beckham group
Miami commissioners will let City Attorney Victoria Mendez pick a law firm to advise on a Melreese Golf Course lease to the David Beckham group. Commissioners on May 23 were debating which of 16 applicants to use as consultants. After listening to lawyers from several firms fighting for the job, and continued contention from Commissioner Manolo Reyes who was adamant that the chosen…
Miami Yacht Show cites success, staying downtown
Though there was one major unexpected expense, the Miami Yacht Show's first year downtown was successful, directors of Miami's Downtown Development Authority heard Friday. The show, which had been held on Miami Beach for 30 years, generated $484 million in direct economic impact in February, when it moved to the former Miami Herald site, now owned by the Genting Group. The Biscayne…
Real Estate Gives Back: Don Peebles Champions Economic Equality
Peebles Corp. founder Don Peebles wants to bridge the U.S. wealth and academic achievement gap that continues to separate the country's haves and have nots. "There's a big wealth disparity in the country, a significant income disparity," said Peebles, whose personal wealth was estimated to be around $700 million by Forbes in 2015 and whose current company portfolio of active and completed…
Are waterfront hotels ready for climate change?
Memorial Day weekend ushers in the unofficial start to summer tourism season, and the strong economy suggests this may be an especially great season for the hospitality industry. But, while throngs of vacation travelers head for sunny beachfronts, it's also the start of the hurricane season, which, as the impacts of climate change continue to accelerate, will become a growing risk to the industry.
Mission Capital Arranges $8M Refinancing Loan for Hotel Near Miami International Airport
Mission Capital Advisors has arranged an $8 million refinancing loan for the EB Hotel Miami, a 133-room hotel located at 4299 NW 36th Street, across the street from Miami International Airport. The borrower, Eurobuilding Hotels, originally acquired the property in 2007 when it was an office building. Eurobuilding Hotels transformed the asset into a hotel that offers an outdoor pool with poolside bar…
Coconut Grove Playhouse fight may end up in court
The battle over Are waterfront hotels ready for climate change?the fate of the long-closed Coconut Grove Playhouse lingers on. Miami-Dade County, garnering approval of its restoration plan from the Miami City Commission on a split vote, saw its hopes dashed May 17 when Mayor Francis Suarez vetoed the approval, and then on May 23 the commission failed to override the veto. County officials vow…
Miami International Airport due billions in upgrades
Up to $5 billion in improvements at Miami-Dade's five airports are a vote away, with lawmakers to decide Tuesday if they'll OK funds and first plans focusing on Miami International Airport (MIA). The 15-year, $4 billion to $5 billion program is meant to meet needs through "2035 and beyond," a memo from Mayor Carlos Giménez said. MIA last year passed 45 million passengers, ranking it third-busiest…
Major mixed-use development planned for Ojus
A development group is planning West Aventura Town Center, a $200 million, 600,000-square-foot mixed-use development in Ojus. West Aventura Exchange LLC has assembled almost 8 acres in the Miami Gardens Drive corridor, along Northeast 186th Street and Northeast 187th Street between Northeast 23rd Court and Northeast 24th Place. The developer gained approval for a land use change for the last…
Opportunity Zones are now big business for lawyers
While it's too early to tell whether the Opportunity Zones program will benefit the distressed neighborhoods it was designed to help, the legislation has already been a boon to at least one profession. A growing number of big law firms like Morrison Foerster and K&L Gates are setting "pop up" working groups of tax, real estate, and private funds lawyers to work on Opportunity Zone issues, according to…
Aztec Group Provides $11.9M Loan for Redevelopment of Office Building in Miami
Aztec Group has provided an $11.9 million loan to 4141 Design LLC, an affiliate of JCube Development, to redevelop an office building in Miami. The borrower plans to fully renovate the 15,843-square-foot building to include 6,100 square feet of ground-level retail space, 4,400 square feet of office space on the second and third floors and 4,000 square feet of rooftop event space. The building, known as…
Will new Opportunity Zones rules propel an office boom?
When Michael Tillman's PTM Partners bought property in Overtown in February to build an 18-story apartment complex, it became one of the first Miami-based real estate firms to utilize the Opportunity Zone program. The federal program is seen by many as the biggest economic boost to the real-estate industry since the 1031 Exchange. But given the murkiness of the Opportunity Zone guidelines…
Miami Worldcenter developers sell another piece of their pie
Miami Worldcenter developers Nitin Motwani and Art Falcone sold off another chunk of land at their mixed-use development in downtown Miami. Property records show Miami Worldcenter Associates affiliate MWC Block E LLC sold the 2.5-acre parking lot at Northwest Eighth Street between North Miami and Northeast First avenues to Miami World Towers LLC for $43 million. BNY Mellon…
Here are South Florida's top industrial sales in April
A billionaire hotelier based in the Bahamas has turned his sights to Miami, paying $26.4 million for an assemblage in Wynwood with plans to build a mixed-use project. Sarkis Izmirlian, the original developer of Baha Mar in the Bahamas, bought the properties at 201 Northwest 21st Street and 210 Northwest 22nd Street in Miami through a Delaware company, Miami Development 2122 Trustee, Inc. The…
Lincoln Road could get two hotels under proposed new rules
It takes one developer to start a trend. More than a month since real estate investor Sam Herzberg unveiled a possible transformation of the Sterling Building on Lincoln Road into a hotel, a second property owner wants to do the same to the Lincoln Center, an apartment building with a ground-floor retail annex at 1637 Euclid Avenue. Monika Entin, an attorney representing Lincoln Center Associates…
The Importance of Commercial Building Permits
You've found the perfect commercial property to invest in: it has the right number of office suites, the perfect amount of square footage, and plenty of parking spaces. It's just what you've been looking for. Before you put in an offer, it's crucial that you get a commercial inspection and check for outstanding building permits. It's probably the last thing on your mind when searching for a commercial…
Italian restaurateur sells Allapattah property to CenturyLink for $19M
Rosinella Italian Trattoria owner Tonino Doino sold a property in Allapattah to CenturyLink for $18.75 million, The Real Deal has learned. Doino's Miami Avenue Holding Company LLC sold the 101,000-square-foot building and land at 1101 and 1109 Northwest 22nd Street. CenturyLink, a telecommunications company based in Monroe, Louisiana, provides communications and data services in 37 states and…
Tax-driven migration to South Florida won't end soon: panel
Migration to South Florida from New York and other high-tax states is a long-term trend in its early stages, according to a group of experts. "To use a tired baseball analogy, everybody asks: What inning are we in? I would say we're still driving up to the ballpark. This [migration] is just getting started," said Jonathan Miller, president and CEO of Miller Samuel Inc., who moderated a panel presentation…
City and county spar: Mayor Suarez's veto of Coconut Grove Playhouse plan stands
The fate of the Coconut Grove Playhouse revival plan could now head to the courts. The Miami City Commission on Thursday failed to overturn Mayor Francis Suarez's veto that had thrown the renovation project proposed by Miami-Dade County into peril. County officials, led by Miami-Dade Mayor Carlos Gimenez, said the county will likely sue the city to nullify a previous Miami Historic and Environmental…
Remy Jacobson nabs loan for Miami Design District project
Developer Remy Jacobson closed on a nearly $12 million loan to redevelop a property in the Design District. Centennial Bank is providing the $11.93 million loan for interior and exterior renovation of the historic building at 4141 North Miami Avenue. J.C. de Ona and Yuleisy Montalvo of Centennial represented the bank and Aztec Group was the mortgage broker. Jacobson's 4141 Design LLC paid $10.5 million…
Which Miami Neighborhood Will Heat Up Next?
The residential population in downtown Miami has doubled from about 40,000 in 2000 and is expected to surpass 100,000 in 2021. That is just one sign of the city's surging urban core. The surge of population could help turn Downtown Miami's main corridor, Flagler Street, into a café district, said Gary Ressler, a principal at Tilia Cos. The Flagler Business Improvement District could give those efforts a big…
North Beach developers offer city $15M park in exchange for ownership of streets
As part of their plan to build a $220 million mixed-use project along Ocean Terrace in Miami Beach, partners Alex Blavatnik and Sandor Scher want to take ownership of the public streets and sidewalks surrounding the proposed development. The potential deal would allow Blavatnik and Scher to include the public right-of-way as part of the project's footprint. In exchange, the North Beach developers are…
Could a Trump tax break be behind Beckham's renewed interest in an Overtown stadium?
MasTec chairman Jorge Mas revealed on Tuesday that his fellow partners in the Miami Beckham United Group wanted to close on a $9 million land deal in Overtown. The news meant the Beckham group planned to buy land once slated for a Major League Soccer stadium until the partners abandoned that plan for a larger sports and commercial complex about eight miles away on real estate currently…
Could Miami Beach's Free Electric Cars Solve Cities' Transit Problems?
On Friday, the city of Miami Beach will launch a partnership with Freebee for free, on-demand, door-to-door transportation to certain areas. Freebee's fleets of fully electric cars have been popular in Miami-area neighborhoods as solutions to transit woes. Freebee was started by two University of Miami graduates in 2011, at first offering free rides to bars and restaurants on the beach. It then expanded…
FM Capital's Direct Bridge Lending platform Originates $21 Million loan for Industrial Freezer in Miami, Florida
FM Capital's direct bridge lending platform originated a $21 Million loan for the refinancing of an industrial freezer warehouse located in Miami, Florida. Built in 1968, the 235,758 square foot warehouse is located near major highway I-95 with quick access to the free-way, turnpike and other major roads. The property is currently 82 percent leased, occupied by South East Frozen Foods and Super Value.