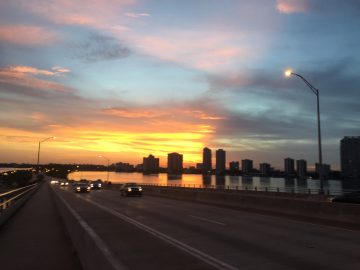 Fortune and Château score $119 million refi for Sunny Isles condo project
Fortune International Group and Château Group scored $119 million in refinancing from Bank OZK for their planned La Playa de Varadero condo development in Sunny Isles Beach. The developers are planning to build two 56-story condo towers on the vacant site at 18801 Collins Avenue. The site is approved for 490 residential units and 1.15 million square feet…
Moishe Mana closes on acquisition of McArthur Dairy
Developer and investor Moishe Mana closed on his acquisition of McArthur Dairy for $16.5 million, expanding his business empire into milk production. Mana is partnering with Jay and Robert Schneier, owners of Florence, New Jersey-based Cream-O-Land, to operate the processing plant and delivery aspect of the business, said Mana's attorney, Bruce Fischman.
Self-storage facility in Little River sells for $7 million
In both good times and bad times, self-storage remains one of South Florida's hottest asset classes. Mitsukoshi Miami LLC, tied to 21st Century Storage, sold a self-storage facility and parking lot at 200 Northwest 79th Street and 7751 Northwest Second Avenue in Miami to Amsdell Companies for $7.23 million, records show. The two properties total 48,435 square…
Chart: Commercial Sales Transaction Metric Declines in April as Sales to List Price Ratio Holds
Miami Association of Realtor's MLS commercial sales, charted above, may not be representative of all commercial sales, but they are representative of a level of sales such that one period can be compared to another. In the accompanying chart, one can see that closed transactions declined by 2/3 in April 2020, to 40, from a run rate of about 120. Obviously, this is COVID-19…
On today's episode of TRD Talks Live, associate publisher Hiten Samtani will discuss the future of retail with TSCG and SCG Retail's David Firestein,  Newmark Knight Frank's Jeffrey Roseman and Meridien Retail Leasing's James Famularo. Long before coronavirus kept shoppers off the streets, retail was struggling to adapt…
Cresting Wave of Job Losses Upends Miami Multifamily Sector
How will the COVID-19 fallout impact the Miami multifamily market? Although many investors are approaching markets known for leisure travel and cruise industries with caution these days, RED Mortgage Capital research posted last week indicates Fort Lauderdale/Broward County may offer a more attractive risk and reward profile than is commonly…
"The relationship between landlord and tenant needs to change": Fifth Wall's Brendan Wallace on the need for a retail bailout
The head of the largest real estate-focused venture capital fund is advocating for a $30 billion government bailout of the retail industry, warning that it is on the brink of systemic collapse. Brendan Wallace, managing partner and co-founder of Fifth Wall Ventures, has a proposal: Get the five biggest retail landlords in a room with the federal government…
Fortune International, Château Receive $119 Million Refinancing for Oceanfront Condo Development in Sunny Isles
Fortune International Group and Château Group have received a $119 million loan for the refinancing of La Playa de Varadero, an oceanfront condominium development site in Sunny Isles Beach, a barrier island about 20 miles north of Miami. Located at 18801 Collins Avenue, the 4.7-acre site boasts beach frontage of 435 feet directly on the Atlantic Ocean. Plans…
The Pandemic Is Changing How The Next Wave Of Apartment Amenities Will Be Designed
Some social distancing built into the design is going to need to be an option, though the exact nature of changes isn't clear yet. "The open-plan hospitality vibe has been central to marketing to a millennial demographic," The Architectural Team principal Michael Liu said. "But in the present pandemic, it may also be ideal for communicating disease." Meshberg…
Commercial Borrowing Cost: Rate Watch for April 30, 2019
At the end of April of 2019, intermediate yields remain at lows reached in recent weeks. This has, of course, been driven by reduced economic activity due to the COVID-19 pandemic. As can be seen in the accompanying chart, five year rates, which are most closely tracked for commercial property borrowing cost, found themselves under 0.5%, flirting with negative rates.
Related Group honored for bevy of awards
Last year executives and projects of The Related Group, a leading developer of metropolitan living in Florida as well as one of the country's largest real estate conglomerates, won several accolades. Based on these recognitions, Miami Today's Gold Medal Awards judges chose the company as one of this year's winners for an institution. The specific award level – bronze, silver…
Yardi Matrix April National Office Report: So Far, It's a Waiting Game
COVID-19 has drastically reshaped life and the economy, but the pandemic's full effects on the U.S. office market have yet to come to light in the data. The latest Yardi Matrix office report shows that national full-service equivalent listing rates held steady through March. Moreover, in terms of sales, Q1 2020 was on par with the first quarters of the two previous years…
Della Heiman: Shifting from former Wynwood Yard to a new Doral Yard
Fresh out of Harvard Business School in 2014, Della Heiman was whittling down her list of where to launch her healthy, plant-based culinary concept, Della Bowls. She wanted to start in a city where demand and awareness of such an offering was high but supply was limited. It ultimately came down to two cities, Chicago and Miami. Weather was the pivotal factor at first…
Unfortunately, new rail transit likely to be Covid-19 victim
There are a number of reasons to carefully heed Miami-Dade Commission Chairwoman Audrey Edmonson's concerns about planning a Metrorail extension from downtown Miami to the Broward County line. Just look around and you'll see them. As she noted at a recent transportation planning meeting, Metrorail is the most expensive transit we could get…
Video: Ian Lis of Tripp Scott Law Firm Discusses Navigating the PPP
On Monday, May 4th, South Florida Business & Wealth hosted a live Virtual Connect webinar "Navigating the PPP." Our moderator, CEO and Chairman Gary Press, interviewed Ian Lis of Tripp Scott Law Firm on the Paycheck Protection Program, a loan from the SBA designed to provide a direct incentive for small businesses to keep their workers on the payroll. View…
JLL predicts coronavirus' impact to extend past 2020
As the coronavirus crisis cripples property sales and leasing, JLL's latest financials may offer a glimpse of what's ahead for the first-quarter earnings season. The commercial brokerage reported a net operating income of $5.3 million during the first three months of 2020, compared to $21.3 million a year ago, Crain's reported. JLL said global leasing fell 22 percent year…
Retail fallout: Victoria's Secret sale scrapped, Neiman Marcus nears restructuring deal
Victoria's Secret's parent company has canceled its deal with private equity firm Sycamore Partners, while Neiman Marcus is nearing a restructuring deal with a Pimco-led group. (Andrew Chin/Getty Images; Noam Galai/Getty Images) With their stores still closed, these struggling retailers are pursuing new plans. L Brands, the parent company of lingerie retailer Victoria's…
J. Crew Files for Bankruptcy Protection
J. Crew Group Inc. filed for bankruptcy with plans to hand control to its lenders, unable to revive its preppy clothing line amid the pandemic and crushed by debt rooted in a long-ago leveraged buyout. While J. Crew's struggles pre-dated the coronavirus outbreak, it's the first major retailer to go bankrupt during the ensuing economic shutdown, which has pushed…
Sam Zell's office REIT won't commit to a specific coronavirus strategy just yet
Sam Zell's Equity Commonwealth has not had many problems collecting rent so far, but the company was very light on details about the pandemic's impact apart from that in its first quarter earnings call on Tuesday morning. The office real estate investment trust had 98 percent of its contractual rents paid for the month of April, and just 3 percent of that…
Investments Limited scores $67M loan for 13 SoFla properties
Investments Limited nabbed a $67 million loan to refinance 13 of its commercial properties in South Florida. The Boca Raton-based commercial real estate firm secured the loan from Miami-based Ocean Bank for office and retail properties in Boca Raton, Deerfield Beach, and Plantation, according to a press release. The law firm Holland & Knight's Josias…
Warren Buffett questions the need for office space
The Oracle of Omaha foretells an existential challenge for office space. At Berkshire Hathaway's annual meeting on Saturday — held this year via live stream from an empty arena — CEO Warren Buffett quipped that it had been more than seven weeks since he had put on a tie. And the extended period of remote work may affect more than just clothing choices.
57 Ocean in Miami Beach scores $59M construction loan
Multiplan Real Estate Asset Management closed on a $58.5 million construction loan for 57 Ocean, a luxury condo project in Miami Beach. The developer, led by Brazilian billionaire José Isaac Peres, secured the loan from Bank OZK. The Little Rock, Arkansas-based bank is still lending in South Florida during the pandemic, and recently received the final…
St. Louis Fed: How will COVID-19 Affect Financial Assets, Delinquency and Bankruptcy?
There will be economic losses from the COVID-19 pandemic, and knowing how those losses are distributed across the population is just as important as the overall amount.1 Our previous posts in this series have uncovered a troubling pattern. Communities with the highest financial distress—which are the least able to weather economic losses—both: Tend to rely more…
Key COVID-19 metrics improve in South Florida
South Florida was cut off from the rest of the state in a phase one reopening on Monday, but key health metrics show progress. Florida Department of Health charts show a steady downward trend in Broward, Miami-Dade and Palm Beach counties for emergency room visits for people with COVID-19 and flu-like symptoms. The trend line is similar to statewide figures.
Landlords Sue Ross Stores, Other Commercial Tenants
In the past 24 hours, landlords have filed at least two lawsuits against major retailers over nonpayment of rent. And South Florida lawyers say these are just the start as brick-and-mortar retail faces a new and unexpected hurdle: the coronavirus. The lawsuits follow the Florida governor's executive order requiring store closures and mandating social distancing restrictions.
CMBS debt relief inquiries fall in late April, but worst is yet to come, new report says
After facing a tidal wave of relief requests in the first half of April, loan servicers saw a dip in inquiries during the last two weeks of the month. But that probably won't last. Over the two-week period ending April 26, the four largest commercial mortgage-backed securities master servicers (Wells Fargo, Midland, Keybank and Berkadia) received a total of 1,301 inquiries…
Miami-Dade judge tosses Avra Jain's $15M lawsuit against former attorneys
Miami-Dade Circuit Judge Michael Hanzman has derailed developer Avra Jain's efforts to collect $15 million from a law firm that represented her in an unsuccessful court case. Hanzman dismissed Jain's complaint on March 13 by granting summary judgment for Buchanan Ingersoll & Rooney and its shareholder Richard A. Morgan. The firm had represented the Vagabond…
Private clubs like Soho House keep collecting dues, add perks to keep members happy
Private clubs including Soho House continue to collect steep dues from members, even though many have had to close up shop because of the pandemic. Soho House is offering only in-house credits for the months the club is inaccessible as it tries to keep cash flowing to cover expenses, according to Bloomberg. Not everyone is happy, but other members say…
Half of mall-anchored department stores could close within a year
If you're looking for some post-lockdown retail therapy, your choices may be limited. More than 50 percent of department stores anchoring shopping malls could permanently close within the next 12 months, according to a Green Street Advisors report cited by CNBC. Anchor department stores are themselves key to the financial viability of mall properties, but closures…
Who are the tenants of today and tomorrow?
With another monthly rent payment coming due, both commercial tenants and landlords are evaluating their prospective futures.  A potential surge of bankruptcies raises an important question: who will be the tenants of today and tomorrow?  Some recent developments in pending bankruptcy cases and likely filings provide some insight into the possibilities and how both…
Small businesses in high-rent cities balk at PPP loans
Small business owners in high-rent cities like New York and Los Angeles are balking at PPP loan money, and calling for more flexibility in how they may distribute the funding. (Photo by John Nacion/NurPhoto via Getty Images) Small business owners in high-rent cities like New York, Los Angeles and Chicago are finding the federal government's $660 billion Paycheck…
South Florida deli chain TooJay's files for bankruptcy
The popular Florida deli chain TooJay's declared bankruptcy as a result of the impacts of coronavirus. TooJay's Management, which opened its first restaurant in Palm Beach in 1981, filed for Chapter 11 bankruptcy earlier this week in federal court in the Southern District of Florida. The company owns and operates 28 locations in Florida, including in Hallandale Beach…
J. Crew nears bankruptcy, Brooks Brothers seeks buyer
J. Crew and Brooks Brothers are among the latest retailers on the brink of bankruptcy. J. Crew, which has 322 stores, is seeking $400 million in financing to fund operations during bankruptcy, CNBC reported. And Brooks Brothers is seeking to sell itself, a deal that could potentially be part of a bankruptcy filing, according to…
Macy's prepares to unlock the doors
In the latest sign of a post-coronavirus retail world, Macy's will reopen all its 775 locations by the end of June. The company will begin on Monday with 68 stores in Georgia, South Carolina, Tennessee and Texas, according to the New York Times. CEO Jeff Gennette said in a presentation that the retailer expects to only bring in about 20 percent of its typical business…
Investors who shorted malls stand to make out big
The coronavirus pandemic may be the final nail in the coffin for some retailers and shopping malls. For certain investors, that's a good thing. Those who shorted the mall-heavy CMBX 6 index are seeing their bets pay off faster than they thought as tenants come up short on rent and mall owners miss mortgage payments, according to Bloomberg. MP Securitized…
Miami commission approves rent, utility assistance for low-income households
Miami low-income residents who recently lost their jobs can start applying for rent and utility assistance at noon on Monday. But private contractors, or those who already are receiving rental subsidies, or are behind on their payments are not eligible. The Miami City Commission on Thursday unanimously approved allocating $6.9 million in COVID-19-related…
Hotel occupancy rises as essential workers, homeless fill rooms
The hotel market is improving across the country but that comes with a caveat. The uptick is likely a result of coronavirus-related response measures cities have undertaken throughout the U.S. Nationally, hotel occupancy inched up to 26 percent for the week ending April 25, from about 23 percent the week before, according to data from hospitality…
SoftBank anticipates $6.6B loss on WeWork investment
SoftBank's bet on WeWork is causing more pain for the conglomerate. The group said this week that it is expecting a $6.6 billion loss for the year ending March on a portion of its investment in WeWork held outside SoftBank's Vision Fund. The announcement comes two weeks after SoftBank told investors that its annual operating losses would reach…
Real estate is waking up to pandemic insurance. But is it too late?
Hotel owners nationwide have likely deployed teams of lawyers to scour their insurance policies, hoping to find a clause that covers a portion of the monumental damages inflicted as a result of Covid-19. Most of them have been sorely disappointed. But a very small number may be holding a trump card. In New York City, Rotem Rosen's Hotel Indigo Lower East Side…
Video: Miami's COVID-19 Recovery Plan Reviewed in Brickell Alliance Virtual Town Hall
This video is a recording of theApril 30th Brickell Alliance's virtual town hall conversation with Miami City Commissioner Ken Russell on the City of Miami's Recovery Roadmap. Reviewed are various phases of recovery and the orders to be issued within them, the expected timelines for such, and criteria for deciding when milestones are met. This is a must view video…
Business as Unusual – Habitus Furniture, Javier Malik, owner
Business backstory: The contemporary furniture store, launched in 2003, works with designers and manufacturers in Europe, Asia and South America to develop its own unique furniture collections. Habitus has locations in Aventura and Doral. (habitusfurniture.com) The impact: "Our showrooms in Aventura and Doral closed to the public due to…