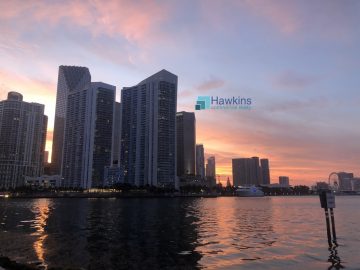 Miami & Other Sun Belt Markets Dominate Top 10 'Markets to Watch' in 2023, According to Emerging Trends Report
A variety of Sun Belt markets once again lead the "top markets to watch" in 2023 for overall real estate prospects, with Nashville ranking No. 1 for the second consecutive year in the annual Emerging Trends report issued by the Urban Land Institute (ULI) and PwC US. Using proprietary data and insights from more than 2,000 real estate industry experts across 80 tracked markets in the United States…
South Florida Retail Real Estate Summary: Leases, Sales & Construction Projects
Market Snapshot for South Florida Retail Real Estate A summary of the statistical highlights, latest retail transactions, vacancy / lease trends, and current market activity for South Florida commercial real estate focusing on Miami-Dade County. The retail real estate report is updated every quarter by our CRE experts. The analysis is derived and compiled…
Fed hikes interest rates to 14-year high
Thursday brought more bad news for borrowers, as another rate hike will cause the cost of credit-fueled deals to rise further, but there may be a little light at the end of the tunnel. The Federal Reserve approved a fourth straight 75-basis-point hike to a target range of 3.75 to 4 percent on Wednesday, raising short-term borrowing rates to their highest levels since 2008, CNBC reported. However, the…
Richman scores $44M construction loan for south Miami-Dade rentals
The Richman Group scored a $44.5 million construction loan for a multifamily complex in Miami-Dade County's Naranja neighborhood. The deal marks a step forward for the project that has been in the works since last year. It also underscores developers' insatiable appetite to build apartments in the county's southernmost areas. The financing is for development on 4.7 acres of land in unincorporated…
What it takes to develop a Miami supertall
The developer of Miami's first supertall broke ground on the project, kicking off one of the most challenging developments in the city's history. PMG and its partners, Greybrook, Mohari Hospitality, S2 Development and Hilton began construction of the 1,049-foot-tower at 300 Biscayne Boulevard in downtown Miami. The developers are building the Waldorf Astoria Hotel & Residences…
Breaking down the Related-backed Miami Beach Deauville referendum
Billionaire Stephen Ross' Related Companies pumped nearly $1.3 million into the political action committee backing his plan to develop the oceanfront Deauville site in Miami Beach. And that PAC is securing endorsements from elected officials across the county. Referendum 1 doesn't mention Ross, Related or the Deauville, but the ballot question…
Chart – Inflation Watch Halloween 2022: TIPS Indicating 2.67% Expected Inflation for Next 5 Years, Down from 3.59% March Peak
Posted above is the chart for the 5-Year breakeven inflation rate, commonly referred to as the TIPS spread, for the five years ending on Halloween, October 31, 2022. A calculation of the difference in the yields, i.e. the spread, between United States Treasury bonds and Treasury Inflation-Protected Securities (TIPS) of the same maturity, this spread is a useful and oft-quoted measure…
What Recession? Miami CRE Leaders On The City's Economic 'Halo'
Winter is coming, and with it, a potential recession looms that already has the commercial real estate sector on edge — unless you're in South Florida. Suffolk Southeast's George Adornato, Two Roads Development's Brad Meltzer, Stantec's Robin Anezin, Butters' Malcolm Butters and Weiss Serota Helfman Cole & Bierman's Joe Hernandez speak at Bisnow's Miami State of…
Bjarke Ingels shakes hands and comments on his clammy palms. Perhaps they will be dry after a few encounters with others, he jokes. He brings his hands together and makes a sound that imitates flatulence and grins, though it is not clear whether the two expressions are related. Within half an hour, he will quote Kierkegaard.  This playful but intense energy is reflected in his architecture firm's…
Thomas Conway sells Miami Little River multifamily dev site
Investor Thomas Conway parted ways with an Opportunity Zone development site in Miami's Little River where he had planned a mixed-income apartment project. Conway, through one of his Qualcon Real Estate Fund affiliates, sold the 2.2-acre former Bellsouth telecommunications facility at 8038 Northeast Second Avenue and 165 Northeast 80th Terrace, records show. Three years ago…
"Incredible land grab": Miami-Dade OKs project outside UDB
It took developers Stephen Blumenthal and Jose Hevia five tries, but in the end they won approval for their controversial proposal to build outside Miami-Dade County's Urban Development Boundary. Commissioners on Tuesday voted 8-4 to allow the South Dade Logistics & Technology District to be built…
Multifamily sales in "virtual standstill"
Multifamily investment, buoyed through the first half of the year by rising rents, has sunk under the weight of relentless rate hikes. Apartment building sales came to a "virtual standstill" in October, according to the National Multifamily Housing Council's Chief Economist Mark Obrinsky, as buyers facing higher borrowing costs and slowing rent growth offered lower prices…
Miami Lakes Shopping Center Lands $40M Refi
In the latest example of the appeal of neighborhood shopping centers, Miami Beach landlord Terranova Corp. said Thursday that it closed on a $40 million refinancing of Palm Plaza near Miami Lakes. The 90,621-square-foot property at 16867 Northwest 67th Avenue is 95 percent leased, Terranova Chairman Stephen Bittel said. Navarro Discount Pharmacy, a unit of CVS, is the…
Polish American Club seeks rezoning for Miami River mixed-use project
The Polish American Club wants to build an eight-story, mixed-use project on the organization's former banquet hall site on the Miami River. The Miami River Commission is set to vote next week on recommending approval for zoning changes to the property at 1250 Northwest 22nd Avenue sought by the club. The requests, which would allow the club to build a high-density project, would a…
Wynwood Norte moves toward increased residential density
The City of Miami commission has passed on first reading an ordinance to increase the residential density in the Wynwood Norte area. Known as Little San Juan from the 1950s through the '70s, the zone was designated a Neighborhood Revitalization District, or NRD-2, by the commission in March 2021. It's bordered by I-95 to the west and North Miami Avenue to the east, and Northwest 29th Street…
Tech, finance and dining fuel Wynwood realty
Wynwood commercial real estate continues to flourish as several large tech companies, financial institutions and top food and beverage concepts continue to choose this desired neighborhood as their headquarters. Over the past three to four years, Wynwood has been transformed thanks to vertical development, said Randy Carballo, senior vice president of CBRE Miami Office. With the extended…
Wynwood streetscape plan under city's microscope
The Wynwood Streetscape Master Plan project is currently under a call cost evaluation by the City of Miami. The streetscape plan was initiated in 2018 by the Wynwood Business Improvement District, which has partnered with the City of Miami, Miami-Dade County and the neighborhood's private-public property owners. "This is a very ambitious project," said Manny Gonzalez, the BID's…
Short-term rentals with speakeasy to rise in Wynwood
A rustic-style 131-unit short-term rental with a speakeasy concept rooftop bar is coming to where Wynwood starts, next to the train tracks, developed by Rilea Group and Ann Arbor, MI-based real estate investors group Promanas, and hoping to break ground late next year. The project, called The Rider, would be at Northwest 29th Street and the Florida East Coast Railway line, expanding on…
Wynwood Works would create eight-story mixed-use site
Construction is expected to begin early next year on a mixed-use residential project in the Wynwood Arts District. Architect Jennifer McConney-Gayoso… would put its completion date at mid-2024. The owner-developer, 26-60 NE 27th Street LLC of Hoboken, NJ, proposes a project called Wynwood Works at 26–60 NE 27th Street, 25 NE 26th Street and 61 NE 26th Street…
Video: RealPage Senior Manager Market Analytics Carl Whitaker Updates on Multifamily Performance, Forecast
Carl Whitaker, Senior Manager Market Analytics with RealPage, joins America's Commercial Real Estate Show host Michael Bull to share recent performance variances as well as projections for (multifamily) performance and cap rates going forward. This is the latest in an ongoing series of discussions over time by Carl on multifamily properties. All the disruption over the past couple of years makes…
Industrial rents keep climbing as vacancies fall in South Florida
It's a familiar refrain for South Florida industrial landlords. During the third quarter, asking rents continued on an upward trajectory, as premium warehouse space in the tri-county region remains hard to find, according to a JLL report. New developments in Miami-Dade, Broward and Palm Beach counties are experiencing strong pre-leasing activity,…
Suffolk again sues Estates at Acqualina developer in alleged "Halloween ambush"
Suffolk Construction and Trump Group are both back on the offensive in their battle tied to the developer's Estates at Acqualina condo project in Sunny Isles Beach. Suffolk reopened its lawsuit against the affiliates of Trump Group, seeking $15 million in damages for allegedly unpaid work at the oceanfront two-tower luxury condo development, where buyers i…
Lease roundup: Rihanna's Savage X Fenty signs at Miami Worldcenter
The retail and the financial sector have been front and center of Miami's leasing action as of late. Here's a rundown of some of the most notable newly signed contracts: Savage X Fenty, Lululemon, Ray-Ban, Posman Books I Miami Worldcenter Rihanna's lingerie brand Savage X Fenty is among the recently signed tenants at the Miami Worldcenter mixed-use development in downtown.
Cutler Bay approves $100M senior living mixed-use project
An AJP Ventures-led development team can move forward with a $100 million mixed-use complex featuring senior living apartments in Cutler Bay. Last week, the Cutler Bay Town Council unanimously approved The Contemporary & MedSquare, a project with 42,000 square feet of medical office, 19,000 square feet of retail and 196 apartments…
Eyal Peretz's Fuse gets final OK for multifamily near Flagler Village
Eyal Peretz is adding 480 apartments to an area just west of Fort Lauderdale's Flagler Village. His Fuse Group submitted plans for an eight-story building that will rise at 640 Northwest Seventh Avenue, or the northeast corner of Sistrunk Boulevard and Northwest Seventh Avenue. The Arcadian project will also include 48 apartments with affordable rents; 15,000 square feet…
Ugo Colombo, Craig Robins reach settlement in feud over private jet
A decade-long dispute over a private jet once shared by two high-flying Miami developers appears to be coming in for a soft landing. Ugo Colombo and Craig Robins have reached a private settlement, court records show, after just two days of trial that would have determined which one of them was on the hook for missed loan payments on a $22 million jet the pair purchased…
Miami Beach Port Royale Condominium evacuated over structural concerns
Port Royale Condominium in Miami Beach at 6969 Collins Avenue (Google Maps, Getty) Residents of a 164-unit Miami Beach condominium were evacuated Thursday after engineers raised concerns about a deteriorated garage beam that they suspect supports the entire building. City officials and the condo board ordered the 14-story Port Royale Condominium at 6969 Collins Avenue…
Metro Miami Affordable Community Gets $25M Refi
Mary Alice Brown Apartments M&T Realty Capital Corp. has provided $25 million in refinancing for Mary Alice Brown Apartments, a 216-unit fully affordable multifamily community in Opa-Locka, Fla. The three-year, fixed-rate bridge loan has a 30-year amortization period. Opa-locka Community Development Corp. is the owner of the property, previously known as Aswan Village Apartments.
Richman scores $44M construction loan for south Miami-Dade rentals
The Richman Group scored a $44.5 million construction loan for a multifamily complex in Miami-Dade County's Naranja neighborhood. The deal marks a step forward for the project that has been in the works since last year. It also underscores developers' insatiable appetite to build apartments in the county's southernmost areas. The financing is for development…
Chart: The Fed, real returns on major asset classes since the start of the pandemic
In the beginning of 2020, as the COVID-19 pandemic seemed likely to spread in advanced economies, financial markets entered a period of turmoil. Some even thought the world was headed for a financial crisis. But after the deployment of major fiscal and monetary policy interventions around the world, among other factors, such a crisis never materialized. In fact, financial…
Peebles affiliate must pay $1M in sanctions over Bath Club dispute
An entity tied to developer Don Peebles is once again on the hook for $1 million after a court denied its latest attempt to fight off sanctions over a dispute at the Bath Club in Miami Beach. Peebles' Bath Club Entertainment owns the historic and private membership club, which dates to 1926, as well as most of the common areas on the 5-acre property at 5937 Collins Avenue…
NY's Kalimian family buys South Beach Walgreens for $35M
A member of New York's Kalimian family made a retail investment at the entrance of South Beach. Debra Kalimian of A&R Kalimian Realty, through an affiliate, bought the 24,000-square-foot Walgreens building at 509 Collins Avenue from New York-based Allied Partners, according to records. The two-story building was constructed in 1995 on 0.3 acres. It's unclear if the…
Farsighted: Andrew Zobler talks hotel market, surviving the dip and more
Andrew Zobler is back in Miami. The Sydell Group founder and CEO bought singer and songwriter Billy Joel's Miami Beach home last year and is branding the NoMad Residences project in Wynwood. But despite buying the home, he didn't relocate to Florida because Zobler says that he "always wants to spend a significant amount of time in New York." After developing the high-end…
Industrial Wave Triggers Tight Market Conditions in South Florida in Q3
The South Florida industrial leasing market saw another seven-figure performance in the third quarter of 2022, with approximately 1.4 million square feet (msf) of positive net absorption at its close — keeping the region on track for another dynamic annual occurrence. Year-to-date more than 6 msf of industrial space was absorbed throughout the region.
Homeowners drop lawsuit over Ugo Colombo Grove Isle project approvals
A neighborhood association and a group of Coconut Grove homeowners are backing off their lawsuit alleging city of Miami officials improperly approved construction of a proposed waterfront condominium in Grove Isle — at least for now. Last week, Tigertail Association, led by more than a half-dozen individuals, voluntarily dismissed their complaint. The plaintiffs…
The Impact of Flood Risk on Property Values – A Case Study in Miami
Hurricane Ian landed in Florida on Thursday evening, September 29, 2022. According to CoreLogic, estimated losses from wind and flooding damages to residential and commercial properties in Florida, South Carolina and other impacted states are between $41 billion and $70 billion1. It marked the sixth consecutive year that the U.S. has been impacted by a slow-moving tropical…
Corporate Relocations and an Evolving Office Market in Miami
The first topic of the morning was 2020 and the pandemic. Overnight, these industry professionals were faced with the obstacles of price surges, lack of materials, remote barriers, and a decline in revenue. This forced them to focus on efficiency and adaptability. It was pointed out that only the strong businesses survived. Following the pandemic, many people are anticipating a recession…
Henry Pino's Alta bets on Brickell resi market
Alta Development's Henry Pino along with 160 and 180 Southwest Ninth Street :Henry Pino has placed an eight-figure wager on the Brickell residential market. His Alta Development bought a half-acre site along Southwest Ninth Street for $15 million, with plans to build a 38-story tower with 320 apartments, according to a news release. Progesti, led by Jose Nunez, is the seller.
Lincoln scores $103M construction loan for Doral apartments
With interest rates poised to continue rising, Lincoln Property Company pulled the trigger on a major construction loan for its planned multifamily project in Doral. The Dallas-based firm secured a $102.9 million loan to build apartments on 3.4 acres at 3450 Northwest 85th Court, the last vacant site at the Park Square at Doral mixed-use development. Santa…
Pembroke Pines approves 410 affordable apartments for seniors
Miami Jewish Health Systems and a partner won site plan approval for 410 apartments in Pembroke Pines with below-market rents for tenants 62 and older who have low or moderate income. Not-for-profit Miami Jewish Health and San Francisco-based McDowell Housing Partners won approval for Douglas Gardens IV a…
Giddyap! Altman plans 286 apartments next to rodeo arena in Davie
The Altman Companies won site plan approval for Altis Davie, a 286-unit, mid-rise apartment complex near the rodeo arena in downtown Davie. Altman plans to build Altis Davie as a four-story, mixed-use development with 1,450 square feet of commercial space, according to a report by the Davie Planning & Zoning Division. The mix of residential units would include 24 studio apartments, 117 one-bedroom…
Quarterly Apartment Prices Nationally Drop for First Time Since Start of Pandemic
U.S. apartment prices tracked by CoStar sank for the first time since the start of the pandemic during the third quarter, setting up a test for the once-hot property type through the rest of the year. Meanwhile, price gains slowed sharply in other property sectors across all regions, according to the latest CoStar Commercial Repeat Sale Indices, which monitor price differences in repeat sales…
Developers plan 300-plus rentals on Fort Lauderdale church site
Buyers and developers Tal Levinson and Eric Malinasky and the First Eben Ezer Missionary Christian Churchat 312 Northwest Seventh Street in Fort Lauderdale: Developers want to build an apartment project on a church site in Progresso Village, which is quickly becoming Fort Lauderdale's next hot spot. Tal Levinson and Eric Malinasky plan a six-story building on almost a full block on the…
Axonic scoops up Lauderdale Lakes multifamily in $64M deal
Axonic Properties' Jonathan Shechtman and Clayton DeGiacinto; Integra Investments' Nelson Stabile; the Bella Vista apartment complex at 3541 Northwest 30th Place in Lauderdale Lakes: Axonic Properties has set its sights on Broward County. The New York-based residential real estate investment firm scooped up the Bella Vista apartment complex in Lauderdale Lakes for $63.6 million…
Prime Acreage In Boca Raton Hits Market For $43M. The Catch? It's Largely Underwater
A 4-acre piece of waterfront land in Boca Raton is hitting the market for $43M, a development opportunity buyers will have to "sea" to believe. Delray Beach resident, investor and local developer William Swaim has put a 4-acre plot up for sale that is largely submerged under Boca Raton's Intracoastal Waterway, The Palm Beach Post reports. He told the paper that he is willing…
Related in Talks to Develop South Florida HQ
360 Rosemary NewDay USA has just celebrated taking occupancy at its second headquarters with the unveiling of a new company sign at 360 Rosemary, the Related Cos.' recently completed office tower in West Palm Beach, Fla. NewDay's move into a 53,300-square-foot space at 360 Rosemary is just the beginning of a planned expansion in the bustling West Palm Beach office market, as the fintech…
Ohio firm pays $29M for oceanfront co-op in Palm Beach County
Waterfront property in the Sunshine State is still red hot. An Ohio real estate firm paid $29 million for a co-op property in Ocean Ridge that was terminated, paving the way for redevelopment. Edwards Companies of Columbus, Ohio, acquired the 22-unit co-op at 6855 North Ocean Boulevard, property records show. The nearly 2.2-acre property is the latest bulk residential building…
PGIM buys Publix-anchored Miramar shopping center for $62M
Monarch Town Center at 12503-12681 Miramar Parkway in Miramar with PGIM Real Estate's Eric Adler and Stile's Kenneth Stiles (Google Maps, PGIM, Stiles, Getty) PGIM Real Estate bought a Publix-anchored shopping center in Miramar for $61.5 million. PGIM, the real estate investment and financing arm of Prudential Financial, bought Monarch Town Center at 12503-12681 Miramar Parkway from…