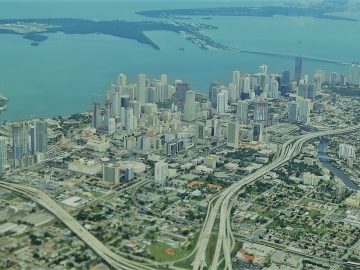 Bridge Investment Group Purchases 259,666 SF Office Tower in Downtown Miami
Bridge Investment Group LLC has purchased Museum Tower, a 29-story, 259,666-square-foot office building in downtown Miami. The property is located 150 W Flagler Street. The tower was originally built in 1986 and has undergone $3 million worth of renovations since 2016. Bridge plans to invest an additional $4.5 million for amenities and other enhancements, including restroom upgrades and new common…
Bridge Investment Group Buys Miami CBD Office Tower
Bridge Office Fund Manager LLC, a subsidiary of Bridge Investment Group, has acquired Museum Tower, a Class A, 259,666-square-foot office high-rise in Miami's central business district. The 29-story building is easily recognizable due to the reflective glass curtain walls on its north and south elevations. CBRE's José Lobón and Christian Lee represented the seller, Gaedeke Group, while law firm Kapp…
Could Rent Control Come To Florida?
Last week, Florida state Rep. Anna Eskamani filed a bill that could lift the state's law against rent control — albeit only in housing emergencies "so grave as to constitute a serious menace to the general public." While mild, her proposal was small step in a worldwide trend toward rent reform. In the past six months, New York, London, Berlin and Barcelona have all passed rent control measures. Rent…
Shoma Group launches lower-priced condo project near Lincoln Road
Rendering of Ten30 and Masoud Shojaee Amid the ongoing luxury market slowdown, Masoud Shojaee is launching sales of Ten30, a condo development near Miami Beach's Lincoln Road. The relatively lower-priced units replace multimillion-dollar townhouses that were originally planned for the site. Ten30, at 1030 15th Street, will have 43 condos, including six studios, 29 one-bedroom units and eight…
Alex Sapir's massive Opportunity Zone site in Miami hits the market
Alex Sapir and the site at 1768 Northeast Second Court (Credit: CBRE) Sapir Corp. and its partners planned to build a 1.7 million-square-foot project on an assemblage of land north of downtown Miami. But the Israeli real estate firm is now looking to sell the property. The site, at 1768 Northeast Second Court, is in an Opportunity Zone, which would give a buyer substantial tax incentives. The property is in…
Industrious to open at Paseo de la Riviera in Coral Gables
Paseo de la Riviera and Industrious CEO Jamie Hodari Flexible workspace provider Industrious inked a deal for its third South Florida location. Industrious will take 25,000 square feet of retail space at Paseo de la Riviera, a mixed-use project under construction in Coral Gables, according to a press release. The space, at 1350 South Dixie Highway, is expected to open in the first quarter of 2020. Industrious…
Retail, condos, apartments advance at Miami Worldcenter
Miami Worldcenter, the mega-project in the Park West area, is shaping up nicely, said Nitin Motwani, one of the principals. There have been 250 closings at Paramount, Miami Worldcenter's landmark 60-story glass-fronted condominium. "It's going great," with 90% of the building's 569 units sold, Mr. Motwani said. Prices range from $750,000 to $10 million. "People are starting to move in, and it's just a…
Miami Heat's Udonis Haslem takes a shot at affordable housing
Miami Heat veteran Udonis Haslem has amassed career earnings estimated at about $60 million, but unlike many retired athletes who turn to real estate, he's investing and developing affordable housing. The 39-year-old power forward, who has played for the Heat since 2003, formed a real estate company…
New Miami-Dade courthouse ahead of schedule at lower cost
Talks leading to building a new civil courthouse on Flagler Street are "going well" with top-ranked development team Plenary Justice Miami LLC, according to Dan Chatlos, strategic programs director of Miami-Dade Internal Services – so well, he said, that negotiations should end this week. "That will keep us on track to put an item before the board in November – about six months earlier than…
Miami Office Report – Summer 2019
Miami's office market continues to expand and strengthen, thanks to its diversifying economy. The metro is on a steady course as it matures into a corporate center, while companies are drawn to Florida because of the state's tax-friendly business climate. Coworking has also been gaining momentum in the metro. Furthermore, in a recent study, WalletHub ranked Miami as the third best place to start a…
Multi-million deal would run Virgin Trains into Port of Miami
Less than a week after they OK'd spending up to $76.7 million in taxpayer dollars on a new Virgin Trains station in Aventura, Miami-Dade lawmakers today (10/17) are to look at another multimillion-dollar deal to extend the company's services to PortMiami. County commissioners are to consider a memorandum of understanding (MOU) with Virgin summarizing the terms of an estimated $53.3…
Miami-Dade may target micro-housing to beat rising costs
Miami-Dade lawmakers may soon tell Mayor Carlos Giménez's administration to take another look at micro-housing – including micro-apartments, tiny homes and accessory dwelling units – as a way to address rising housing costs throughout the county. Micro-homes come in various forms, from micro-units in multi-family buildings to standalone single-family dwellings built on foundations or trailer…
Terminal Island residential tower in Coast Guard quandary
A proposed project on Terminal Island in Miami Beach remains in limbo as the developer has yet to find a way to quash the concerns of the Coast Guard. Related Group has proposed a 90-unit residential tower on Terminal Island, located across from Star Island on the MacArthur Causeway. The proposed project would share the area with the Fisher Island Ferry, the Florida Power & Light substation…
Business hotel to rise in Overtown
Construction of a sleek mid-rise hotel catering to the business traveler is expected to begin in Overtown during the first quarter of the new year, according to the developer. Central District Miami Redevelopment Group V LLC, affiliated with TSG Group, is building a Cambria Hotel at the northeast corner of Northwest 13th Street and Northwest Ninth Avenue, just south of the Dolphin Expressway. The hotel is…
Power struggle between Fisher Island association's directors ignites lawsuit
Fisher Island (Credit: Michael Au via Flickr) A power struggle is taking place on ritzy Fisher Island. Fisher Island Community Association board members Michael Ashkin, Jeff Horowitz, Marc Peperzak and George Pearlman are suing the board's five other directors appointed by developer Fisher Island Holdings over future development in the wealthy enclave and unpaid transportation services. Fisher Island…
Downtown Coral Gables office building asks $40M
A Miami developer is looking to sell 999 Ponce, a Coral Gables office building, for $39.5 million. Property records show a company controlled by Xavier Rosales of Key Biscayne, who owns Weda Developers, acquired the building at 999 Ponce de Leon Boulevard in 2005 for nearly $21 million. The 11-story, 129,000-square-foot building hit the market with Benjamin H…
Crowdfunding was once touted as the next big thing — a way for average investors to get into the lucrative world of real estate and a way for platforms to tap a new spigot of funding. The space took off around 2013, when the U.S. Securities and Exchange Commission announced new rules allowing private companies to sell securities to the general public. That one small change — which was tucked…
SMS Lodging lists Miami Beach hotel after selling another for $21M
The Julia hotel, Jesper Arnoldsso SMS Lodging is looking to sell a boutique hotel in South Beach, following the $21.3 million sale of another hotel farther north in Miami Beach. The firm, led by Jesper Arnoldsson, tapped CBRE to list The Julia, a 29-room hotel in the South-of-Fifth neighborhood, at 336 Collins Avenue. CBRE's Paul Weimer, who is listing the property with Natalie Castillo and Joshua…
Bal Harbour Shops owner explains why retailers want bigger flagship stores more than ever
Matthew Whitman Lazenby (Photo by Sonya Revell) You could call Matthew Whitman Lazenby a member of retail royalty. His late grandfather Stanley Whitman was a pioneer in South Florida real estate, buying swaths of land along Collins Avenue in Miami Beach and other coastal areas. Fifty-four years ago, Whitman opened Bal Harbour Shops, which Lazenby now oversees as owner and manager…
Can CRE Developers Solve Miami's Affordable Housing Crisis?
New ideas are working to save an affordable city Don't be fooled by the number of cranes rising above the skylines of many South Florida cities. While their presence certainly indicates a building boom in the region, it also highlights a problem that is hiding in plain sight—an affordable housing crisis. According to a recent report from the Miami Urban Future Initiative, a joint project of Creative Class Group and…
Parking in a Changing CRE Marketplace: Adapting & Futureproofing
Steps to take today and for tomorrow When it comes to parking, people generally have a lot to say—and when asked to comment on the state of it, they usually turn to words like "headache," "necessary evil," or some words this blog can't repeat. Let's just say that it's safe to say that most people loathe parking, especially in crowded cities. Along with traffic in South Florida, it's very often a big downside of…
Ross Dress for Less signs lease at historic former Burdines building in downtown Miami
Ross Dress for Less Ross Dress for Less signed a lease at the historic former Burdines building in downtown Miami. The retailer plans to lease 34,192 square feet at 22 East Flagler Street. The vacant building was most recently occupied by Macy's. Macy's closed the store in early 2018 as part of a wave of closures as it looked to shed its assets and reduce costs. TheNextMiami first reported the lease. Nearby…
Here's a look at Blackstone's industrial plays after its record-breaking portfolio purchase
Blackstone's Jonathan Gray (Credit: Getty Images and iStock) After Blackstone dropped almost $19 billion on an industrial portfolio in June — the biggest portfolio deal ever — the private equity giant's industrial activity hasn't let up. In the months following that deal with Singapore-based GLP, Blackstone's industrial plays in the U.S. have ranged from one-off property acquisitions to a partial selloff of that…
Longpoint Realty picks up warehouse near MIA
Longpoint Realty Partners bought a warehouse near Miami International Airport for $6.3 million, as the private equity firm continues to target commercial properties in South Florida. Boston-based Longpoint Realty Partners purchased the 54,488 square-foot warehouse at 8150 Northwest 64th Street for $115 per square foot, records show. Interglass Holding Company sold the property.
Construction of Echo Brickell allegedly damaged neighboring condo building: lawsuit
Echo Brickell and PMG principal Ryan Shear The condominium association for Brickell East, a 1980s condo tower, is accusing Echo Brickell's developer and condominium association of being bad neighbors. According to a lawsuit filed in Miami-Dade Circuit Court, Brickell East claims Property Markets Group reneged on an agreement to minimize the impact Echo Brickell's construction would have…
Work out like A-Rod? Athlete inks Midtown Miami lease for UFC Gym
Retired baseball player Alex Rodriguez scored a home in Miami for his next UFC Gym. Rodriguez's A-Rod Corp. signed a lease for 24,000 square feet at 3635 Northeast First Avenue in Midtown Miami, according to a press release. The fitness facility is expected to open in the spring of next year. The deal adds to other fitness concepts in Midtown and…
Auto magnate sells a Homestead dealership for $19M
Auto magnate Terry Taylor sold a new dealership in Homestead to Bomnin Auto Group for $19 million. Property records show TT of Homestead Inc. sold the former Keith Pierson Chevrolet Superstore at 1075 Southeast Sixth Avenue to Bomnin Automotive CC. It's now called Bomnin Chevrolet Homestead. Taylor, who owns a penthouse…
After A Decade Of Waiting, Miami Finally Gets Modern Luxury Office Space
Miami might seem like it has it all, with stunning beaches, a world-class culinary scene and a vibrant, fast-growing population. But with a building stock that mostly dates back to the 1980s, Miami does lack one thing — prime office space. However, that is about to change. Office development in Miami has reached its highest level since 2009, with 1.9M SF currently in the works. New inventory can't come…
Motion filed against County regarding Coconut Grove Playhouse
Attorney David Winker has filed a brief in the Coconut Grove Playhouse case. "I am bringing to the court's attention that by failing to provide a complete record of the underlying proceedings at issue, the County has mis-characterized the proceedings of the City of Miami Historic and Environmental Protection Board (HEP Board)," he says. As outlined in his Amici Brief, two things happened at the October 5…