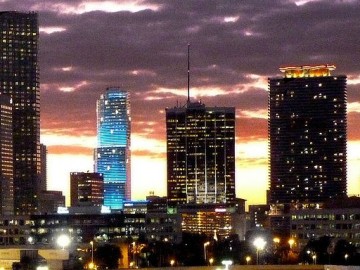 First Ground-Up OZ Project Comes to Miami Design District
BH3 will develop an 86,000-square-foot retail project in Miami's Design District, the 30-acre enclave featuring high-street shops, upscale restaurants, art galleries and hotels. The development will be the first and largest ground-up building to rise in this Designated Opportunity Zone. The project received its final and non-appealable site plan approval in August 2019. Having Segal Suarez as architect…
Does WeWork's Stumble Herald A Bigger Collapse For Coworking? Miami Might Have The Answer
WeWork's failed IPO rollout and doubts about its underlying business model beg the question: Will the fallout spread to coworking, just as it has started taking up more and more of the office market? For that answer, watch the city with the highest percentage of coworking in the country: Miami. Location Ventures CEO Rishi Kapoor, who is based in Miami and has ambitious worldwide plans for coworking…
Matis Cohen and Galbut family score board approval for North Beach project, to include apartments and micro-units
Matis Cohen and Marisa Galbut with the 72nd and Park rendering Matis Cohen and the Galbut family's proposal to significantly make over Miami Beach's Carlyle and Byron avenues scored an important approval Wednesday. The city's design review board granted two waivers for 72nd and Park, a major mixed-use project the developers propose for North Beach under new development guidelines the city…
For mall owners like Simon, Brookfield and Vornado, Forever 21 bankruptcy signals more trouble ahead
Forever 21 owes these five mall owners $20.9 million, bankruptcy court records show. When South Korean immigrants Jin Sook and Do Won Chang landed at Los Angeles International Airport in 1981, they had nothing. The couple eventually scraped together a modest savings and opened their first clothing store in Los Angeles. Over three decades later, they turned that single store into a fast-fashion…
$20M Sale of Miami Distribution Center Arranged
CBRE has brokered the $19.5 million sale of the Tire Group International Distribution Center, a 179,972-square-foot single-tenant warehouse at 7500 NW 35th Terrace in Miami. TDH Realty sold the property to Brookfield Asset Management, according to the South Florida Business Journal. CBRE Senior Vice Presidents David Wigoda and Devin White, along with Financial Analyst Sean Kelly…
Virgin Hotels — part of billionaire Richard Branson's Virgin empire — will open an outpost in Miami's Brickell neighborhood in 2023. The 40-story hotel will be developed with Blue Jay Capital, a South Florida private equity firm, and include 15 floors of furnished residential spaces in 150 micro and co-living units. Virgin Hotels launched in 2010 and now includes open hotels in Chicago and San Francisco.
Kushner goes to Broward, buying site near Fort Lauderdale train station
Kushner Companies is making its first big real estate play in Fort Lauderdale. The company, led by Charles Kushner, Nicole Kushner Meyer and Laurent Morali, is under contract to purchase three properties for $49 million across the street from the Virgin Trains station in downtown Fort Lauderdale's Himmarshee District, sources told The Real Deal. Swire Properties of Hong Kong is selling the lots at 200…
Watch: A-Rod on the benefits and pitfalls of being a celebrity investor
Alex Rodriguez has been investing in real estate for decades. He made his first purchase — a duplex outside of Miami that he needed a $48,000 downpayment for — when he was 22. But in the years since, the former Yankee third baseman, who is now 44, has built a sizable national real estate portfolio. He has thousands of units, all under the A-Rod Corp. umbrella, in U.S. markets like Chicago, North Carolina…
Two South Beach hotels hit the market for $42M
The owner of two South Beach hotels is looking to sell the properties for a combined $42 million. Companies tied to Orlando J. Valdes own the Cavalier Hotel at 1320 Ocean Drive and the Henrosa Hotel at 1435 Collins Avenue. The properties mark the last hotels that the family owns in Miami Beach, according to the listing broker, Susan Gale of One Sotheby's International Realty. The Valdes family owns…
Quadrum Global plans Arlo hotel in Wynwood
A rendering of Arlo Wynwood Hotel developer Quadrum Global is planning to build an Arlo hotel in Wynwood, nearly a year after buying the property. Quadrum Global tapped NBWW Architects (Nichols Brosch Wurst Wolfe & Associates) to design the mixed-use hotel at 2217 and 2233 Northwest Miami Court, according to a press release. The project adds to the pipeline of hotels planned for Wynwood…
Miami gives scooters two more months in trial
Scooters can remain on city of Miami at least a bit longer. With the first six months of a pilot program wrapped up, the Miami City Commission last week voted to renew the scooter program two more months. The second iteration has added measures to address safety concerns, as emphasized by Chairman Ken Russell, whose district will continue being the sole area of scooter operation in the city, He…
Climate cloud may hang over Wynwood
Plans for a woonerf on Northwest Third Avenue in Wynwood have evolved to include gateway art, possibly in the form of a "climate cloud" that would be suspended above Northwest 29th Street, and a meandering layout intended to slow traffic down. Jennifer Bolstad and Walter Meyer, co-founders of Local Office, the Brooklyn-based firm that designed the streetscapes for Miracle Mile and Giralda…
Nothing's Forever: Lincoln Road location in Miami Beach among those on Forever 21's closure list
Forever 21 identified a trio of New York City stores on its list of 178 locations in the United States that the struggling retailer has slated for closure. The brand also slated 20 stores in the Los Angeles area, along with nine in Chicago and three more in South Florida, including 701 Lincoln Road in Miami Beach. In Manhattan, the fast fashion…
Blackstone buys two Miami Gardens industrial properties for $14M
Blackstone CEO Stephen A. Schwarzman and 5120 Northwest 165 Street Blackstone acquired two industrial properties in Miami Gardens for $13.6 million, adding to its growing South Florida portfolio. The private equity giant bought the combined 122,078-square-foot industrial site at 5120 Northwest 165th Street from TA Realty for $111 per square foot, records show. The properties are in the Palmetto…
Downtown Miami office building hits market, brokers expect sale price to top $30M
Another downtown Miami office property hit the market, as owners of older buildings hope buyers will pay a premium to redevelop a property. The office building at 235 Southeast 1st Street is unpriced, but the brokers expect the sale price to be more than $30 million, according to a spokesperson. Colliers International South Florida's Mika Mattingly and Cecilia Estevez are listing the property. The four…
Blackstone buys Colony Capital's warehouse portfolio for $6B
Blackstone is doubling down on its e-commerce bet with another multibillion dollar industrial portfolio deal. The company is buying Colony Capital's national warehouse portfolio for $5.9 billion, according to the Wall Street Journal. Blackstone also struck a deal in June to buy a similar portfolio from GLP for $18.7 billion, although it has already started to sell portions of that portfolio. The portfolio Colony…
WeWork pulls its public offering
WeWork is officially pulling its public offering. The firm's co-CEOs, Artie Minson and Sebastian Gunningham, said in a statement that WeWork "decided to postpone our IPO to focus on our core business." "We have every intention to operate WeWork as a public company and look forward to revisiting the public equity markets in the future," the statement said. Sebastian Gunningham Last month, the firm's…
Greystar looks to sell luxury rental building The Mile near Coral Gables
The Mile, Robert Given and Troy Ballard A luxury apartment development near Coral Gables is hitting the market, and it could sell for more than $40 million, based on recent sales. Greystar tapped Cushman & Wakefield to list the 120-unit building at 3622 Southwest 22nd Street without an asking price. Listing broker Robert Given said that comparable properties have sold for about $350,000 per unit. That would…
Video: Architecture, Engineering, and Design firm Stevens & Wilkonson Chairman Ron Stang Discusses Mixed-use Development in Multifamily Today
In this episode, Ron Stang, Chairman of Stevens and Wilkonson, joins the show's host Michael Bull to discuss the multifamily property sector, including cycle outlook, generational drivers in the market, new technology for multifamily, issues with affordability, density conditions impacting multifamily, mixed-use development, adaptive reuses, workforce housing, and multifamily construction costs.
South Florida by the numbers: Miami athletes and real estate
"South Florida by the numbers" is a web feature that catalogs the most notable, quirky and surprising real estate statistics. We do love our sports here at South Florida by the numbers headquarters. And September is an especially fun time of the year: the Marlins are winding down, the Dolphins and Hurricanes have just gotten started, and the Heat and Panthers check into the game next…
Related Group, Alex Karakhanian and partners drop $32M on Wynwood site
The Related Group, developer Alex Karakhanian and their partners purchased a large property in Wynwood for $32 million, with plans to redevelop the site, The Real Deal has learned. A joint venture between Related, Karakhanian and Tricera Capital's Scott Sherman and Ben Mandell closed Thursday on the 2.1-are site at 2801 Northwest Third Avenue. Tony…
In a sluggish condo market, these Miami developers find a sweet spot
It's no secret that the Miami area is facing an oversupply of shiny new condos, spacious units with sprawling terraces in skyscrapers stretching from Brickell to the northernmost tip of Sunny Isles Beach. But a new product type has emerged that developers claim they can't build quickly enough: more affordable units that buyers can rent out however and whenever they want, no strings attached.
WeWork is booting Adam Neumann's friends
WeWork is clearing house of Adam Neumman's closest allies. At least two executives were told Wednesday night that their tenure with the company is up, people familiar with the matter told The Real Deal. While a source said some of the execs were still at WeWork as of Thursday afternoon, another source said the company was in the process of negotiating their…
Terra closes on $185M construction loan for latest Coconut Grove project
Terra secured $185 million in construction financing for its next development in Coconut Grove. Mack Real Estate Credit Strategies is providing the loan to Terra for the Bayshore Grove project at 2655 South Bayshore Drive in Coconut Grove, according to property records. It's one of the largest construction loans to close in South Florida this year, after the $300 million loan for Vlad Doronin…
Crescent Heights to begin construction of massive Edgewater project
Developer Russell Galbut's Crescent Heights acquired more land for the firm's massive Edgewater development. The AIDS Healthcare Foundation sold its building at 2900 Biscayne Boulevard to Crescent Heights' 2900 Block Redevelopment LLC for $6.75 million. The property is in an Opportunity Zone. Galbut said it is the last piece of land needed for the fully assembled site. "Several pads within the…
Miculitzki family lists property near Wynwood Walls for $18M
Block Capital Group, owned by the Miculitzki family, is looking to sell a retail property near the Wynwood Walls for $18 million. 295 Wynwood LLC, led by Martin Miculitzki, gut-renovated the property at 2729 Northwest Third Avenue and leased the 9,616-square-foot building to Bfyne, a clothing store; Giache Crepes; and D'Cajon, a restaurant. The property fronts Third Avenue, one of the streets where…
Adam Neumann to step down as WeWork's CEO
Adam Neumann stepped down Tuesday as WeWork's CEO as the company moved to salvage a planned initial public offering — if not the company itself. The chief executive's exit concludes talks that began in recent days between Neumann and his company's investors and board members. The Wall Street Journal first reported the news. "In recent weeks, the scrutiny directed to…
Edgewater's Development Boom Shows No Signs of Slowing
One of Miami's hottest new locations is Edgewater, located east of Biscayne Boulevard and overlooking Biscayne Bay. Several factors already make Edgewater an excellent location thanks to its proximity to both the 195 and 395 entrance ramps leading to highway I-95, which can take you north or south. Highways 836 and 112 can get you to Miami International Airport within minutes, and there are 3…